Have you ever wanted to try Homemade Egg Noodles but thought that you needed fancy tools and equipment? Guess what, these egg noodles are not only easy but that taste absolutely amazing! Be sure to try them with the perfect Chicken Noodle Soup!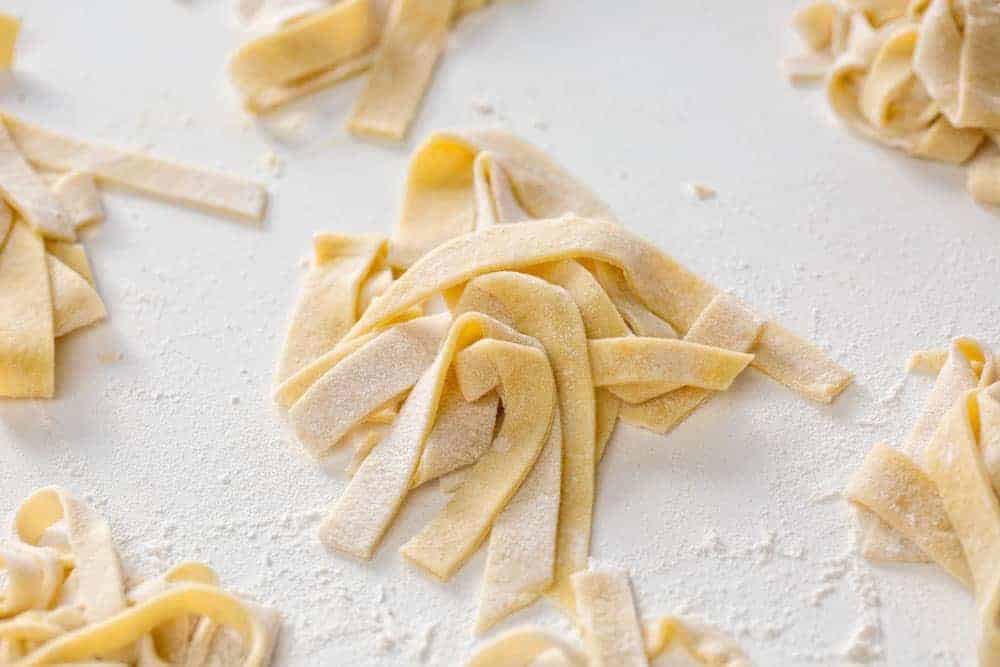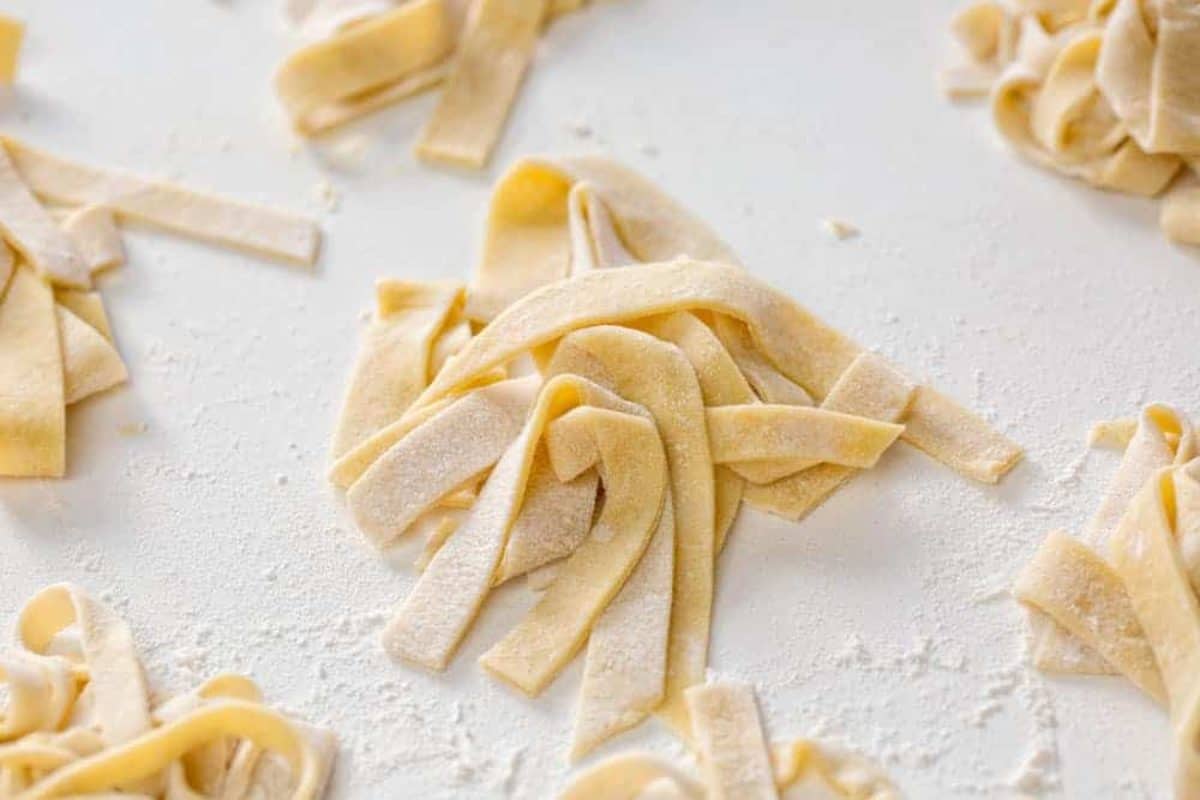 Tips for the Best Egg Noodles
For the flour, I always make sure that it is sifted. At least twice. It sounds silly, but sifted flour is easier to work with.
Be sure to use room-temperature eggs and milk when making egg noodles. Set an extra egg out just in case you end up adding more yolk to your dough.
Thickness of the dough: Experienced chefs will say that the dough should be thin enough to read through. If you roll out the dough and then lift it up and can see the outline of your fingers then your dough is probably thin enough. When the dough hits the water it will double in size, so be sure to take the time to roll it as thin as you can.
Texture of the dough: If you find that your dough isn't coming together and looks like a pile of crumbs it's a pretty easy fix. Just grab an egg yolk and incorporate it into the dough. If the dough is too sticky and you aren't able to work with it, try adding a bit more flour. Sift the flour first and then sprinkle it over the dough ball, adding more as needed to create a dough that is easily kneaded and doesn't stick to your hands or work surface.
Egg Noodles with a Food Processor vs. Stand Mixer
I sometimes use this method when I am doubling or tripling a batch of egg noodles. To prepare your dough in a food processor, add the flour and salt to the processor bowl. In a small bowl whisk together the egg and milk. Place the lid on top and then drizzle the wet ingredients into the flour with the food processor on low. It comes together so quickly you can even pulse the processor instead of having it on low. Remove the egg noodle dough and you are now able to roll out your dough.
To make this recipe in a stand mixer fitted with a dough hook, add the egg and milk to the bowl and mix until combined. With the mixer on low, add in the flour and salt. Let the ingredients come together and then watch until the dough starts to pull away from the sides of the bowl.
How to Freeze
To freeze fresh egg noodles, flour the noodles well and then lay them flat on a cookie sheet. Place the noodles into the freezer for about an hour. Remove from the freezer and place into an airtight container or bag, and be sure to label it. When you are ready to use them, remove the desired amount and add to boiling water or soup and cook for about 8-10 minutes. (Fresh noodles only need 2-3 minutes.)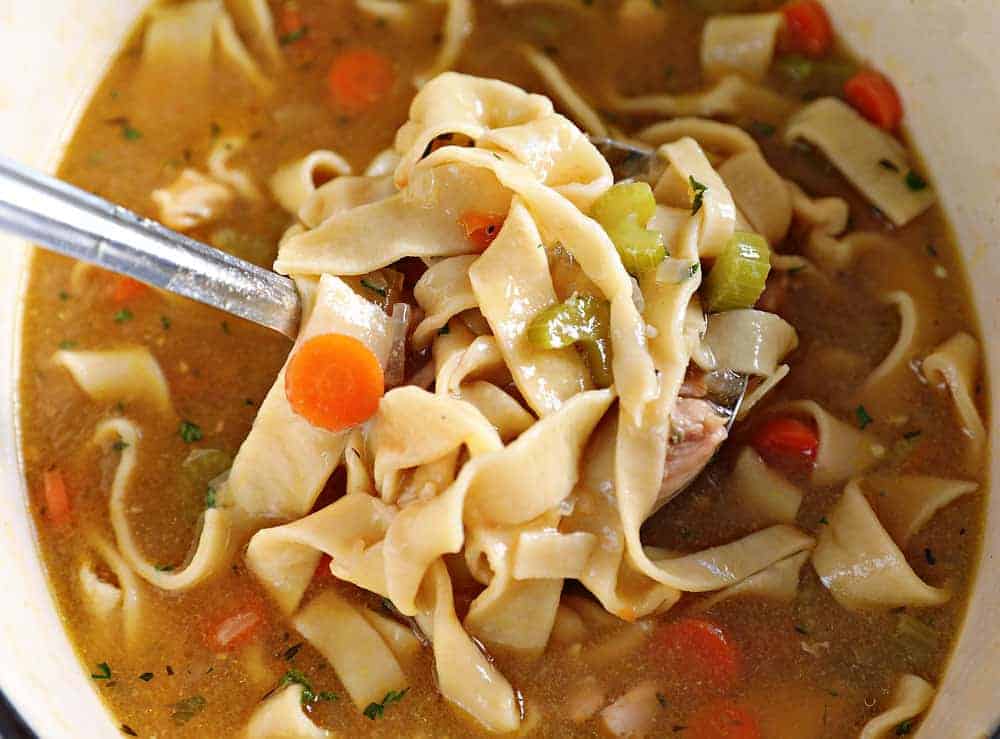 How to Use Fresh Homemade Egg Noodles
My favorite way to eat fresh egg noodles is in a butter sauce with parmesan. Boil water and cook noodles for about 2-3 minutes. Transfer noodles to a warm skillet with about a tablespoon (or 2, just depends on your tastes!) of butter and toss to coat. Sprinkle with salt and pepper (fresh ground is best) and then some crumbled parmesan. Toss again and then serve.
In the winter we love these noodles in Chicken Noodle Soup or Turkey Noodle Soup. They add something so amazing and I know this will be one of those recipes the kids will ask for 20 years from now because it's so good and we always have a great time around the table when we make it.
Other Variations for Homemade Egg Noodles
While our family has come to love this easy recipe, I know that other folks use different methods and ingredients to create their own perfect egg noodle. For instance, some folks do not use milk. Some use only egg yolks. Some use eggs+egg yolks, so add in oil instead of milk. Some add baking powder. Some just do eggs and flour and maybe a splash of water. Some chill their dough. Some let it rest for 30 minutes, some let it rest and dry before using. Heck, even I share another recipe on my other blog for Homemade Egg Noodles!
All of these methods are great and can yield similar results. When I come across a recipe that is different than what I am used to I will try it out. Understanding different variations and finding what works best for YOU in your space is always a winning strategy.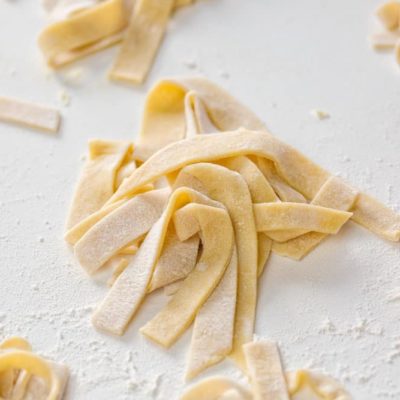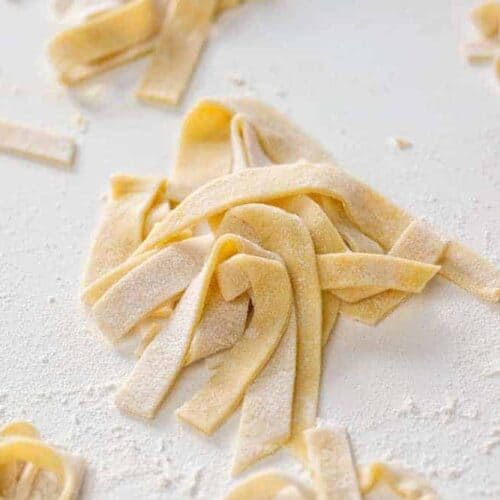 Egg Noodles
Have you ever wanted to try Homemade Egg Noodles but thought that you needed fancy tools and equipment? Guess what, these egg noodles are not only easy but that taste absolutely amazing
Ingredients
1

large

egg,

room temperature, beaten

½

teaspoon

kosher salt

2

tablespoons

whole milk,

room temperature

1

cup

all-purpose flour,

sifted
Instructions
Combine egg, salt, milk. Add flour. Stir until the dough mostly comes together.

Lightly flour a clean work surface. Drop dough onto surface and form into a ball. Knead the dough for 5-10 minutes, or until the ingredients are fully incorporated and pliable.

Roll out dough to ⅛-inch thickness. If your dough starts to stick gently lift up and add a bit more flour underneath. 

Using a pizza cutter, cut the dough in half widthwise and then into strips lengthwise. Make the strips about ¼-inch thick. After cutting all the strips, make little piles of noodles and let them sit for a few minutes.

Drop noodles into boiling water and cook for about 3 minutes.
Did you make this recipe?
Thank you for making my recipe! You took pictures, right? Well go ahead and post them on Instagram! Be sure to mention me @iambaker and use the hashtag #YouAreBaker.
Here is a video of my husband and I make this live on Facebook: