Making your own marshmallows is one of those things that everyone simply must do at least once. The flavor and texture of a from-scratch marshmallow is second-to-none.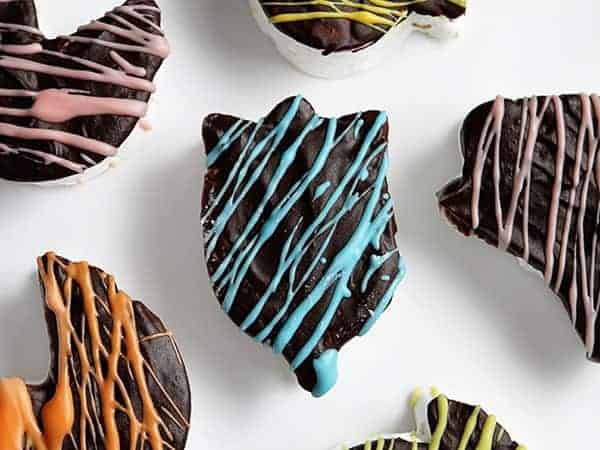 Add some rich chocolate ganache and colorful candy melts and you now have a really really fun way to enjoy these tasty treats!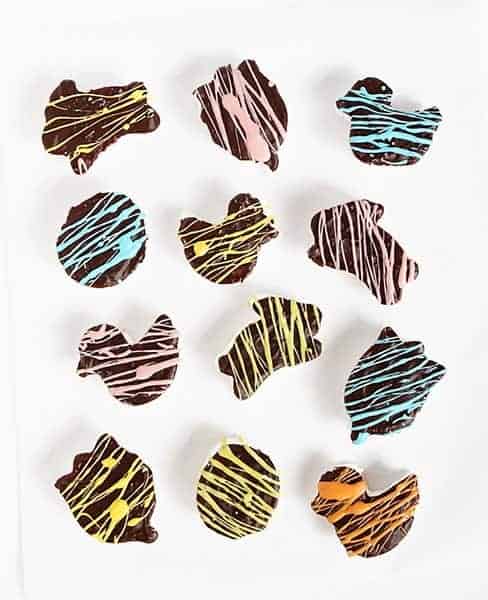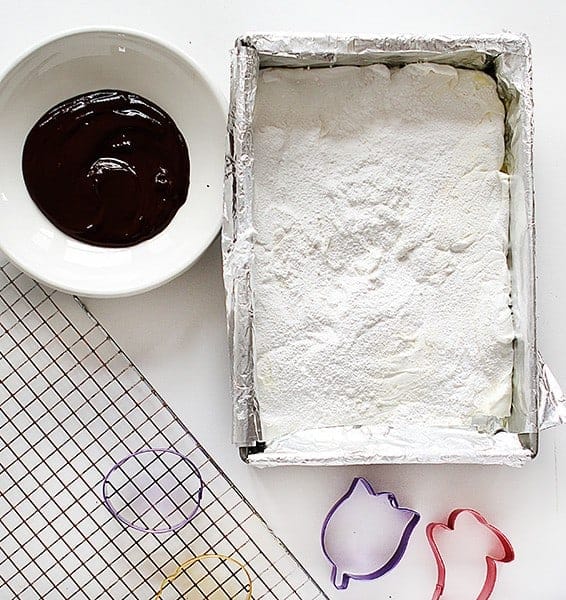 Here are some detailed step-by-step instructions to help make the perfect homemade marshmallow!~
Make marshmallows according to recipe above.
Mix 1/4 cup powdered sugar and 1/4 cup cornstarch in a bowl. Sift about half of the mixture over a clean, hard surface. Remove the marshmallows from the pan and set on the prepared surface. Sift a bit more of the powdered sugar mixture over the marshmallows but make sure you don't use all of it.
Place cookie cutter (such as a bunny shape) into powdered sugar mixture and cover the edges of the cutter well.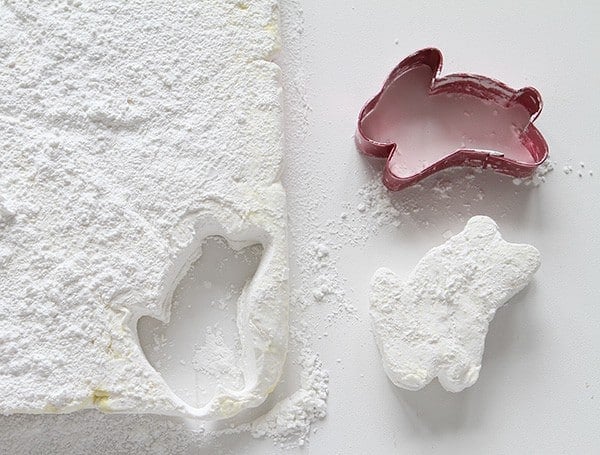 Firmly press the bunny cookie cutter down into the marshmallow until you can feel the cutter break through. Lift up the cookie cutter and gently press out the marshmallow shape onto a cooling rack. Using other spring-theme cutters, press out all the shapes and set on cooling rack.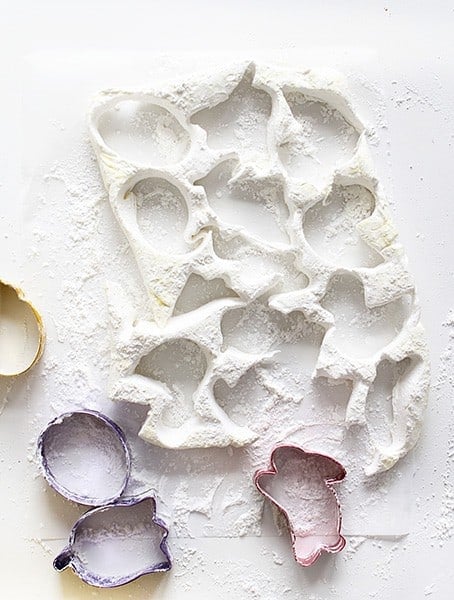 Tip: Don't throw away the leftover pieces of marshmallow! Cut the excess marshmallow into bite-size pieces and coat with powdered sugar, then seal in an airtight container. They are perfect for hot cocoa or on top of chocolate pancakes!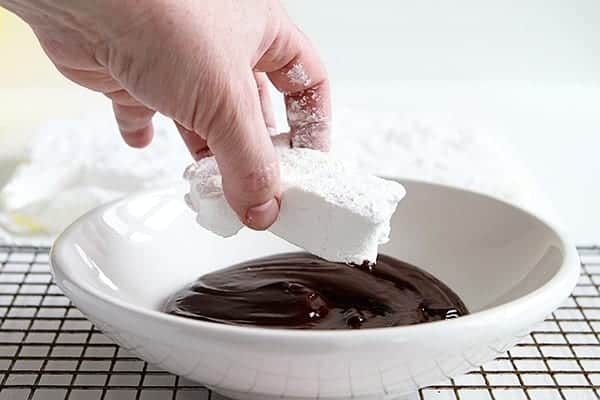 When ready to assemble, prepare the ganache in a microwave-safe bowl that is wide enough for dipping marshmallows.
Homemade Chocolate Ganache Recipe:
Place 4 ounces of coarsely chopped semisweet chocolate and 1/4 cup of heavy cream into a microwave-safe dish.
Microwave for 30 seconds, stir, then microwave for another 30 seconds.
Remove and stir until ingredients are fully incorporated and chocolate is melted. (If needed, you can return the mixture to microwave for 15-second increments until the chocolate is completely melted.)
Set the bowl of chocolate ganache next to rack of marshmallows. Dip the flat bottom side of each marshmallow into the warm ganache. Allow any excess chocolate to drip off or use an offset spatula to smooth and fill in any spots.
Place the marshmallow, chocolate-side up, on the cooling rack and continue with the remaining marshmallows. Place the chocolate-covered marshmallows in the freezer for 30 minutes or in the refrigerator for 2 hours.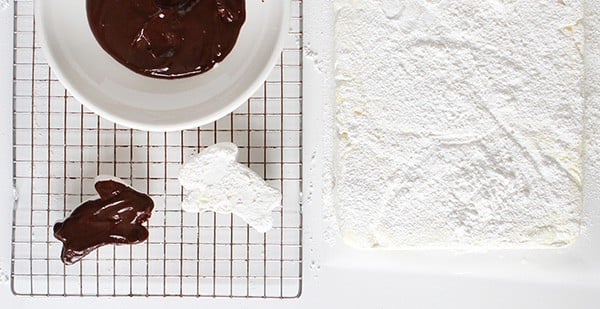 Prepare the candy melts.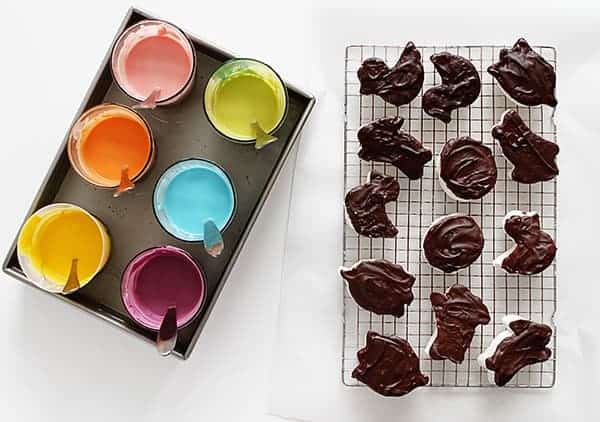 Place the pink candy melts into a microwave safe glass or bowl and heat for 30 seconds, stirring after heating to make sure the melts are heated evenly. Continue to melt in 30-second increments if necessary. Repeat with all remaining colors.
Tip: Heat the candy melts in a tall kitchen glass (keeping colors separate) and place it in a 9×13 pan filled with hot water. This helps the candy melts stay liquid while heating all the colors.
Place a large piece of parchment paper on a clean surface and carefully transfer the marshmallows from the wire rack to the parchment.
Dip a spoon into the pink candy melt, then drizzle over the first marshmallow. Move your spoon back and forth in short bursts to cover the marshmallow completely. Repeat with all colors. Allow candy melts to harden, then serve.
Once the chocolate is completely hardened, you can wrap the marshmallows in decorative plastic bags for a springtime celebration! These festive treats are best when served within 3 days of preparation.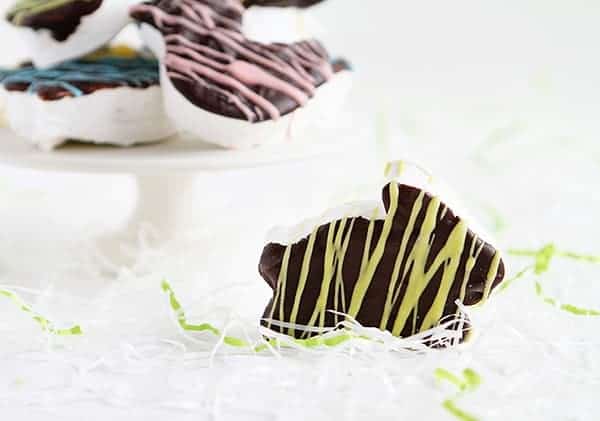 As you can imagine, kids absolutely love that last step, and letting them be there and helping in the kitchen is definitely something I love!
If you are making these in cooler temperatures, try dipping them into a Best Homemade Hot Cocoa!