I made homemade sprinkles a year ago but never shared my recipe or directions.
Hopefully you can forgive me?
These are seriously the easiest homemade sprinkles out there and are so flexible in terms of use!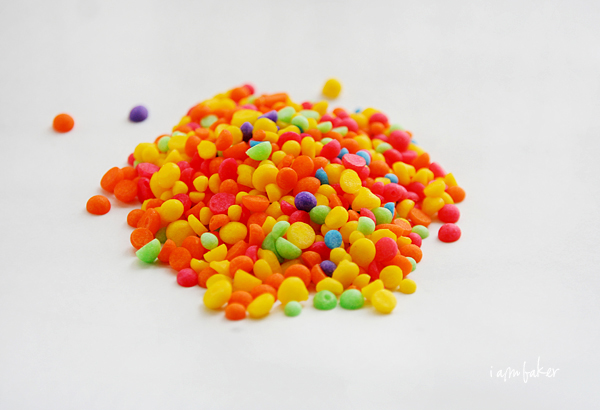 Let me tell you why they are so awesome:
It's three ingredients.
It can be made in whatever quantity I want.
It can be tinted to any color I need.
And it actually tastes good!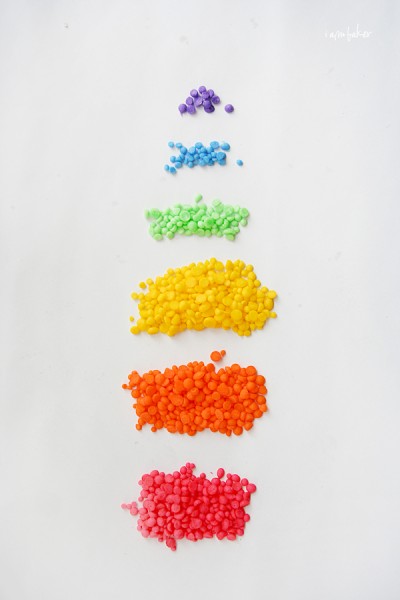 Glaze Icing for Homemade Sprinkles
1 cup powder sugar
1 – 3 tablespoons milk (depending on whether you want a thicker or runnier consistency; I prefer a thicker consistency for these, roughly the same as butter cream frosting)
1 tablespoon light corn syrup
Optional:
Food coloring of choice (I would add 1 to 2 drops per cup of powder sugar, and I highly recommend gel based)
Flavored extracts (about 1/4 teaspoon of extract per cup of icing)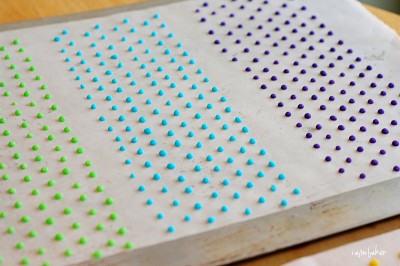 To make the spinkles, place the icing in a baggie and cut of a very small corner tip to "pipe out" dots. You can also use a pastry bag with a #3 tip. Each row took roughly 15-20 seconds, so this process was much faster then I had imagined.
I then let them sit out overnight, but found that they were actually dry and ready to be used after a few hours.
I did eight rows of 18-20 dots, so ended up with roughly 160 dots.
This ended up being the perfect amount for a sweet little cake!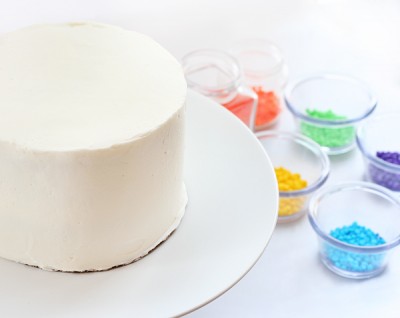 To make the sprinkles cake simple bake your favorite flavor cake and cover in buttercream frosting.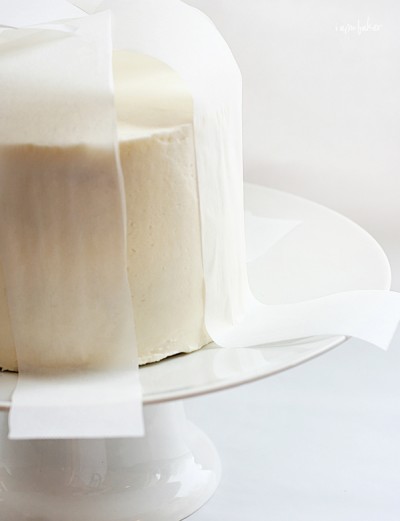 Next I cut out 8 strips of parchment paper (you can also use wax paper). My cake was baked in a 6-inch cake pan, so I made each strip about 2 1/2 inches wide and 10 inches long.
I placed them around the cake, leaving approximately a 2 1/2-inch space between each strip.
Starting in the first blank panel, I add sprinkles to cover the area. Nothing fussy about it — you can just smoosh them into the cake.
Keep adding as many sprinkles as you would like until the panel is completely covered. You can then move on to your next blank panel and next sprinkle color.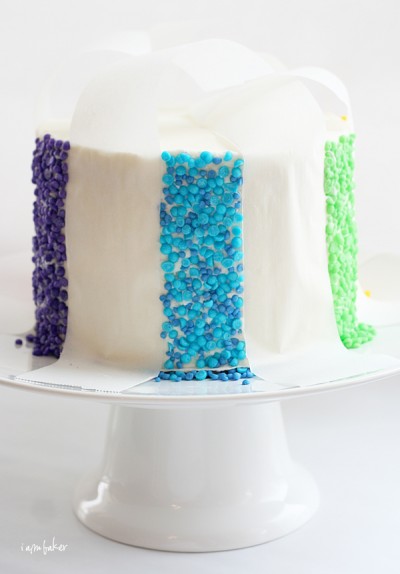 When you have finished adding all your sprinkles, I would put the cake in the freezer for no less than 30 minutes or in the refrigerator for no less than 1 hour.
This will help the frosting set and allow the parchment to be removed in nice, clean strips.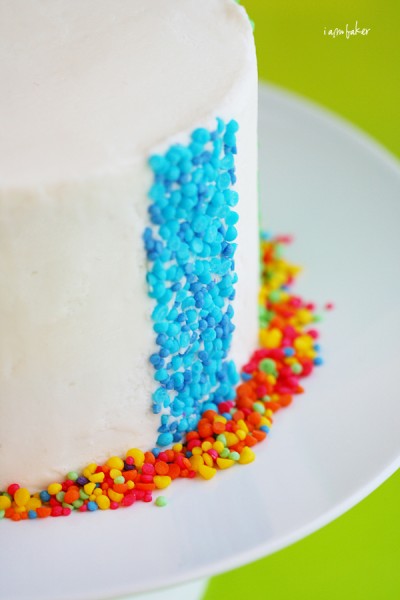 Although I loved the crisp lines of the cake, I couldn't help but go back and add the remainder of my sprinkles.
I just mixed them all together then placed them around the base of the cake for a burst of color.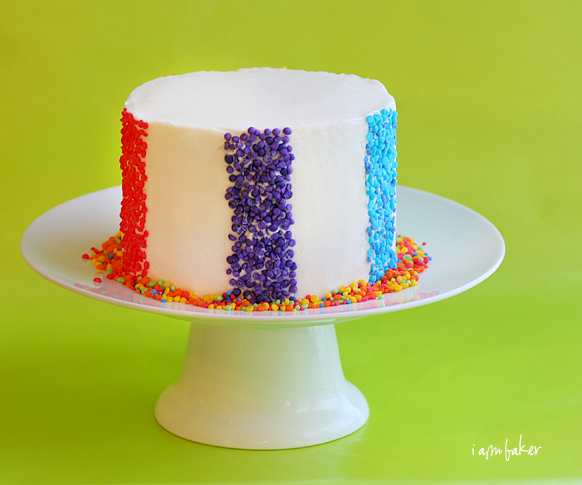 The color and flavor combinations for these little dots are limitless.  You can even use the parchment technique I created and make shapes or words!
And honestly, while I love looking at all the beautiful and colorful sprinkles at the store, I dont love buying them.  It can be $5 for just one bottle!
This is a very economical way to decorate your cakes and cookies!
Want more ideas for making Homemade Sprinkles? Check out these other options!!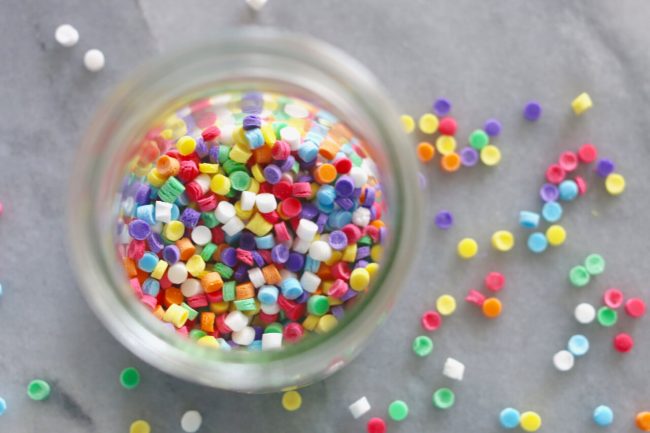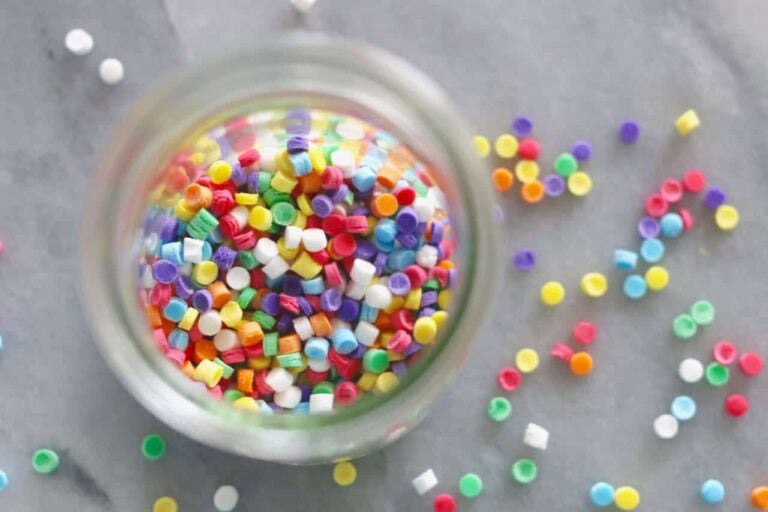 Check out these beauties from Bigger Bolder Baking!