… in four minutes flat.
I shared this image awhile back.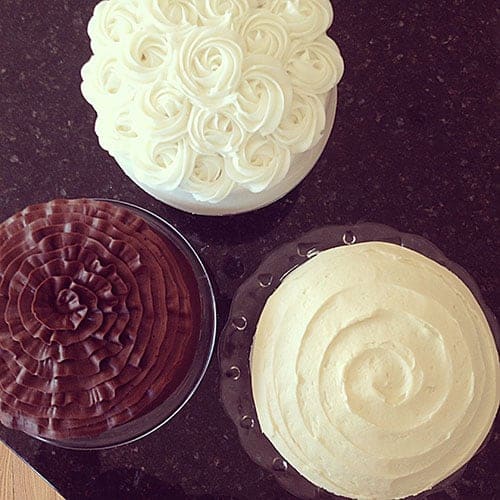 Many of you asked for a tutorial on the chocolate ruffle cake and here it is.  However, I must mention something.  I sorta got a crazy idea and it ended up not going as planned so this tutorial is going to be a little different.  See, I decide to help add a visual aid so I did a 15 second video tutorial and posted it on Instagram.
Insert dramatic music here.
Since I had to film it with one hand and pipe with the other… well.  It wasn't pretty.  Or very effective in terms of being a "tutorial".
Lets just say this; if you take the time to actually pay close attention to what you are doing and apply even pressure and be consistent, you can get the pretty ruffles like above.  If you rush through it and have your four year old turn the cake stand while you are trying to simultaneously film and pipe you may end up with a wonky ruffle cake like I am about to show you.
Moral of the story:  Do as I say and not as I do.
Thank you.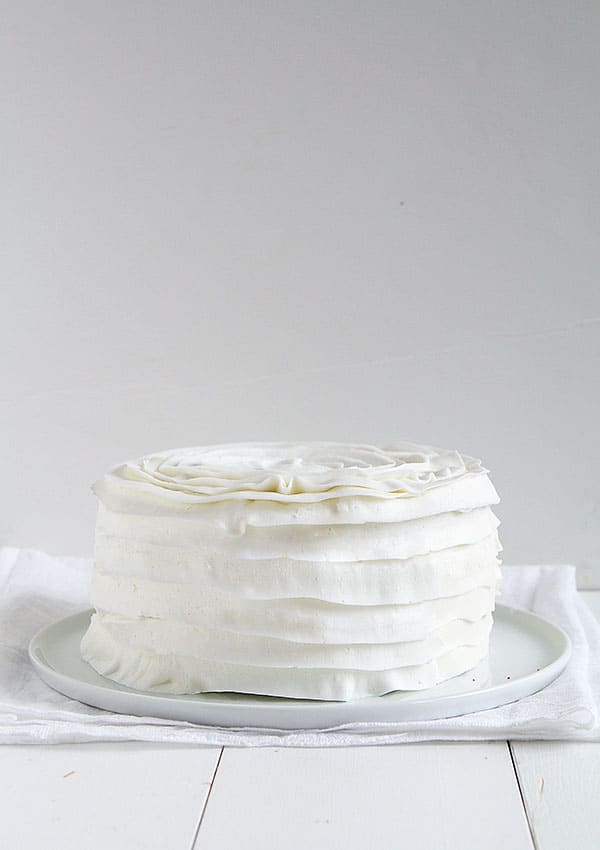 The concept is very simple!
Place crumb-coated cake on a cake stand.  Fill a pastry bag with a 127 tip and your choice of frosting. (I like this perfect buttercream as it is very white!)
Starting at the bottom edge of the cake hold the tip very close to the base of the cake.  With one hand, start applying pressure to the bag of frosting.
Start turing your cake stand with your other hand.  Keep applying pressure and move around base of cake.  When you have gone around the cake once simply move your hand (the hand holding the bag of frosting) upwards about an inch and continue piping, making sure to overlap.  You will continue this up and around the cake.
When you get to the top, repeat the same process, just making your circle smaller and smaller until you reach the center.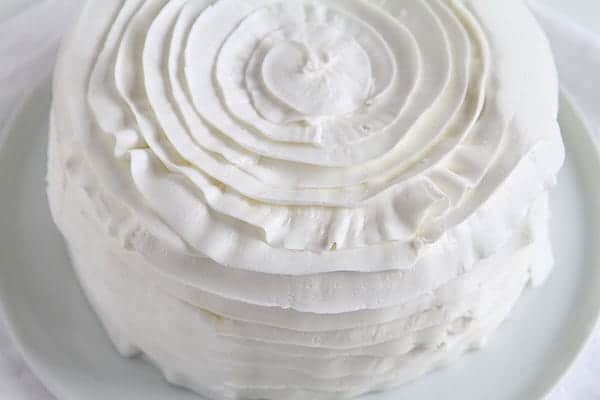 Now.  Scroll back up and look at the picture with the chocolate ruffle cake.  I did that cake in five minutes too, I just tried a bit harder.  This white ruffle cake is a bit sloppy for my taste, but I hope you get the jist of it.
Next time  I won't do three things at once.
Who am I kidding.  I am a mom of five, I will always be doing at least three things at once. 🙂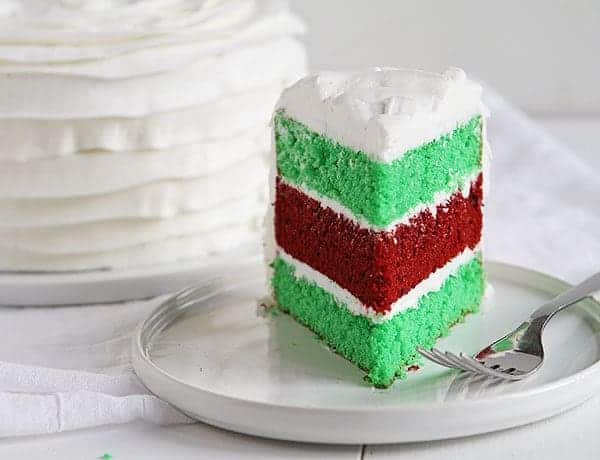 If you want to add some extra fun, trying making it a Christmas layer cake!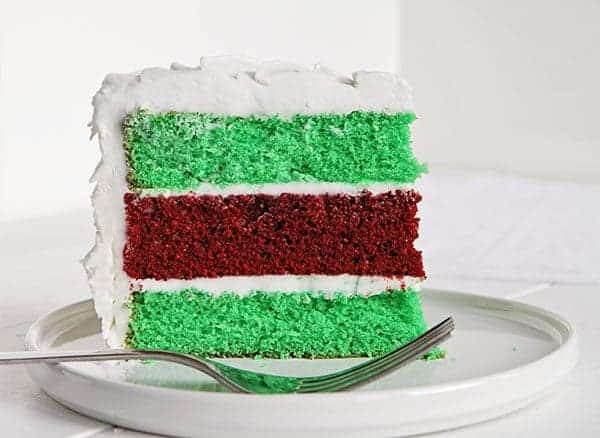 And that is my wonky ruffle cake with red and green layers.  Feel free to check out my 15 second (really, what was I thinking?!?!  A FIFTEEN SECOND tutorial???) tutorial on this on Instagram. 🙂