Full Tutorial for this cake Here! *** My extremely talented and creative and artistic grandma (she even has her own facebook page, how cute is that?) has been an artist using various mediums for more years then I have been alive. She has sorta been on a watercolor kick in the last few years, and I am SO glad she is. Her talent with watercolor is truly awesome!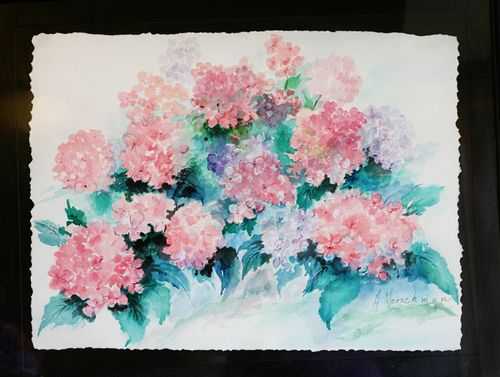 A few years ago she gifted me with this:
Hydrangeas are one of my favorite flowers, so this piece is so special to me! As I gazed at it the other day… it hit me. I gotta make this a cake!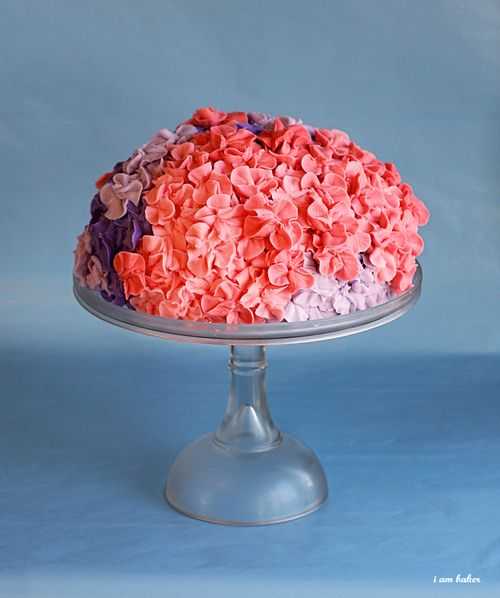 Seriously. Who thinks like that??? So I made this.
I am not inventing the wheel here. Is that how the saying goes? Or should I say, "I am not re-inventing the wheel here?"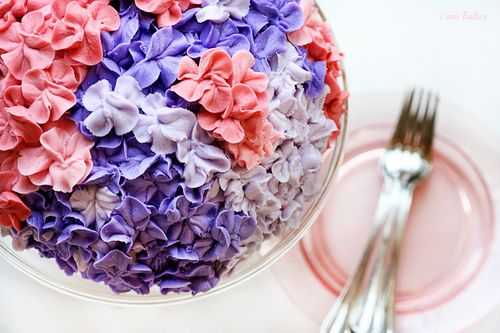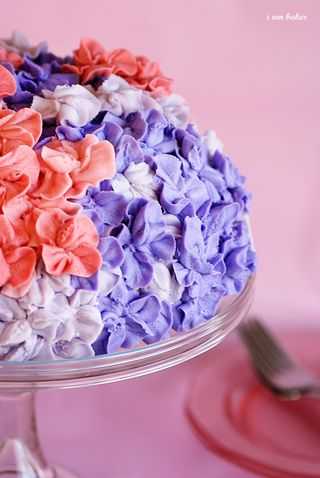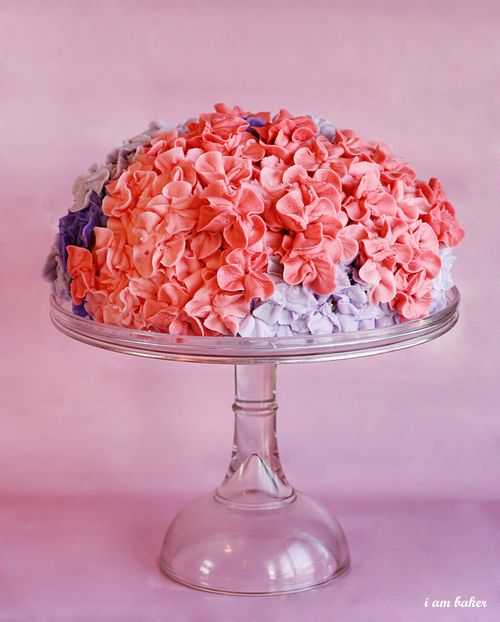 Ugh. Lets just blame pregnancy brain. So this is just my take on it! 🙂 Although I love the periwinkle and cool tones the best, I really wanted to capture the color scheme that my grandma created in her art. And then, because I am determined to FORCE Spring into my life, I made the inside the most spring like flavor I could imagine. Lemon. Seriously, I don't even like lemon cake. Or, at least I didn't think I did! This is a white cake (recipe here) with lemon curd filling and lemon frosting covered in buttercream crumb coat and buttercream hydrangeas.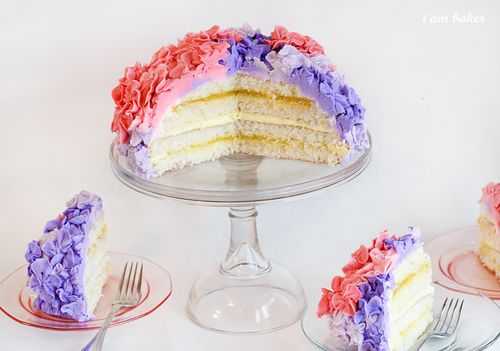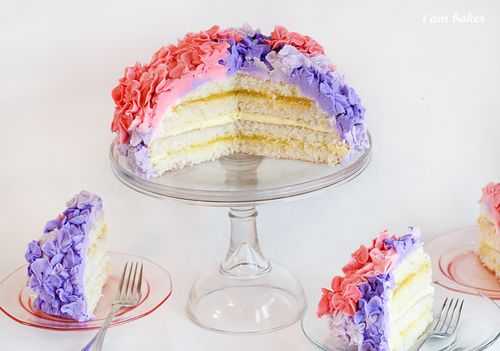 Lemon Curd Filling
Ingredients
1/2

c

fresh lemon juice

1

tbsp.

cornstarch

6

tbsp.

butter

3/4

c

white sugar

4

egg yolks

beaten
Instructions
In medium saucepan, mix together lemon juice and cornstarch until smooth.

Add butter and sugar and bring mixture to boil over medium heat. Stir constantly for one minute. In small bowl use a whisk to beat egg yolks until smooth. Add in a small amount of the hot lemon mixture to the egg yolks. (this is tempering the eggs) Now pour the egg mixture back into the sauce pan, whisking rapidly until fully combined.

Reduce heat to low and stir constantly until reach desired thickness. Don't let it come to a boil again! (takes about five minutes)

Refrigerate for at least two hours.

Make sure its cool before adding to cake. Its a good idea to make this ahead of time so your cake assembly can be easier!
Did you make this recipe?
Thank you for making my recipe! You took pictures, right? Well go ahead and post them on Instagram! Be sure to mention me @iambaker and use the hashtag #YouAreBaker.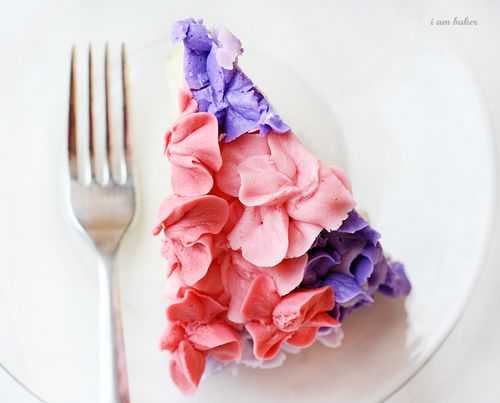 I made my favorite buttercream frosting for the flowers, and I used the entire amount! So even though the recipe is for a large quantity, I used it all. I just separated it into three bowls then added pink, light purple, and dark purple to each bowl respectively. This cake is truly delicious. Moist. Full of different flavors and taste bud tingling sensations. Can you just imagine it at a bridal shower or even as miniature centerpieces at a wedding??? This post was getting kinda long so I decided not to include the tutorial for the cake. If that is something of interest, just let me know. I didn't know if it was pretty self-explanatory or not. 🙂