See how my kitchen pantry was transformed after some much-needed organization!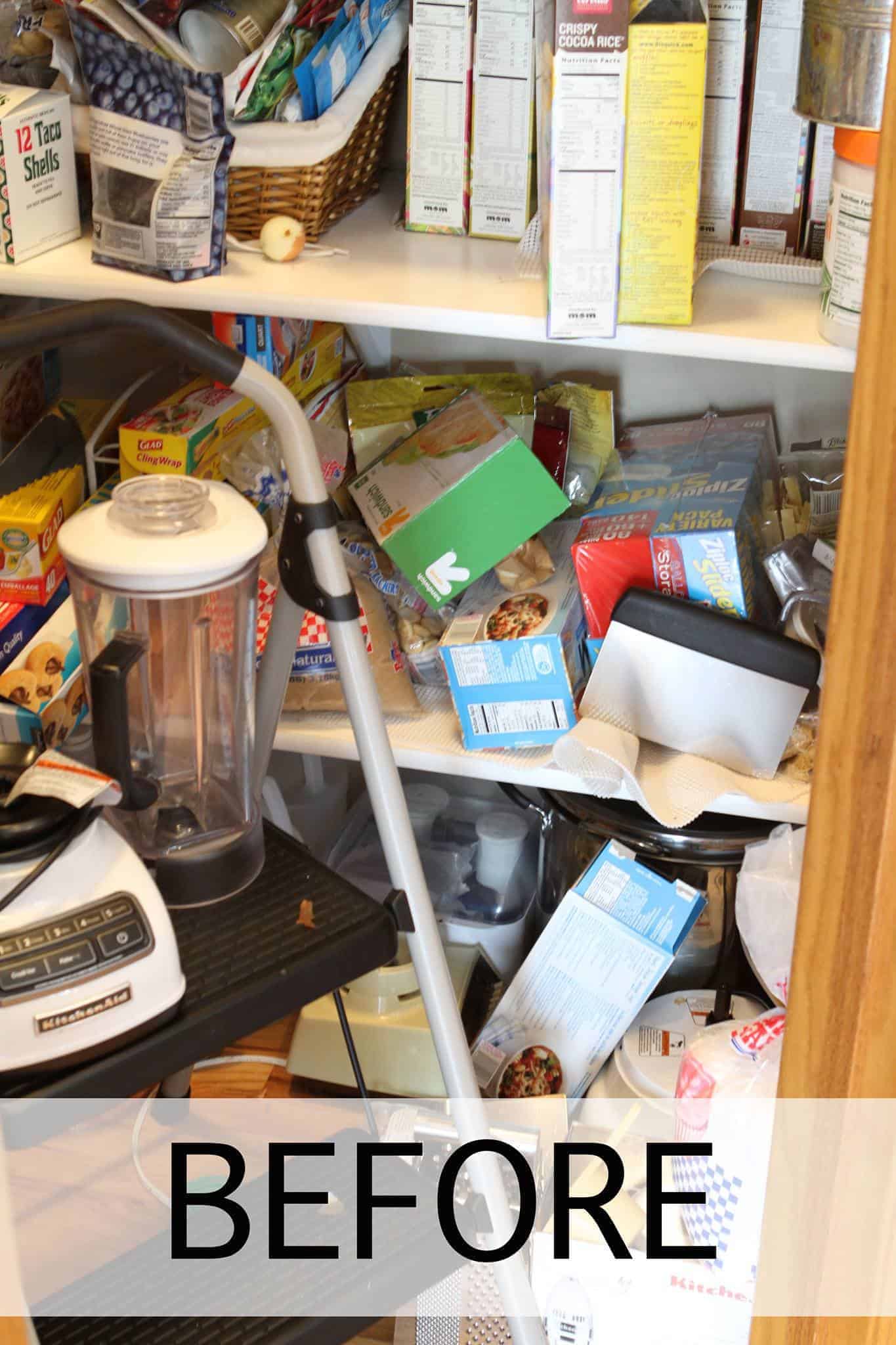 This is my pantry. This is my messy, unorganized, over-flowing, ridiculous pantry.
The shelves are overflowing. There is no rhyme or reason. Just stuff. On top of stuff.
On top of stuff.
And more stuff.
And even. more. stuff.
Is there even any food in there?
After I started cleaning stuff out of the pantry I realized that I had a big problem.
Two shelves covered every available surface in my kitchen. That is stuff from only TWO shelves!! Not only was I grossed out by the mess, but it felt so wasteful. By simply not knowing what I had on those shelves I was buying more and more supplies. A waste of space and money!
I realized had SIX containers of Chili Powder. I had 37 bags of half-used chocolate chips. There were 12 boxes of cake mix. I make my own cake mix!
Well. After promising a tour of this space on a Live Facebook Chat I was inspired to clean it.
Ready for the "after"?
I could not be happier! This space just feels better.
But.
Have you seen The Khloe Kardashian pantry tour? I saw it and immediately went into a #shamespiral.
Why didn't my pantry look like that? I want my pantry to look like that!
Could my pantry every look like that?
The answer is no. For three important reasons.
I have children. (enough said)
We are a homesteading family. We have canned goods and canning supplies and big clunky tools and appliances and our pantry supply fluctuate with the seasons.
Life is simply NOT this perfect. Then end.
But I can sure try to make it as organized as possible. I am a big-time fan of lazy-susans. They work perfectly in a pantry (and every room of the house!) and most especially for spices. You can barely see it but to the left, I have a jar of homemade Taco Seasoning. Because we use this at least once a week, it made sense to start making my own. I buy the spices in bulk from the local grocery store.
The kids are old enough to be making their own snacks, so I keep those staples on their level and also on a lazy-susan. They love peanut butter and honey sandwiches!
After removing everything from two shelves in the pantry, I decided to switch things up and put the spices on a lower shelf. Because we use them with such frequency this really makes more sense!
Now to my favorite part, the baking supplies. (right above the spice shelf)
I use a LOT of baking supplies on a daily basis, so this is definitely not the norm in most pantries.
You can see above that the flour and sugar are stored in large glass jars. Directly above them is the cake flour, confectioners sugar, brown sugar, cocoa, etc.
I found these jars at Homegoods and love the sweet chicken on them. (We raise chickens… we get about 20 eggs a day!) But I also love that I can just write on the jar when I change out the contents.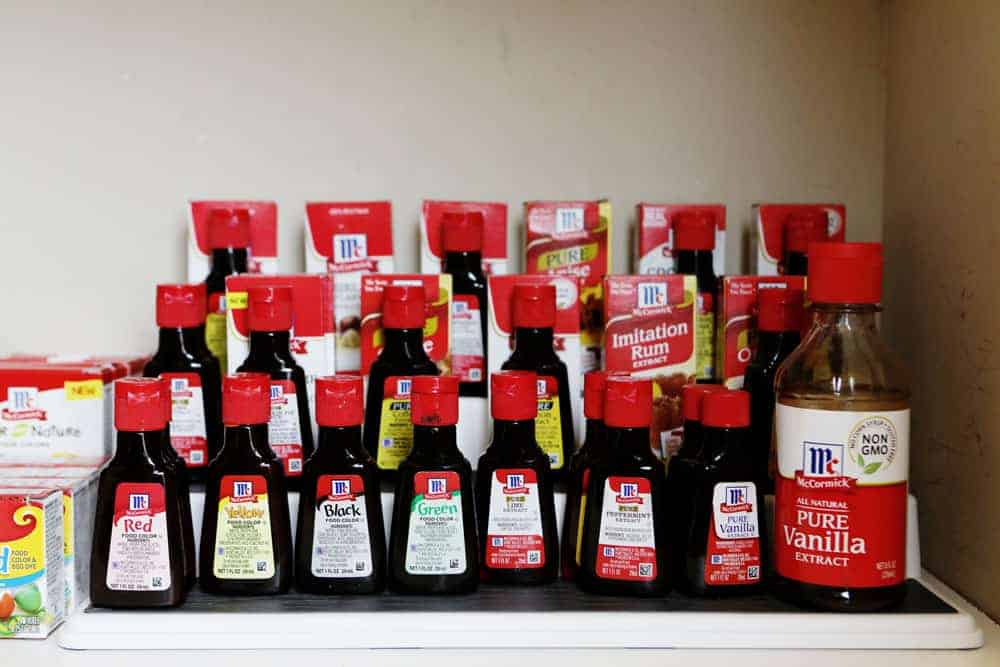 Next to the dry baking supplies is my extracts. I have no less than 6 bottles of vanilla extract on hand at all times as I can go through that in just a few months! (Every now and then a sweet blog reader will send me a sweet gift like the Almond Extract bottle you see above. Thank you, Shirley!)
For the chocolate chips, I found this wire basket at a flea market. I keep the chips in their packaging for a very specific reason and that is that they are all measured out for me. One bag is 12 ounces or 2 cups.
When I get a really large supply of chocolate chips (like the bags at Costco) I will put them in an airtight container.
Speaking of air-tight containers, these are one of my favs! They are compact, clear, and easy to use.
See that container on the bottom right?
I decided to store all my random left-over chocolate chips in it. When I am baking for fun it is easy just to grab this and add to cookies or cupcakes. Plus… much cleaner!
You know I had to make room for my Homemade Cake Mixes!
I store my cupcake pans in this magazine basket. It works absolutely perfectly!
Here are a couple of side-by-side pictures so you can see just how much was done.
The main shelves.
Thanks so much for taking the tour with me!
UPDATE:
So many people have asked about the spice racks… how do they work, where did I get them, are actually convenient?
I simply slide it out when I need a spice at the back. Because of the size and shape, you can see the label of every bottle in the rack when you organize it.
Here is a link to the clear spice rack, and as you can see in the image of the entire kitchen I posted above, I did buy them at Bed, Bath, & Beyond. 🙂
There was a comment that the pantry was much too small for the kitchen size. In addition to that, someone said that we were being "excessive, over-shopping, over-storing, and with home delivery options within an hour or in some cases a store around the corner, people don't need to over-purchase items that sit in your pantry for weeks/months/years."
The pantry is a walk-in and while it is definitely not huge, it fits our needs.
I originally published this in February and this is my pantry as of today (6-22-2016). The spices have stayed super neat and organized! They are easy to locate and easy to replace. 🙂
Speaking to the "excessiveness" of our pantry, I just want to reiterate our specific circumstances. We are a family of 7 with 3 growing boys! We do not have access to 1-hour delivery or a store around the corner. The nearest "corner" is 10 miles away! We also like to can our veggies and store them for winter use. Canning is such a great option for homesteaders!!
Our pantry is not perfect, but it is functional and appropriate for our needs. I hope yours works best for you! 🙂
You can check out my Sprinkles Cabinet before&after here!