These perfectly gooey double chocolate brownies are paired with a dreamy pumpkin frosting and topped with peanut butter chocolate Rice Krispies!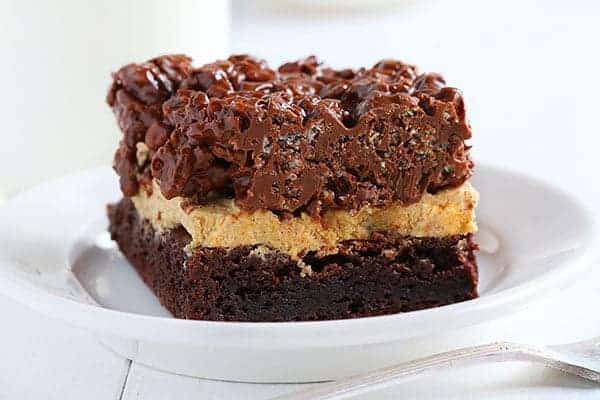 One of the most exciting aspects of the 21st century is technology. We have the ability to pop online and see up-to-the-second news. We can communicate with people thousands of miles away. We can make work more efficient and we can develop bonds with virtual strangers through common interests.
Like most people, I use social media a great deal. I would even say I rely on it. Through being a blogger and baker I have gotten to know people in the same industry, but most often the extent of our relationship is virtual.
When Pillsbury came along and asked if I would like to participate in a "Blog Hop" I agreed. What they asked was that I make a fellow blogger a special treat, package it up really pretty, and then send it to them. Sure, sure, I can do that. Easy… I just bake something and mail it. Done.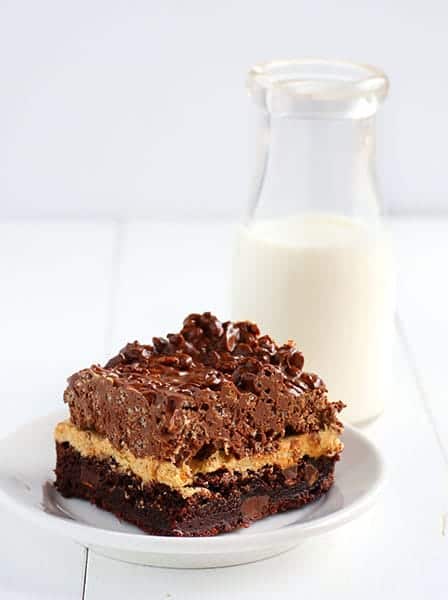 What ended up happening was something entirely different. For the first time in a long time, I didn't use technology in the slightest.
I got to know the ladies involved in the Blog Hop in a real way. We talked. We laughed. We bonded over delectable treats. We found out more about each other and truly developed a real, lasting bond. One that I am forever grateful for.
See, something magical happened as I stood in my kitchen preparing these very special brownies for my friend. I thought about her as I baked then, thought about her face when she would open them (hopefully smiling!) and even thought about how I could personalize them just for her so she would know how special she is.
I sent these treats to Aimee from Shugary Sweets. You are going to LOVE what she made for her Blog Hop friend!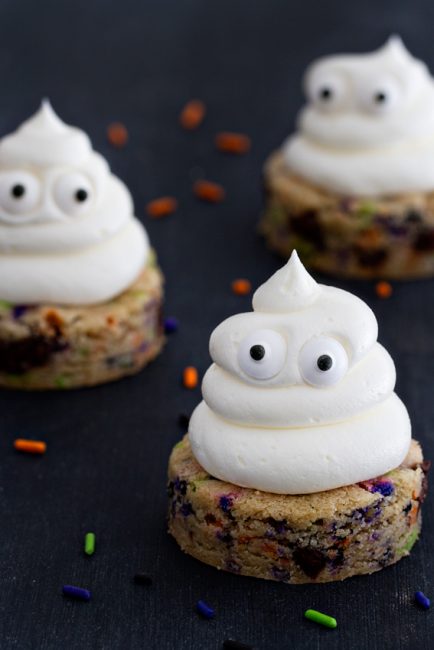 As if that experience wasn't rewarding enough, I then received a package from another friend! I was blown away at the cuteness of these amazing bars. Not only were they probably the most adorable treat ever, but they were good. So good. Suddenly I wanted to make everything I could from My Baking Addiction because I knew all of her recipes would be just as wonderful! You can see her delicious recipe here.
Tips & Tricks
If you want to save time you can prepare the Rice Crispy Chocolate layer the day before. Just pour the rice kripsy mixture into a parchment lined 9-inch square pan (or the same size pan you will be using for the brownies) and allow to set. When you are ready to assemble, simply remove rice krispy mixture and place on top of frosted brownies.
I love everything about fall and especially all the pumpkin flavors! However, you can easily change out the pumpkin frosting for vanilla or more chocolate or even strawberry for a Neapolitan treat.
The pumpkin buttercream is totally addictive, so you may want to double to recipe just to have some on hand. I used it on pancakes!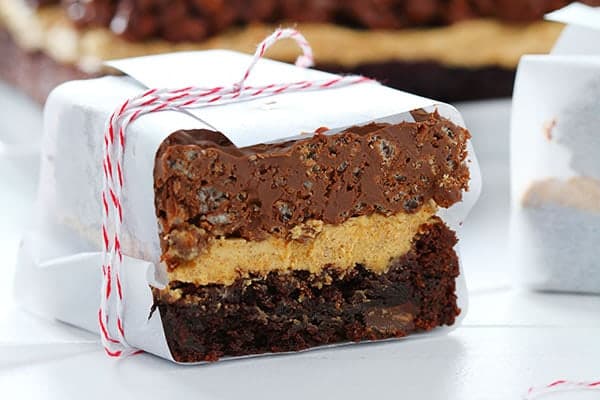 Thank you so much to Pillsbury for giving me the gift of friendship! And of course having some amazingly delicious treats delivered right to my door.
I feel so inspired by what they have done and plan on baking a lot more fun treats and sharing them with friends and neighbors. This was such a beautiful and fun experience, I am feeling really motivated to pay it forward!