Finding the best Lemon Pound Cake recipe is a triumph! This recipe never disappoints and is fantastic right until the very last crumb! (Getting better on days 2 and 3!) If you love pound cake, don't miss my famous Cream Cheese Pound Cake or Peach Pound Cake!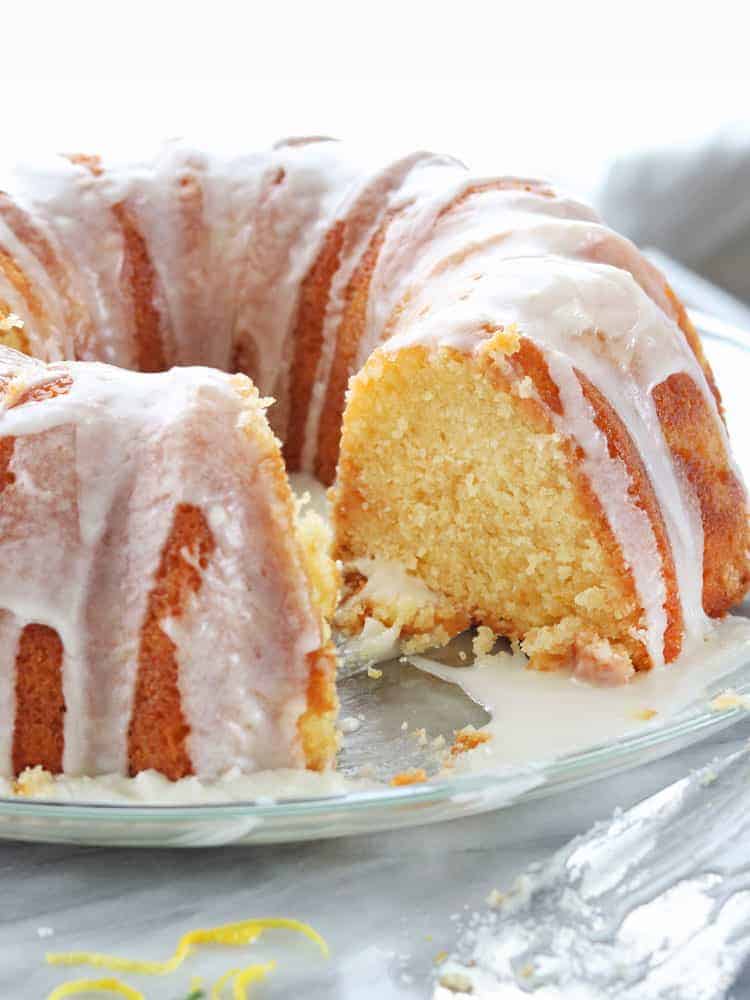 What is a Lemon Pound Cake?
The definition of pound cake is this: a rich cake containing a pound, or equal weights, of each chief ingredient, typically flour, butter, and sugar. One of the original pound cake recipes was:
(THIS IS NOT THE RECIPE, THIS IS AN EXAMPLE OF A TRADITIONAL POUND CAKE. ACTUAL RECIPE in the recipe card below.)
1 pound sugar
1 pound butter
1 pound flour
1 dozen eggs
1/4 cup lemon juice
1 tablespoon lemon zest
With updates in the sourcing of flours, accessibility of ingredients, quality of butter, and the addition of extracts in baking, some changes have been made to that original recipe.
Technically speaking, this lemon pound cake recipe does not have equal parts of flour, butter, and sugar as it has more flour. However, it still maintains the rich flavor and beautiful, dense crumb that is commonly associated with a pound cake. Try my Lemon Loaf for another lemon-flavored dessert with a dense crumb.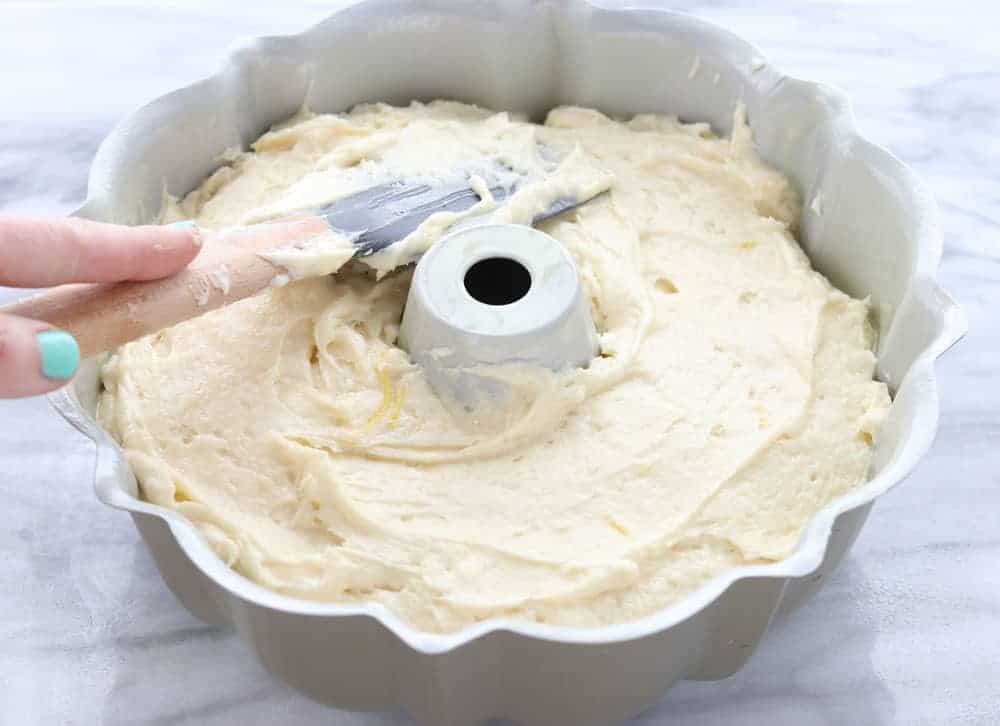 What Kind of Pan Do You Use for a Pound Cake?
The standard pans for pound cakes are either a Bundt cake pan or a loaf pan. Pound cakes tend to release beautifully from pans and that is where you can have fun! Decorative Bundt pans help to create the most beautiful looking pound cakes and showcase "naked" cakes beautifully. A simple glaze is all that is needed to showcase the beauty of the cake itself!
Loaf pans (longer rectangle pan) are also common when making pound cakes. A standard loaf pan size is 9x5x3. If you want to use mini loaf pans for this recipe I recommend dividing the batter equally into 3 smaller pans.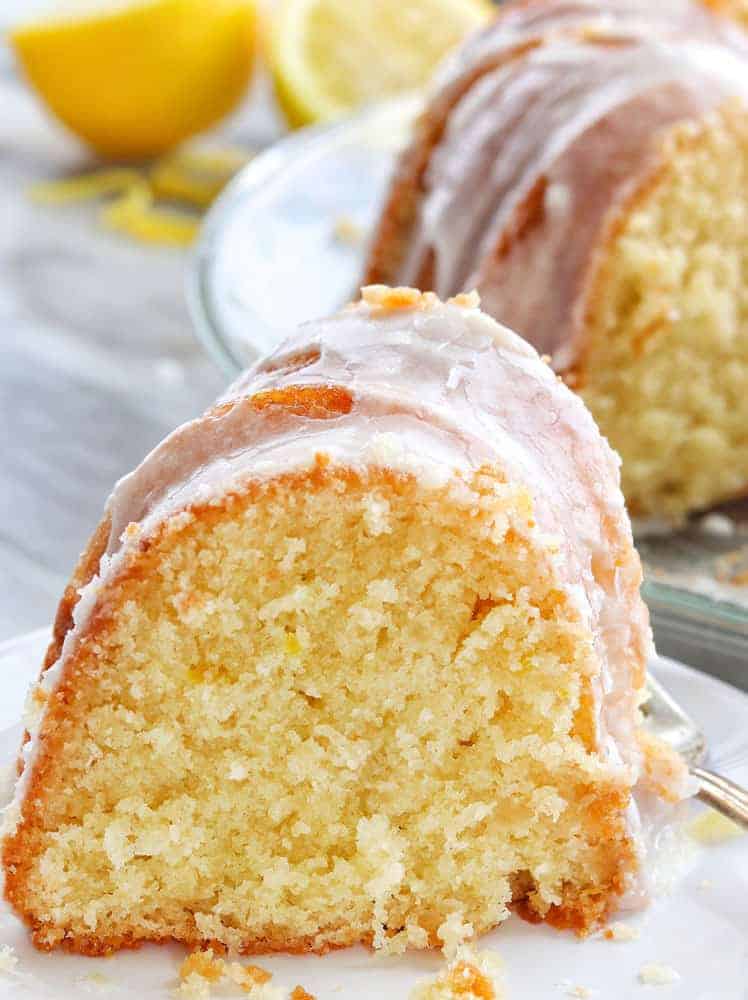 Lemon Pound Cake Recipe
The ingredients are fairly simple for this recipe, but it is important to find good quality and make sure they are fresh to ensure that beautiful crumb!
Unsalted Butter – we add salt separately so no need to use salted butter here. Make sure it is not cold though.
Eggs – room temperature is best. I also prefer to use extra-large eggs.
All-Purpose Flour – measure properly! Use a fork to sift the flour in the bag, then a spoon to add the flour to the measuring cup. Level the cup with a knife and add to the recipe.
Salt – I prefer kosher salt (a larger granule) in baking
Buttermilk – allow the buttermilk to come to room temperature. If you don't have any you can make your own by adding vinegar or fresh lemon juice to whole milk. Check out four recipes for homemade buttermilk here!
Lemon Extract – One tablespoon of fresh lemon juice is equivalent to 1/2 teaspoon of lemon extract, so if you are opting for fresh lemon juice in this recipe instead of extract, use 1/4 cup.
Lemon Zest – grated fresh works best
If needed, check out my High Altitude Baking tips if baking at a higher altitude.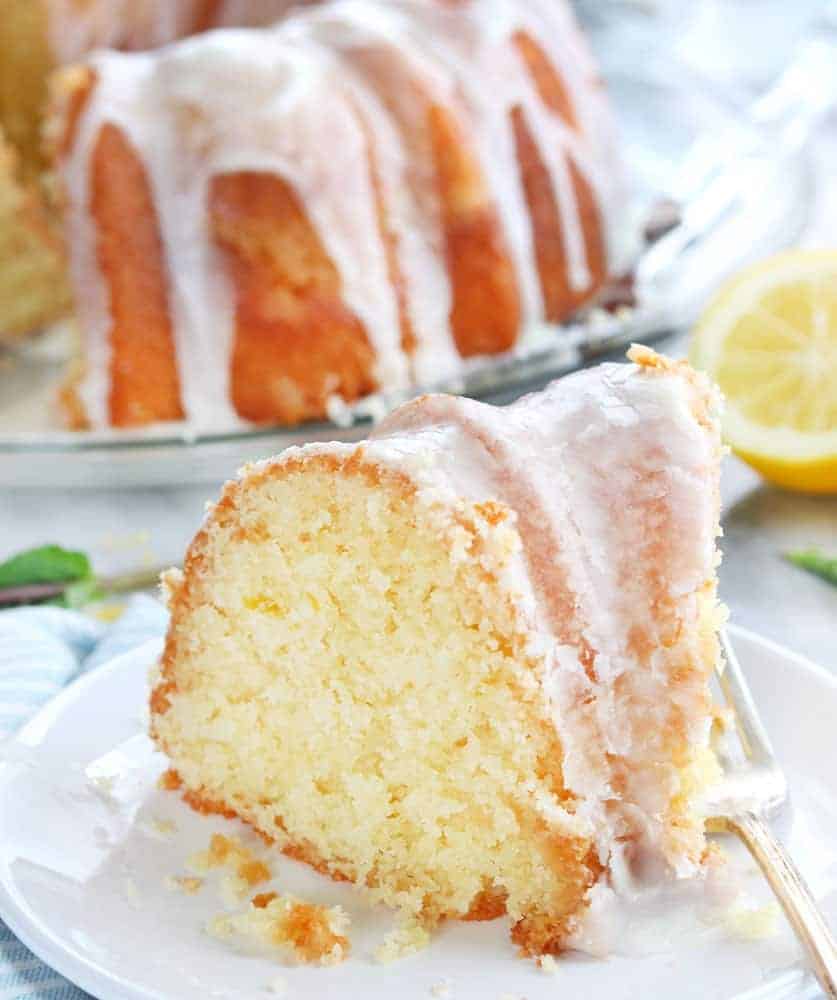 Lemon Glaze for Lemon Pound Cake
Although this lemon pound cake is flavorful enough to stand on its own, I love what a perfect lemon glaze does to it. My method is unique in that I add some glaze when the cake is hot and let it soak into the cake, then add more after it has cooled. This means amazing flavor and a beautiful presentation!
How to Make Glaze
The ingredients are simple, just whisk confectioner's sugar, lemon juice, and butter together in a bowl until glaze is smooth. (You can use a hand-held mixer or stand mixer as well as by hand.) I prefer softened butter to melted, as I find the softened butter incorporates better and doesn't appear greasy. I have also used a salted butter, as I find it cuts the richess of the sugar just a bit. If you don't have salted, feel free to use unsalted.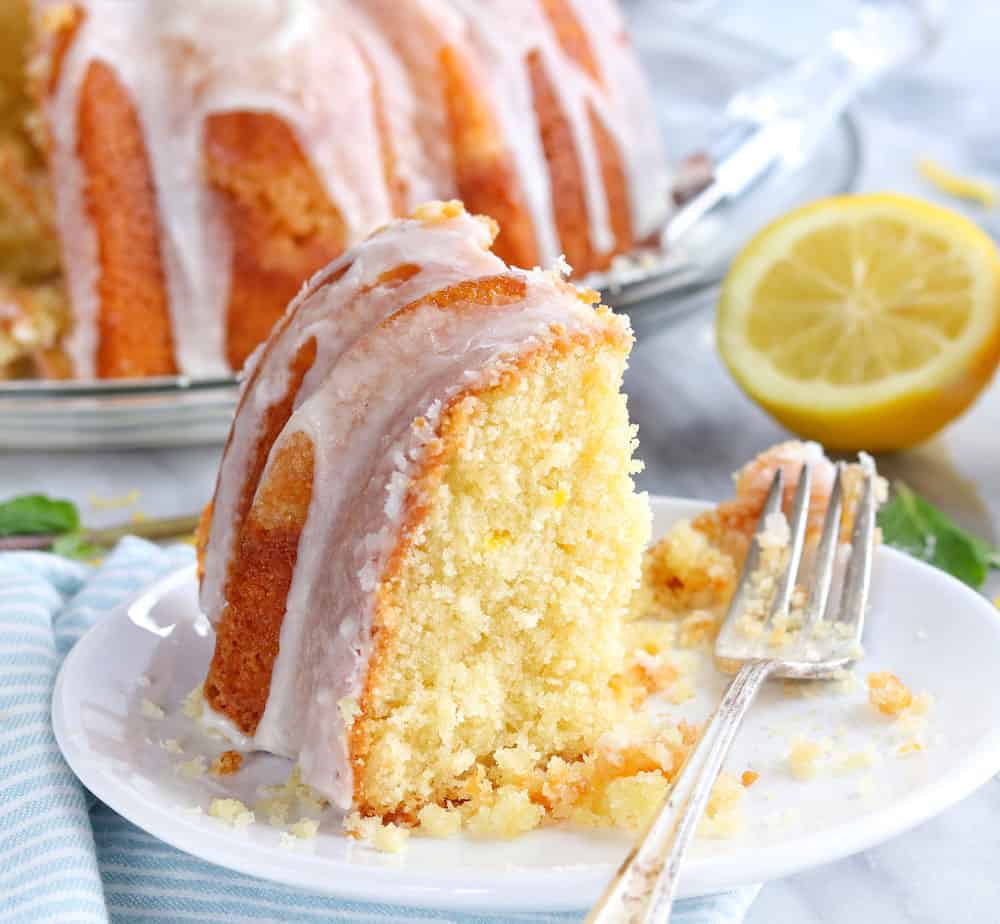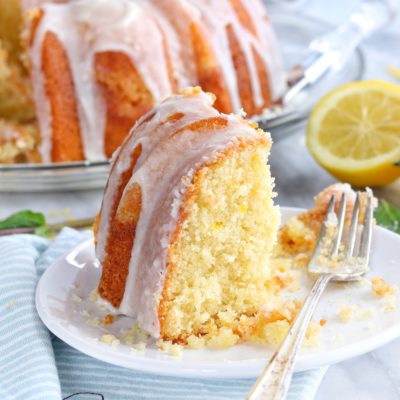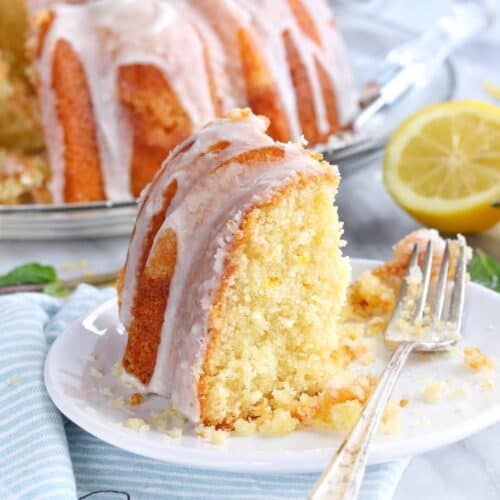 Lemon Poundcake with Lemon Glaze
A beautiful lemon flavor pound cake with the most wonderful lemon glaze!
Ingredients
LEMON POUND CAKE
2½

cups

granulated sugar

1½

cups

unsalted butter,

softened

4

eggs

3½

cups

all-purpose flour

½

teaspoon

salt

½

teaspoon

baking soda

1

cup

buttermilk

2

teaspoons

lemon extract

1

tablespoon

lemon zest
LEMON GLAZE
2

cups

confectioners' sugar

¼

cup

lemon juice

2

tablespoons

salted butter,

softened
Instructions
LEMON POUND CAKE
Preheat oven to 350° F. Grease and flour a 10-inch bundt pan.

Beat white sugar and butter together in a bowl with an electric mixer until light and fluffy, about 10 minutes. Add eggs one at a time, thoroughly beating each egg into the butter mixture before adding the next.

Sift flour, salt, and baking soda together in a bowl. Add 1/3 of the flour mixture to the butter mixture; mix well. Pour in 1/2 the buttermilk and beat until combined. Repeat adding the remaining flour mixture and buttermilk, beating well after each addition, and ending with the flour mixture. Stir lemon extract and lemon zest into batter. Pour into prepared bundt pan.

Reduce oven temperature to 325° F.

Bake in the oven until a toothpick inserted into the center of the cake comes out clean, 60 to 75 minutes. Cool in the pan for 10 minutes before removing to a cake platter or plate.
LEMON GLAZE
Beat confectioner's sugar, lemon juice, and 2 tablespoons softened butter together in a bowl until glaze is smooth.

Pour about half the glaze over the cake; let cool. Pour remaining glaze over the cake.
Did you make this recipe?
Thank you for making my recipe! You took pictures, right? Well go ahead and post them on Instagram! Be sure to mention me @iambaker and use the hashtag #YouAreBaker.