Lemon Puppy Chow (aka Muddie Buddies) is a super fun citrus twist on a classic! Sweet vanilla and lemon flavor all wrapped up in an easy-to-eat snack! Don't miss my traditional Puppy Chow or S'mores Puppy Chow! (In case you are wondering, this is human food, not dog food.) 🙂

Lemon Puppy Chow
So you might be wondering what the heck this crazy creation is? Let me break it down for you. Chex cereal coated in vanilla chocolate (although not technically chocolate) that has been flavored with lemon extract and a wee lil' bit of lemon zest. That concoction is then coated in confectioners sugar. Nowthen the real test begins… can you stop with one handful? Nope!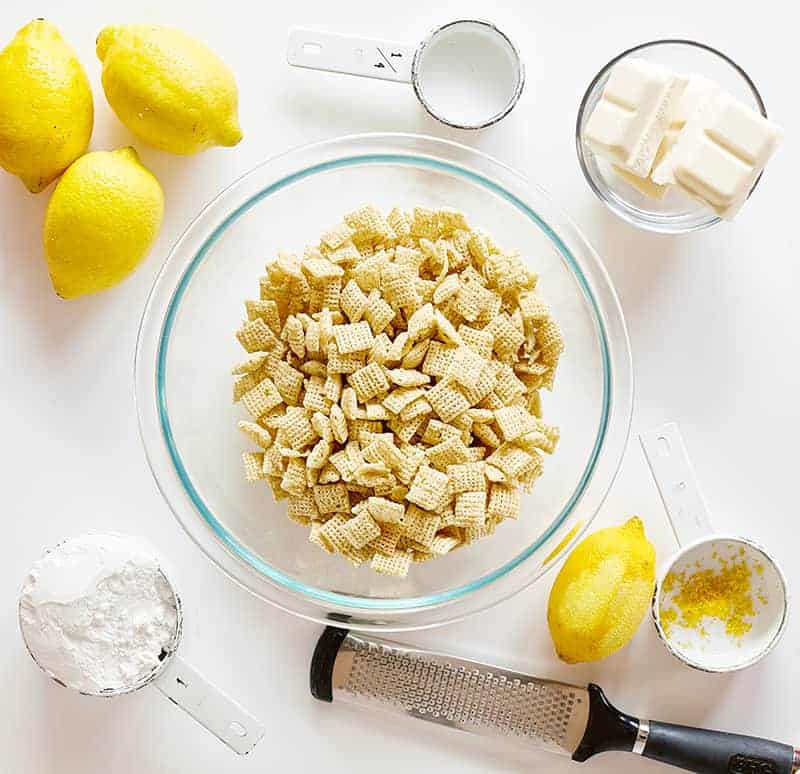 How to Make Lemon Puppy Chow
Five simple ingredients make up this treat!
Chex cereal
vanilla candy coating
lemon extract
lemon zest (optional)
confectioners sugar
IMPORTANT: You CANNOT use white chocolate morsels in lemon puppy chow, the extract will make it seize instantly and be a giant mess and waste of ingredients. You can add the extract and zest right to the melted "chocolate" and stir until incorporated. Just to reiterate, this won't work with white chocolate morsels.
Pro Tip: If you only have white chocolate morsels, try omitting the lemon extract and adding 1/4 cup of dry lemon pudding to the confectioner's sugar. This will be the flavoring.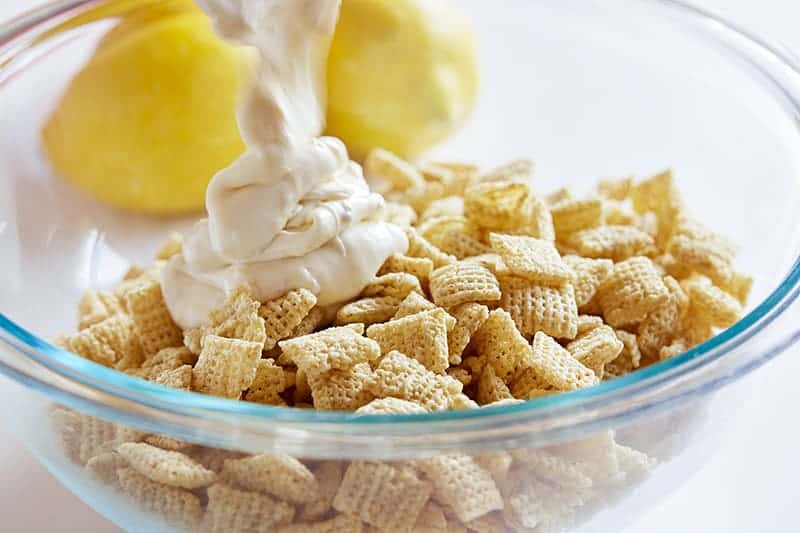 Start by melting the vanilla candy coating. Once it is fully melted and smooth, you can add the lemon extract and zest. Stir well. Now pour the chocolate over the cereal and stir with a spatula.
Pour the chocolate-coated cereal into a large sealable plastic bag and then add the confectioner's sugar. Shake shake shake.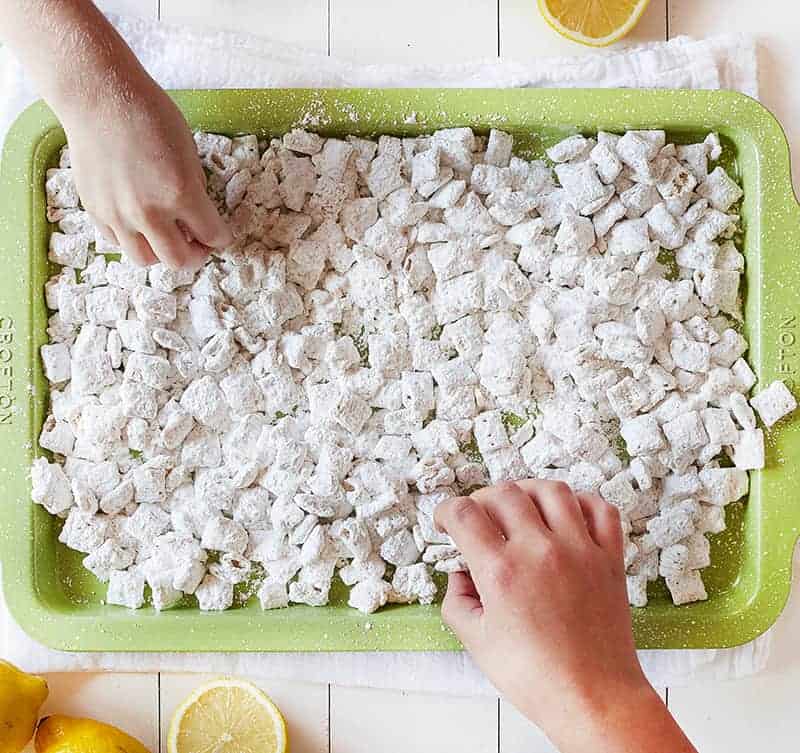 Pour that onto a cookie sheet and spread into a flat layer so that every piece can dry. (We sometimes skip this step and eat right out of the bag 😇)
If you happen to have extra zest you can sprinkle the rest of it over the puppy chow. I was not a huge fan of this as lemon zest can be a tad bitter, but it does add a little color so folks know what they are getting. Speaking of color…
Food Color in Lemon Puppy Chow: Yay or Nay?
If you want a BIG pop of color, you can add yellow food coloring. When you are adding the lemon extract to the chocolate candy melts, add in 1-2 drops of yellow food color. (Or as much as you would like.) Stir well and then continue the recipe as instructed.
If you happen to want a really fun twist on this colorful idea, do half and half:
Pour half of the cereal in one bowl and the other half in another bowl. Add half of the white chocolate candy melts over one of the bowls then add the food color to the remaining chocolate candy coating. Stir, then pour that yellow chocolate candy coating over the remaining cereal. Stir to coat well. You should have a bowl of white and a bowl of yellow. Add both bowls to a bag and then add the confectioner's sugar.
Folks LOVE this colorful version but it does take a few extra minutes. (not pictured here)
Again, this can't be done with white chocolate morsels, only the candy melts.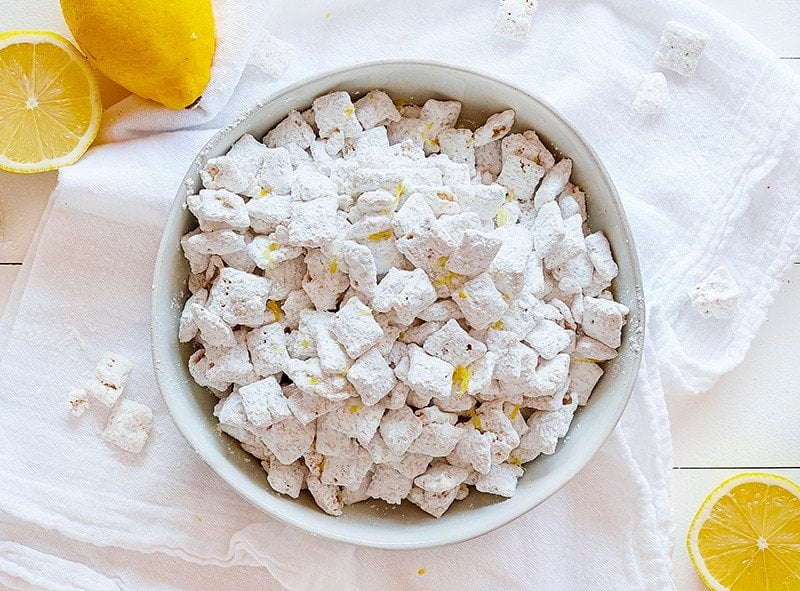 Can This Recipe Be Doubled?
Yes! You can easily double this recipe. Just make sure you have a large enough bowl to mix the ingredients in and that you can work in batches when coating the cereal with chocolate.
How Long Does Lemon Puppy Chow Last?
You can store the puppy chow in an airtight container (or in the bag you made it in) on the counter or in the refrigerator for up to 2 weeks, but I doubt it will last that long! (That is the official answer BTW, I have never refrigerated puppy chow.)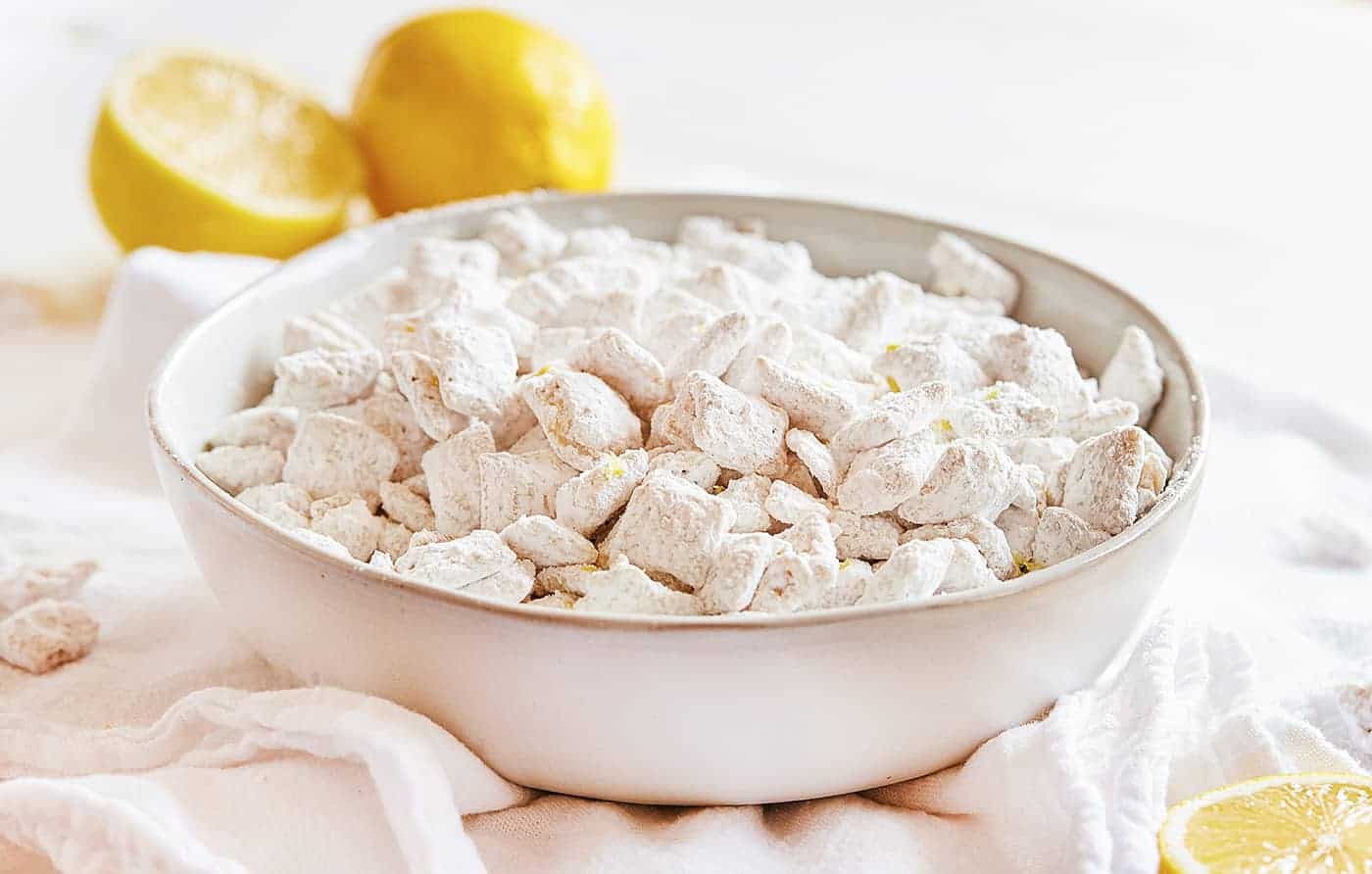 Puppy Chow Variations
I love all of the easy ways you can change up muddie buddies. Some of my favorite variations are:
Banana Cream Puppy Chow
Brownie Puppy Chow
I am going to be posting all of these recipes soon… but the basic recipe is there. Chocolate, cereal, and sugar. You got this. 😉
Want More Lemon Desserts?
Blueberry Lemon Heaven Dessert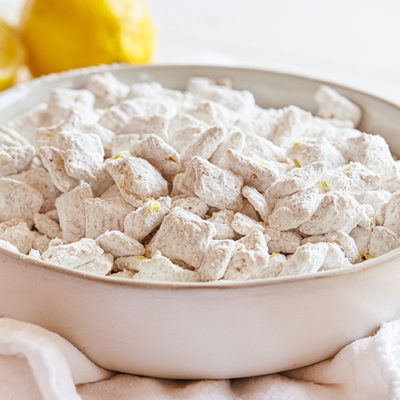 Lemon Puppy Chow
A fun and easy way to snack! Just 5 ingredients and 10 minutes and you are in lemon puppy chow heaven!
Ingredients
8

ounces

vanilla chocolate,

I recommend Candiquick

2

teaspoons

lemon extract

1

teaspoon

lemon zest,

optional

4

cups

Rice Chex cereal

1

cup

confectioners sugar
Instructions
In a large bowl, add the cereal.

Melt the chocolate in a microwave-safe bowl for 30 seconds, stir, and heat for another 30 seconds. It should be smooth.

Add in lemon extract and lemon zest (optional) and stir well.

Pour vanilla chocolate over the cereal and stir with a spatula until cereal is coated.

Carefully pour cereal mixture into a large plastic bag and then pour the confectioners sugar over top. Seal the bag and shake until every piece is coated with sugar.

Serve and enjoy!
Notes
This is a human recipe. Do not feed this to your dog.
Did you make this recipe?
Thank you for making my recipe! You took pictures, right? Well go ahead and post them on Instagram! Be sure to mention me @iambaker and use the hashtag #YouAreBaker.