I don't think I could love this S'mores Puppy Chow more! This version of puppy chow is perfect for summertime fun… replicating the traditional flavors of a s' more but none of the fuss with a flame. Such a fun twist on a traditional snack and a delicious human treat! If you like this easy treat you might also like my classic Puppy Chow Recipe!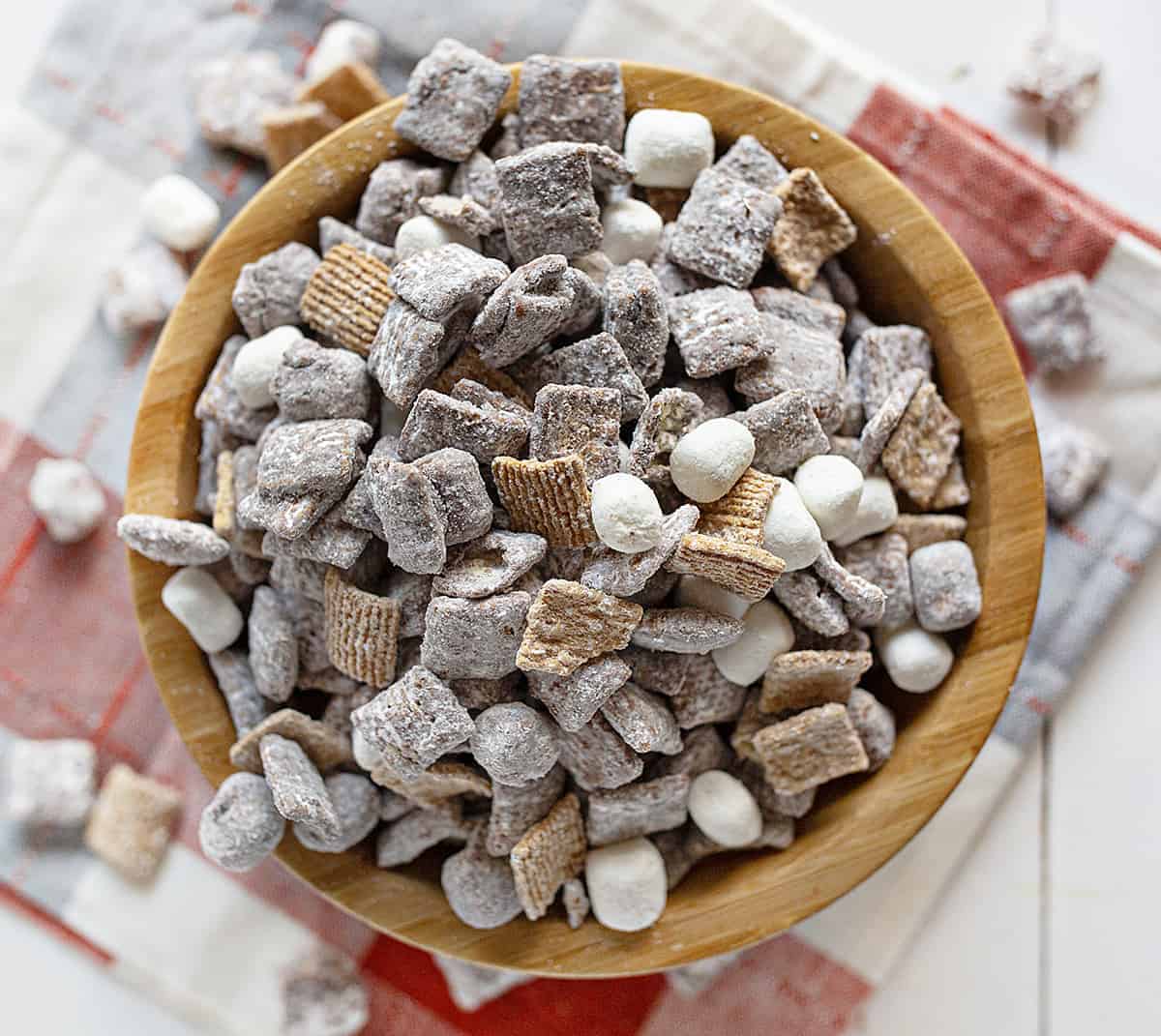 S'mores Puppy Chow
Puppy chow, otherwise known as "Muddy Buddies", are a simple treat that is ready in just a few short minutes. The homemade version is SO much better than any store-bought version. Every single bite is filled with an amazing combination of cereals, peanut butter, chocolate, and powdered sugar.
This version just happens to taste like a s'more, or a graham cracker, chocolate, and marshmallow treat. It is the perfect way to enjoy s' mores without a campfire!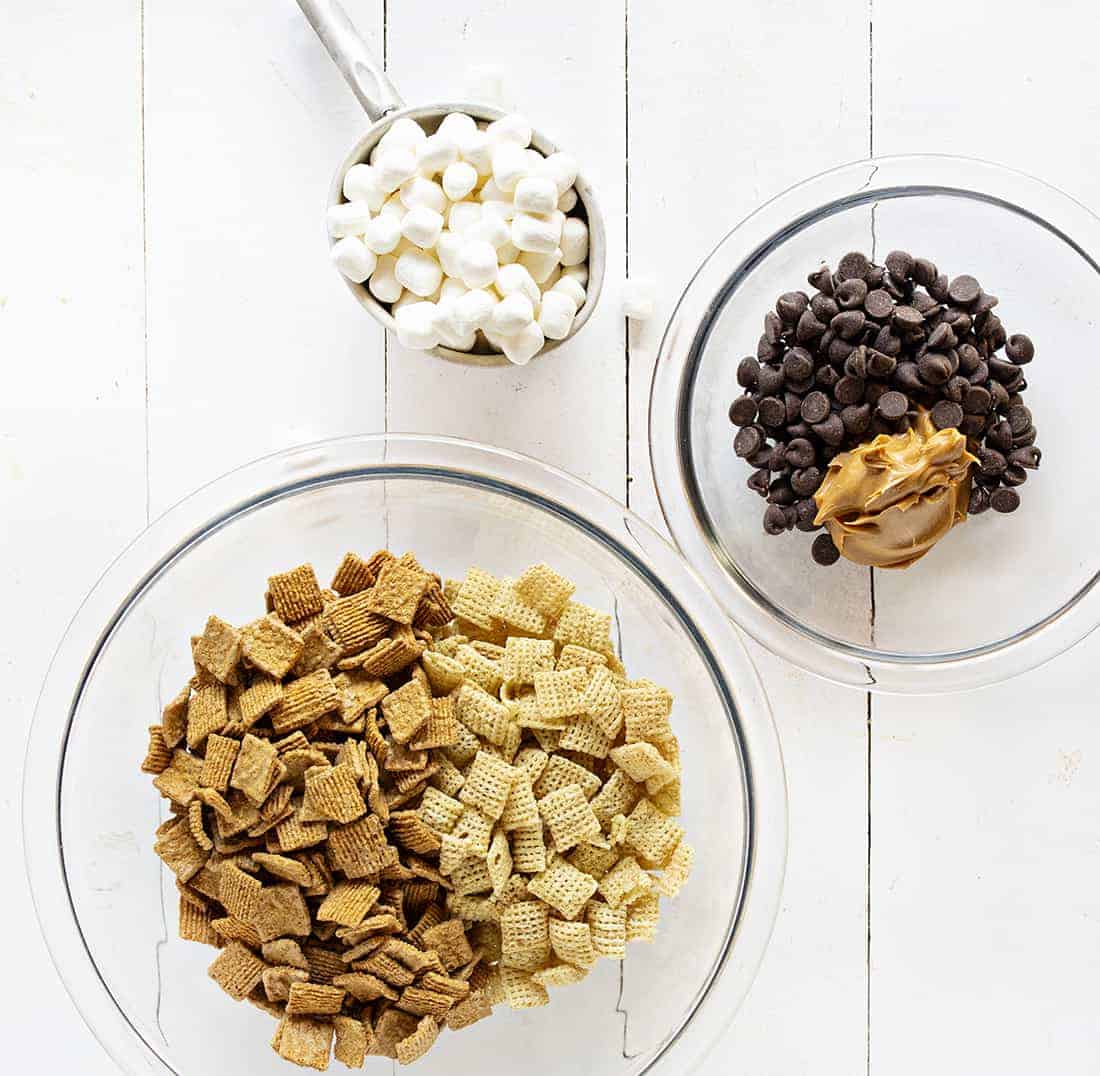 S' mores Puppy Chow Recipe
With six simple ingredients, this recipe is one you will not easily forget. To get started, here is what you will need:
Chocolate: Milk chocolate was the chocolate of choice for this recipe. I tested this recipe a couple of times and the kids (well, everyone) preferred milk chocolate to semi-sweet or dark. I think this is because we use milk chocolate when making actual s' mores, so it tastes more familiar.
Peanut Butter: When it comes to puppy chow, creamy peanut butter is the only way to go.
Rice Cereal: I use Rice Chex, but any waffle shaped cereal will do. This is just the vessel that holds all of the chocolatey goodness together.
Golden Grahams: This is where the 'graham' part of the s' mores comes into play. I love that the size and shape of this cereal are the same as the Rice Chex! You can also use actual graham crackers that have been broken, but I found that they were a bit harder to get uniform and extremely crumbly in the final mixture. Golden Grahams (any honey graham cereal) is the winner in this recipe.
Confectioners Sugar: This is the glue that keeps our hands from being completely smeared in chocolate and peanut butter. If I am being honest though, you will still want to lick your fingers clean either way.
Mini Marshmallows: It wouldn't be a s' more without marshmallows! This final ingredient rounds out this perfect recipe. Don't miss my trick on how to get some of the marshmallows coated in chocolate and some left pretty for the final presentation!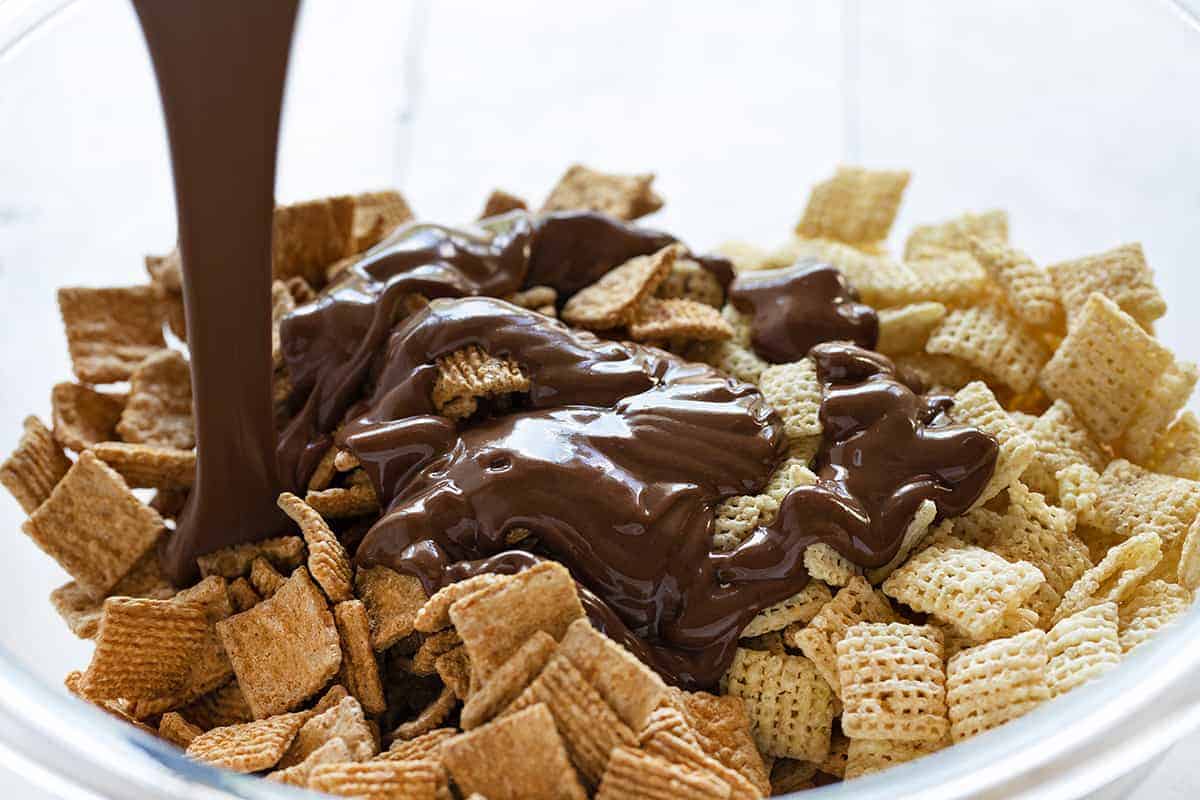 How to Make S'Mores Puppy Chow
Place the chocolate and peanut butter in a medium-sized microwave-safe bowl. Microwave on high in 30-second intervals and stir after each session. (It's usually fully melted in about a minute.) Continue until the mixture is smooth when stirred. (This is where I pause to get a shot for Instagram, who doesn't love creamy chocolate pictures?!?)
Pour the cereals and 1 cup of marshmallows into a large mixing bowl. There are not marshmallows in my picture above, but after testing I found that adding them at this stage works best if you want them coated in chocolate.
Add the chocolate mixture and gently stir until the cereal is evenly coated. Don't miss all the crumbly bits at the bottom!
Now, pour the coated cereal into a large Ziploc bag and add the confectioner's sugar. (This is usually messy, an extra set of hands to hold the bag open helps!) Seal the bag and shake until the cereal is well-coated. Let the kids help with this part, just make sure the bag is closed! 😂
Add-Ins (Kinda)
Now that the cereals and marshmallows are coated in chocolate and confectioners sugar, grab the add-ins. I am calling them add-ins because they are added at a different stage, but they are actually a repeat of the same ingredients used prior.
Pour Golden Grahams and mini marshmallows into the bag with the mixture and toss for a few seconds. This will lightly coat the cereal and marshmallows with sugar, but not the chocolate. I do this for aesthetic reasons so that when you serve them, people can see that these are S' mores puppy chow!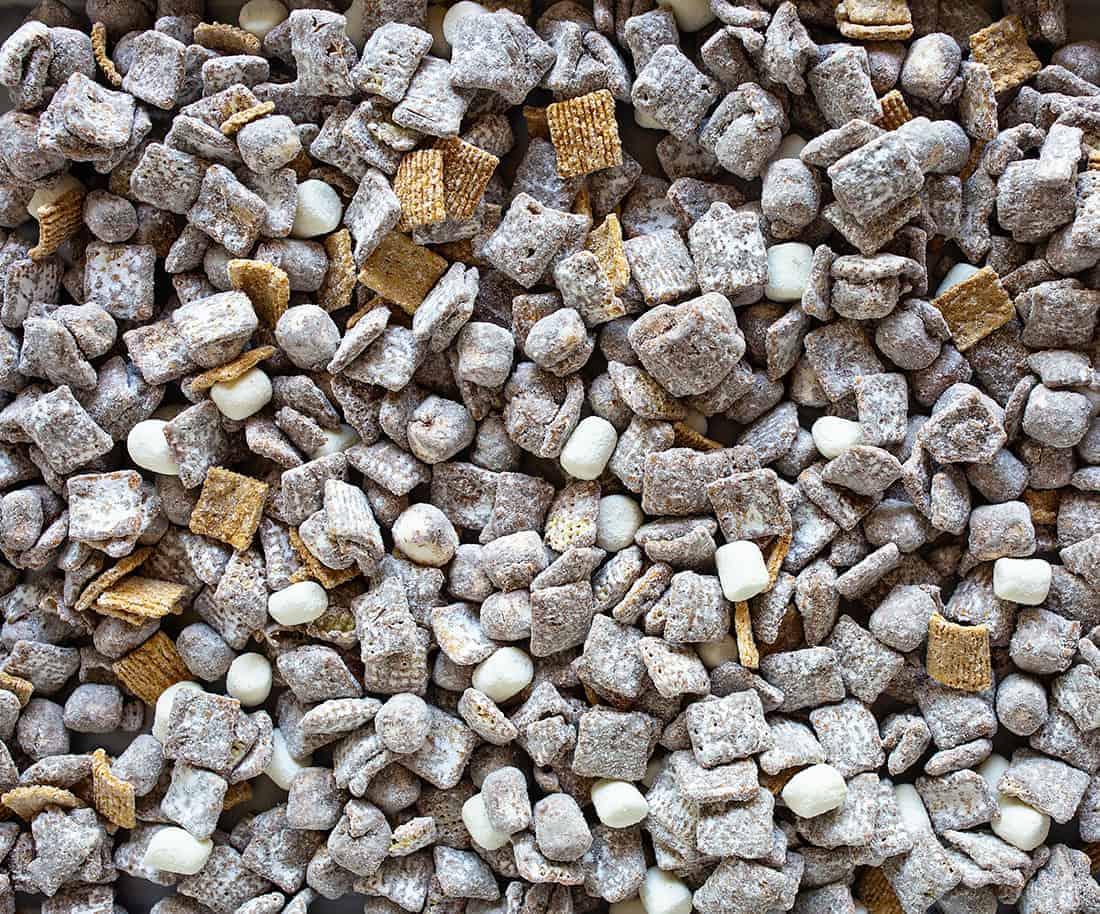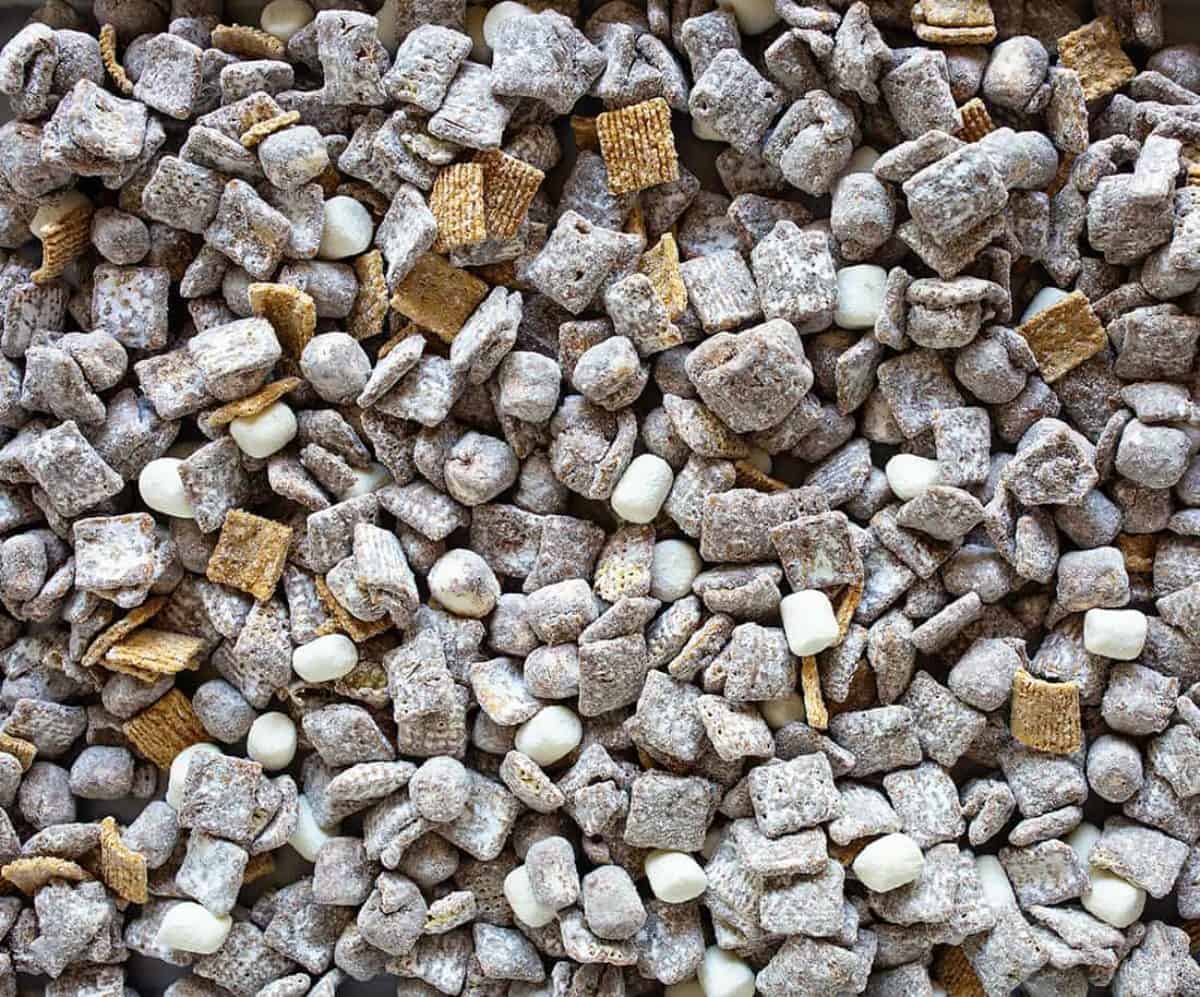 Spread on parchment paper or waxed paper. Let sit until cool and the chocolate is set.
You can store the puppy chow in an airtight container on the counter or in the refrigerator for up to 2 weeks, but I doubt it will last that long!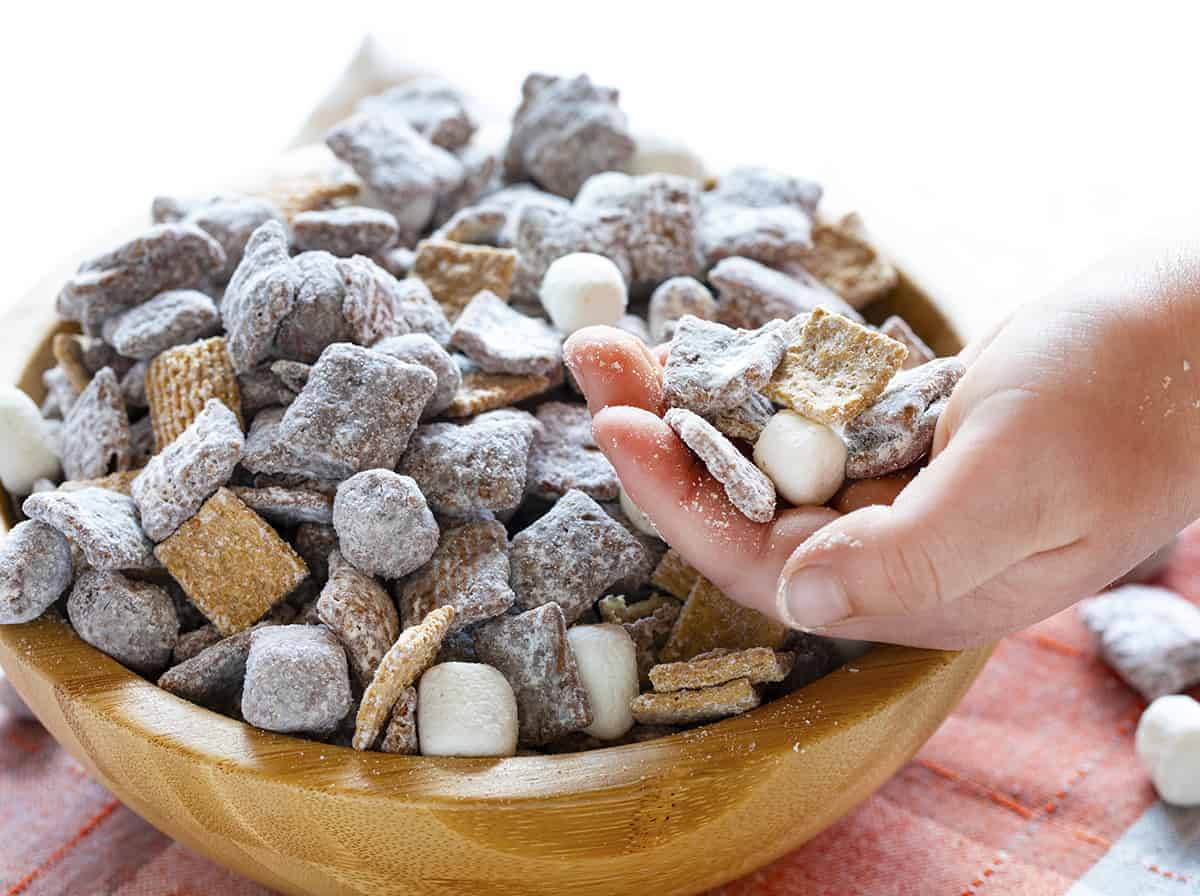 Puppy Chow Variations
I love all of the easy ways you can change up muddie buddies. Some of my favorite variations are: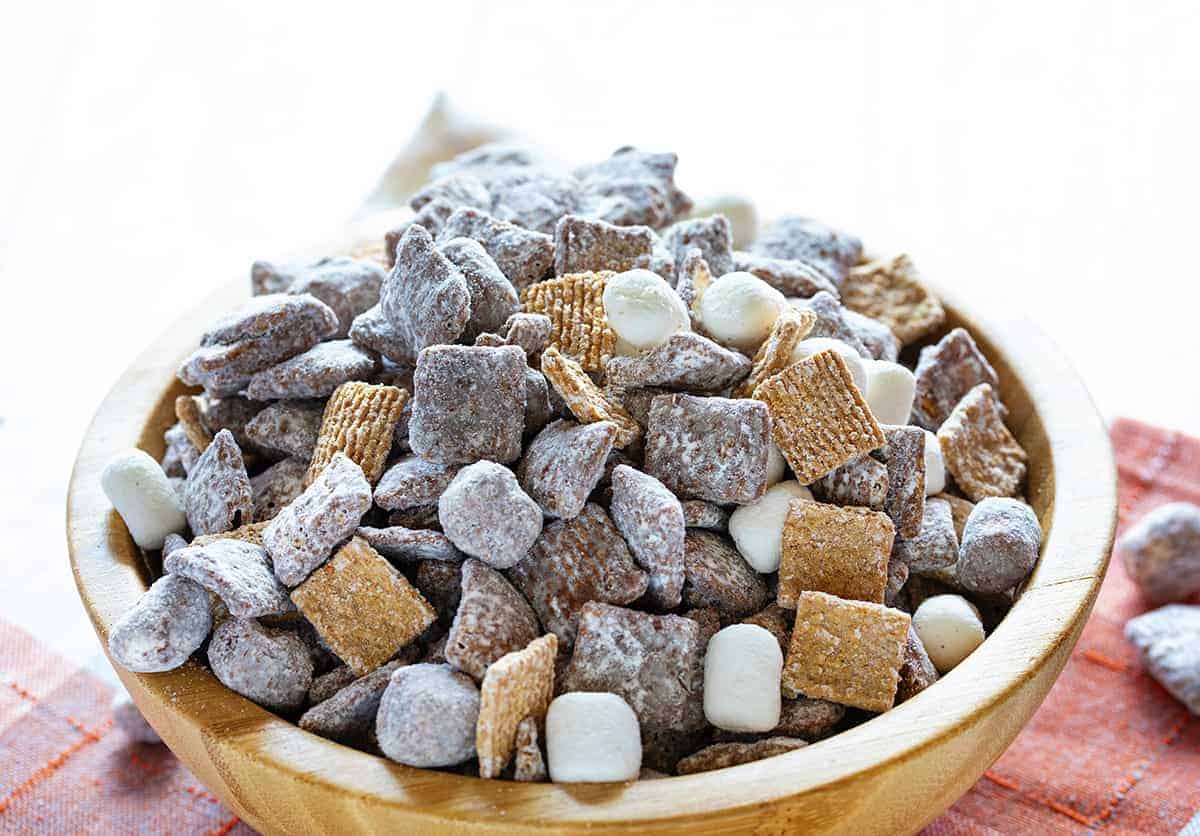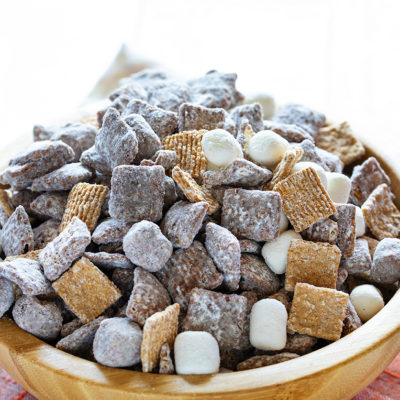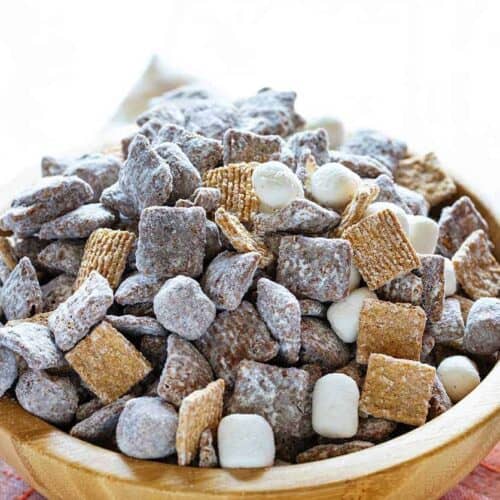 S'mores Puppy Chow
This human-food-snack is a version of puppy chow that is perfect for summertime fun… replicating the traditional flavors of a s' more but none of the fuss with a flame.
Ingredients
Main Mixture
2

cups

Golden Grahams cereal

2

cups

Rice Chex cereal

1

cup

confectioners sugar

½

cup

milk chocolate morsels

¼

cup

creamy peanut butter

1

cup

mini marshmallows
Add-Ins
½

cup

Golden Grahams cereal

½

cup

mini marshmallows
Instructions
Main Mixture
Place both portions of cereal and mini marshmallows in a large bowl.

In a microwave-safe bowl, melt the chocolate morsels and peanut butter in 30-second increments and stirring after every 30 seconds.. (Usually, 1 minute is enough.)

Once melted, pour over the cereal and marshmallows and stir with a spatula until everything is coated in the chocolate mixture.

Carefully pour into a large plastic bag that seals. Pour confectioners sugar over and seal the bag. Shake until every piece is coated in sugar.
Add-Ins
Open the plastic bag and add in the 1/2 cup Golden Grahams and 1/2 cup mini marshmallows. Shake bag again to just barely coat the add-ins.

Pour into a bowl and serve.
Notes
*You can easily double this recipe. Just make sure you have a large enough bowl to mix the ingredients in and that you can work in batches when coating the cereal with chocolate. 
Did you make this recipe?
Thank you for making my recipe! You took pictures, right? Well go ahead and post them on Instagram! Be sure to mention me @iambaker and use the hashtag #YouAreBaker.
Apparently, I need to specify that this is a HUMAN treat, not one for dogs. In the midwest we refer to these as "Puppy Chow" and others refer to them as "Muddie Buddies", but they are NOT meant for dogs.