A decadent vanilla cake topped with chocolate buttercream, milky way bars, and a glorious caramel sauce!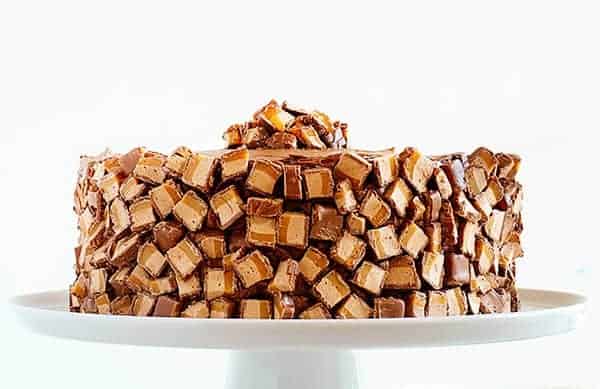 So excited to bring you this cake today. Not only is is stunning… I mean, if you don't mind me saying so… but it's from a special friend.
Sally from Sally's Baking Addiction has a new book out called Sally's Candy Addiction!
It's full of tasty truffles, fudges, and decadent treats for any sweet-tooth fix!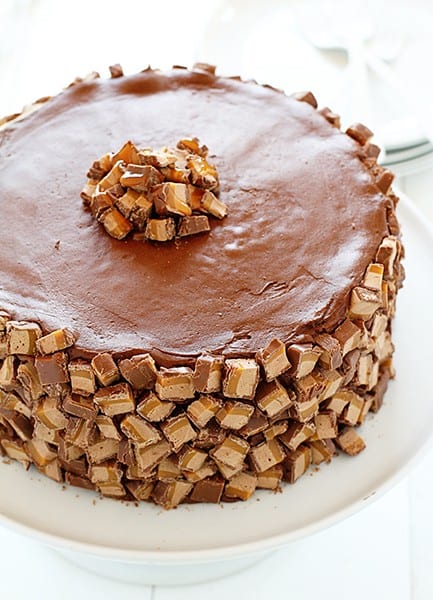 The second I saw this cake I was in love. I mean… a wonderfully moist and buttery vanilla cake covered in copious amounts of chocolate frosting toped with milky way (also inside!) and then drizzled with caramel? What's not to love!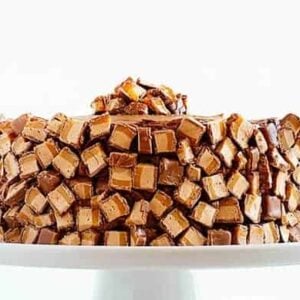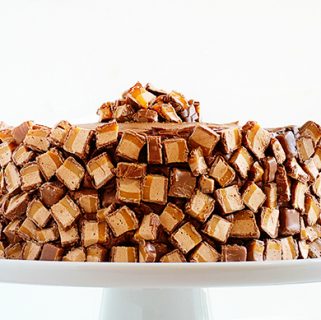 Milky Way Cake
A decadent vanilla cake topped with chocolate buttercream, milky way bars, and a glorious caramel sauce!
Ingredients
Cake
1/4

tsp.

salt

1

tsp.

vanilla extract
Chocolate Frosting
1 1/4

c

2 1/2 sticks, 284g unsalted butter, room temperature

3 1/2

c

420g confectioner's sugar, plus 2 tablespoons if needed

3/4

c

65g natural unsweetened or Dutch-process cocoa powder

1/4

tsp.

salt

if needed

1

tsp.

vanilla extract

1/4

c

60ml heavy cream, plus 1 tablespoon if needed

4

tbsp.

1/2 stick, 57g unsalted butter, quartered

1/2

c

120ml heavy cream

1

c

220g light brown sugar, packed

2

c

230g cake flour

4 1/4

tsp.

baking powder

1/2

tsp.

salt

3

large eggs

room temperature and separated

1/2

1 stick, 114g unsalted butter, room temperature

1 1/2

c

300g granulated sugar

1

tbsp.

vanilla extract

2/3

c

160ml whole milk, room temperature
Easy Caramel Sauce
2

c

320g chopped Milky Way® bars, divided (about 20 fun-size bars)
Instructions
Preheat oven to 350 degrees F. Spray two 9-inch cake pans with GOOP (see notes) or parchment or baking spray.
Cake
Sift cake flour, baking powder, and salt together in a large bowl. Set aside.

In stand mixer fitted with paddle attachment, beat egg whites on high speed until soft peaks form, about 2- 3 minutes. Set aside.

In your wiped out stand mixer bowl and still using paddle attachment, beat butter on high for 1 minute, or until smooth and creamy. Add the sugar and beat on high for 3-4 minutes. Scrape bowl as needed.

With mixer on low, add egg yolks and vanilla. Then beat on medium-high until combined.

With mixer on low speed as in dry ingredients, scraping bowl as needed, in 3 additions alternating with milk. Mix until everything is just combined, do not overmix.

Remove bowl from stand mixer and using a rubber spatula, fold in egg whites.

Pour batter into prepared pans. Bake for 25-28 minutes or until an inserted toothpick comes out clean.

Remove cakes from oven and allow to cool completely in the pans on a wire rack.
Caramel Sauce
Combine the brown sugar, heavy cream, butter, and salt in a medium-size saucepan over medium heat. Stir constantly with a wooden spoon (not rubber) until butter is melted, about 2-3 minutes.

Bring to a boil and, without stirring, allow to boil for 3 minutes.

Remove saucepan from the heat and stir in the vanilla extract.

Allow to cool for 15 minutes, then pour into a glass jar and cover tightly. Allow to cool to room temperature, about 45 minutes, or int he refrigerator, about 30 minutes, before using on the cake.
Chocolate Frosting
In a stand mixer fitted with paddle attachment, beat the butter on medium speed until creamy, about 2 minutes.

Add in 3 1/2 cups confectioner's sugar, cocoa powder, salt, vanilla, and 1/4 cup (60ml) heavy cream with the mixer running on low.

Once incorporated increase speed to high and beat for 3 minutes.

If the frosting is too thin, add in 2 tablespoons confectioners sugar or add 1 tablespoon heavy cream if it is too thick.

Taste the frosting; add in extra pinch of salt if frosting is too sweet.

Measure 1 cup of frosting and place it in a separate bowl. Fold in 1/2 cup (80g) of the chopped candy bars into the 1 cup of frosting. Set aside.
To Assemble
Level cakes to create a flat surface.

Place 1 layer of cake on cake-stand or serving plate. Evenly spread frosting-candy bar mixture over top.

Be gentle and this is a thick mixture and your cake is fragile.

Top with second cake and spread the plain frosting all over top and sides.

SALLY'S CAKE FROM HER BOOK: Decorate top with a few chopped candy bars and drizzle with caramel.

MY CAKE: Press remaining chopped candy bar into sides of cake. Simply scoop chopped candy bars bits into palm of your hand then press into the side of the cake. After cake has been covered you can use a fondant smoother or baker's blade to press into the sides to create an even surface.

Place any remaining bits on top of cake and the drizzle with caramel sauce.

Cover any leftover cake tightly and store at room temperature for up to 3 days or in the refrigerator for up to 5 days.
Recipe shared with permission from Sally's Candy Addiction.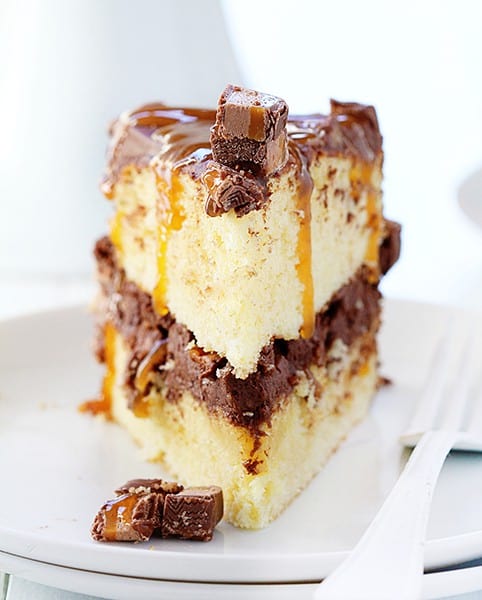 Tips & Tricks
You can use GOOP to prepare your pans.
I also made this cake in 8-inch round pans. This made the layers very thick, but cooking times were roughly the same. (Every oven is different so keep an eye on yours)
I do not recommend serving this cake cold. When the candy bars gets cold it is difficult to cut through, plus the cake just tastes great room temperature.
Be sure to keep your caramel on hand to drizzle over each slice as you are serving it.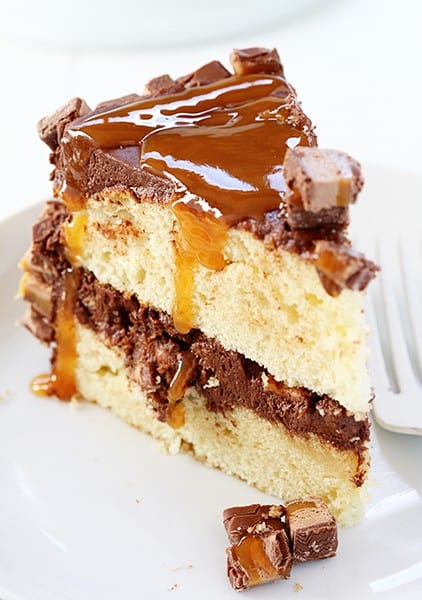 Thanks Sally for this fun recipe!
I know you will enjoy this Milky Way Cake as much as I did!