These New Years Eve Countdown Cookies are the PERFECT way to bring in the new year!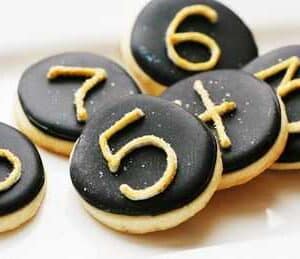 Sugar Cookie Recipe
These New Years Eve Countdown Cookies are the PERFECT way to bring in the new year!
Keyword:
sugar cookie recipe
Ingredients
¾

cups

Butter

1

c

White Sugar

2

whole Eggs

1 -½

teaspoon

Vanilla Extract

2 -½

cups

All-purpose Flour

¼

teaspoons

Cream Of Tartar

1

tsp.

Baking Powder

½

teaspoons

Salt
Instructions
In a large mixing bowl, combine room temperature (not melted) butter and sugar until smooth.

Add eggs and vanilla and combine.

In a separate bowl, sift together flour, cream of tartar, baking powder, and salt. This is an important step; you want to avoid lumps in your dough.

Slowly add dry ingredients into wet batter until fully incorporated.

Drop dough onto a large piece of saran wrap, mold it into a 4×4 square, and refrigerate for at least one hour. I often let mine sit overnight.

When ready to bake the cookies, generously flour a flat surface and roll out the dough. You can use as much flour as you need! I prefer to make cookies about 1/4? to 1/2? thick, but you can go thicker and still have successful results.

For best results, bake on silpat or parchment paper. You can reuse parchment, too!

Bake at 325-350 degrees for 5 to 8 minutes. In my oven, right about 6 minutes yields a perfectly cooked cookie, with no brown edges.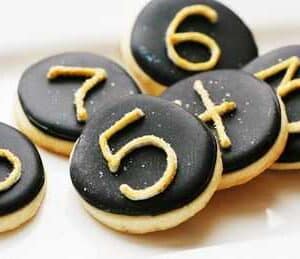 Sugar Cookie Frosting Recipe
Keyword:
Sugar Cookie Frosting Recipe
Ingredients
1

c

powder sugar

1

tbsp.

milk

1

tbsp.

light corn syrup

1 -3

drops lemon juice

optional
Instructions
Sift powder sugar to remove lumps.

Add all ingredients to bowl and mix until combined.

Add more milk as needed to achieve desired consistency.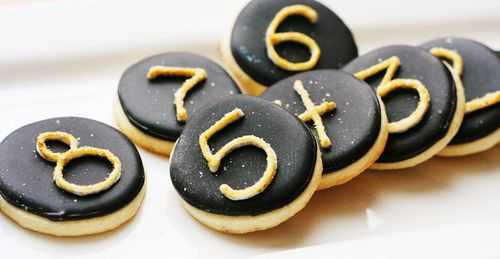 I was recently asked to be a part of a live news broadcast for Fox. They wanted some amazing Christmas and New Years inspired desserts. So I made Rainbow Cake and my newest original idea… Countdown Cookies!!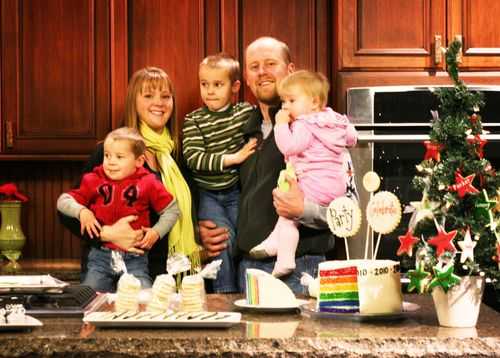 Sidenote… look how little Audrey is… today she is eight! 🙂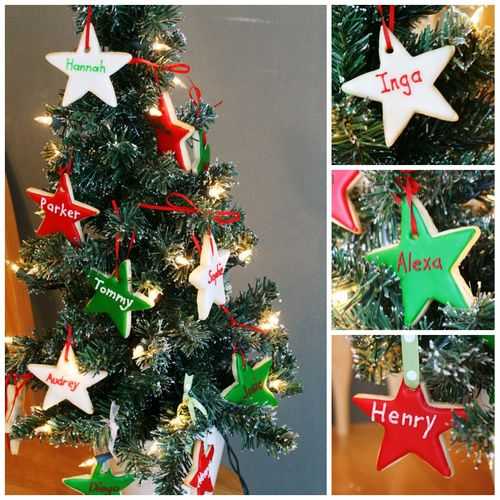 This is the Cookie Tree. I made about two dozen star cookies and added names of kids I know. I was really hoping they would show it more on TV so that you all could say "Hey! Look! That's MY baby's name on a cookie!"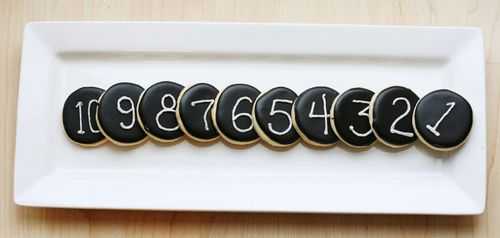 These are sugar cookies covered in my special royal icing tinted black. The numbers are written in white royal icing and covered in gold paint and gold sparkles.
Here is my famous sugar cookie recipe!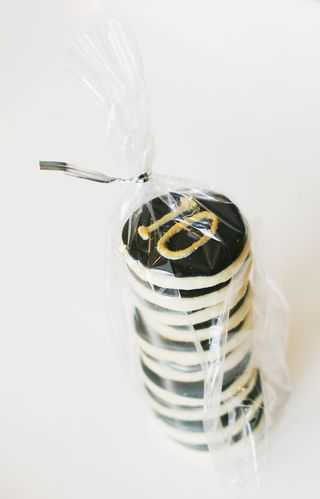 I also used my favorite glaze icing recipe.
You will also need black food color and gold sprinkles to replicate this design.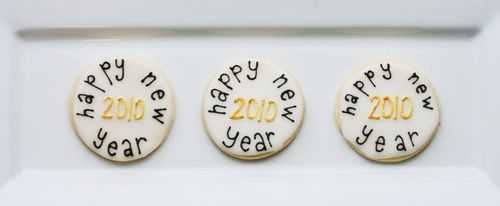 So the whole theory behind the 10-1 cookies is based on the New Years Eve countdown. You know how ten seconds before midnight everyone starts counting? 10…9…8… yeah, you get the idea.
Well, these are silver dollar size cookies that can be given as a gift to guests at a New Years Party! Something fun to nibble on throughout the night, or just a fun keepsake!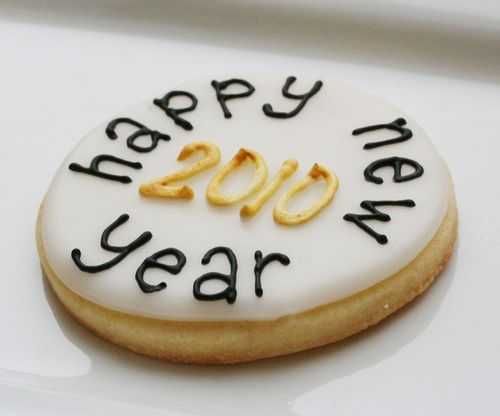 These can be personalized for every New Year!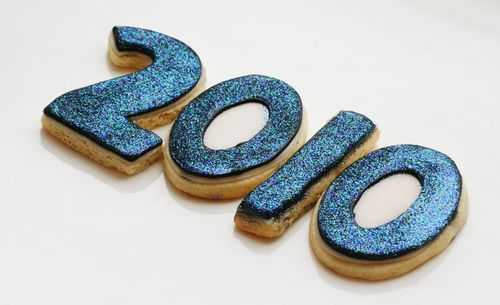 And these super sparkly black cookies were almost too pretty to eat.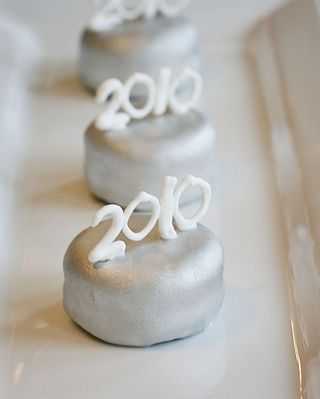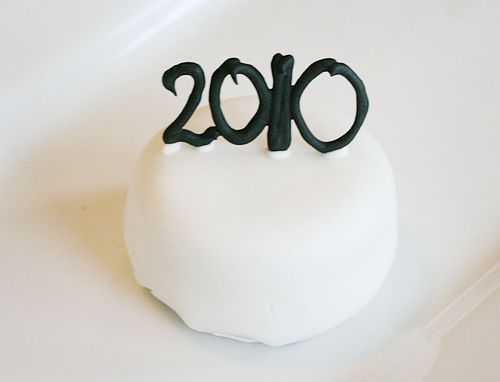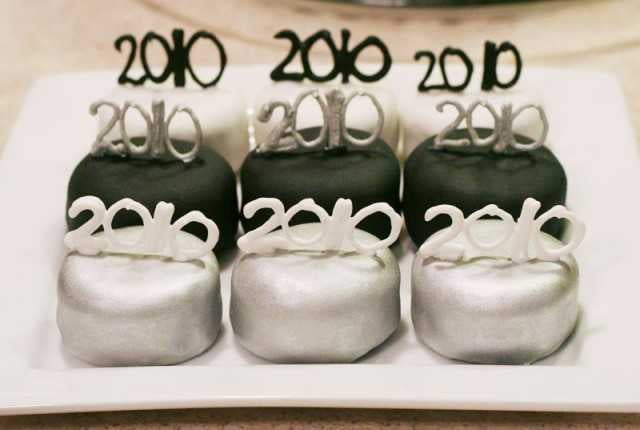 The Happy 2010 petit fours.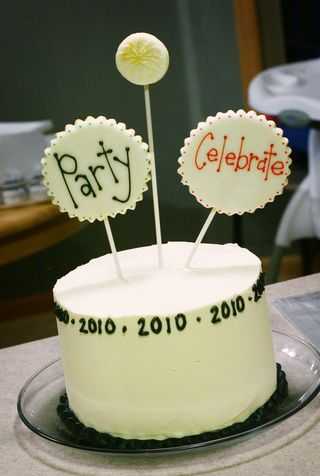 This is the New Years Eve Rainbow Cake. Sorry. Forgot to take a picture of the inside…
Hope you like my original Countdown Cookies!!