These cookies are awesome.
You must make them.
If you like oatmeal, cinnamon, chocolate, cherry dipped cones from DQ, or basically anything with sugar, then these are going to be your new go-to cookies.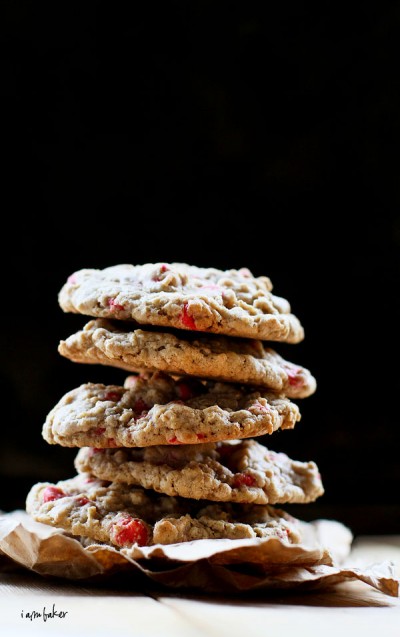 A couple of tips with this cookie:
There is a big difference in texture in between cooking them for 9 minutes or for 11 minutes.  Make sure you are keeping an eye on them starting at eight minutes!  I remove my cookies when they appeared almost under done.  The center is still a bit glossy in appearance.  The cookies should be fully cooked, but a very soft and delicate center is the best way to eat these.
You can easily substitute chocolate chips for the cherry morsels.  These cookies actually derived from my Oatmeal Cranberry Chocolate Spice Cookie.  This is probably the best base recipe for an Oatmeal Raisin cookie I have ever encountered.  I will be blogging that soon!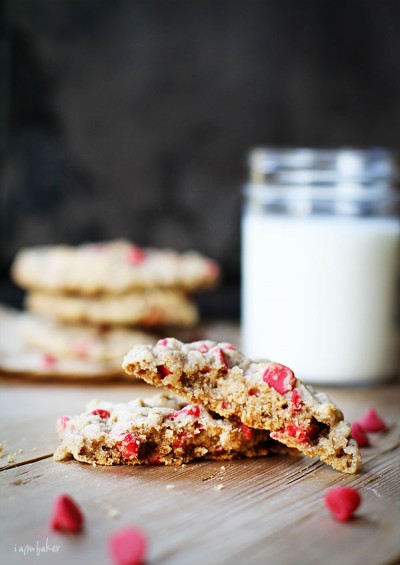 I have been testing the recipe on my neighbors for the last week, and have gotten pretty darn good positive feedback.  Most people want more.  The combination of a subtle sweet cherry morsel and the brown sugar and cinnamon along with a soft and chewy texture just puts this cookie over the top.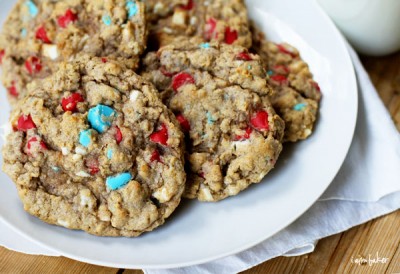 In honor of the upcoming July 4th celebrations, I made a little revision to the recipe.
I removed 1/2 of the cherry morsels and then coarsely chopped up 1/4 cup of white chocolate and 1/4 cup of blue tinted baking chips.
These are fun and patriotic and would be the perfect addition to any celebration, but just know this.
They are SWEET!  So sweet.  Like, give you a toothache sweet.  Unless you have really good teeth.  Then you are fine.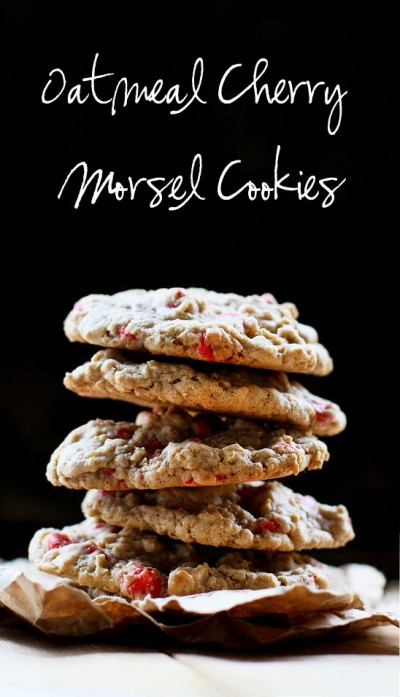 I buy my Cherry Morsels at Walmart in the fall for $3 a bag and usually stock up.  You can also buy them on Amazon, but I find these to be a bit expensive.  If you are a baker or retailer, feel free to leave a link to anywhere that offers a better deal! 🙂