Biting into a freshly baked cookie is one of life's simple pleasures! Well, you can enjoy these treats anytime you desire, even when you're short on time. This comprehensive guide on freezing, baking, and storing cookies will unveil the secrets to preserving their texture, appearance, and flavor.
So, if you've ever wondered about the best techniques to make ahead, freeze, and bake your favorite cookies, this is information you will want to save!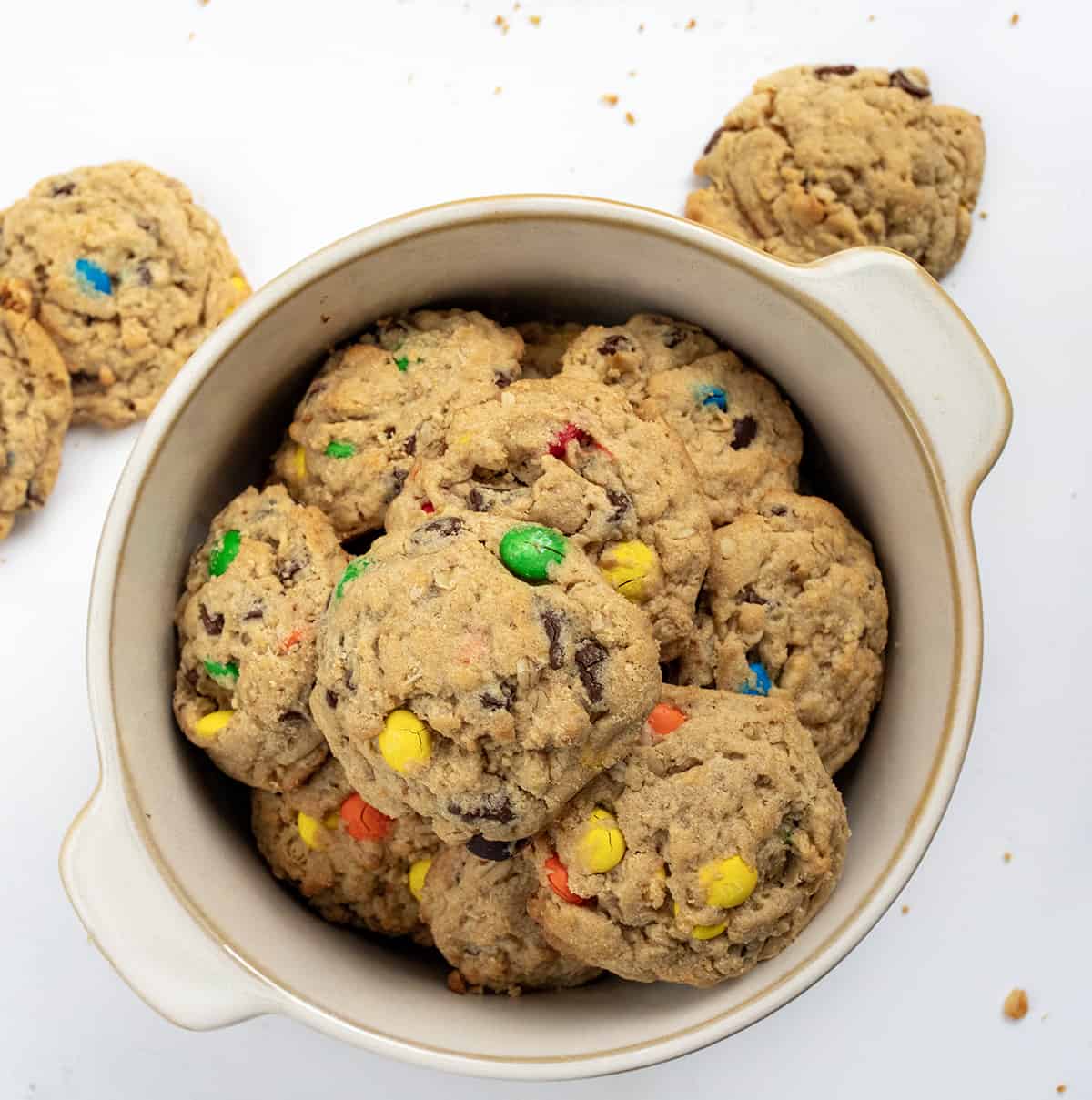 The Test
To give you the most accurate information about freezing, baking, and storing cookies, we treated this like a science experiment. Baking is both a science and an art, so it makes sense! We prepared two types of cookie dough (Monster Cookie dough and Sugar Cookie dough) and subjected them to different freezing and baking scenarios. We observed, compared, and analyzed the results, noting the differences in appearance, texture, and flavor.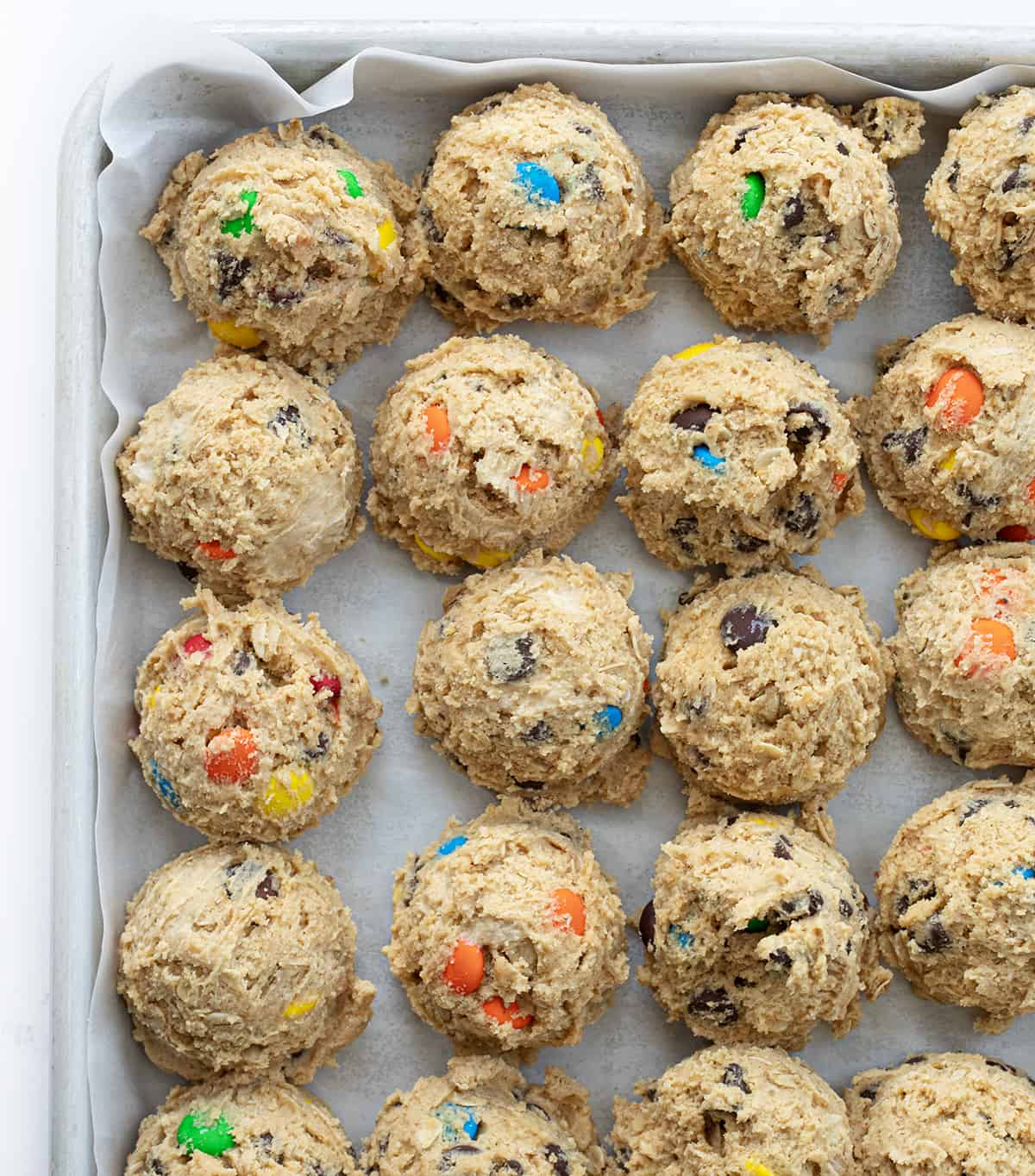 FREEZING: How To Freeze Cookie Dough
Once you have the cookie dough mixed, it's time to freeze it!
First, line a sheet pan with parchment paper. Be sure the pan will fit into your freezer!
Next, shape the cookies as instructed in the recipe.
Then, add the cookies to the lined pan in an even layer. The cookies can be placed close together since you are not baking them yet.
Transfer the pan of dough to the freezer to freeze until solid, about 1 hour.
After the cookie dough is solid, properly pack the dough to prevent freezer burn and maintain flavor and texture. To pack, transfer the frozen dough to a zipped freezer bag or airtight container. Use parchment paper to separate layers as needed. Squeeze out as much air as possible to prevent freezer burn. Label and date the containers, including adding baking instructions, and freeze for up to 6 months.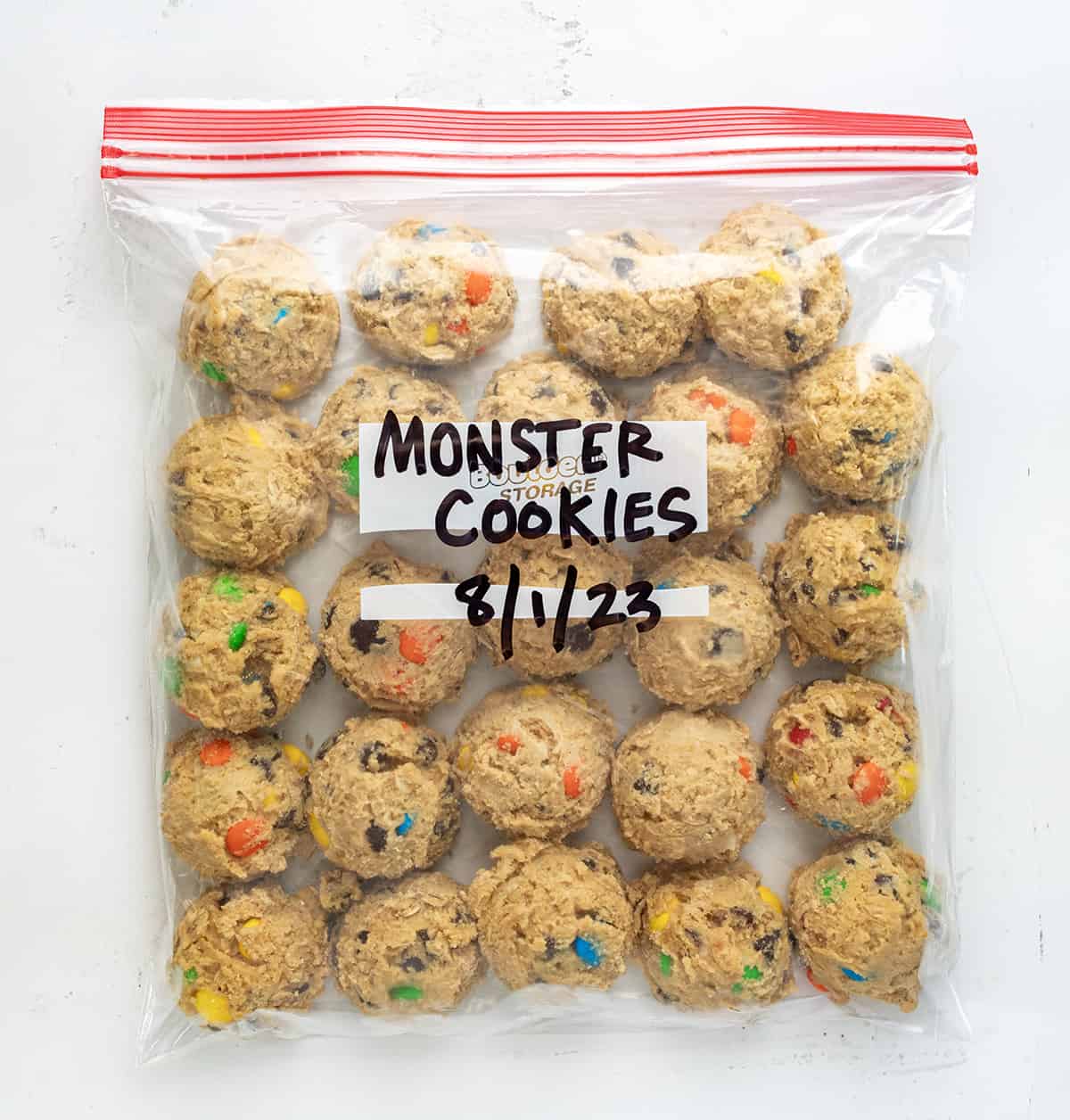 BAKING: How to Bake Frozen Cookies
Ready to enjoy a freshly baked cookie? Well, it's easy to grab as many as you are craving and get them baked using the option that is most convenient for you! For both cookies we tested the results were the same when it came to baking.
Baking Directly From Frozen: No need to add any baking time when baking the cookies from frozen. Simply preheat the oven to the instructed temperature, remove the number of cookies you need (or are craving), and bake!
Thawing At Room Temperature: You can take out the number of cookies needed and let them thaw at room temperature for about 30 minutes. Bake as instructed.
Thawing Overnight In The Refrigerator: If preferred, you can let the cookie dough thaw in the refrigerator overnight. Bake as instructed.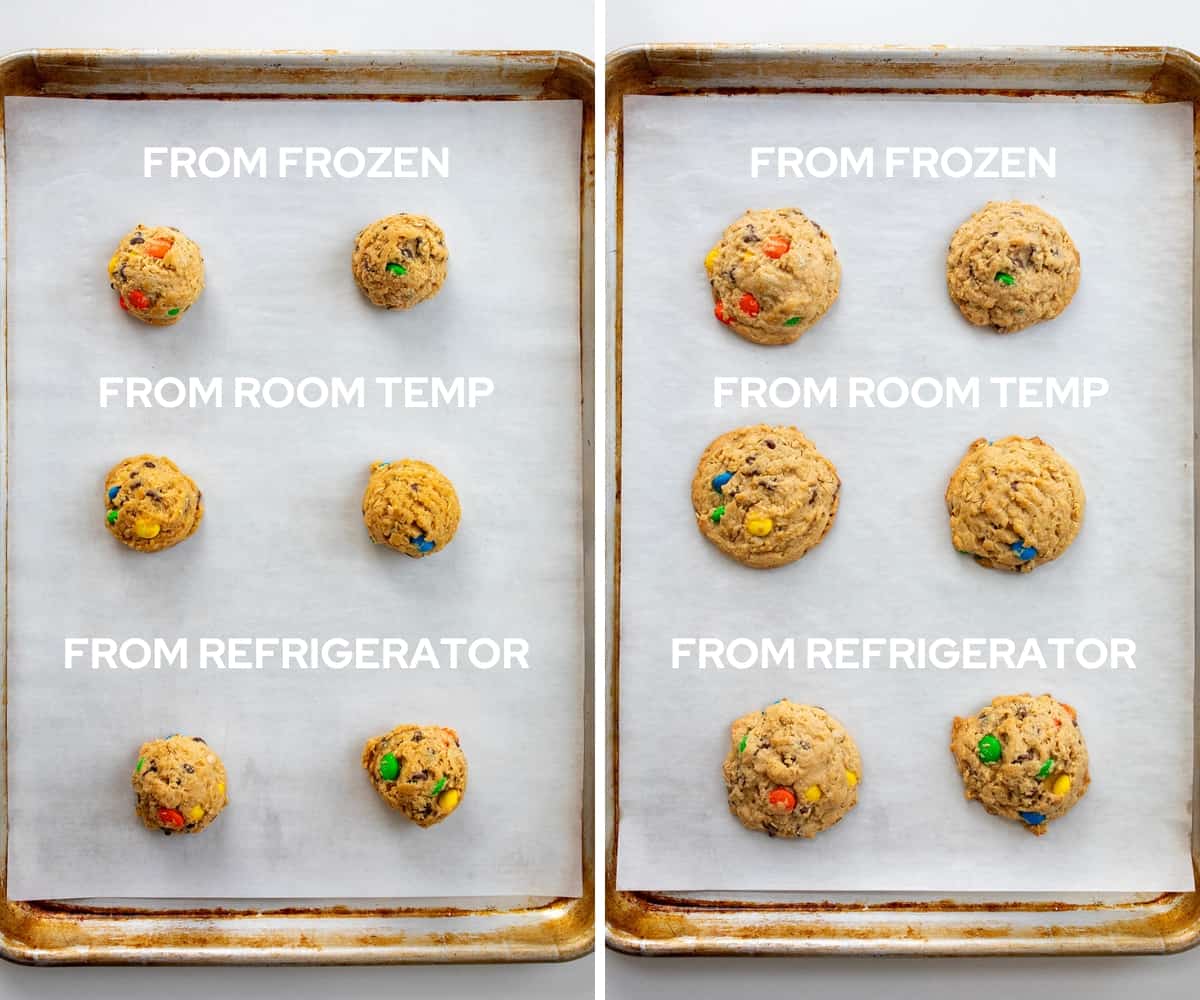 The Results
We tested the three baking methods (directly from frozen, thawing at room temperature, and thawing in the refrigerator overnight) for each type of cookie.
Taste testers looked at:
appearance
texture
flavor
BAKING FROM FROZEN WON! Although all the cookies rated highly across the board, the monster cookie baked from frozen was the winner when it came to flavor. But, all were delicious. 🙂
STORING: How To Store Cookies
Room Temperature Storage:
Cool cookies completely before storing them.
Layer cookies with parchment or wax paper to prevent sticking.
Place in an airtight container or resealable bag.
Add a slice of bread to maintain freshness.
Store in a cool, dry place away from sunlight and heat.
Refrigeration (For Perishable Cookies):
Allow cookies to cool to room temperature.
Place in an airtight container or bag.
Label with date and type.
Store in the refrigerator to prevent spoiling.
Freezing for Extended Storage:
Cool cookies completely.
Freeze cookies on a baking sheet first to avoid sticking.
Transfer frozen cookies to airtight containers or freezer bags with parchment between layers.
Label with date and type.
Store in the freezer for long-term storage.
Follow these steps to keep your baked cookies fresh and delicious!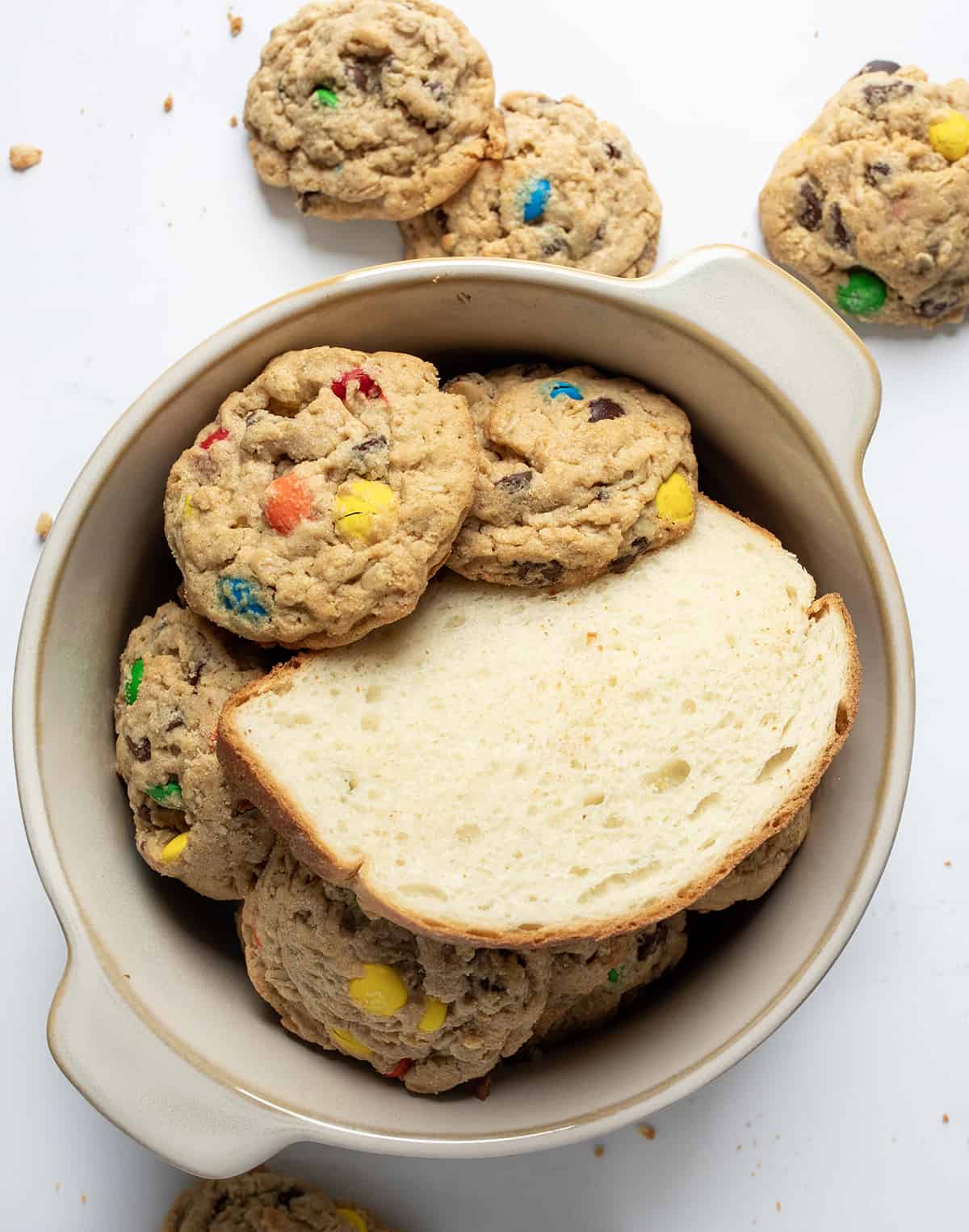 Frequently Asked Questions
Q: What Kinds Of Cookie Dough Freeze Well?
A: Not all dough freezes well, so make sure you choose the right dough to freeze. Generally, drop cookies like chocolate chip cookies and shaped cookies like sugar cookies freeze well. Delicate cookies like meringue cookies or macarons do not freeze well, along with custard or cream-based dough.
Q: How To Revive Stale Cookies
A: Reviving stale cookies is possible with a few simple methods. Here's how to bring back the freshness and texture of your cookies:
Microwave Method: Place the stale cookie(s) onto a microwave-safe plate. Cover with a damp paper towel and microwave for 10-15 seconds, being careful not to overheat them! Enjoy them right away before they harden again.
Bread Method (picture above): Place the stale cookies in an airtight container or resealable plastic bag. Then, add a slice of fresh bread to the container. The moisture from the bread will help to soften the cookies. Seal the container and let it sit overnight. The cookies will absorb the moisture from the bread, becoming softer and more enjoyable. Use a fresh slice of bread if storing the cookies for another day.
Oven Method: Preheat your oven to a low temperature, around 300°F-350°F. Place the stale cookies on a baking sheet and lightly cover them with a piece of aluminum foil to prevent further moisture loss. Warm the cookies in the preheated oven for about 5-10 minutes, checking after a few minutes to make sure they are not getting too soft.
Dipping Method: If you are craving a cookie right away, dip it into a glass of milk or juice to soften each bite!
Q: Can Cookies Be Re-Frozen After Being Thawed?
A: In general, it's best to avoid refreezing cookies after they have been thawed. Each time you freeze and thaw food, including cookies, you risk changes in texture, moisture content, and potential loss of quality.
Q: How Can I Prevent Freezer Burn?
A: To prevent freezer burn on cookies, use airtight containers or freezer bags, remove excess air, separate layers with parchment paper, and consider flash freezing. In addition, label and date packages and maintain proper freezer temperature. These measures will help preserve the cookies' quality and taste.
Q: Can I Get The Recipe For Those Monster Cookies You Mentioned?
A: Absolutely! Below is that amazing Monster Cookie recipe should you want to make them!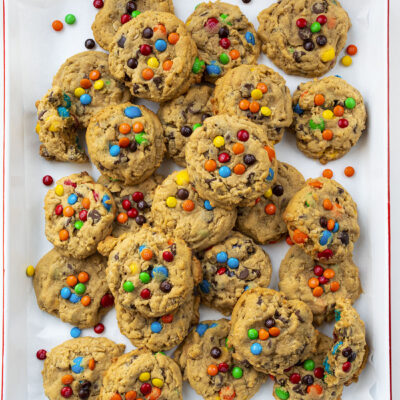 Soft Batch Monster Cookies
Soft Batch Monster Cookies are a cross between a soft peanut butter cookie and an oatmeal cookie that is loaded with peanut butter, oats, M&M's, and chocolate chips.
Ingredients
1

cup

(2 sticks / 227 g) unsalted butter,

room temperature

1

cup

(258 g) creamy peanut butter

1 ½

cups

(300 g) light brown sugar,

packed

2

large

eggs,

room temperature

2

cups

(250 g) all-purpose flour

1

cup

(90 g) old fashioned oats

1

teaspoon

baking soda

½

teaspoon

kosher salt

1 ½

cups

M&M candies

1 ½

cups

(252 g) semi-sweet chocolate chips

mini M&M candies,

for topping (optional)
Instructions
Line baking sheets with parchment paper. Set aside.

In the bowl of a stand mixer with a paddle attachment (or a handheld mixer), beat the butter on medium-high speed until smooth (about a minute).

Add the peanut butter; beat for about 2 minutes, or until smooth.

Add brown sugar and cream on medium-high speed until smooth (about 2 minutes).

Add eggs, one at a time, mixing for 30 seconds after each addition. Scrape down the sides of the bowl and beat ingredients together again, if necessary.

With the mixer off, add the flour, oats, baking soda, and salt. Mix on low until just combined, being careful not to overmix.

With the mixer still on low (or by hand), add the M&M's and chocolate chips and mix until incorporated. (If using an electric mixer, only mix for a few seconds.)

Drop spoonfuls (2-3 tablespoons) of dough onto the lined baking sheets about 2 inches apart. (If possible, measure the batter so the cookies are all the same size for best results when baking.) Top with mini m&m's (optional).

Place the baking sheets of unbaked cookies into the refrigerator to chill for about 30 minutes. (If letting the dough chill overnight, be sure to cover.)

When ready, preheat the oven to 350°F. Remove the cookies from the refrigerator.

Bake the cookies for 10 minutes. The cookies are done when the sides are lightly browned and the centers still look soft.

Remove from the oven and let cookies cool on the baking sheet for a few minutes before transferring to a wire rack to finish cooling.
Did you make this recipe?
Thank you for making my recipe! You took pictures, right? Well go ahead and post them on Instagram! Be sure to mention me @iambaker and use the hashtag #YouAreBaker.