Oatmeal Chocolate Chip Cookies are a homestead staple! My kids call these "craving cookies". They will say, "Mom, will you make me that one cookie? I am craving it!" We all know they mean these Oatmeal Chocolate Chip Cookies… the perfect combination of rich oatmeal cookie and delicious chocolate! I'm also sharing my 50 Best Cookie Recipes!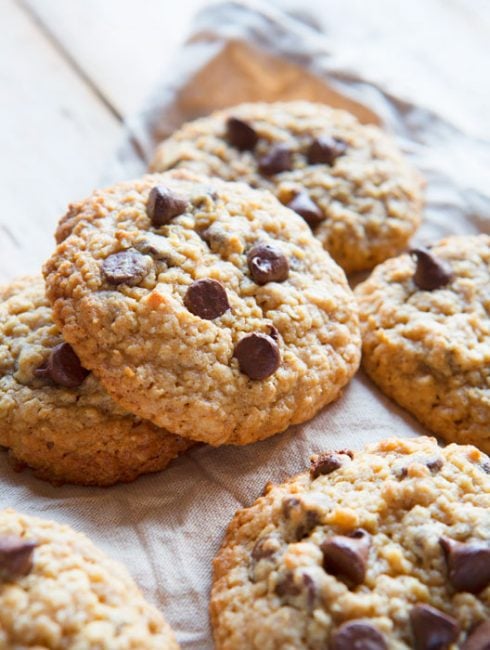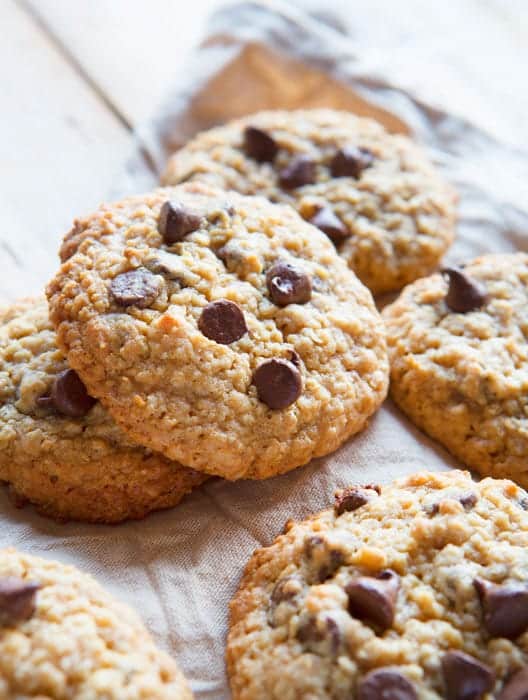 Oatmeal Chocolate Chip Cookies
There is an aspect to these cookies that I love… the "secret" ingredient. It was my grandma's recipe and she always made the BEST cookies. When I found out I was a bit shocked… but they taste so good I quickly got over it. I had never heard of adding mayonnaise to a cookie dough before, but it makes sense when you think about it. A very basic mayo consists of egg, oil, and a bit of salt. Those are common ingredients in a cookie!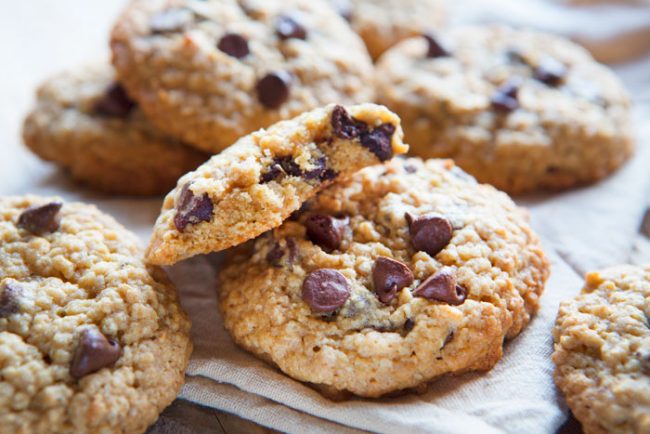 How to Bake the Best Cookie
Sugars
Lots of cookie recipes contain brown sugar and there is a good reason for this. Recipes with brown sugar will absorb moisture after baking which helps to ensure that they stay chewy.
Have you ever noticed that the ratios of sugar in most cookie dough recipes are higher than other baked goods? That is because not all of the sugar dissolves during mixing, which is good! The dough will soften and spread while baking as more sugar dissolves ensuring the classic cookie shape and texture. If you happen to use less sugar than the recipe calls for your final cookie could puff up more and the texture could be less chewy.
Fats
Fats contribute not only to what a cookie tastes like but to whether the cookie keeps its shape or flattens as the fats are baked. The kind of fat you use also makes a difference. Most recipes call for butter or shortening, but this recipe has mayo. The mayo acts as the fat in this recipe and helps to create a crispy and chewy cookie.
Leaveners
In cookie recipes, the two most common leaveners are baking soda and baking powder. This recipe utilizes baking soda only. Baking soda is bicarbonate of soda. It neutralizes the acidity of certain ingredients in the dough, allowing the cookies to brown in the oven.
Flour
The main difference in flours found in the grocery store is the amount of protein they contain. All-purpose flour, or plain flour, is an all-around good flour to use for baking. All-purpose has a protein content of 10-13% and it consistently performs well. If you are looking for a softer, more delicate cookie you could substitute cake flour for all-purpose, but it might affect the structure of the cookie. When substituting flours it is best to use a scale, just be sure to sift flours prior to weighing. Most cookie recipes call for all-purpose flour. Bleached and unbleached flours are basically interchangeable in cookie recipes and unbleached flour is usually a better choice when you want a slightly chewier cookie.
Salt
Without a doubt, this is one ingredient I use in all my baking. Salt enhances flavor and without it, the cookie could just taste like a sugar overload. Without this flavor enhancer, the secondary flavors in a cookie fall flat as the sweetness takes over. Salt can also act as a protein strengthener, helping to achieve the perfect chewy cookie.
Once you have all the basics covered, creating the perfect cookie is easy no matter what the recipe.
These cookies are perfect for one big reason… they are an amazing "base" recipe. I have used them with quick oats, with regular oatmeal, with granulated sugar, butter instead of mayo, raisin's instead of chocolate chips… you name it! And they always turn out perfectly.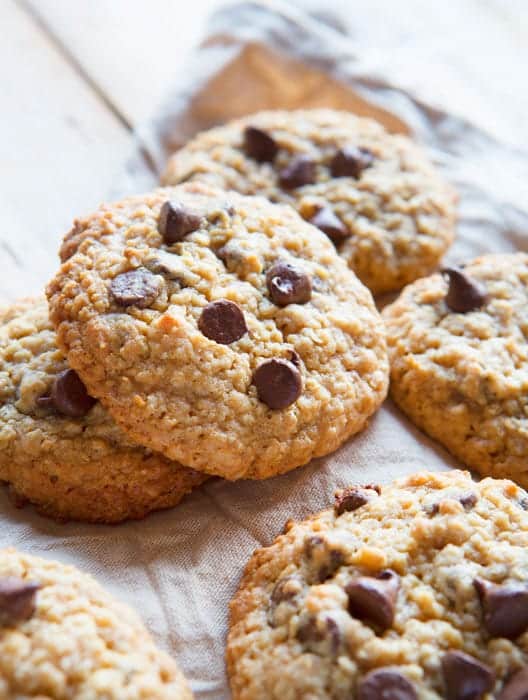 Oatmeal Chocolate Chip Cookies
My kids call these "craving cookies". They will say, "Mom, will you make me that one cookie? I am craving it!" We all know they mean these Oatmeal Chocolate Chip Cookies… the perfect combination of rich oatmeal cookie and delicious chocolate!
Ingredients
1 1/2

cup

firmly packed dark brown sugar

3/4

cup

mayo

1

egg

2

teaspoons

vanilla extract

3

cups

quick-cooking oats

1

cup

all-purpose flour

1

teaspoon

ground cinnamon

1/2

teaspoon

baking soda

1

cup

semi-sweet chocolate chips
Instructions
Preheat oven to 350°.

In a medium bowl beat brown sugar, mayo, egg, and vanilla for about 2 minutes. (You can use a hand-held mixer or stand mixer, but grandma recommends doing it by hand.) Set aside.

In a large bowl, combine oats, flour, cinnamon, and baking soda.

Slowly add the mayo mixture to the oat mixture and stir by hand until just combined.

Stir in chocolate chips. (I save a few to place on top before baking)

On prepared baking sheets, drop dough by level tablespoonfuls, 3-inches apart. (they will spread some)

Bake 8-10 minutes or until golden.

Cool cookies on a wire rack.
Did you make this recipe?
Thank you for making my recipe! You took pictures, right? Well go ahead and post them on Instagram! Be sure to mention me @iambaker and use the hashtag #YouAreBaker.