This Oreo Cheery Cheesecake is loaded with more sweetness then should be allowed in one dessert! If you love cheesecakes, don't miss my Perfect Cheesecake Recipe, No-Bake Cheesecake, and Strawberry Cheesecake!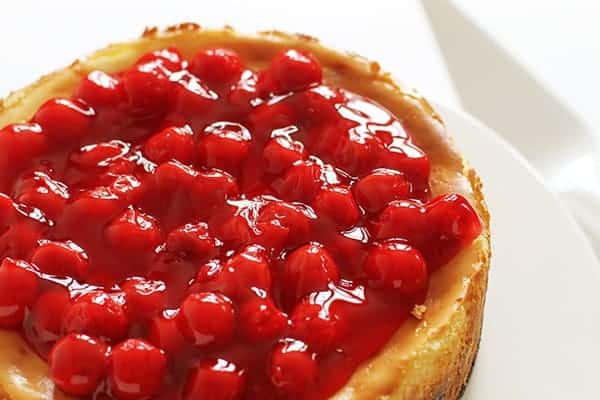 Oreo Cherry Cheesecake
You may have noticed.
I know I have. My blog has turned into a den of gluttony. A shameful place to gorge on insane amounts of calories. A sinful stuff fest. Can it be stuffed into something? Then I will do it.
I feel as if I need to share a behind the scenes with you.
I have been baking like CRAZY. Cake after cake after cake. Most of these cakes are for jobs or editorial images only so I haven't been able to share on my blog.
And after a long week of intricate designs and complicated recipes and cake…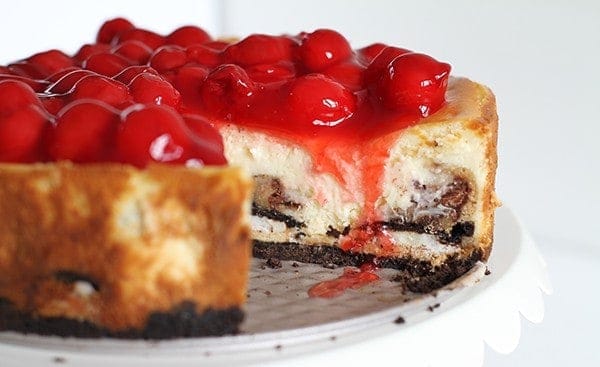 I just want to indulge. I want mindless. I want stuff stuffed into intimate cheesecake crevices. I want to ignore calories and complicated instructions.
Cheesecake. Oreo. Cookie dough. Can of cherry stuff.
Yum.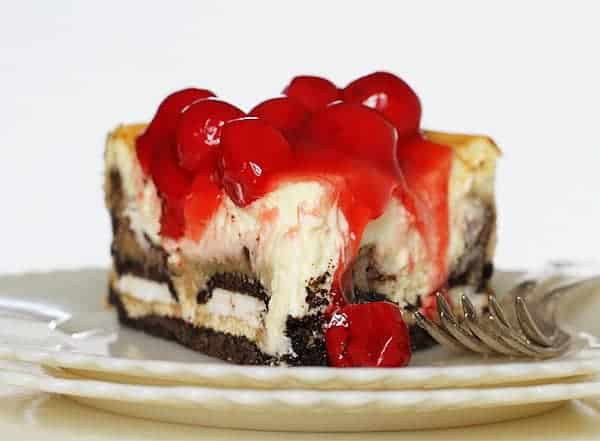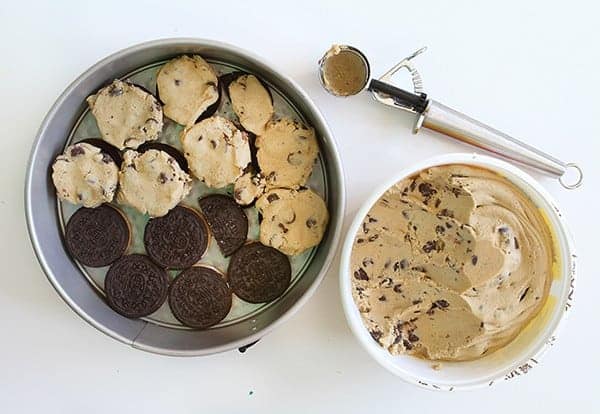 As you can see, I opted for easy. Store bought pre-made ingredients. I also chose to only put the cookie dough over each cookie, instead of making it a whole layer. Since we are big cheesecake fans here, it just made more sense.
And don't look to close at the picture above or you will see it PRE Oreo crust layer. I went back and removed all the cookies and added that. Seeing as the cheesecake would seep all the way to the bottom, I needed a delicious place for it to land!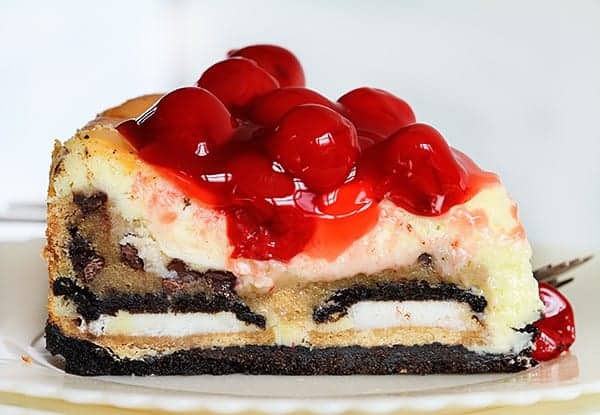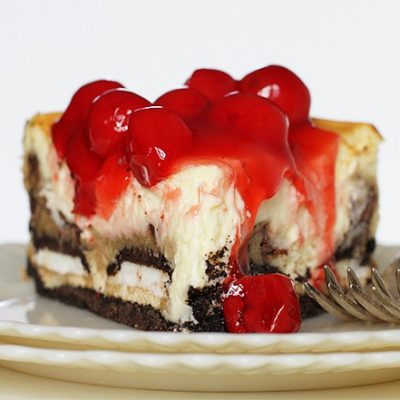 Cherry Cheesecake with Oreos and Chocolate Chip Cookie
Cheesecake. Oreo. Cookie dough. Can of cherry stuff.
Ingredients
1

6-ounce package of Oreo premade pie crust

2

tbsp.

melted butter

13

Oreos

I used the vanilla and chocolate variety

1

36-ounce container Nestle cookie dough

2

8-ounce packages cream cheese (room temperature)

1/2

c

granulated sugar

2

eggs

1

21-ounce can cherry topping
Instructions
Melt butter and in a medium bowl, combine with Oreo crumbs. Press into a well prepared 7-inch springform pan and create a bottom crust.

Press Oreos into crust, vanilla side down.

Scoop out mini balls of cookie dough and press onto each individual cookie.

Prepare Cheesecake

Place cream cheese in stand mixer and mix for 30 seconds to a minute on medium-high speed. You want to cream cheese to be creamy in texture.

Add in sugar and then eggs, one at a time. Scrape bowl with spatula and mix for about 30 more seconds on medium, until all ingredients are fully incorporated.

Pour cheesecake mixture into pan with Oreos and bake for 35-45 minutes at 350 degrees. (I baked for 40 minutes at 325 degrees in my convection oven.)

Chill for two hours before serving.

When ready to serve, pour cherries over cheesecake.
Did you make this recipe?
Thank you for making my recipe! You took pictures, right? Well go ahead and post them on Instagram! Be sure to mention me @iambaker and use the hashtag #YouAreBaker.