Delicious baked Peanut Butter Cookies  with a Peanut Butter Oreo cookie in the middle!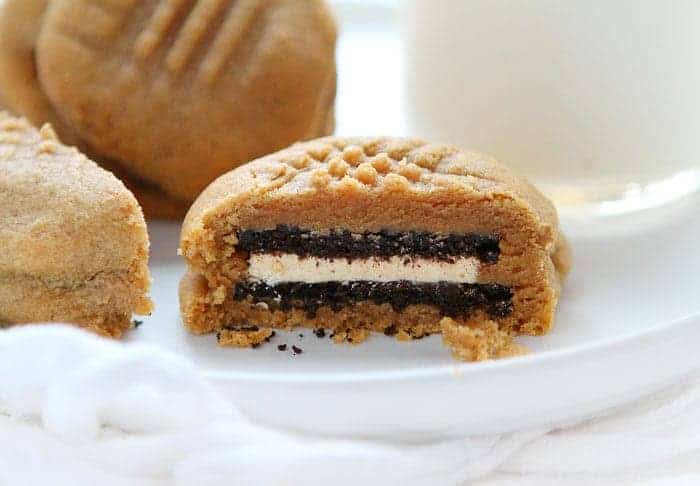 This cookie is 100% inspired by Jenny from Picky Palate. She created the original Oreo Stuffed Chocolate Chip Cookie back in 2011 and it is genius.
To make these cookies you will need:
1 peanut butter cookie recipe (below)
18-24 Peanut Butter Oreo's (can use regular Oreo's)
fork
cookie sheet's lined with parchment paper
When ready to assemble the cookies:
Place Oreo's on cookie sheet.  Using a medium ice cream scoop (holds roughly 1-2 tablespoons of dough), remove a level amount of dough and set it on top of the cookie. Repeat this for all cookies. (I ended up having 3 cookie sheets with 6 cookies on each sheet, each cookie placed at least 2-inches apart.)
Once you have scooped all the dough, start forming the dough around each Oreo. With clean hands, press it over and around so that the peanut butter cookie dough covers the Oreo completely. Repeat this for all the cookies.
Using a fork dipped in flour, press a criss-cross pattern onto all the cookies.
Bake for 7-9 minutes or until the cookies just start to brown around the edges.
Allow to cool for 5 minutes before eating.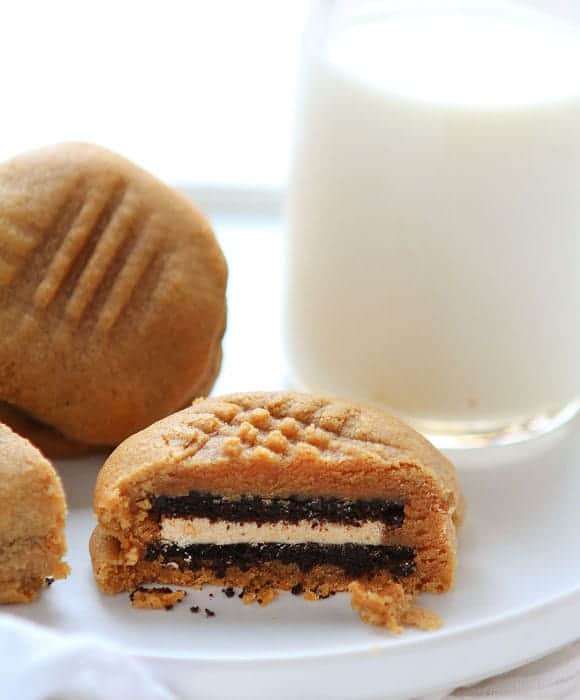 My family went absolutely nuts for this delicious cookie. If you are a fan of peanut butter cookies you need to try them!
Here is a quick video on how to made these!