A hollowed-out bread loaf gets the home field advantage with this Cheesesteak Dip. This savory appetizer includes steak bites, chopped green peppers, onions,  and my very special secret ingredient!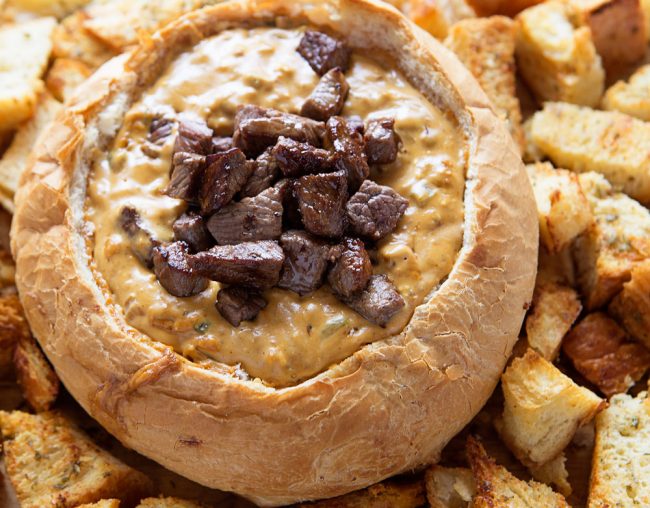 Cheesy goodness in every bite. Perfect for any – okay – every game day. Now, I don't live in Pennsylvania, but I heard from a friend who does that folks all over the state crave Philly Cheesesteaks. That makes perfect sense to me… I mean what's not to love about cheesesteak?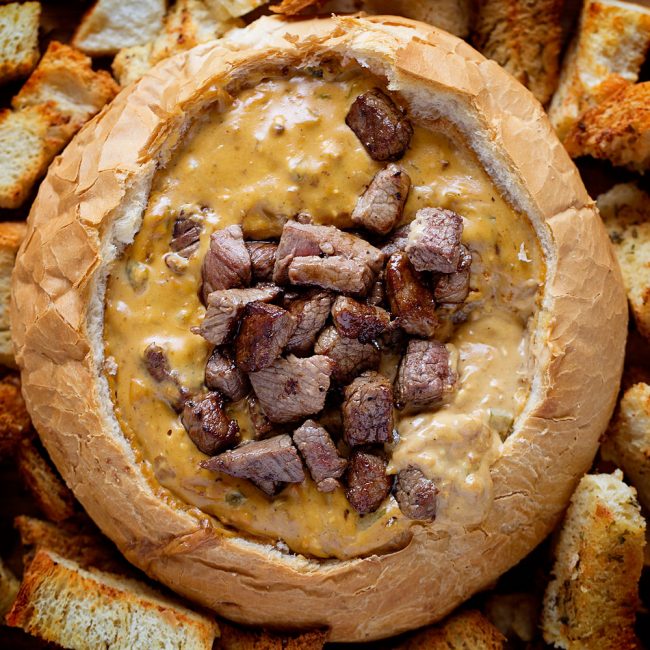 I know that after the holidays are over, the football playoffs are the next fun event to look forward to. For all you football fans, I am participating in a dip face-off (how cool does that sound?!?
I have a feeling that they will like my version too! I adapted mine from this amazing recipe over at McCormick. It is part of their 50 Dips for 50 States Project.
To make this you will need:
Steak Bites recipe (below)
Philly Dip recipe (below)
cookie sheets
parchment paper
Extra loaf- optional, this is if you want extra bread for dipping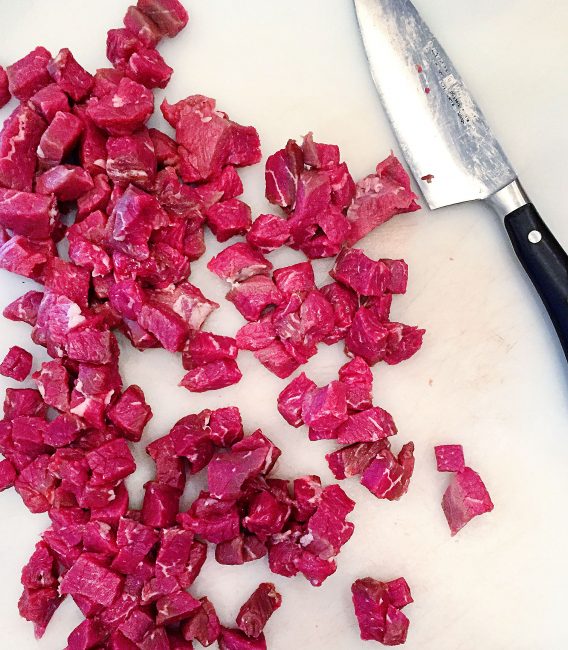 Prepare steak bites. Be sure to cut the steak into small enough pieces as large pieces may be difficult to eat in the dip. (You can make these in advance, just refrigerate until ready to assemble dip.)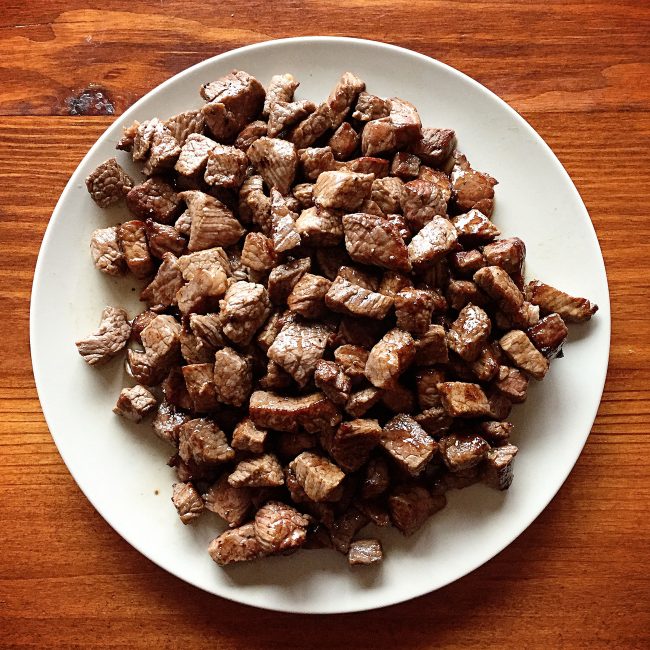 Steak bites are seriously so good. One thing you may notice about the recipe is that the steak should be medium-rare in the middle. This is the very best way to prepare these mini steak bites!
They will cook a bit more in the oven while the dip bakes so it's important to make sure they are not well done.
Set them aside until you are ready to prepare the dip.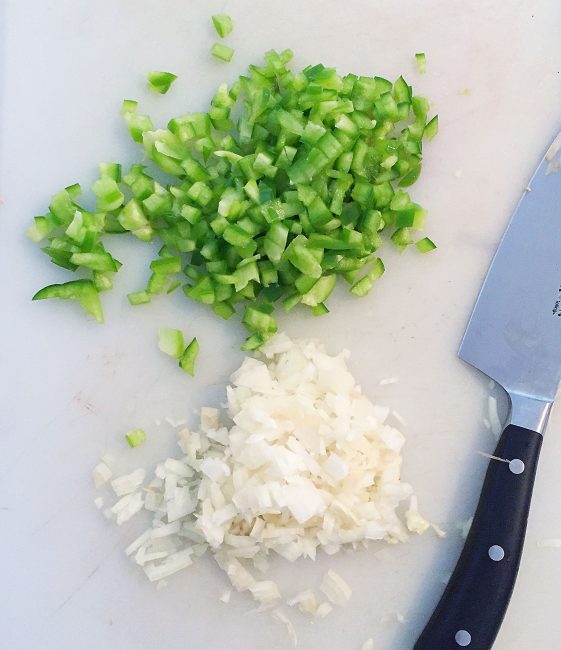 Now preheat the oven to 350°F.
Chop peppers and onions. Place oil and veggies in pan over medium heat. Heat for a few minutes.
The next step involves my FAVORITE secret ingredient in dip. Quite frankly, I was hesitant to share because it has been a well-guarded secret in my family for awhile! But this recipe is just too good to not share.
Ready to find out what it is??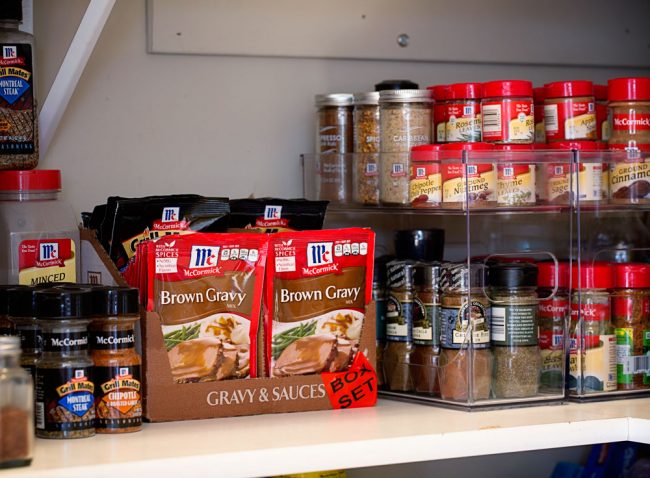 McCormick Brown Gravy. I buy it in box sets because I use so much. I will go through this in 6 months! (Promise I will share some of the other recipes where I use brown gravy in the future!) It is the perfect addition to this recipe and saves time… but adds amazing flavor!
Ok, now add the gravy, cheese sauce, milk, and most of the steak bites into the skillet and stir for a few minutes over medium heat. A little bit runny is ok as the sauce will thicken more in the oven.
Place bread on a baking sheet covered with parchment paper. Carefully spoon the dip into the bread. If you have any extra sauce you can refrigerate or get another loaf to bake it in.
While your dip is baking, get the butter sauce ready. It's so simple! Melted butter, garlic powder, and dried parsley. Stir and then brush over all of the bread you removed from the loaf.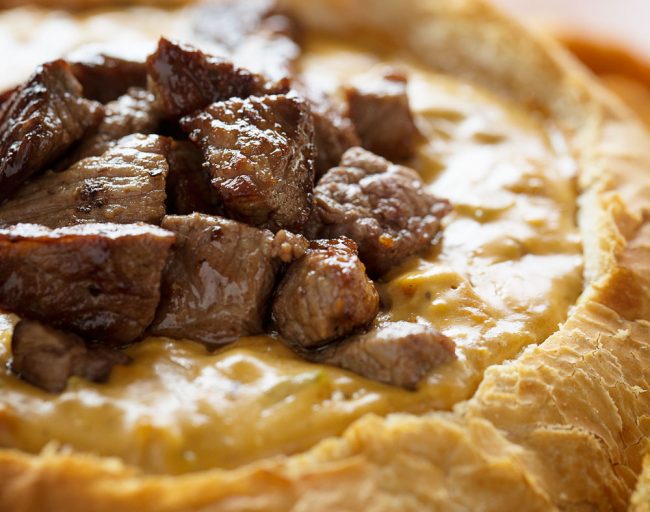 When done baking, remove dip from the oven. Add remaining steak bites on top and serve immediately. You can also drizzle with more cheese sauce.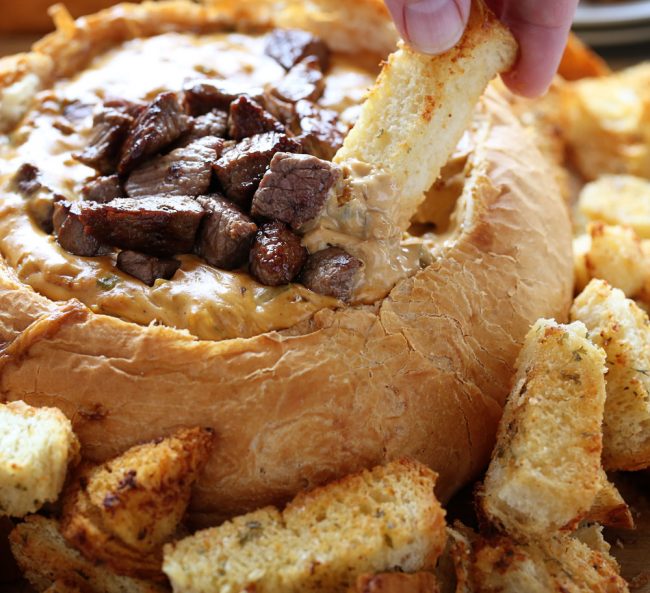 So I made this recipe once and my family begged for more. So I made it again and then doubled it… this ended being the perfect portion for us. (2 adults and 5 kids)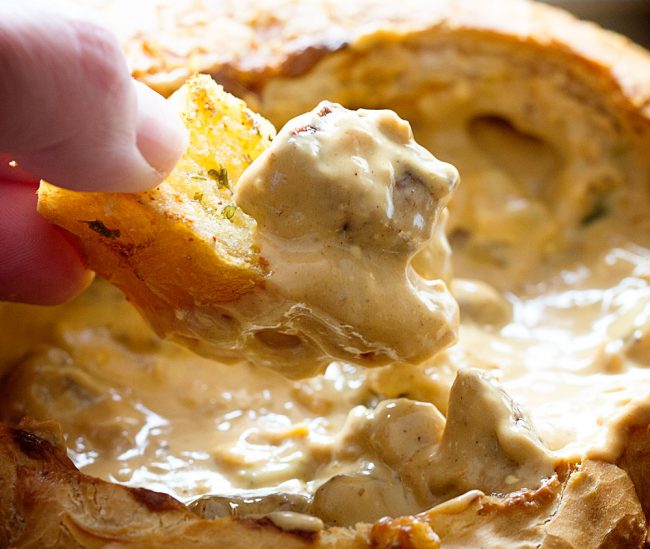 I am so excited to be participating in this dip face-off with Creme de la Crumb. She made a delicious Miami Cuban Dip – Be sure to head over and check out her amazing dip!
"UPDATE: Last week my Pennsylvania-themed dip was victorious! This week, I am going head-to-head with Tiffany from Crème de la Crumb and her Kansas City-themed dip "Kansas City BBQ Chicken Dip". Pair with my dip and you've got two perfect appetizers for the Pittsburgh vs. Kansas City game!"
Thanks so much for supporting the brands that support iambaker. I am a big fan of McCormick and love using their products (as you can tell by my pantry!) and feel so honored to partner with them. It means so much that you are willing to support them too!