An appetizer (also known as an hors d'oeuvre) is a small dish served before a meal. Some appetizers are served cold, others hot. They can be served as a meal, or they may be served before seating. I love the idea of having multiple appetizers out for guests to choose from, some hot and some cold, but all delicious!
If you are looking for the Bacon Chicken Bites in the picture below, they are right here! Rest of the recipes below. 🙂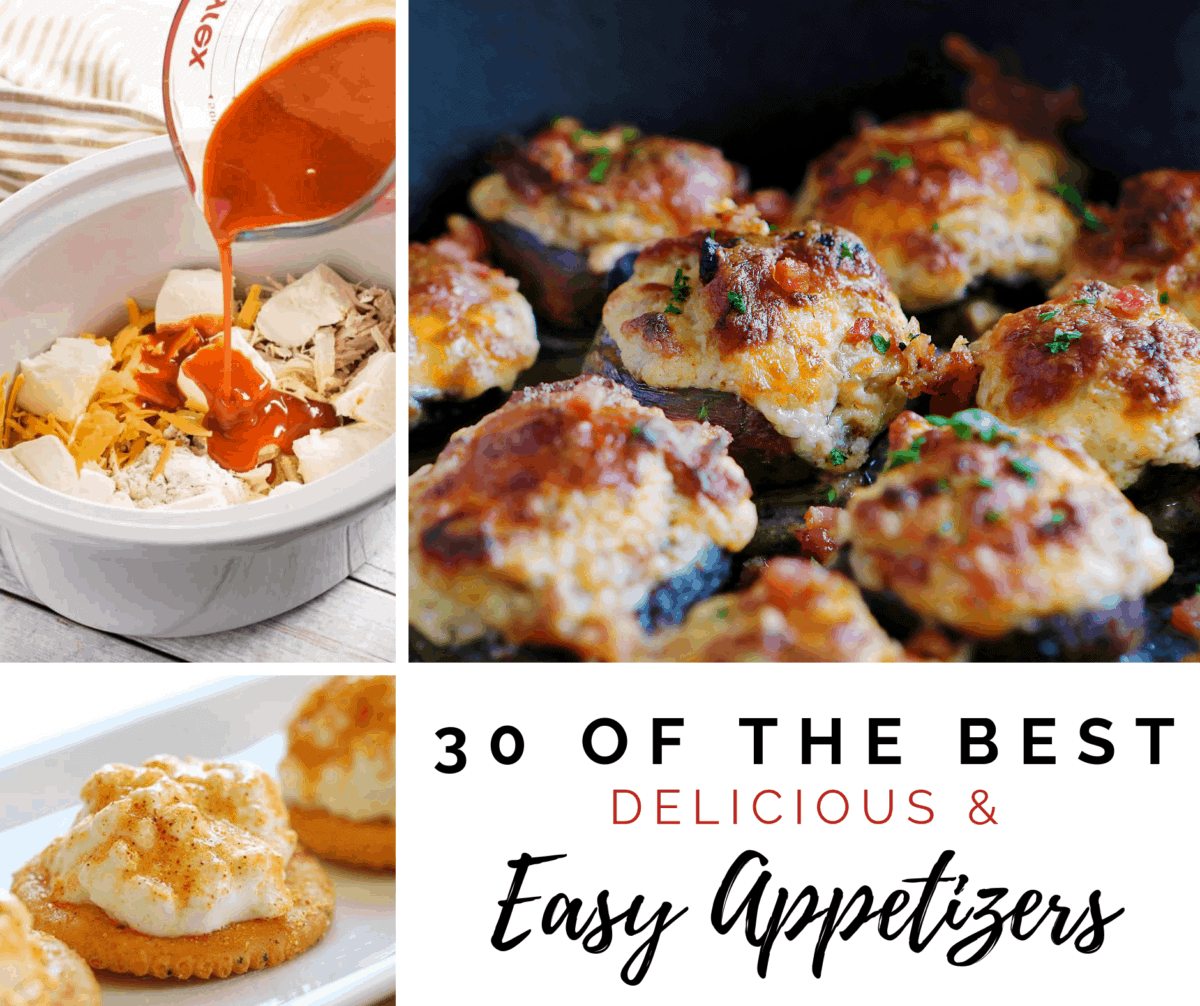 What Makes a Great Appetizer?
Discover Options
Look through a variety of options before deciding what appetizer would be best for your party. Will people be sitting down and have access to a knife and fork? Do you prefer something small and bite-sized? Can they be hot or is a cold version easier? If you are doing a few appetizers, will the flavors compliment each other?
Consider the Occasion
We love bite-sized options for New Year's Eve as folks are often talking, dancing, and moving around. Being able to pop over to the appetizer area and grabbing a quick bite is a wonderful option to offer. Not to mention people often like to eat less as they are drinking and don't want a heavy meal. Christmas is when I offer lots of variety, having cold and hot appetizers as well as options that are available all throughout the day. People love to graze and grab nibbles when relaxing. Superbowl party appetizers are one of my favorite days to go all out! The entire meal is finger food fun and meant to be enjoyed all day long.
How to Serve Appetizers
People eat with their eyes right? So in addition to having great recipes, how to present them is important. I like to have mini plates, skillets of hot dip, and plates and utensils available right at their fingertips. I do try to make sure the hot appetizers are near other hot appetizers and that the cold options are in containers that can be quickly refrigerated if needed. Get fun with your dishes! Use shot glasses for a quick soup shot or skewers for salads or cheeses. Of course, a cheese platter is always a great way to impress!
Pick a Great Dip
We are obsessed with Homemade Ranch Dressing and Jalapeno Ranch Dressing, and they both seem to go great with a lot of appetizer recipes. Most salad dressings work well, depending on the dipping ability of the recipe. If all else fails, queso and cheese-based dips are sure to impress!
Know Your Guests Needs
You might have a vegan or gluten-free guest and finding options for them is easy as well as delicious! If you can't ask ahead of time, preparing a veggie platter, guacamole, or chips and salsa option are always a good idea.