These Puppy Chow Bars will definitely not go to the dogs after you see how easy and delicious a treat they are. Of course, I want to stress that these are for humans only. By adding marshmallows to the mix, you will have a panful of this delicious and popular snack. Simply add some Golden Grahams to your ingredients to try my S'mores Puppy Chow.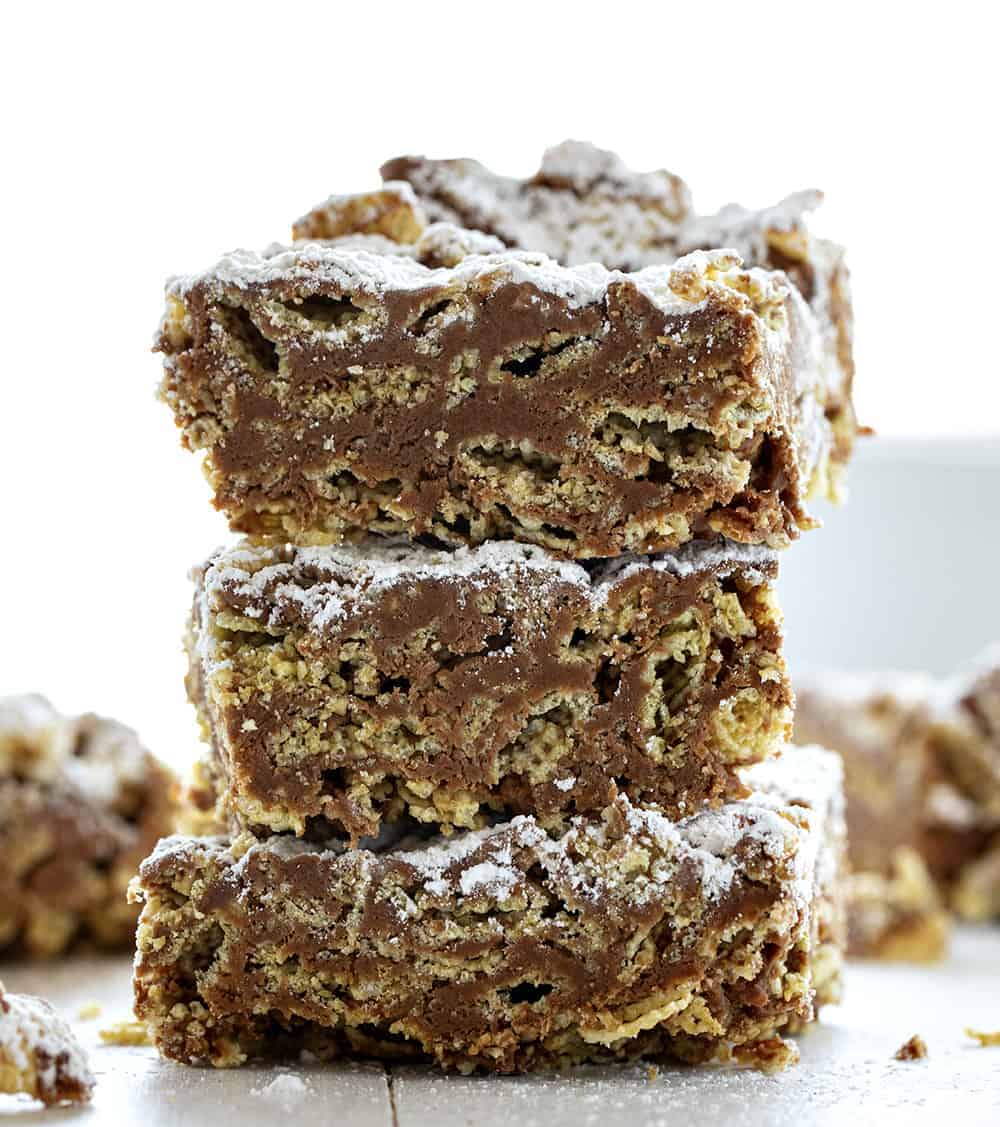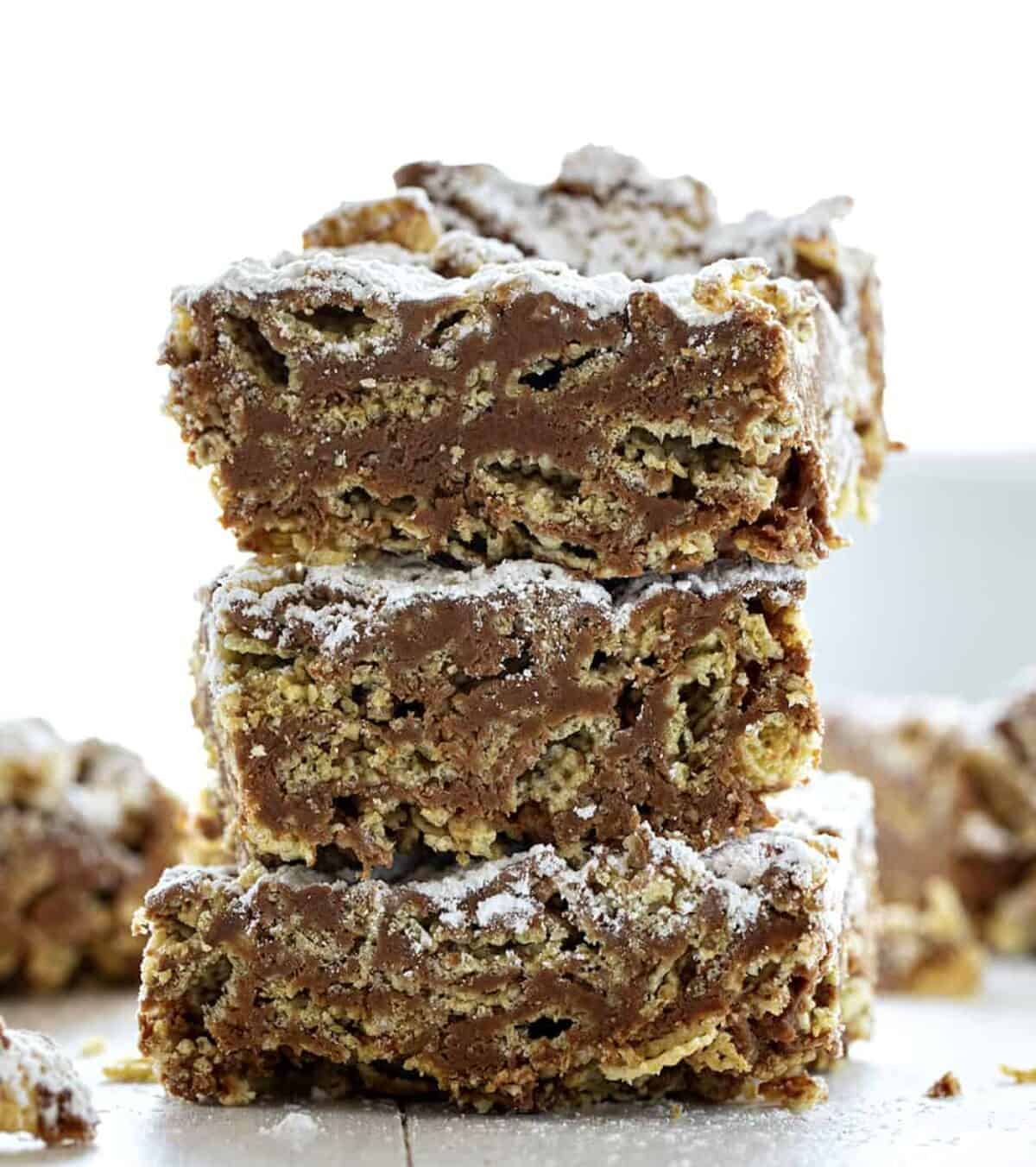 Puppy Chow Bars
When I think of Puppy Chow, I think of being covered in confectioners' sugar, or at least, leaving a few sprinkles of it on my face! This recipe is very similar to my Puppy Chow recipe, except I added marshmallows and did not use vanilla.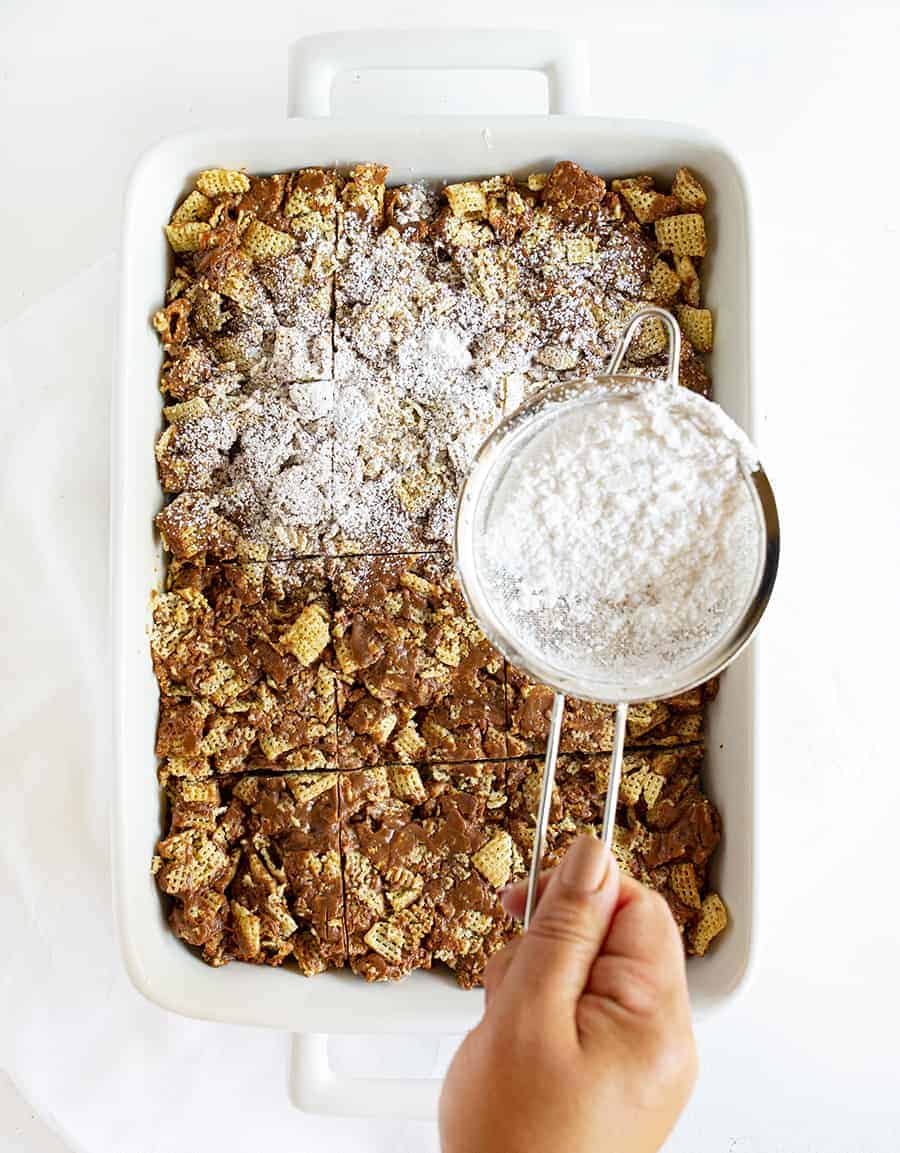 Ingredients & Substitutions
With a few yummy and basic ingredients, you will have a pan of Puppy Chow Bars that you can bring anywhere, from your camping trip to a holiday party.
Chocolate: Semi-Sweet was the chocolate of choice for this recipe. You could use milk chocolate too, but that might be too sweet and not have much depth of flavor.
Peanut Butter: The great debate, creamy versus chunky. When it comes to puppy chow, creamy peanut butter is the way to go. If you can't have peanut butter, tree nut butter (such as almond, cashew, walnut, and hazelnut) are substitutes for peanut butter. I have not tested them.
Rice Cereal: I use Rice Chex, but any waffle-shaped cereal will do. This is just the vessel that holds all of the chocolatey goodness together. You can also use Golden Grahams!
Mini Marshmallows: These will help hold up your bars to make them easy to eat.
Confectioners Sugar: To coat each bar or to sprinkle on top is up to you! I chose to sprinkle the powdered sugar on top for this recipe, but keep reading to see how my mom used to do it!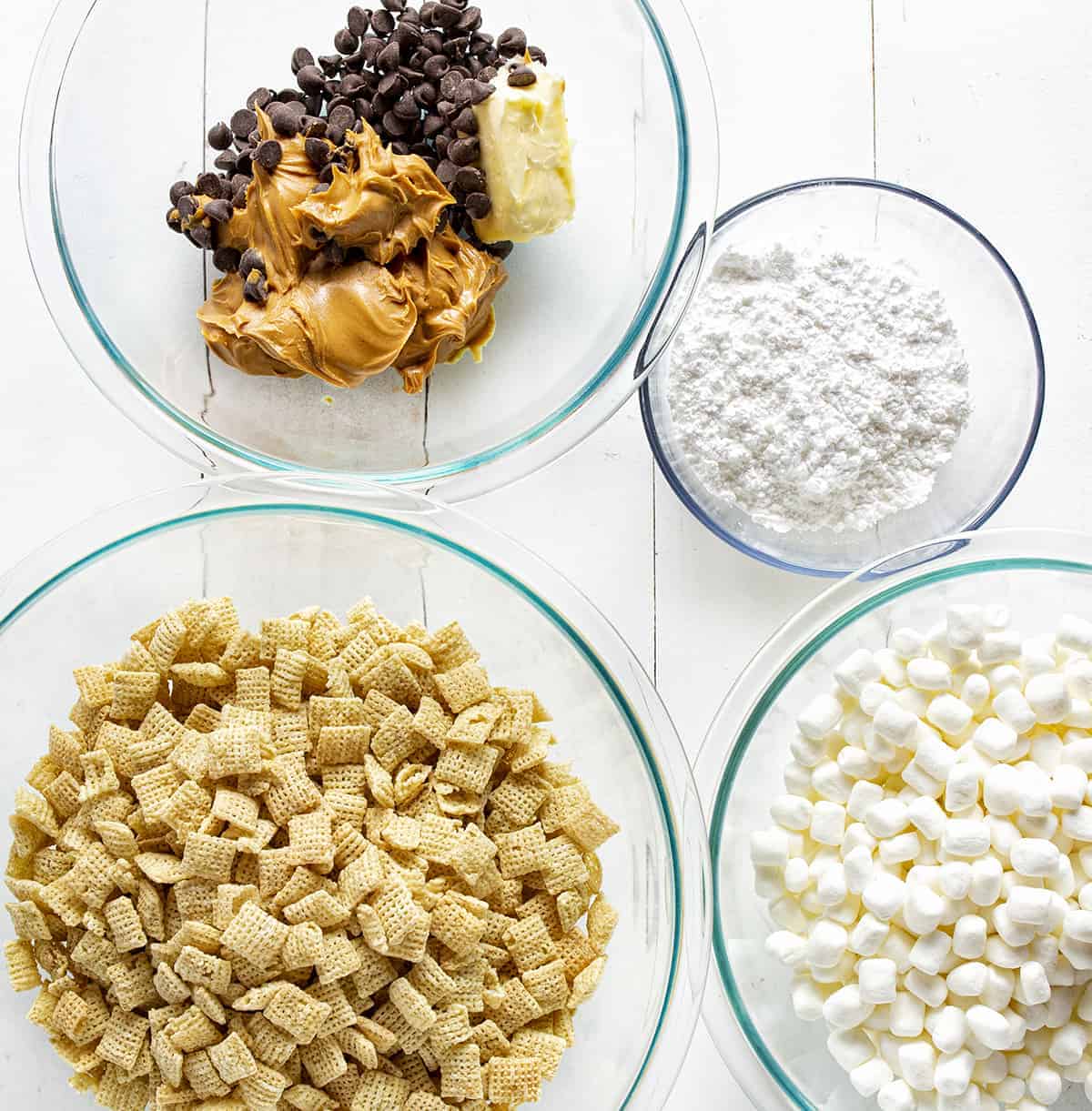 Melt and Mix
Place the chocolate chips, peanut butter, and butter in a medium-sized microwave-safe bowl. Microwave on high in 30-second intervals and stir after each session. (It's usually fully melted in about a minute and a half.)
Here is where you add the marshmallows. Stir them in before you put the mixture back in the microwave. Again, microwave in 30-second intervals to make sure the marshmallows puff and melt.
Pour the cereal into a large mixing bowl. (Bigger than you think you need, this gets messy.) Generously coat the cereal with the marshmallow mixture by pouring it over the cereal and stirring until everything is ooey and gooey!
How Ooey Gooey Should They Be?
This is where you will determine just how much cereal you want to use. If you want a bar with every single piece of cereal coated in the chocolate peanut butter mixture, start by only adding 5 cups of cereal. You can always add more, but you can't take cereal out, so take your time and make sure they are the exact consistency you want.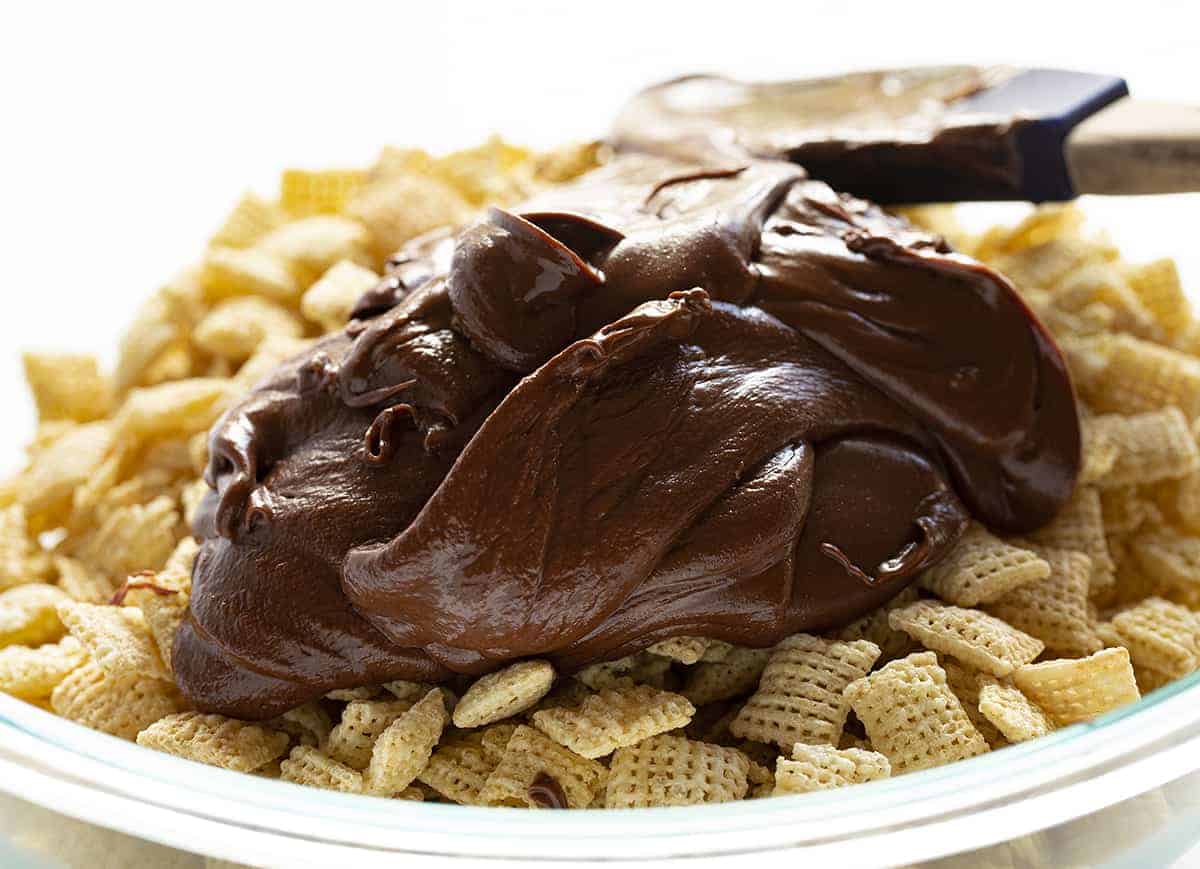 Chilling Puppy Chow Bars
Once you have your desired ooey gooey-ness, put the mixture into a 9×13 inch greased baking pan and press down firmly. Put the pan in the refrigerator to let the bars chill for 10-15 minutes. (I know, it's hard to wait…) After the Puppy Chow Bars are chilled, take them out of the refrigerator and sprinkle them with powdered sugar. Cut them into small bars and share them.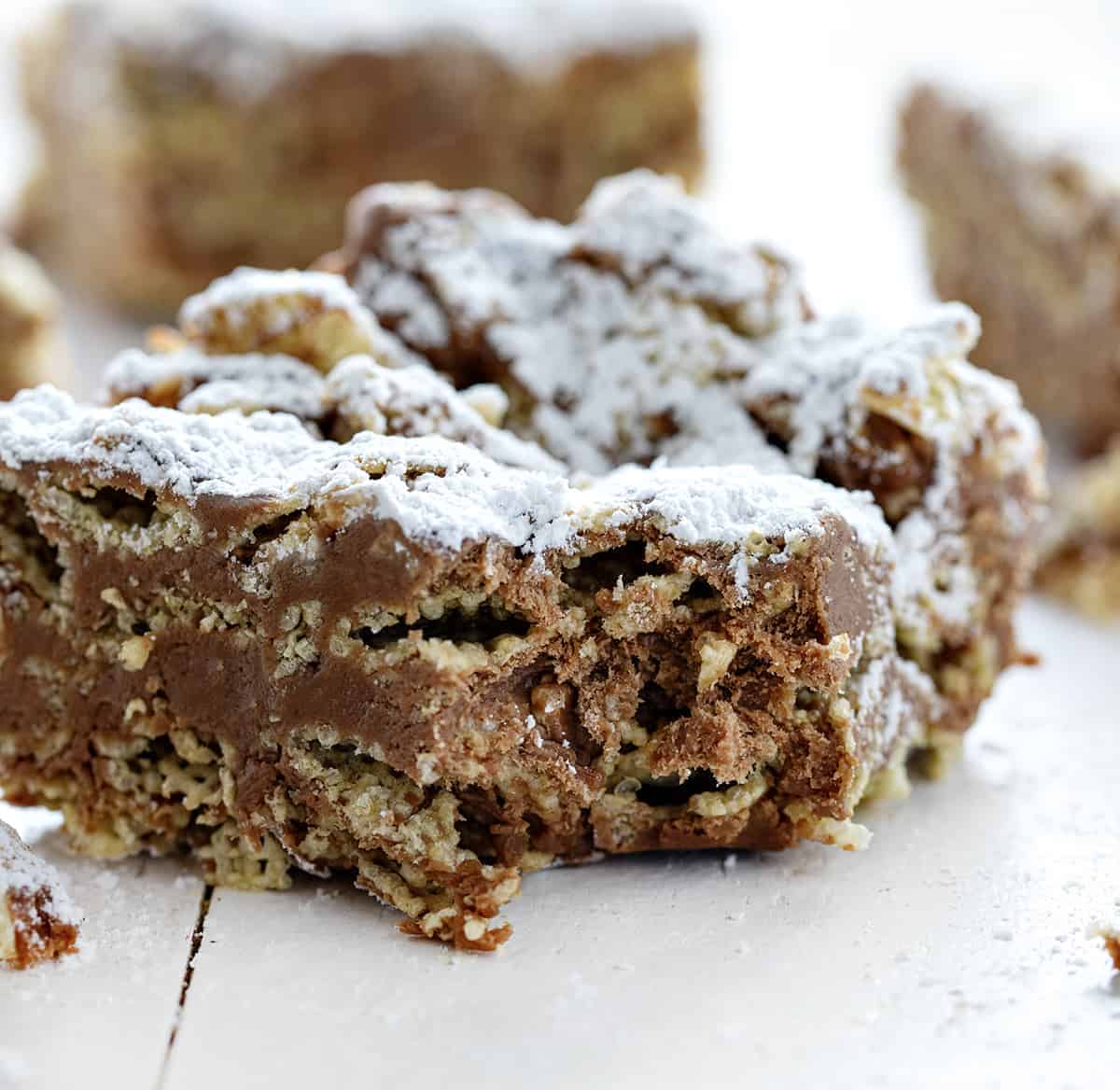 Sugar-Coated Puppy Chow Bars
As you can see by the images and recipe directions, I opted for a sprinkling of confectioners' sugar. Some folks cut up the bars and toss them in a paper bag, (yes, really) add confectioners sugar, and shake shake shake. This means that every single exposed surface was generously coated in confectioners' sugar. I opted not to do that for a couple of reasons… it's messy and it's not necessary for flavor. But you still can!
How to Store Puppy Chow Bars
These are best covered at room temperature for 2-3 days, but you can certainly refrigerate for up to 7 days.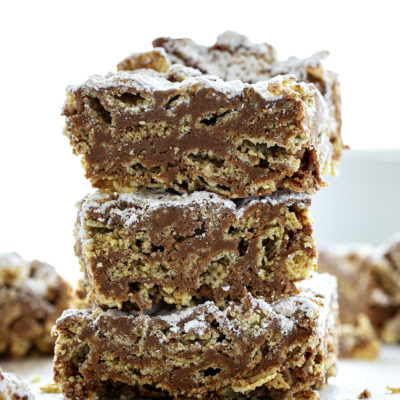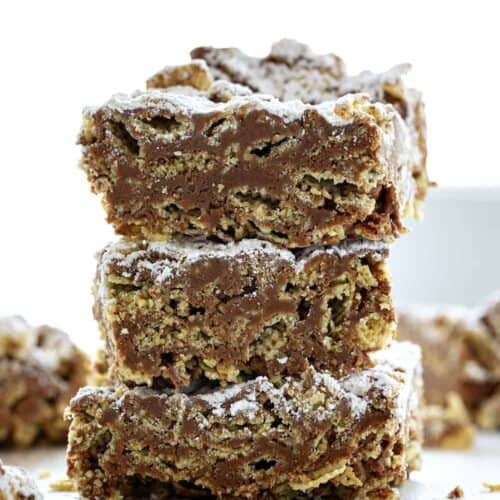 Puppy Chow Bars
Seriously delicious and easy to make! These chocolate, peanut butter, and confectioners' sugar bars are addictive!
Ingredients
7

cups

Rice Chex cereal,

(start with 5 cups and check consistency)

1

cup

semi-sweet chocolate chips

1

cup

(258 g) creamy peanut butter

¼ 

cup 

(½ stick / 57 g) unsalted butter,

can use salted

1

bag

(10 ounces) mini marshmallows

¼

cup

(31 g) confectioners' sugar
Instructions
In a large mixing bowl, add the Chex cereal and set aside.

In a separate medium microwave-safe bowl, combine the chocolate chips, peanut butter, and butter. Microwave in 30-second intervals, stirring until melted.

Add in the mini marshmallows, stir to coat and return to the microwave, cooking again in 30-second intervals until the marshmallows start to puff and melt. The mixture should be thick and creamy.

Pour the marshmallow mixture over the Chex cereal and stir to coat. (Make sure to stir as much as you need in order to generously coat all of the cereal.)

Transfer the cereal mixture to a 9×13 inch greased baking pan and press it firmly into the pan. Set in the refrigerator to chill for 10-15 minutes.

Lightly coat the top of the bars with confectioners' sugar. Cut and serve!
Did you make this recipe?
Thank you for making my recipe! You took pictures, right? Well go ahead and post them on Instagram! Be sure to mention me @iambaker and use the hashtag #YouAreBaker.