Creating a vibrant and magical Rainbow Cookie Cake is actually quite easy! This is one dessert that delights anyone who sees it!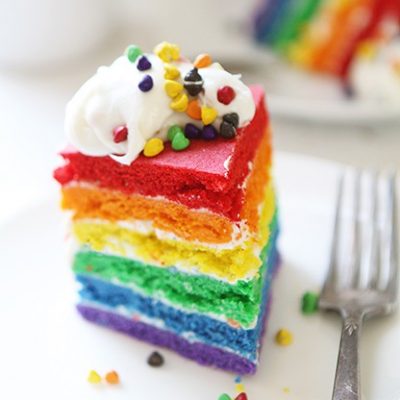 Rainbow Sugar Cookies
Creating a vibrant and magical Rainbow Cookie Cake is actually quite easy! This is one dessert that delights anyone who sees it!
Ingredients
1

c

2 sticks or 226g unsalted butter, room temperature

1 1/2

c

188g confectioner's sugar

1

egg

1

tsp.

vanilla extract

1

tsp.

almond extract

2 1/2

c

313g all-purpose flour

2

tsp.

baking powder

1

tsp.

salt

Red

Orange, Yellow, Green, Blue, and Purple Food Coloring
Instructions
In a stand mixer cream together the butter and sugar.

With the mixer off, add in egg. Turn mixer on low and add in extracts.

With mixer on low slowly add in flour, baking powder, and salt.

Mix until incorporated and dough is no longer sticky. If necessary, you can add up to 1/2 cup more flour.

Remove dough from bowl and divide into dough balls. Each ball is about 1/2 cup of dough.

Add food coloring to each individual dough ball and incorporate with your hands. This works best if you have gloves!

Once color is incorporated, chill dough for 30 minutes or up to overnight.

When ready to bake roll out dough and cut out with round cookie cutter.

Bake for 8-10 minutes or until center of cookie does not look "wet". Do not let the edges brown.
Did you make this recipe?
Thank you for making my recipe! You took pictures, right? Well go ahead and post them on Instagram! Be sure to mention me @iambaker and use the hashtag #YouAreBaker.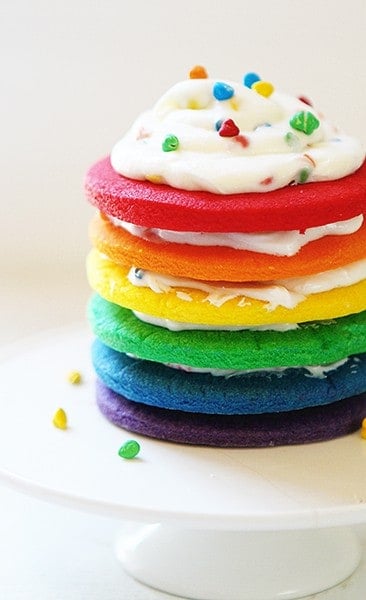 Mini Rainbow Cookie Cake
One of the fondest memories of our youth is birthdays. More specifically, the very special birthday cake that mom made for you.
One thing I can remember very fondly from my childhood is Rainbow Chip frosting on my yellow cake. There was something so darn amazing about those little rainbow pieces scattered all throughout the frosting!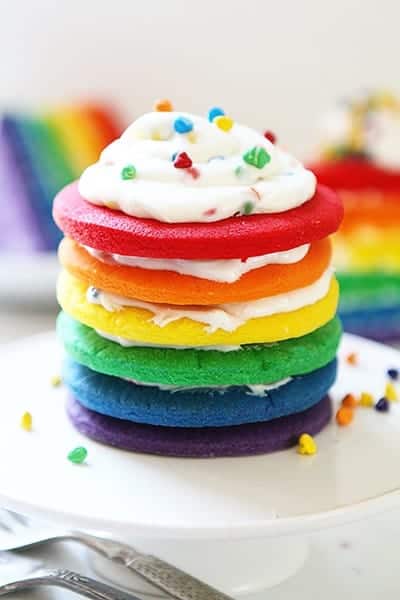 I decided to make my very own Rainbow Cookie Cake. Rainbow colored sugar cookie with Rainbow Chip frosting between each layer. So fun and delicious!
Recipe adapted from Sugarbelle.
Tips for Success:
I used gel food coloring to achieve the vibrant color, but you can certainly use liquid food coloring. Just make sure that your have extra flour on hand should the dough become too sticky.
After my dough chilled I rolled out the first color on the counter then used a 4-inch round cookie cutter to cut out each cookie. I baked three cookies on a cookie sheet at a time.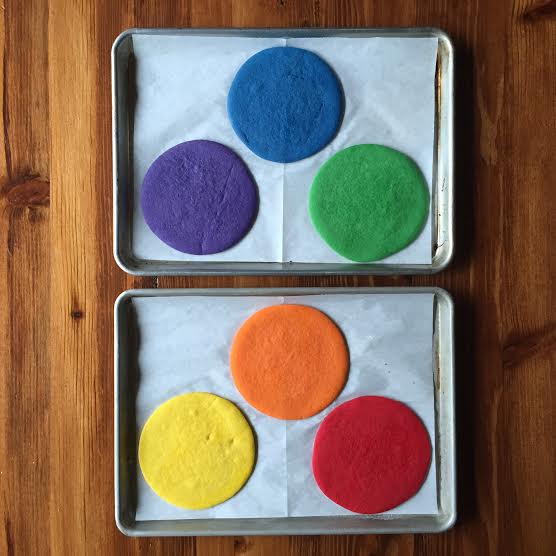 These cookies are big! The recipe will only make one of each color. (But you will have a little dough left over… enough to make a mini cookie cake) If you would prefer, you can use a small round cookie cutter and make numerous individual Rainbow Cookie Cakes. (It is the exact same process and will yield 5-7 mini cakes)
If you want to make more than one cookie cake at a time then double the cookie recipe.
When ready to assemble the cake:
Place a cooled PURPLE cookie on cake stand. Place a dollop of about 1 tablespoon of Rainbow Chip Frosting in the center. You may need a little more, but go sparingly. As the layer stack up more pressure will be applied and if you have too much frosting it will spill out. Continue with BLUE layer next (be careful! cookies are fragile) and then cover in 1-2 tablespoons Rainbow Chip Frosting. Continue up in reverse rainbow order and then place a big dollop on top! Cover with more sprinkles or rainbow chocolate chips.
PRO TIP: Chill until ready to serve! Once ready to serve, simply cut pieces out of the cake just like you would a normal cake. I used a sharp knife and kept my hand very steady. If you do not chill it, the cookies will want to slide.
If you are making the smaller version then each individual gets a smaller Rainbow Cookie Cake.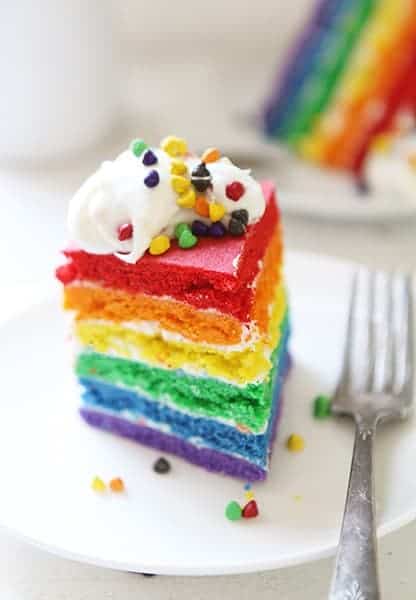 My kids were absolutely enamored with these stacks of rainbow cookie awesomeness. I cut the pieces small because a little goes a long way!
I had so much fun creating a Rainbow Cookie Cake! I have a feeling there are many more rainbow desserts in my future!