I saw these on Pinterest and knew I wanted to try them. They were not as easy as I had hoped, but I think these Rainbow Sugar Cookies are sure fun!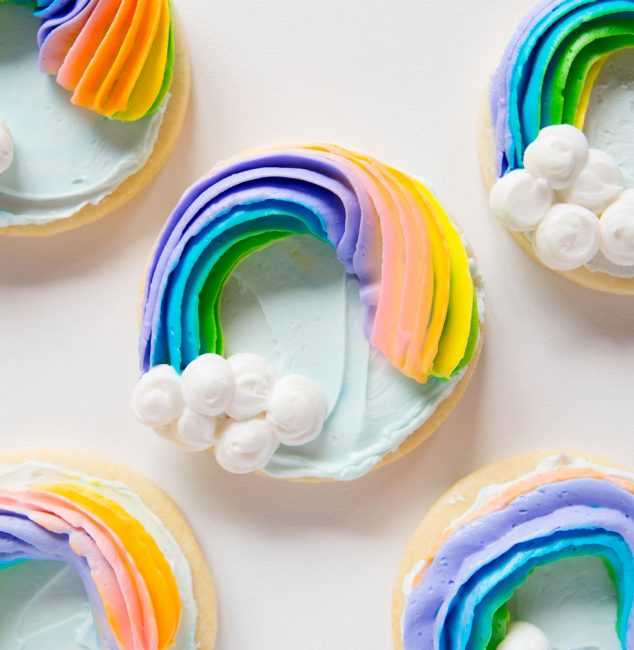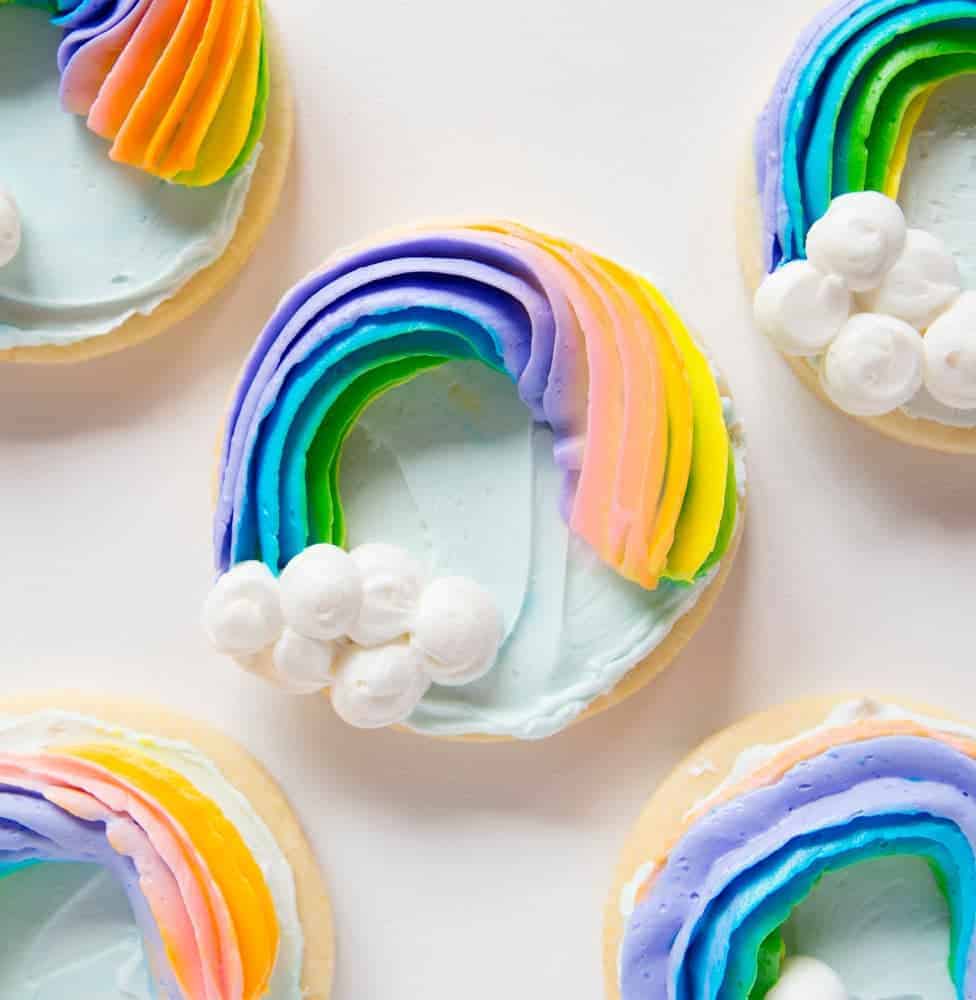 So, I have to admit. This is my 3rd attempt to make the cookies that I saw on pinterest. I don't know if I was having an off week or just couldn't get my brain around how they did it, but I could NOT master that frosting rotation. I tried everything that I could think of. Ultimately I think these turned out cute… but I would LOVE to know if there is a better way!
To make these cookies you will need:
1 easy sugar cookie recipe (below)
crusting buttercream recipe
food coloring in rainbow colors (I use McCormick)
round cookie cutter (mine is 2 1/2 inches across)
#1E and #12 decorating tips
disposable pastry bags
plastic wrap
small offset spatula
scissors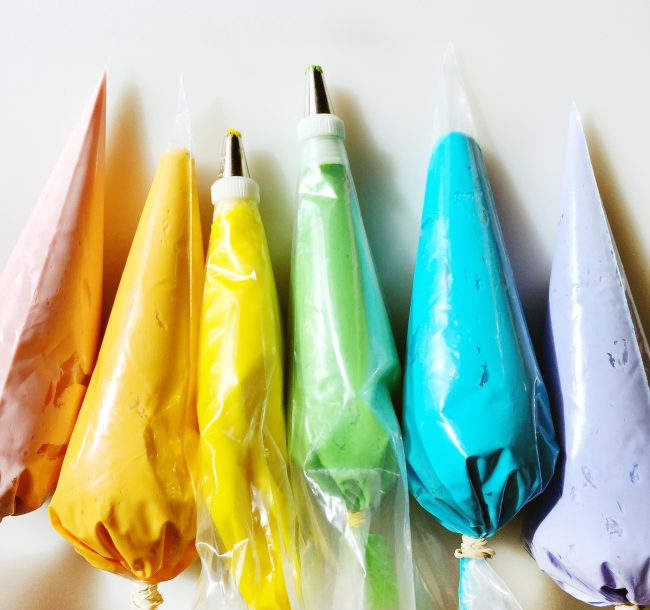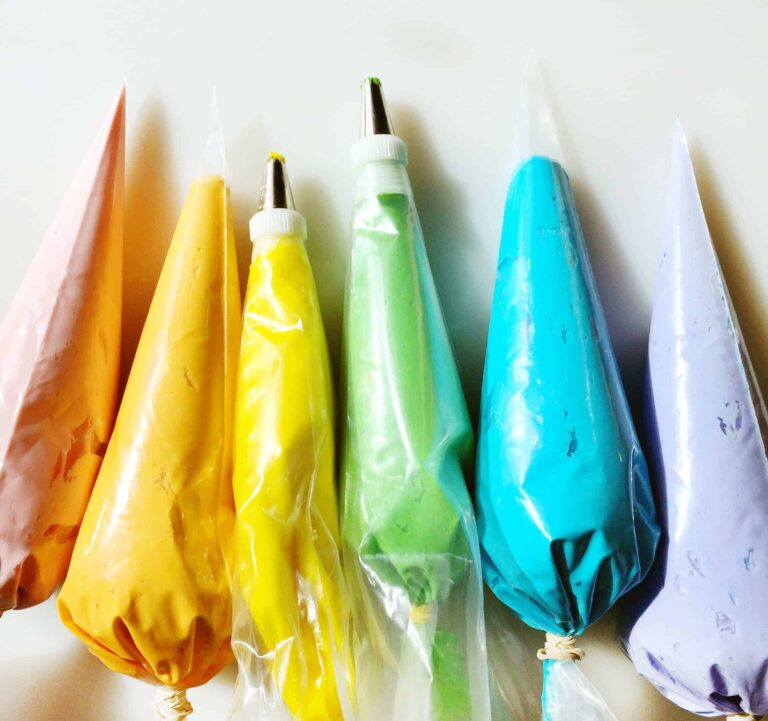 Begin by making the sugar cookie dough. Roll it out and use a 2 1/2 inch round cookie cutter to make round cut-out cookies. Bake and then repeat until all dough is gone. Allow cookies to cool. (This can be done well in advance.)
Prepare buttercream. Divide into 7 bowls… leave one white then tint one pink, orange, yellow, green, blue, and purple. Place frosting in pastry bags and seal with a rubber band.
Grab one more small bowl and add a tiny bit of blue frosting (about a tablespoon) and about 1 cup of white. Stir to create a light blue. Using a small offset spatula spread the light blue frosting out over the entire round cookie.
Lay out a piece of plastic wrap at least 18 inches long. Cut off the tip of the bags of frosting. Pipe out a line of pink then right next to it a line of orange. Repeat with yellow, green, blue, and purple.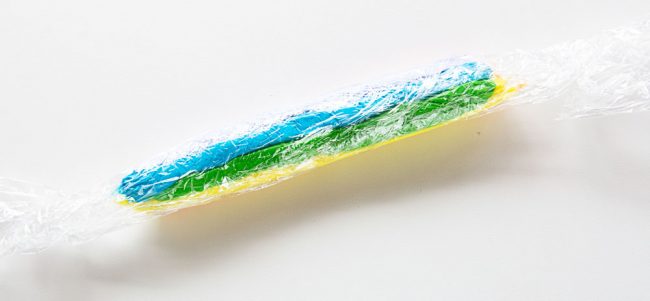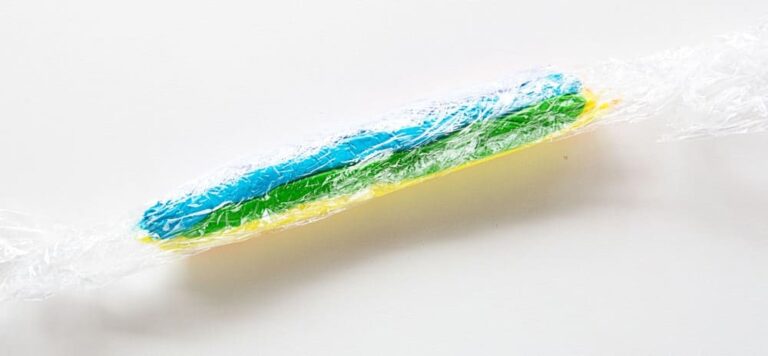 Gently start rolling the purple towards the pink and make sure all of the frosting is touching and in a nice smooth roll. You don't want air in between the frosting. Press softly and evenly along the roll if necessary.
Cut off one end of the plastic wrap all the way up to the frosting. Drop into a pastry bag fitted with a 1E tip.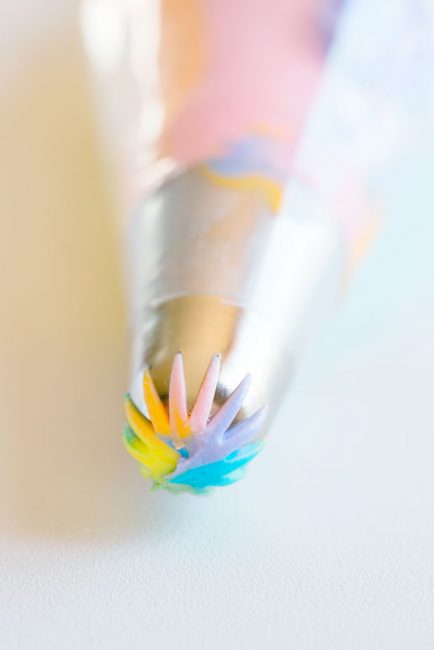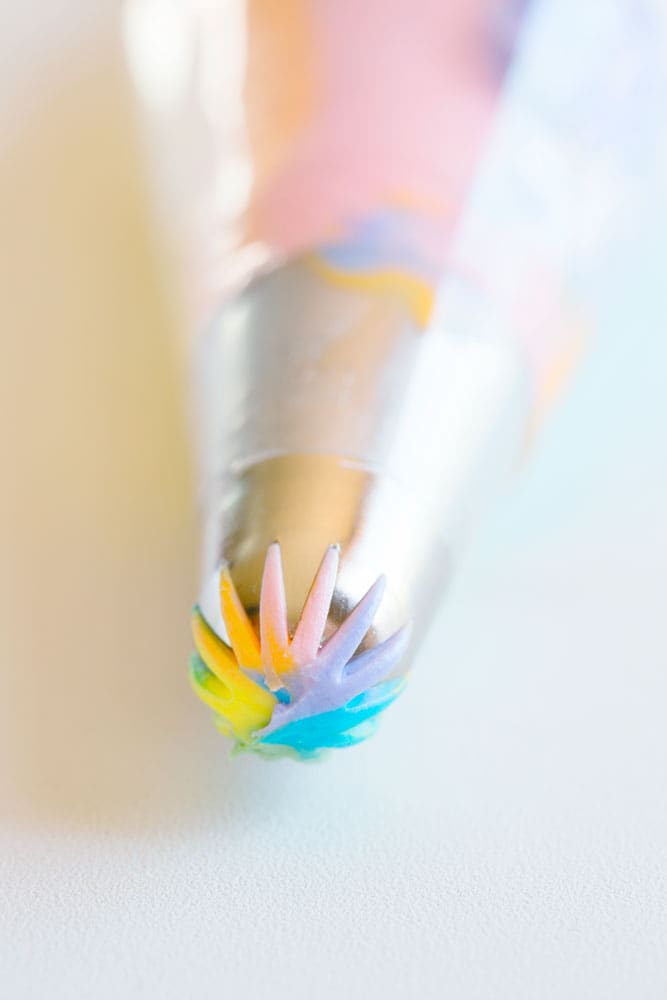 Now is the tough part. (I recommend practicing this technique with plain white buttercream on a paper plate until you are comfortable with it. Then scrape the frosting back into a bowl and start over.) VIDEO BELOW!
I turned the cookie in my hand so that my hand was to the point of being uncomfortable. Imagine you are holding a cookie in your left hand. Then slowly turn your wrist to the right, towards your body, a full 90 degrees.
Now take your frosting in the other hand and start piping SLOWLY at the lower edge of the cookie. (Just envision a rainbow and start at the bottom of one side) Slowly turn the cookie AND slowly turn the bag of frosting at the same time as you pipe around the edge of the cookie. The key is to go slow and steady. I tried to start with the pink frosting facing UP and then ending with it facing down.
Now you can add the white "clouds". This was just 3-4 dollops of buttercream at the bottom of the rainbow.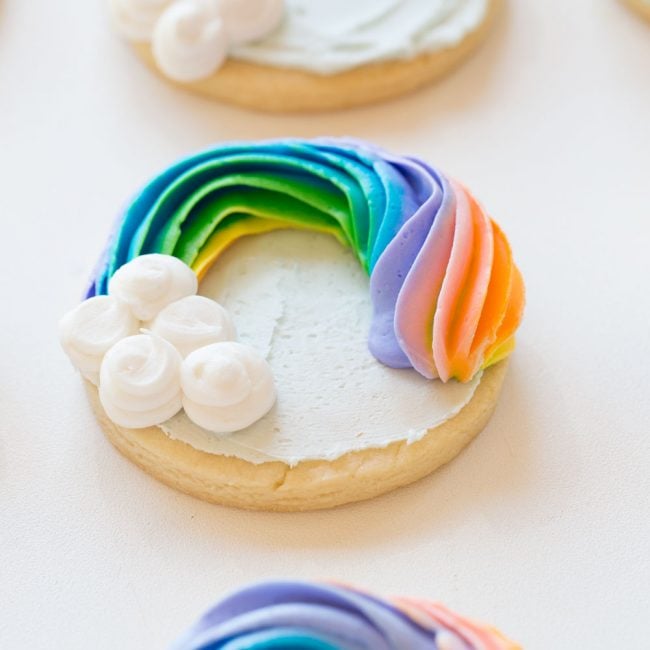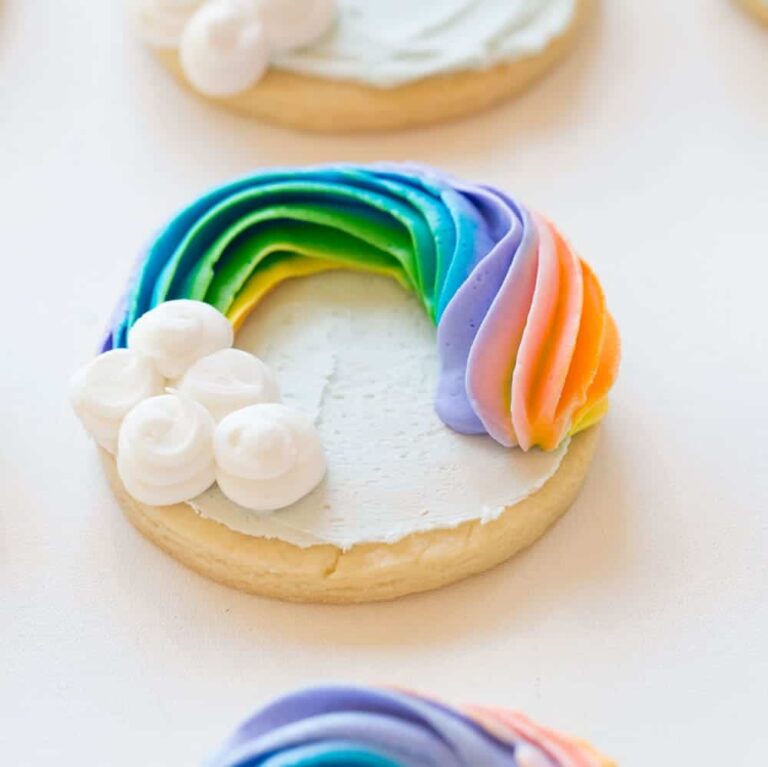 My best advice with this cookie is to practice with your plain buttercream. That way you can reuse it and truly master the technique and you won't waste any frosting. 🙂
You can make the cookies well in advance. You can frosting the cookies with the pale blue buttercream 1-2 days before adding the rainbow, the buttercream will lock in moisture.
This buttercream will crust over but I would not stack these cookies.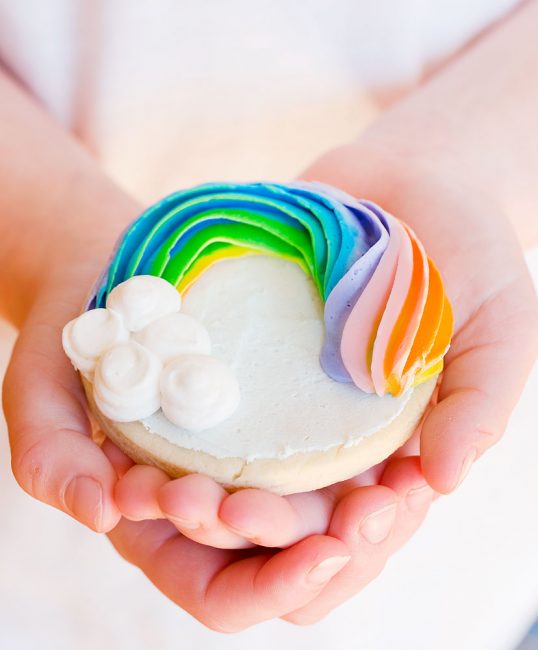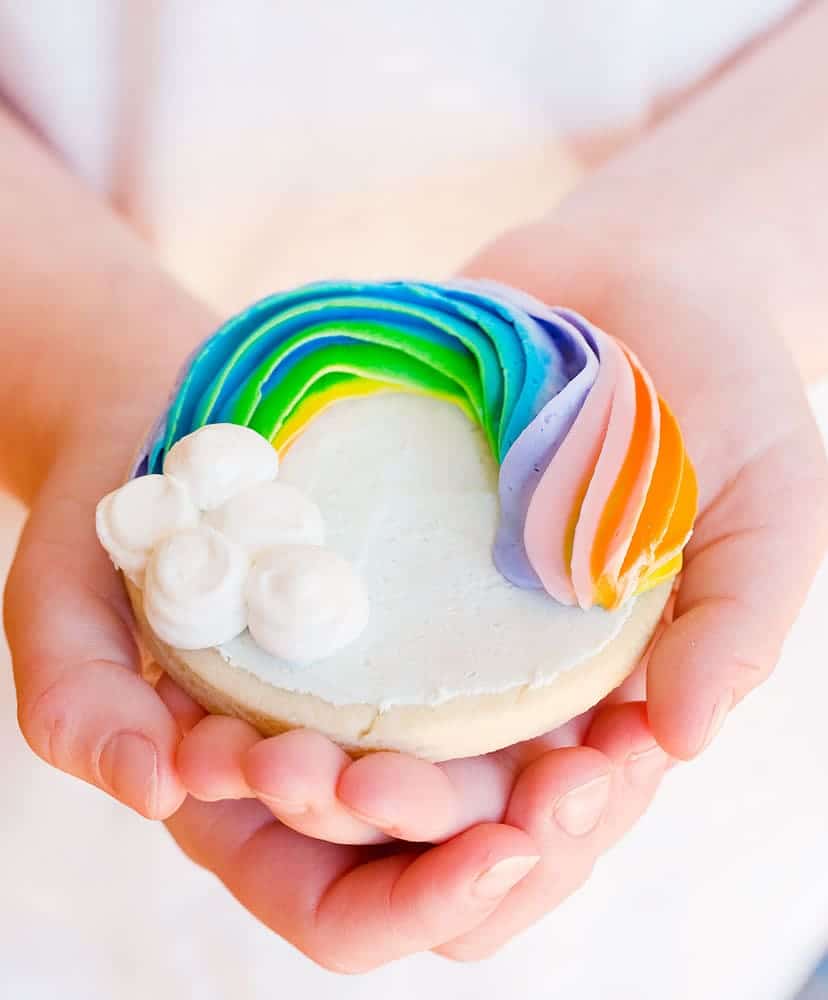 And don't let anyone give you any heck over the frosting:cookie ratio. It's a special occasion! 🙂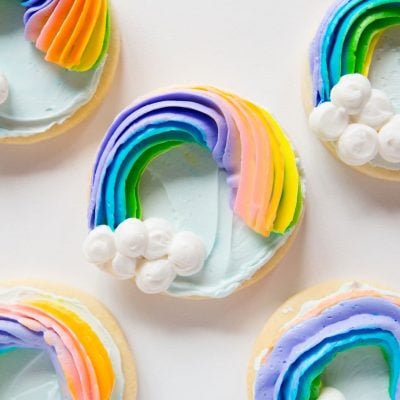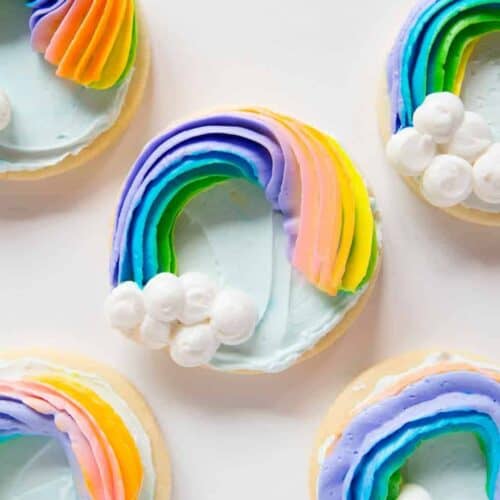 Easy Sugar Cookies
I saw these on Pinterest and knew I wanted to try them. They were not as easy as I had hoped, but I think these Rainbow Sugar Cookies are sure fun!
Ingredients
1

cup

(226g) unsalted butter

1

cup

(200g) granulated white sugar

1

large egg

room temperature

1

teaspoon

vanilla extract

½

teaspoon

almond extract

2

teaspoon

baking powder

3

cups

(360g) all-purpose flour
Instructions
Preheat oven to 350° F.

Add butter to the bowl of your stand mixer and cream on medium-high for 1-2 minutes, or until butter is smooth and lighter in color.

With the mixer on low, slowly add the sugar and then egg.

Scrape the bowl with the mixer off.

Turn mixer back on low and add in extracts.

Allow all ingredients to combine fully.

Add in the baking powder and then the flour, 1/2 cup at a time, until fully incorporated.

Remove bowl from mixer and drop dough onto a floured counter top. Roll out into a flat disc, about 1/4 inch thick.

Cut out cookies in desired shape and bake at 350 for 6-8 minutes.

Let cool on the cookie sheet until firm enough to transfer to a cooling rack.
Did you make this recipe?
Thank you for making my recipe! You took pictures, right? Well go ahead and post them on Instagram! Be sure to mention me @iambaker and use the hashtag #YouAreBaker.