I was feeding my sweet baby last Monday and happened upon Martha Bakes on the Hallmark Channel.
As *I* also enjoy baking on occasion, I was pretty excited to watch.  And Martha did not disappoint!  She showcased some delectable treats, including her Hi-Hat Cupcakes.
I decided to give them a shot using the very popular flavor of Red Velvet.  And there is a reason Red Velvet is so popular… these are amazing!!
I used a version of this Red Velvet recipe for the cake.  I then used, and this is possibly my favorite change, Log House Cherry Flavored Baking Morsels for the chocolate candy coating.
For a long time now Cherry Dip has been my favorite cone at Dairy Queen, and now I know how to make it at home! *happy dance*
The only thing I did use from Martha's original post was the Seven Minute Frosting recipe, with a slight alteration.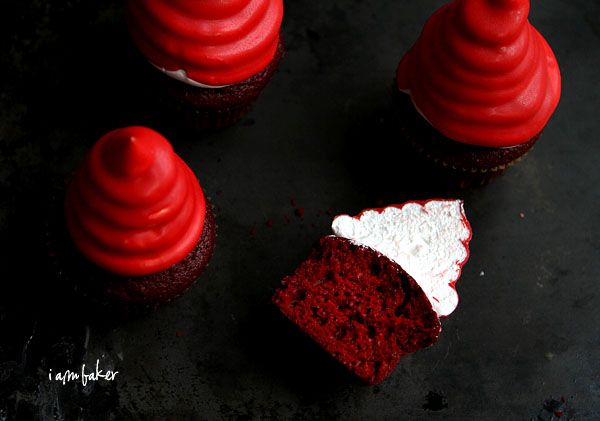 I found the light and airy frosting to be the perfect compliment to the deep, rich flavor of red velvet.
And, seeing as I am a HUGE fan of Cherry Dip, I could not get enough of this flavor combination.  If you are not a big fan, you can certainly use a semi-sweet chocolate and also have fantastic results.
Whatever you do decide on doing, dont forget the most important ingredient.
Love.
I kid.
Kinda.