A while back I posted some Neapolitan Spritz Cookies.  I love the cookie so much that I just knew I had to make it for another special occasion!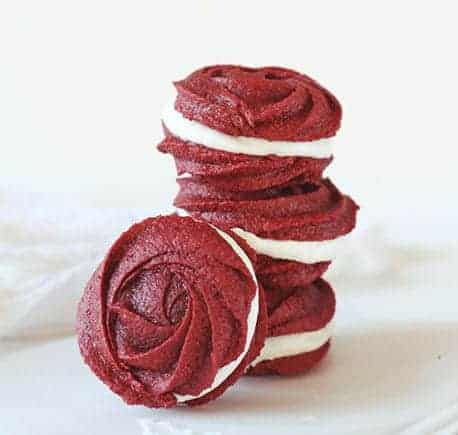 This recipe is one that I am really, really happy with as well.  Its almost like a red velvet brownie, only in cookie form.
Pair it with a marshmallow buttercream and it's basically 'heaven' in cookie form.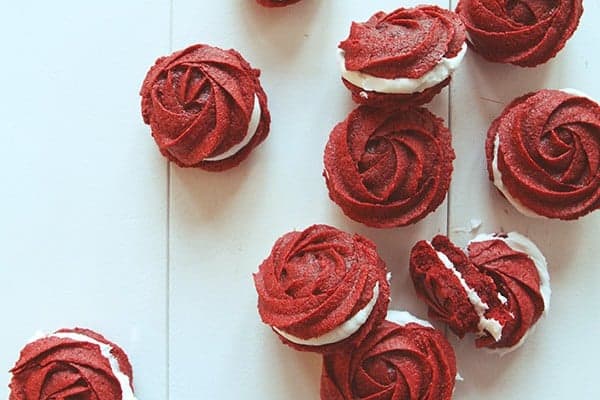 Here are a few tips and tricks:
Use a small piping bag.  I actually used the 8-inch bag fitted with the 1M tip and the smaller about of dough made piping easier.
Let your dough be at room temperature.  Do not chill!  The heat from your hands is good.
Pipe your roses onto parchment paper.  I have tried chilling the dough (placing the piped rosette's into the freezer) before baking and that didnt seem to make any difference in wether the rose kept its shape or not.  The roses that you see above are very relaxed, or a bit more spread out from the baking process.
After you have piped the rose (and using a clean hand) just slightly press the "end" of the rose in.  (The tail part that may not look so pretty.)  Just press it in slightly so that the rosette looks uniform.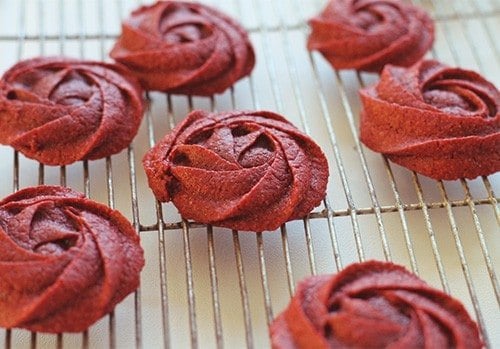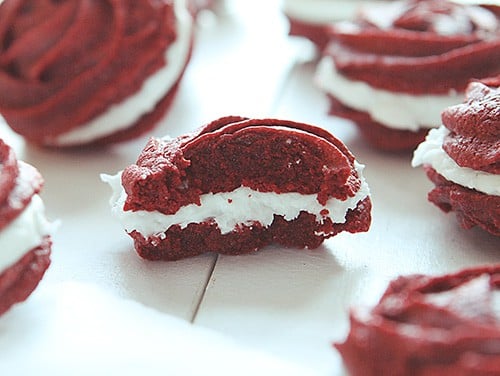 Not only is the cookie pretty, but its pretty darn delicious.
You can use most any frosting for the filling… chocolate buttercream would be especially delightful.  Or maybe even just a basic buttercream.  Or how about cream cheese?  You really cant go wrong!