Rhubarb Strawberry Cheesecake is one of the best and most delicious ways to celebrate summer! You might also enjoy my Perfect Cheesecake Recipe if you are a cheesecake fan!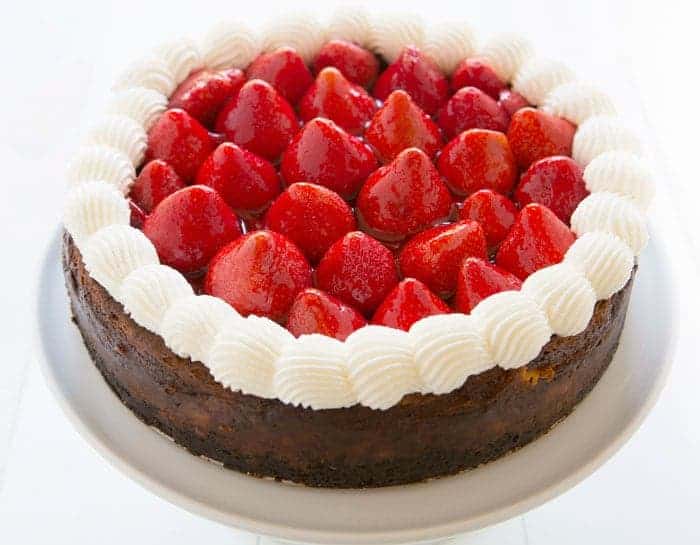 Rhubarb Strawberry Cheesecake
When I saw the gloriously pink and green rhubarb stalks at our local farmers' market, I knew I had to grab a bunch. Rhubarb stalks are soft and delectable when baked, especially in a cheesecake, which makes them the perfect addition to a wide variety of baked desserts like this one and my Rhubarb Cake, just to name a couple!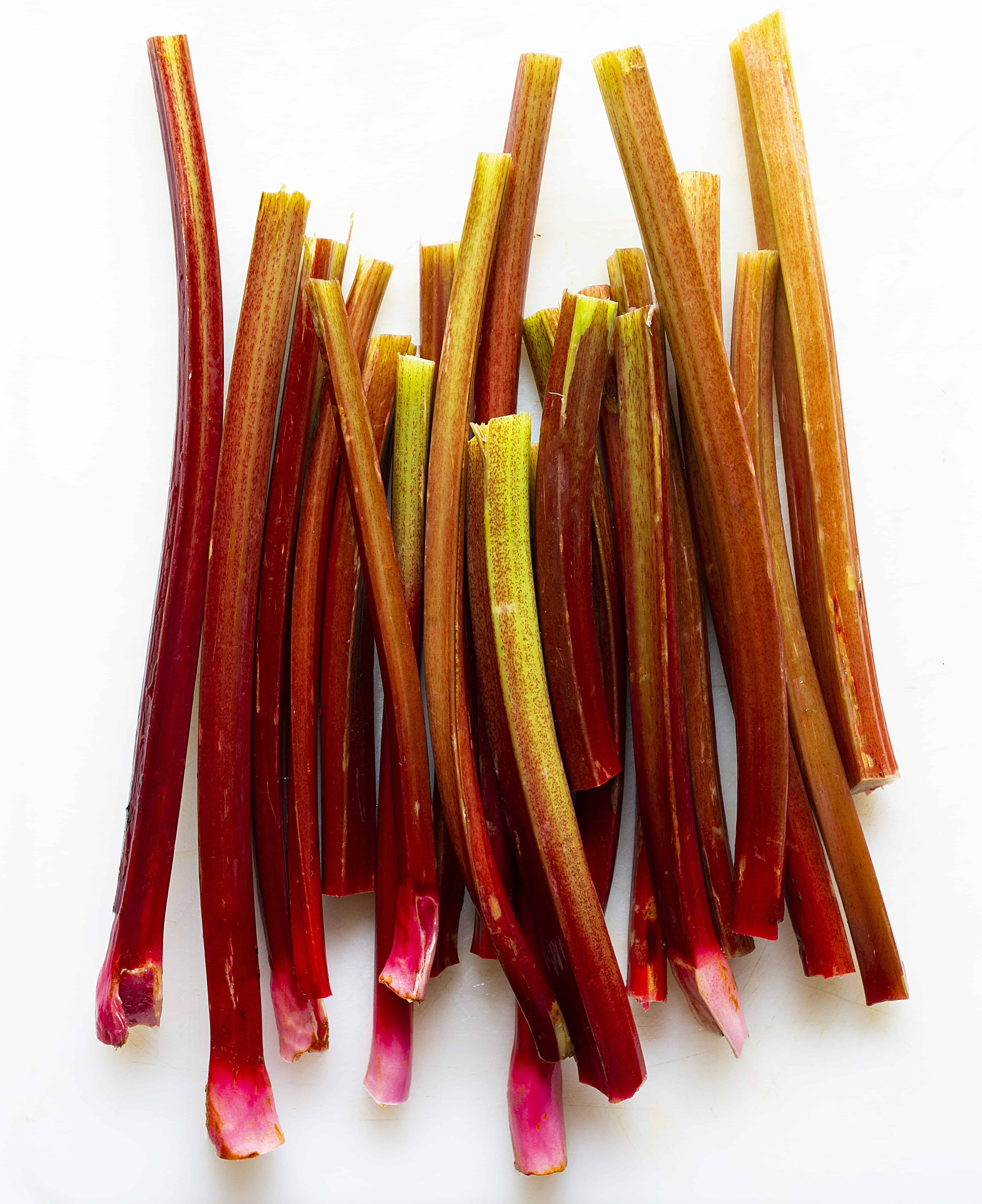 Let's Talk Rhubarb
The experts will recommend "choose stalks that are fresh looking, crisp and blemish free…look for smaller leaves, which is also an indication of a younger stalk. Avoid limp stalks and stalks with split ends." That's fine and dandy if you are aiming to be the next Martha Stewart, but not how we do it.
I don't look for perfection, I don't mind a few blemishes, and there is nothing wrong with a large leaf or a split end. You cut those off anyway! I've used big huge stalks and small stalks. All rhubarb is good rhubarb in these parts.
How to Prepare Rhubarb
Wash the rhubarb well.
Trim off the leaves and ends with a sharp knife.
Slice into 1 to 2-inch pieces (only for this recipe)! In typical baking you want smaller pieces.
Set the pieces on a paper towel and gently pat dry.
How to Freeze Rhubarb
If you want to freeze, it's a good idea to know ahead of time what you plan on making with the rhubarb. Freezing it in pieces works best, so you will want to know what size pieces to cut. (Generally speaking, 1 inch is fine.)
To freeze:
Clean well.
Place cut rhubarb into a freezer bag or airtight container. Remove as much air as possible from the bag or pack it tightly into an airtight container. The rhubarb may expand a bit when freezing, so don't pack too tight.
Set in the freezer and store for up to 12 months.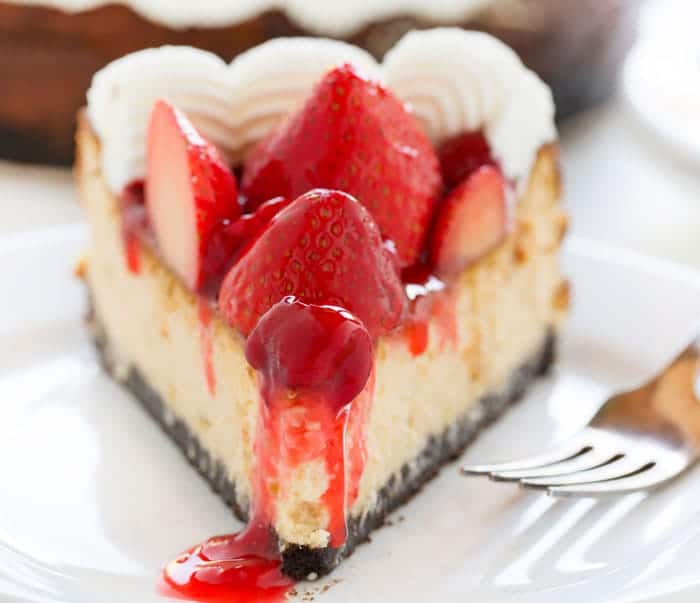 Tips for Rhubarb Strawberry Cheesecake
Room temperature ingredients are essential when making a cheesecake. To achieve the perfectly satiny smooth cheesecake you will want to whip it for some time, and having all ingredients at the same temperature will help to achieve that.
Cut cheesecake using a sharp thin-bladed knife and not a serrated knife. Dip a knife in hot water and wipe dry before each cut.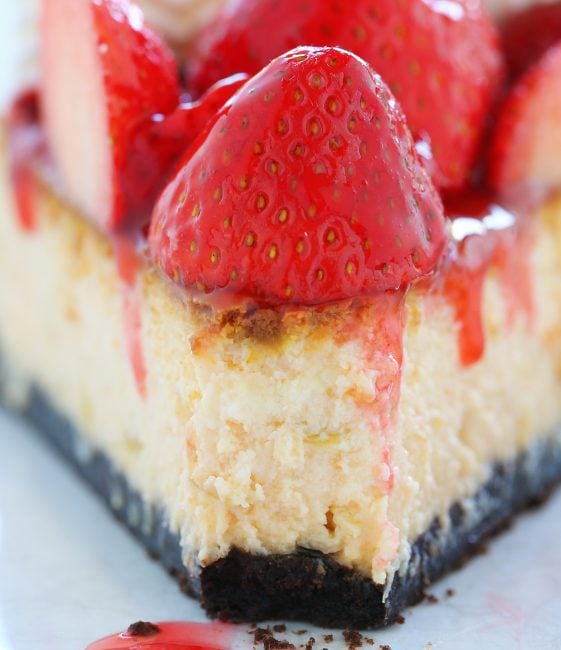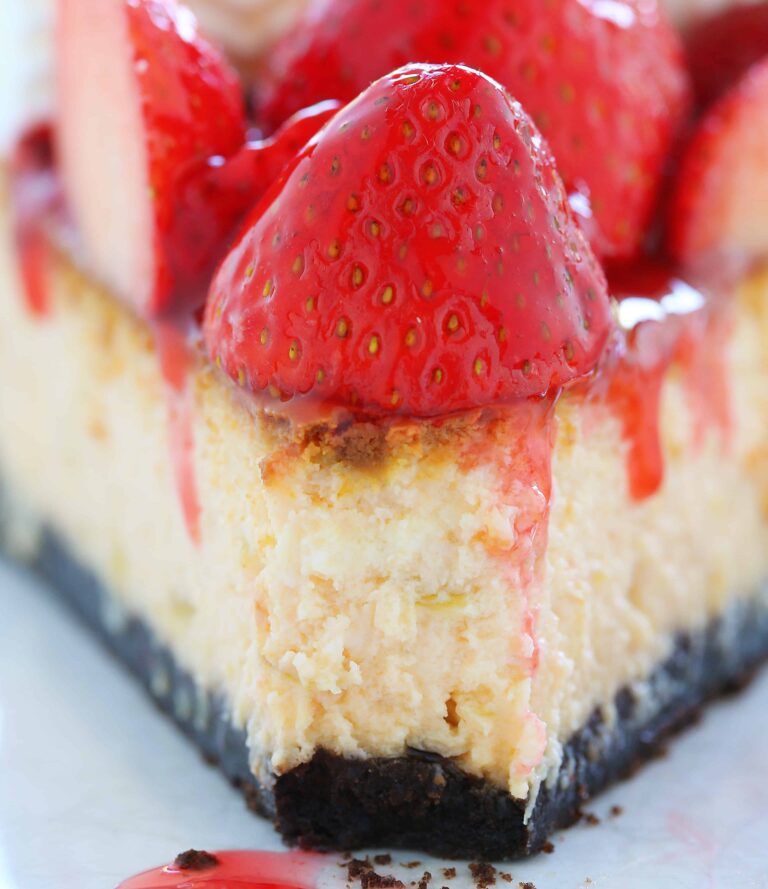 Can I Make Rhubarb Strawberry Cheesecake Ahead of Time?
Yes! This cheesecake can be stored for up to two days before serving. Don't forget to add some whipped cream on top!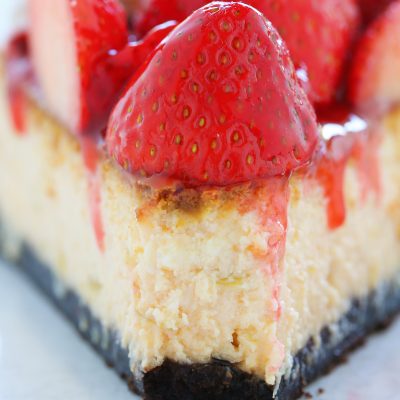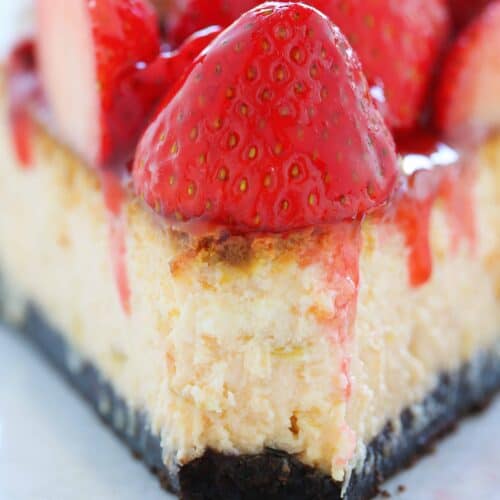 Rhubarb Strawberry Cheesecake
Making a classic Rhubarb Strawberry Cheesecake is one of the best ways to usher in summer. It's also a fantastic midwestern dessert that most folks don't want to share… we like to keep these gems to ourselves! 😉
Ingredients
Rhubarb Sauce
2½

cups

(305 g / 10 ounces) diced fresh rhubarb,

about 6 stalks

⅓

cup

(67 g) granulated sugar

2

tablespoons

orange juice

9

ounces

white baking chocolate
Crust
2

cups

(168 g) finely crushed Oreo cookies,

about 18 cookies without the filling

⅓

cup

(76 g) butter,

melted
Filling
3

packages

(8 ounces each) cream cheese,

room temperature

7

ounces

sour cream,

room temperature (about ¾ cup)

½

cup

(100 g) granulated sugar

1

tablespoon

cornstarch

2

teaspoons

vanilla

½

teaspoon

kosher salt

3

large

eggs,

room temperature
Topping
¼

cup

(79 g) strawberry jelly,

or jam

2

tablespoons

water

1

pint

strawberries,

washed, tops removed, sliced in half lengthwise
Instructions
Rhubarb Sauce
In a medium saucepan over medium heat, combine rhubarb, sugar, and orange juice. Bring just to boiling; then, reduce heat. Cook, uncovered, for about 5 minutes or until rhubarb is tender, stirring occasionally. Remove from heat and set aside.

In a microwave-safe bowl, add the white chocolate. Melt in 20-second increments, stirring in between, until the chocolate is melted and smooth (1½-2 minutes total). Set aside to cool.
Crust
Preheat the oven to 350°F and spray a 10-inch springform pan with nonstick cooking spray.

In a medium bowl, combine Oreo cookie crumbs and melted butter. Press the crumb mixture into the bottom of the prepared pan.
Filling
In the bowl of a stand mixer with the paddle attachment, mix the cream cheese, sour cream, sugar, cornstarch, vanilla, and salt on medium-high speed until combined (about five minutes).

Add eggs, 1 at a time, mixing just until incorporated after each addition. Gradually mix in the melted white chocolate until combined.

Pour the cooled rhubarb sauce into the filling and gently fold in to incorporate. Pour the entire mixture into the Oreo crust-lined springform pan.

Bake for 1 hour to 1 hour 20 minutes, or until the edge of cheesecake is firm and the center appears nearly set when lightly shaken. (Some jiggle is okay.)

Turn off the oven and crack open the oven door. Let the cheesecake cool in the oven for 30 minutes.

After the cheesecake has cooled in the oven for 30 minutes, remove it and loosen the cheesecake from the sides of the pan. Let it continue to cool on the counter until it reaches room temperature (about an hour).

Place the cheesecake in the refrigerator to chill for at least 4 hours.
Topping
When ready, in a medium bowl, whisk together the strawberry jam and water.

Add the strawberries; toss to coat.

Carefully pour the strawberry mixture on top of the chilled cheesecake.
Video
Did you make this recipe?
Thank you for making my recipe! You took pictures, right? Well go ahead and post them on Instagram! Be sure to mention me @iambaker and use the hashtag #YouAreBaker.