I partnered with McCormick to bring you this amazing dessert. I appreciate so much that you support the brands that I love and am lucky enough to work with.
Making a classic Rhubarb Strawberry Cheesecake is one of the best ways to usher in summer. It's also a fantastic midwestern dessert that most folks don't want to share… we like to keep these gems to ourselves! 😉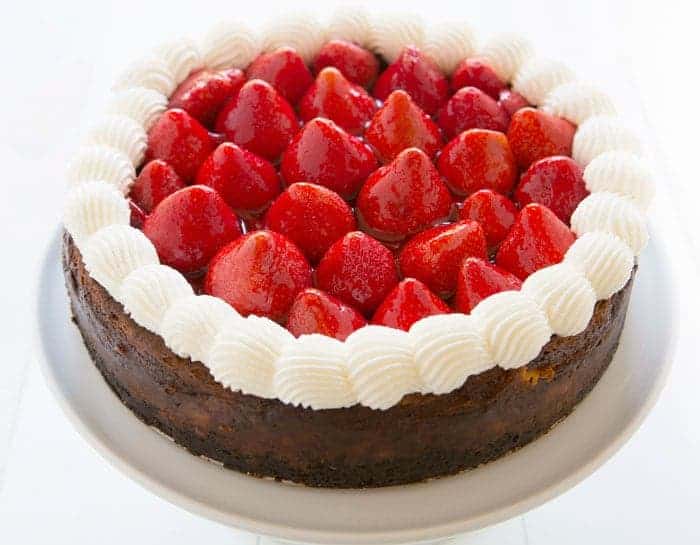 When I saw the gloriously pink and green rhubarb stalks at our local farmers market, I knew I had to grab a bunch. Rhubarb stalks are soft and delectable when baked, especially in a cheesecake!, which make them the perfect addition to a wide variety of baked desserts!

MY LATEST VIDEOS
To make this cheesecake you will need:
10-inch springform pan
cheesecake recipe
oreo crust recipe
strawberries and strawberry jelly (or jam)
whipped cream or a homemade whipped cream
pastry bag fitted with a french star tip
Makes 12-14 servings can be stored for 2 days before serving.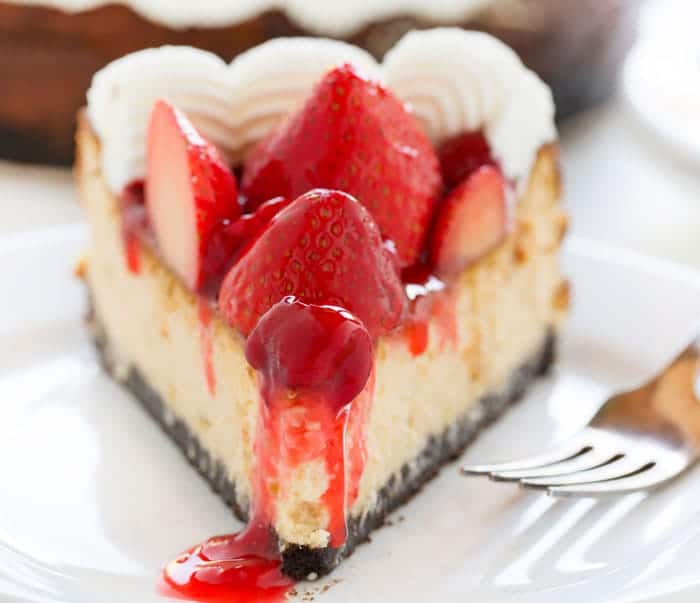 Tips for success:
Rinse the fresh rhubarb stalks to remove any dirt. Trim off ends and remove any stringy pieces before slicing.
Use a good quality vanilla! I love McCormick because I can trust that it is a quality product and know that it will perfectly compliment the (somewhat complex) flavors in my desserts.
Room temperature ingredients are essential when making a cheesecake. To achieve the perfectly satiny smooth cheesecake you will want to whip it for some time, and having all ingredients at the same temperature will help to achieve that.
Cut cheesecake using a sharp thin bladed knife and not a serrated knife. Dip knife in hot water and wipe dry before each cut.