Light and creamy Homemade Whipped Cream is the perfect complement to all your favorite desserts. It's the same recipe as I used in my Ultimate Banana Pudding recipe. It's also perfect to use on top of my Two Ingredient Chocolate Mousse.
Homemade Whipped Cream
Whipped cream is a popular topping that has been around since the 16th century! It used to be called 'milk snow' and to make it, you would use a branch to whip the cream (not recommended). Um, I will just stick to an electronic mixer, thank you. Once you make the whipped cream, why not try to beat the tallest dollop of whipped cream on a mug of hot chocolate? Currently, the record is 7 1/4 inches tall. Good luck, and let me know how it goes😀!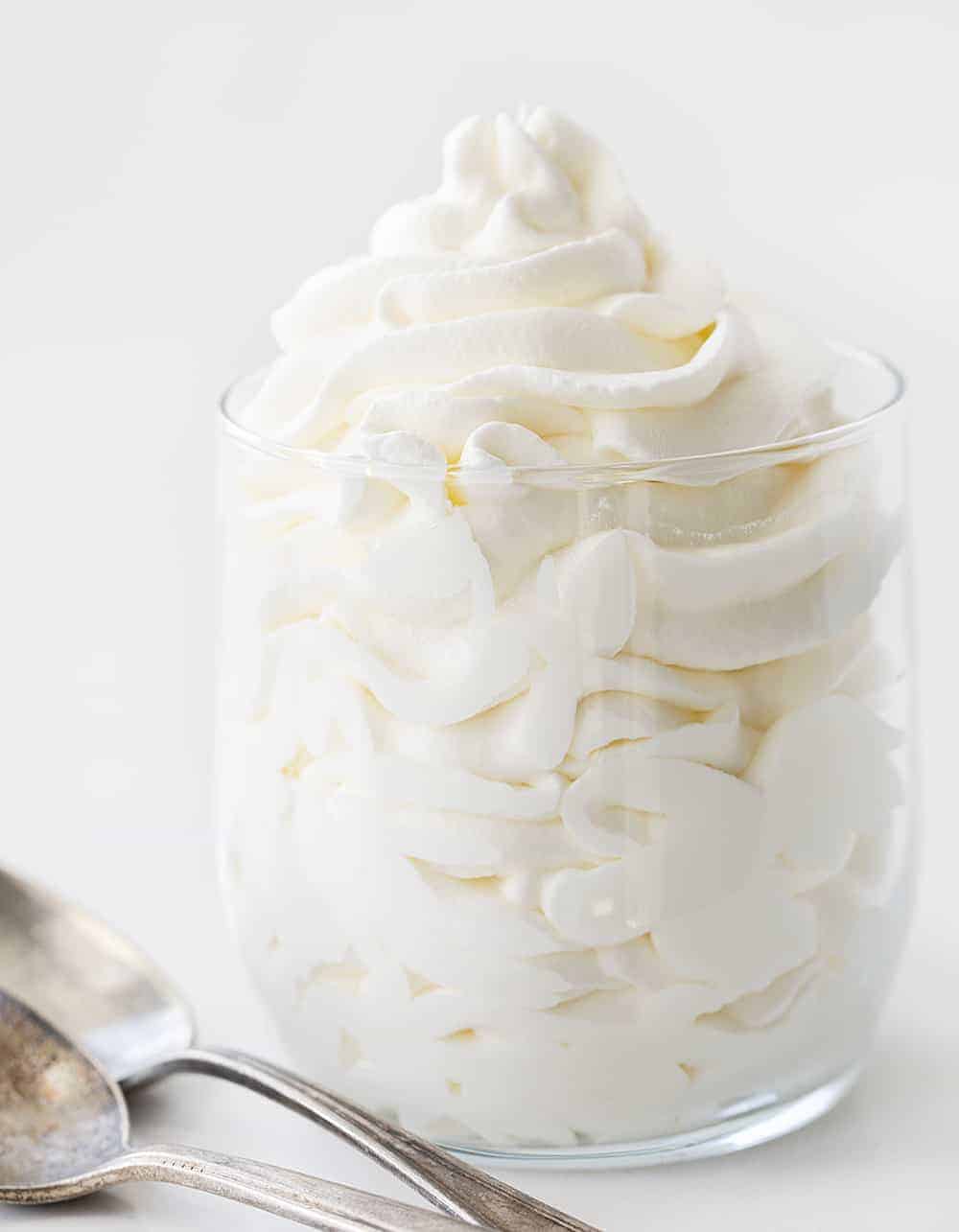 Homemade Whipped Cream Recipe
With just TWO ingredients, you can make your own light and creamy whipped cream topping. Just make sure the heavy whipping cream is cold to get the best results.
Ingredients
Heavy whipping cream (Using a lower fat cream or milk will not whip as well; the end result would be a more unstable form.)
Confectioners' sugar

How to Make Homemade Whipped Cream
Don't aim for "stiff peaks". You want the whipped cream to keep its shape and be soft, billowing peaks. If by chance you OVERBEAT the whipped cream (I have done this and cried!) fixing it is actually very easy. Simply add in more fresh heavy whipping cream and whisk by hand. My life was changed when I found that out!
Wait until peaks start to form before adding in the confectioners' sugar. I much prefer confectioners sugar in this recipe, as it dissolves entirely and leaves a smooth texture. If you choose to use granulated sugar be sure to add it immediately at the beginning and whip it with the cream.
Homemade whipped cream is best used immediately, but it can be stored for up to 10 hours if needed. After that, it may start to separate. But, did you know you can freeze whipped cream? Well, I am here to tell you that you can!

How to Freeze Homemade Whipped Cream
It would be a shame for whipped cream to go to waste, and since it doesn't last long, it's a great idea to freeze any extra you may have. To freeze whipped cream, add dollops of it on a parchment-lined baking sheet. Place the dollops in the freezer until they are completely frozen. After frozen, store them in zipped plastic freezer bags (remembering to label and date the bags) until you are ready to use them. They can go right into a hot cup of cocoa, or simply set them on a plate for 15-20 minutes to let thaw if you are adding it to a dessert.

Looking for Recipes to use Homemade Whipped Cream?
Chocolate Strawberry Shortcake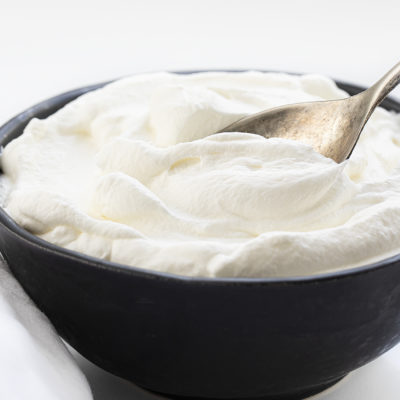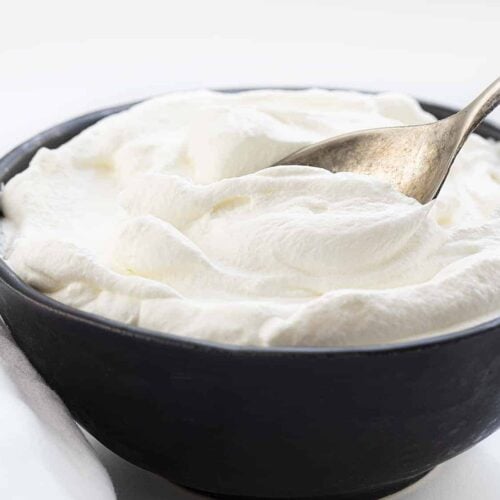 Homemade Whipped Cream
With just two ingredients, you can make your own light and creamy homemade whipped cream.
Ingredients
1

pint

(454g) heavy whipping cream

¼

cup

(31g) confectioners' sugar
Instructions
Add heavy cream to a mixing bowl. Start mixing at the lowest speed, and then gradually increase speed to medium until the cream starts to get thicker. (The gradual progression prevents you from spraying yourself with cream.)

When the cream starts to thicken, stop the mixer. Slowly add in the confectioners' sugar and then resume mixing again, starting with low speed and increasing to medium speed and eventually moving to a high speed.

The cream will thicken and start to peak. Mix on high until the cream is thick and stiff. This happens quickly, the stage between soft and stiff peaks, so watch it closely.
Did you make this recipe?
Thank you for making my recipe! You took pictures, right? Well go ahead and post them on Instagram! Be sure to mention me @iambaker and use the hashtag #YouAreBaker.