Roasted Potato Salad is a next-level potato salad. The potatoes are roasted prior to combining all the ingredients and what you get is flavor-loaded goodness in every single bite. Once you try this roasted version, regular ole potato salad will pale in comparison! I also have Dill Pickle Roasted Potato Salad, should you want to add some fun! And, for another delicious variation of potato salad, try my German Potato Salad with Kielbasa!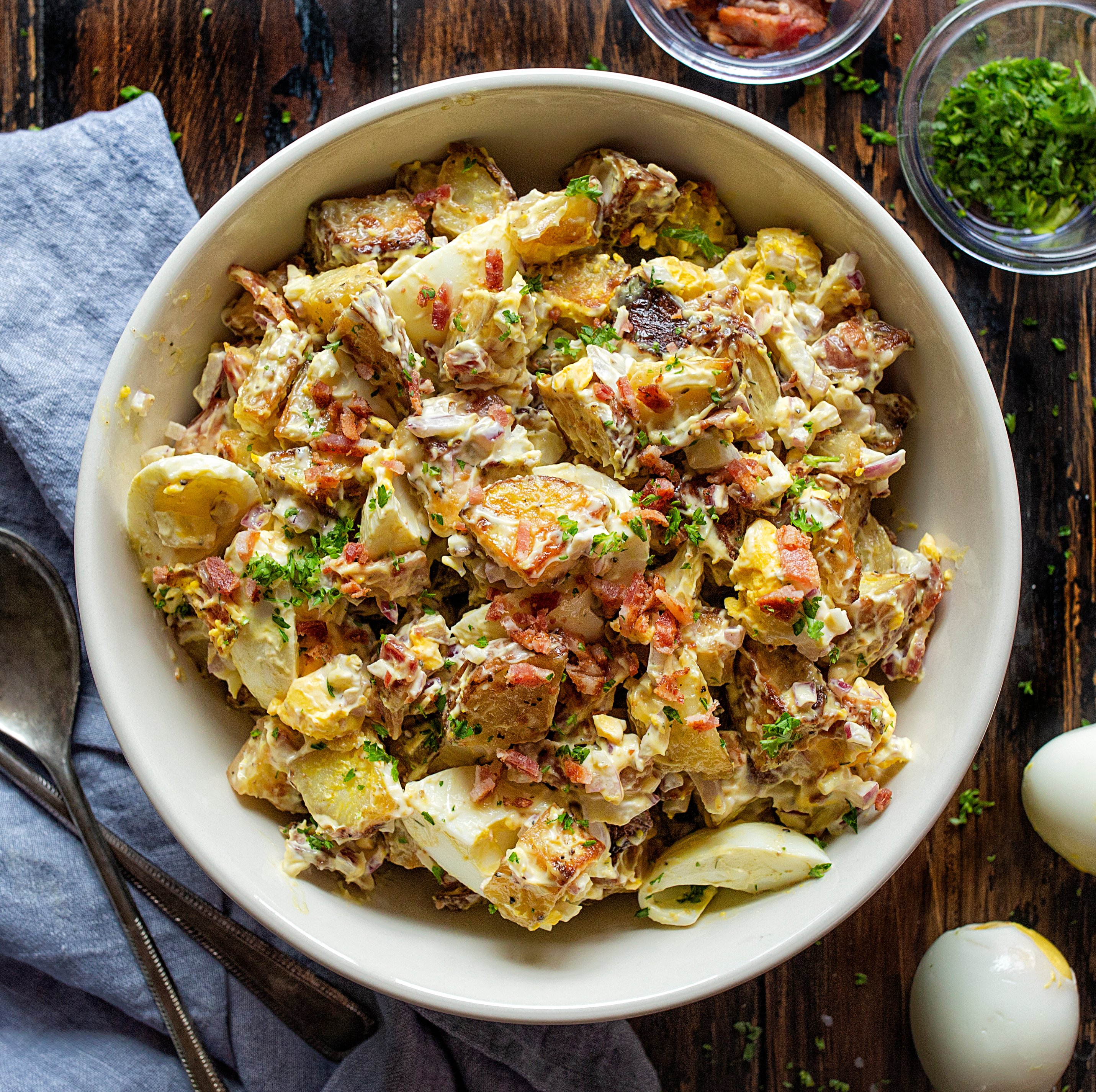 What is Roasted Potato Salad?
Simply put, the potatoes are cubed, seasoned, and roasted prior to assembling. This means that every single bite of potato is loaded with amazing flavor.
It's not too soupy, it's not bland, and it's not dependent on the temperature for serving… hot or cold, it's amazing.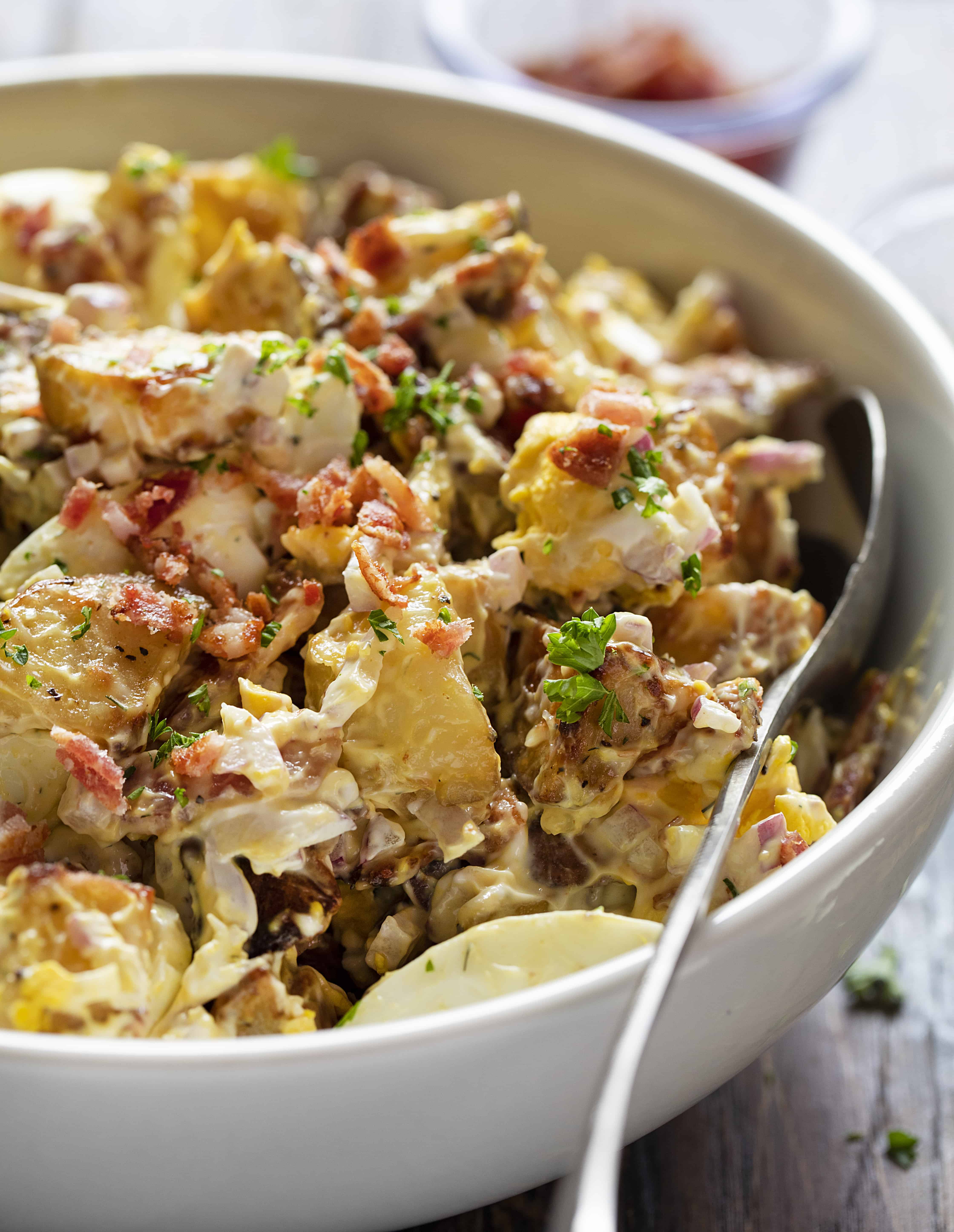 Roasting vs Boiling
I served this recipe to friends at a BBQ recently and even though the guests loved it, one friend explained that she hates turning on her oven in the summer. I totally understand that, but when it comes to potato salad, you are going to heat up your kitchen no matter what. I have stood over plenty of pots of boiling water and know how quickly the steam can warm a space.
Once you try this roasted version of potato salad, you will know that it's absolutely worth it to turn on the oven! (Or I'll give you an Air Fryer Roasted Potato option below)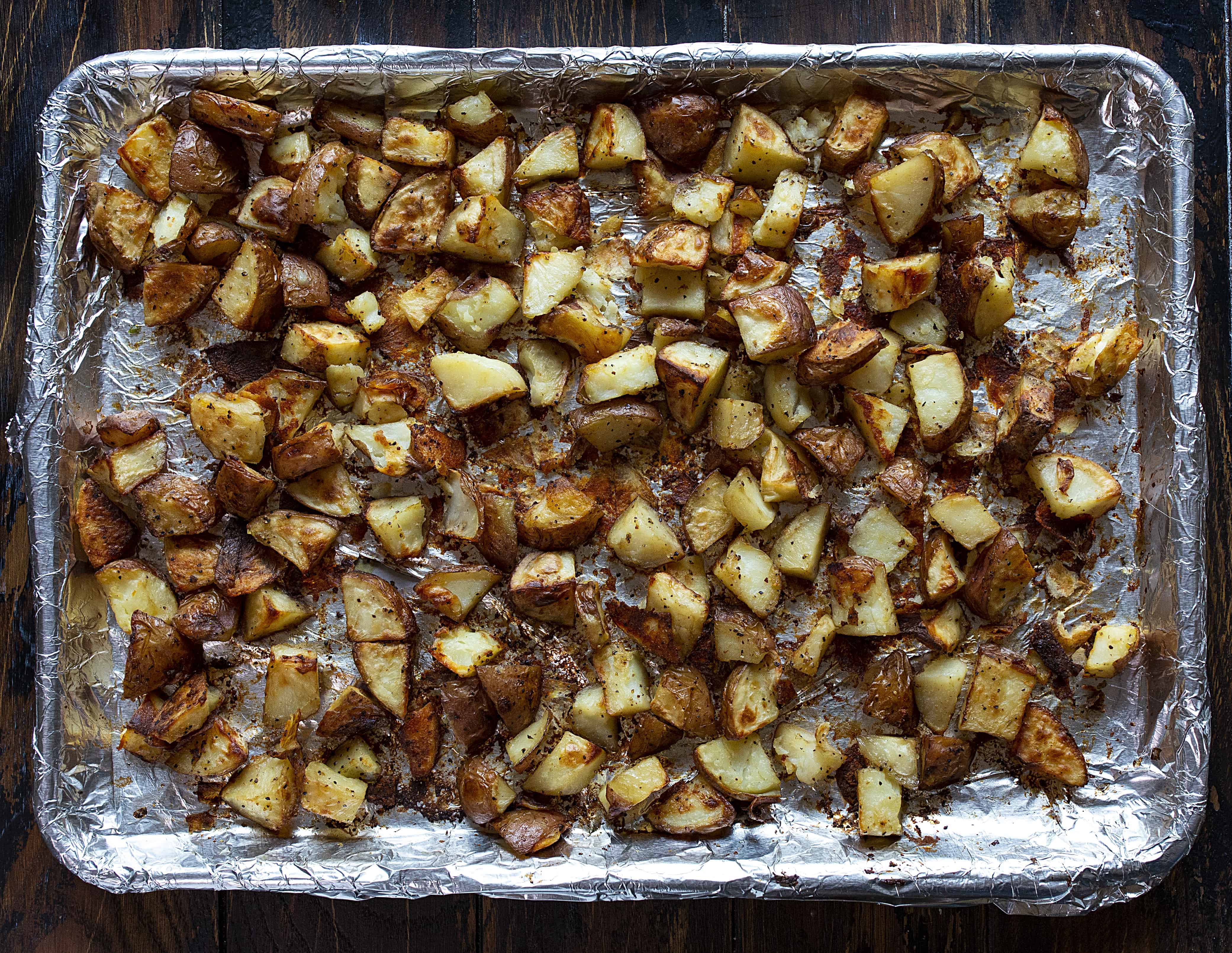 How To Roast Potatoes
The potatoes are the star of the show in this recipe. But there are a few tricks to making sure the final product is perfect.
Use smaller potato-like baby reds or fingerlings. Take a few minutes to make sure the cubes are consistent in size. When roasting the potatoes you want them to bake evenly, making sure there are not underdone or overdone pieces. When they are all the same size, they will all get perfectly crispy.
Cube the potato into 1-inch pieces. I have made this salad for several years now and often try new variations to see if I can make it prettier or taste better. For instance, I tried roasted potato wedges. While I thought these looked the best (people do eat with their eyes first!), the larger cuts of potatoes meant that there was a lower seasoning to potato ratio.
Make sure the potatoes are dry before adding the olive oil and seasoning. Now, my grandma is a huge fan of washing potatoes after they have been chopped and letting them sit in a cold water bath. I do not wash the potatoes for this salad. (Edited to add, I do not wash the potatoes AGAIN after I have cut them. I do wash before cutting.) I want a super crispy outer edge with a soft interior.
Prepare your pan. We often use aluminum foil to completely cover the pan (easier clean up), but you can also use parchment paper or Silpat. I often add a teaspoon of oil to the pan and rub it evenly over the foil with my hand in an attempt to keep the potatoes from sticking. You can also use non-spray or nothing at all.
Don't crowd the pan. A nice, even layer of potatoes that aren't too close together is key. You want the beautiful crispy deliciousness on every side.
Don't turn them too much. I usually flip the potatoes once during roasting, making sure that one side is completely crispy before doing so. The overall baking time is anywhere from 30-45 minutes and will vary from oven to oven. I keep an eye on them after the flipping because while crispy is the goal, burnt is not.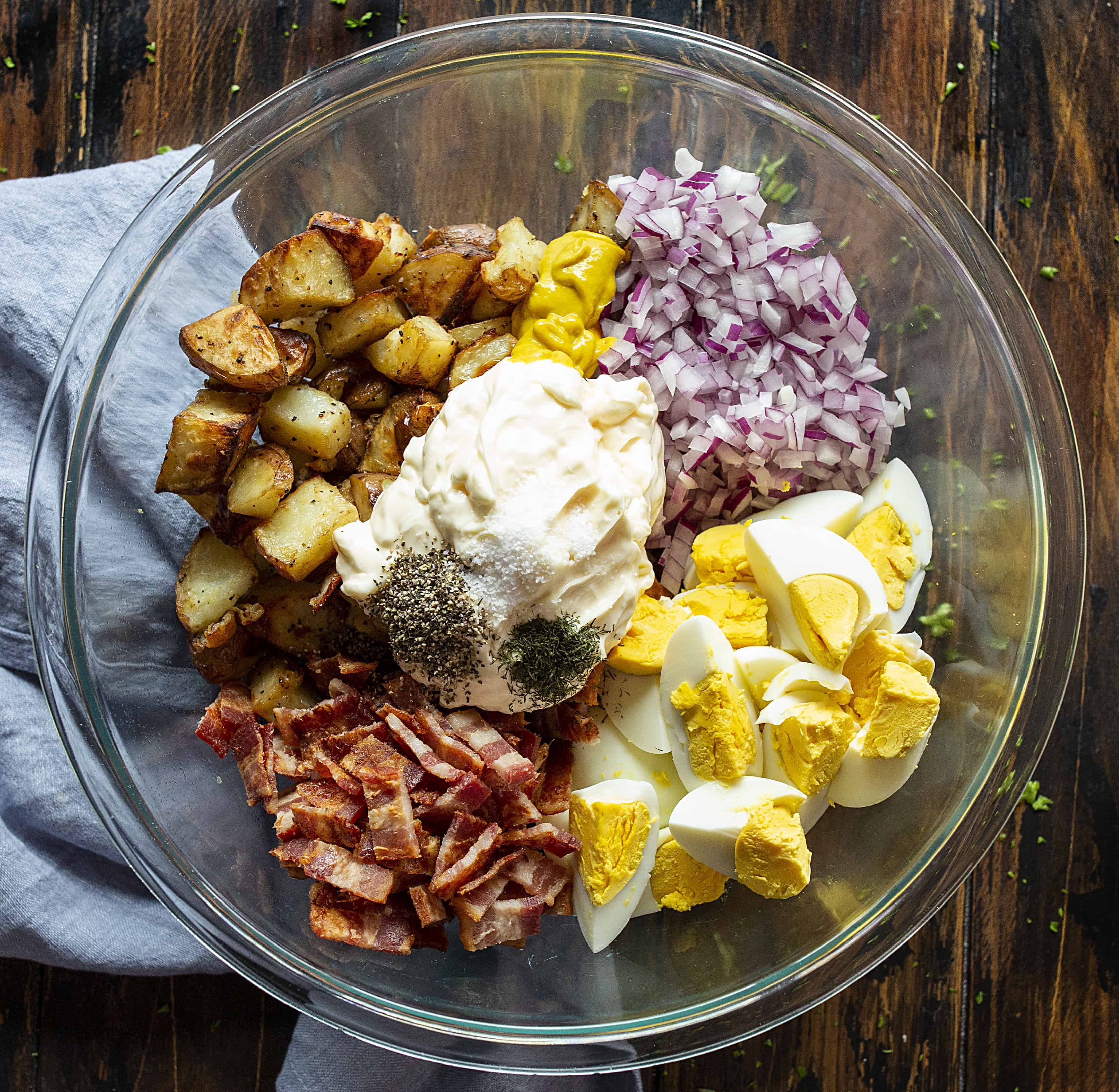 What is in Roasted Potato Salad?
The ingredients in this potato salad are each important and add to the fantastic end product.
Potatoes – Roasted to perfection and added to the other ingredients when warm.
Bacon – We prefer crispy bacon. I bake it in the oven for 18-22 minutes at 415°F. I don't recommend chewy bacon in this recipe.
Eggs – Hard-boiled of course. I prefer to cut the eggs into 4 wedges. I like a big bite of the egg as the soft texture and mild flavor really compliment the well-seasoned potatoes. You can certainly cut the eggs smaller if that is your preference.
Red Onion – While I love adding red onion and recommend it, I have also used shallots and green onion. You want to use an onion that can hold it's own, that offers texture as well as beauty to the final product. A small dice is my preference, my husband sometimes slices the onion and separates it into individual curved pieces.
Mayonnaise – Basic is best. No fancy flavors, variations, or substitutions are needed for the mayo. Side note: I did not like Greek Yogurt in this recipe… it doesn't work as well as mayo when combined with the warm potatoes.
Mustard – Plain old yellow mustard. If you only have dried mustard on hand, you can use it but the recipe will change a bit. Generally speaking, 1 tablespoon of yellow mustard equals 1 teaspoon of dried mustard. However, because yellow mustard has other ingredients like vinegar, turmeric, paprika, salt, and garlic, you will need to add extra liquid to this recipe. If you use 1 teaspoon of dried mustard in place of the yellow, also add 1-2 teaspoons of vinegar.
Dill – Dried dill is what the recipe calls for. You can certainly use fresh if it is what you have. The substitution is easy, one tablespoon of fresh equals one teaspoon of dried. I used 1/4 teaspoon of dried dill weed in this recipe so you would use 1 teaspoon of fresh dill weed. (Not dill seed.)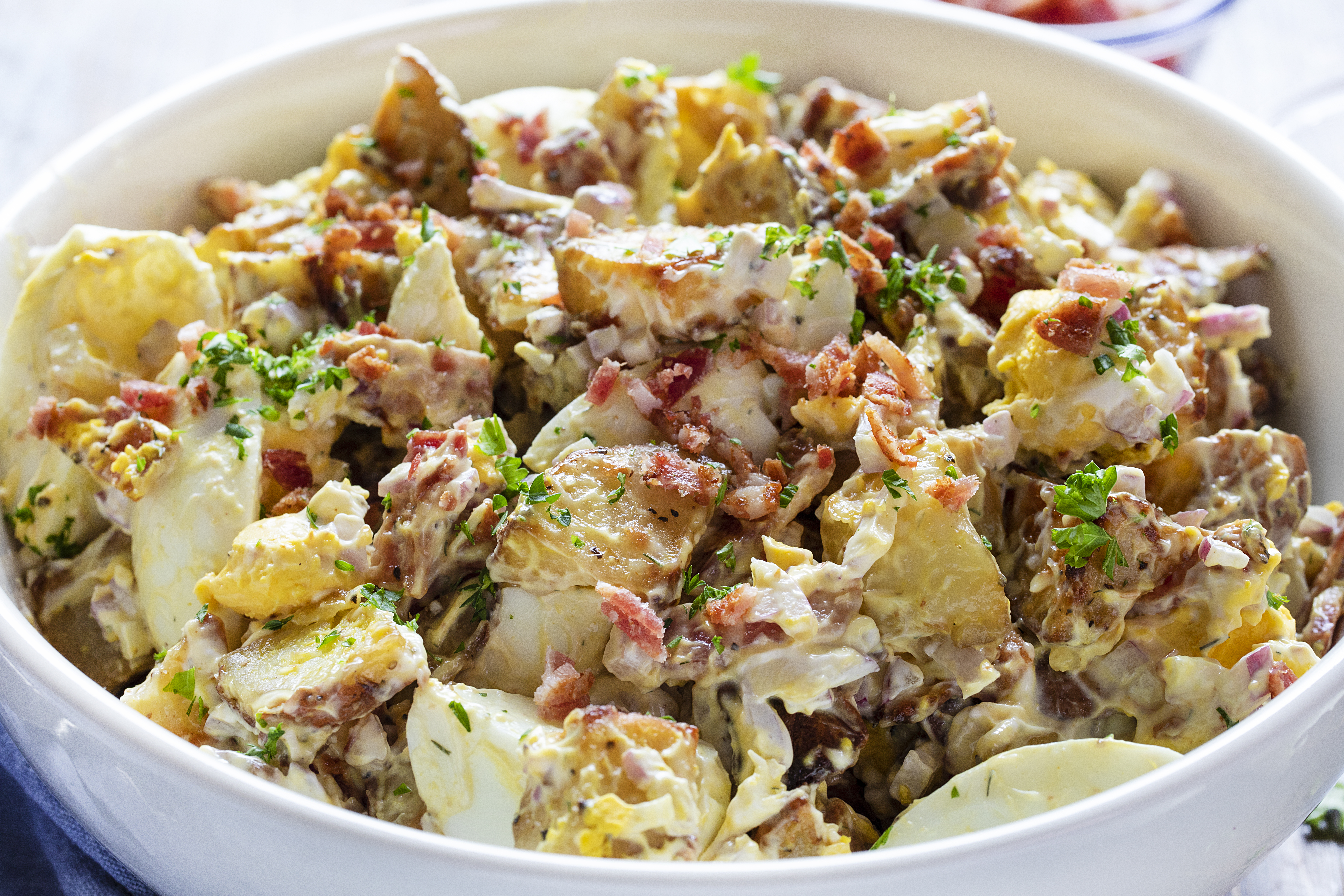 Bring it All Together
I mentioned that I like to assemble this potato salad when the potatoes are warm. The reason for this is that the mayo and seasoning infuse into the potatoes and create the magic you've never experienced in a potato salad before. However, if I am serving this to a big group I will sometimes make the potatoes, bacon, and hard boil the eggs the day before, and then heat the potatoes and bacon a bit right before assembling.
Once you a ready just stir everything together and serve! This does not need to be refrigerated before serving, but you can absolutely make it the day before and serve it cold. If you are serving it cold, be sure to keep it cool.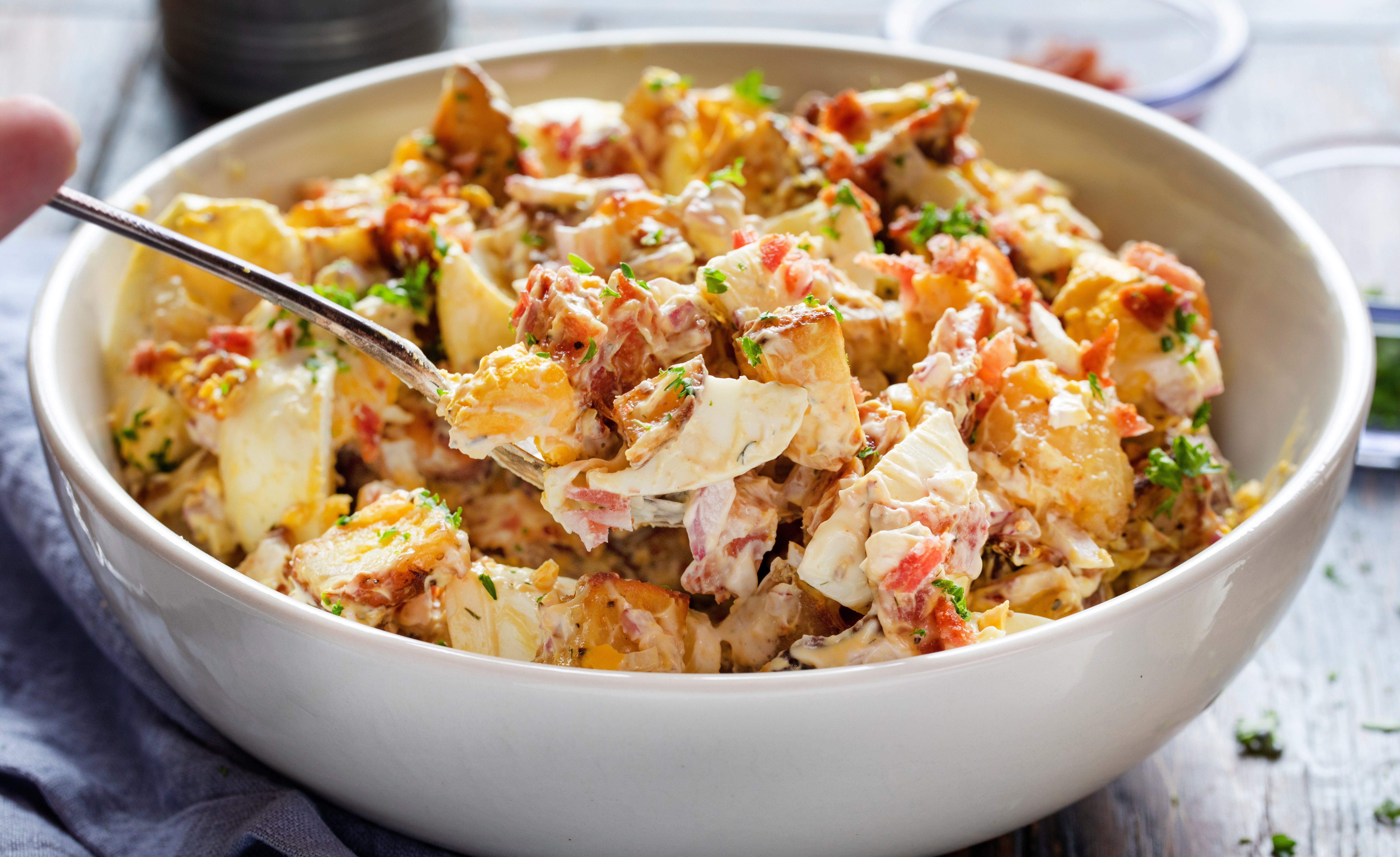 How to Keep Potato Salad Cool Outside
Set the bowl on a bed of ice. Simply add a couple of ice cubes to a larger bowl and place your smaller serving bowl inside.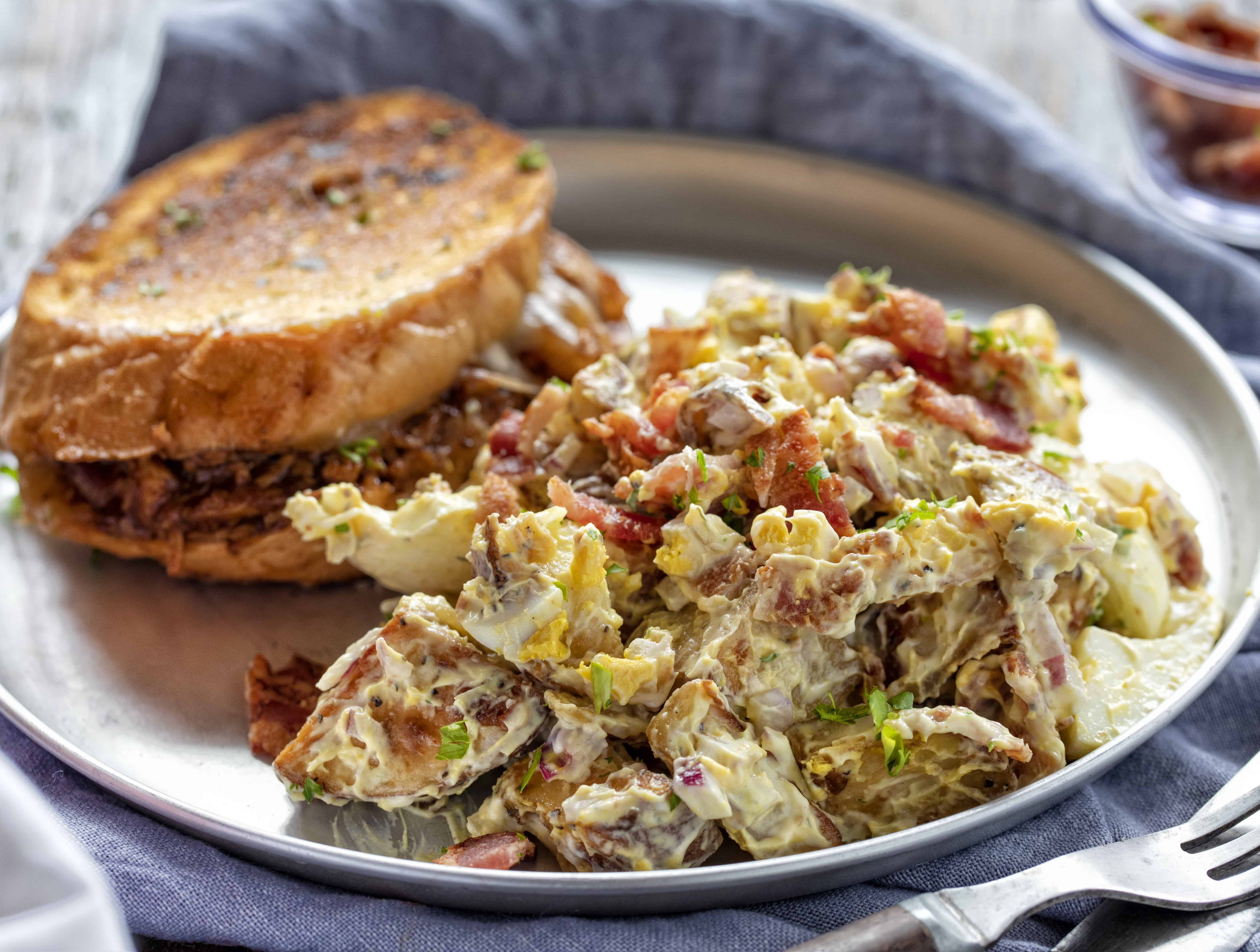 Can You Roast the Potatoes in the Air Fryer?
Sure! You may need to work in batches, depending on the size of your air fryer. Cube the potatoes, season following the directions below, and place them into an oil-sprayed basket of your air fryer in an even layer. Coat again with oil. Air Fry at 380°F for 20-25 minutes, turning once halfway through cooking. If needed, turn a second time to get all edges of the potatoes evenly crisped. Continue with the preparation directions below.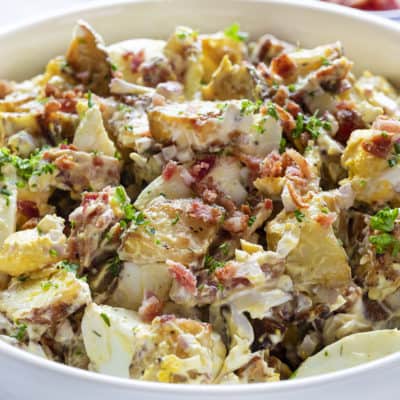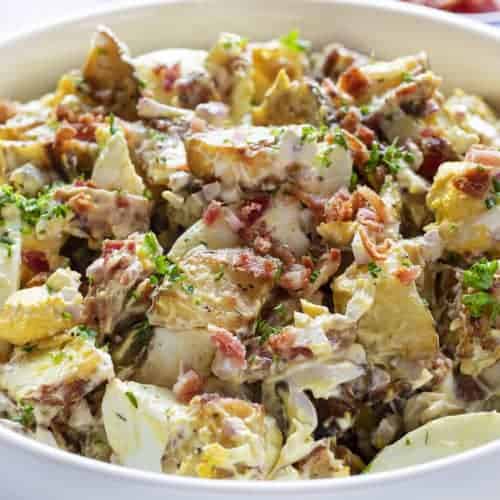 Roasted Potato Salad
Roasted Potato Salad is a next-level potato salad. The potatoes are roasted prior to combining all the ingredients and what you get is flavor-loaded goodness in every single bite.
Ingredients
Potatoes
3

pounds

red potatoes,

cut into small cubes

2

teaspoons

pepper

2

teaspoons

Lawry's seasoned salt*

2

tablespoons

olive oil
Salad
1

medium

red onion,

finely diced

8

pieces

bacon,

cooked and diced

6

large

eggs,

hard-boiled to your preferred doneness , chopped

1

cup

mayonnaise

1

tablespoon

yellow mustard

¼

teaspoon

dill weed

½

teaspoon

kosher salt

¼

teaspoon

pepper
Instructions
Potatoes
Preheat oven to 425°F. Line a sheet pan with aluminum foil or parchment paper.

Place cubed potatoes on a baking pan. Sprinkle with pepper and seasoned salt. Drizzle olive oil over top and then use your hands to toss the potatoes, making sure every single piece is coated.

Bake, uncovered, for 45-60 minutes, or until the potatoes are crispy. Turn once half-way through baking.

Allow to cool for at least 15 minutes.
Salad
In a large bowl, add potatoes, onion, bacon, eggs, mayonnaise, mustard, dill weed, salt, and pepper. (You can reserve 1-2 eggs to set on top instead of mixing in.)

Using a spatula, gently stir the ingredients until fully combined and every potato is covered.

Can be served warm or refrigerated until ready to serve. If refrigerating, place in an airtight container.

Optional: Sprinkle with chopped parsley before serving.
Notes
*As I mention in the blog post, I love salt and use it liberally in cooking. If you do NOT, please feel free to use less. Please feel to leave out the seasoned salt! (You can always add more at the end.)
Did you make this recipe?
Thank you for making my recipe! You took pictures, right? Well go ahead and post them on Instagram! Be sure to mention me @iambaker and use the hashtag #YouAreBaker.