I made these cupcakes last year but never shared the tutorial for them on my blog.  Since they are so easy and SO fun, I couldn't resist sharing them this year!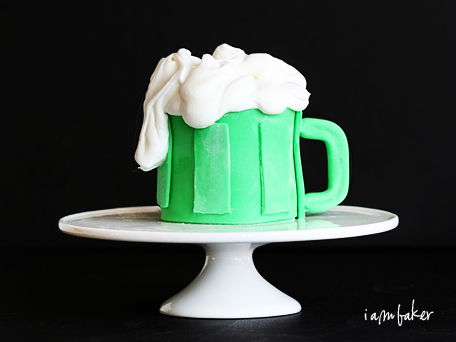 Not only are these beer mug St. Patrick's Day cupcakes fun and easy to do, but they're actually made with beer, thanks to this fantastic Chocolate Stout Cake recipe from Sweetapolita!
Simply bake the cake according to direction, except put the batter into a cupcake pan. I did not use cupcake liners, but if you choose to, remember to remove them prior to assembling your beer mug.
Start off by getting a fist-full portion of green fondant.
Roll out your fondant on a clean working surface. If you need to, sprinkle cornstarch to keep the fondant from sticking.
Roll fondant to about 1/8 inch to 1/4 inch thickness, then cut into strips. The strip size will vary, depending on the height and width of your cupcake.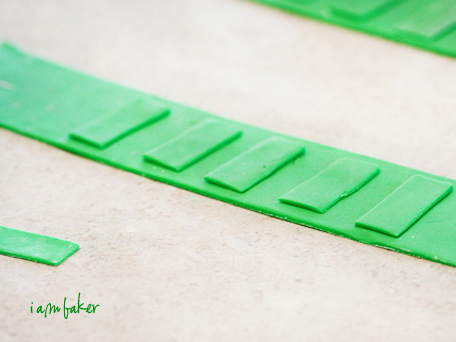 Now you want to add the mugs "panels" .  Just cut out mini portions of fondant and, using a tiny amount of water as "glue,' adhere the strips to what will become the side of the mug.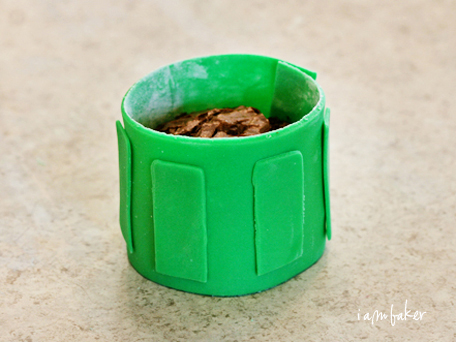 Take your fondant strip and wrap it around your cupcake. Overlap the fondant by about 1/2 inch, and adhere edges with frosting or water.
Next you can add the handle! Just take your green fondant and roll out a "snake," or long rounded strip. Form it into the handle shape and set out to dry. Since I was in a hurry to make these, I put the handles into my oven at 170 degrees for 15-20 minutes. This dried them out enough for them to retain their shape.
Using a small amount of frosting, I attached the handle to the side of the fondant mug.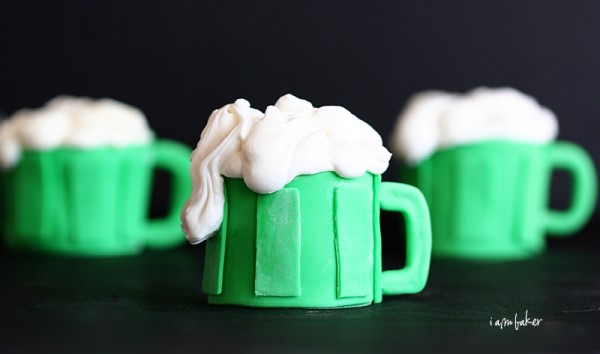 To create the beer foam, just put your frosting into a sealable plastic bag and cut off one corner to make a hole. You want a fairly large opening — about 1/4 to 1/2 inch across.
Apply pressure to the bag and pipe out billows of frosting.   For an extra touch, let some drip down over the side. This technique is extremely forgiving, so have fun with it!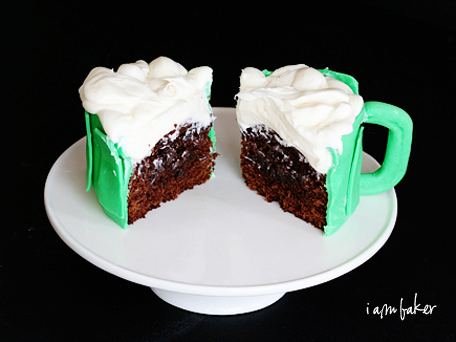 Hope you love these Beer Mug Cupcakes as much as we do!