A Salt Bagel is a perfectly dense and chewy bagel topped with just the right amount of sea salt that just happens to make the perfect base for a sandwich. If you love a salted bagel, you should try my Homemade Pretzel Bites!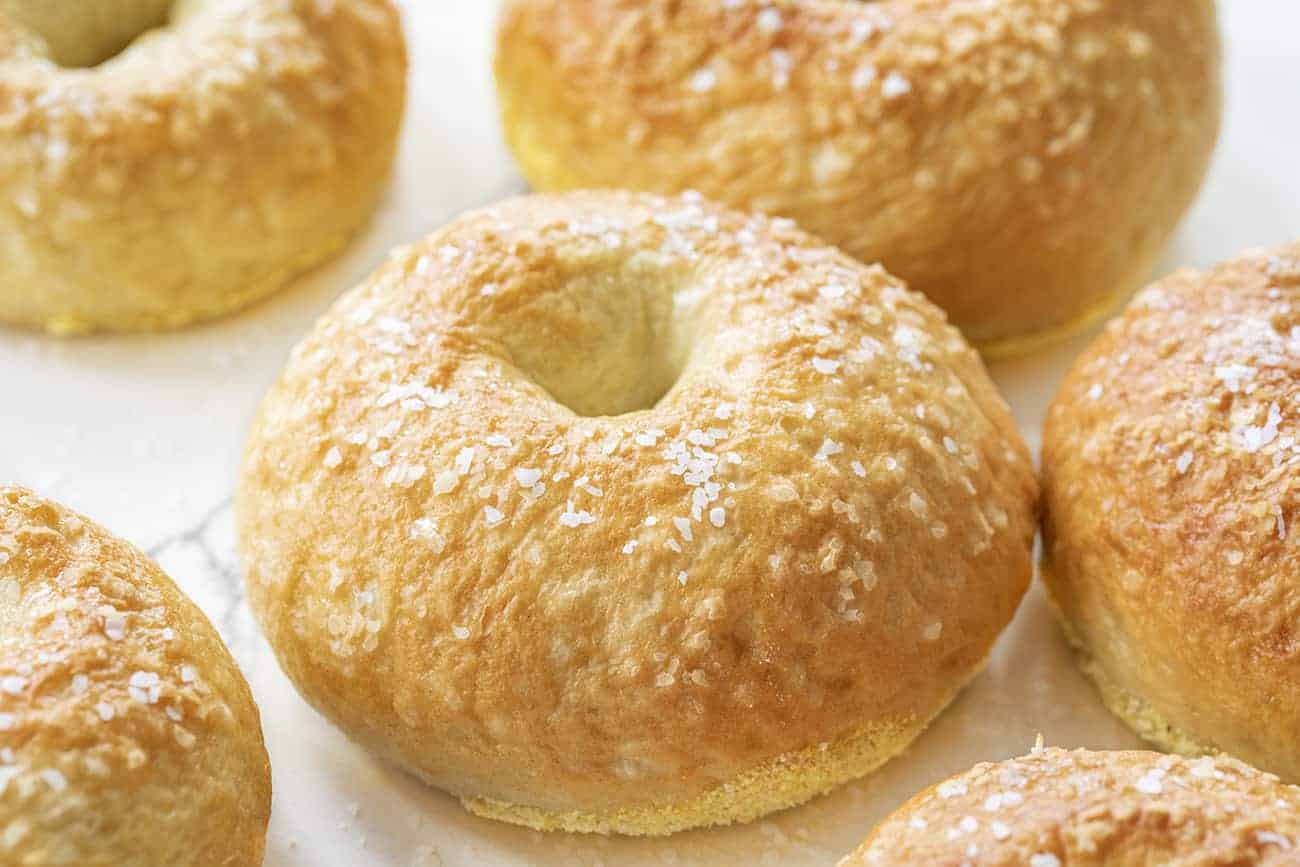 Salt Bagel
You may be wondering, "Why a salt bagel? Does anyone really need a recipe for this?" I am confident that yes, yes you do. Salt bagels are boiled and then baked with added sea salt on top, salt bagels are so delicious. (If it already seems too much for you, feel free to try my Plain Bagels!)
I first had a salt bagel about 15 years ago in small-town Minnesota. It was a salt bagel sandwich, with turkey, cheese, tomato, and a pickle on the side. I was skeptical, and it sounds basic and quite honestly, salty. The first bite was heaven!
The salt bagel does what is supposed to do… adds a bit of saltiness. But pairing it with cool shaved turkey and tomato and mild cheddar cheese is just heaven. Seriously my favorite sandwich on the planet. I tested recipe after recipe to recreate that bagel I first had 15 years ago and I think I have done it!
I have never tried a salt bagel with cream cheese, but my husband assures me that it is just as good. Be warned, a salt bagel does have a prominent salt flavor. You can use less, you can use more. Even if you don't make these salt bagels, I recommend trying one at some point, as they make the best sandwich you will ever have!
Salt Bagel Recipe
In this bagel recipe, there are the bagel ingredients as well as the sea salt topping.
Bagels Ingredients (full recipe below)
Warm water
Instant yeast–If you are using active dry yeast instead, you will need 1 1/2 tablespoons of the yeast (compared to 1 tablespoon instant).
Bread flour–You can also use the same amount of all-purpose flour; but with bread flour, you will get a higher rise because it contains more protein than all-purpose.
Granulated sugar
Salt
Vegetable oil
Water
Honey
Cornmeal
Topping Ingredients
Egg white
Water
Sea Salt (do not use table salt)

Salt Bagel Dough
To get started making the bagel dough, get out your stand mixer and whisk the yeast and warm water in the bowl of the mixer. Let that sit for about five minutes. Add in the flour, sugar, salt, and vegetable oil. Use the dough hook attachment to mix on low for about 8 minutes.
If you don't have a dough hook attachment, knead the dough by hand for about 25 minutes. Place the ball of dough in a greased bowl, cover it with a clean towel, and let it rise for about two hours (or until doubled in size).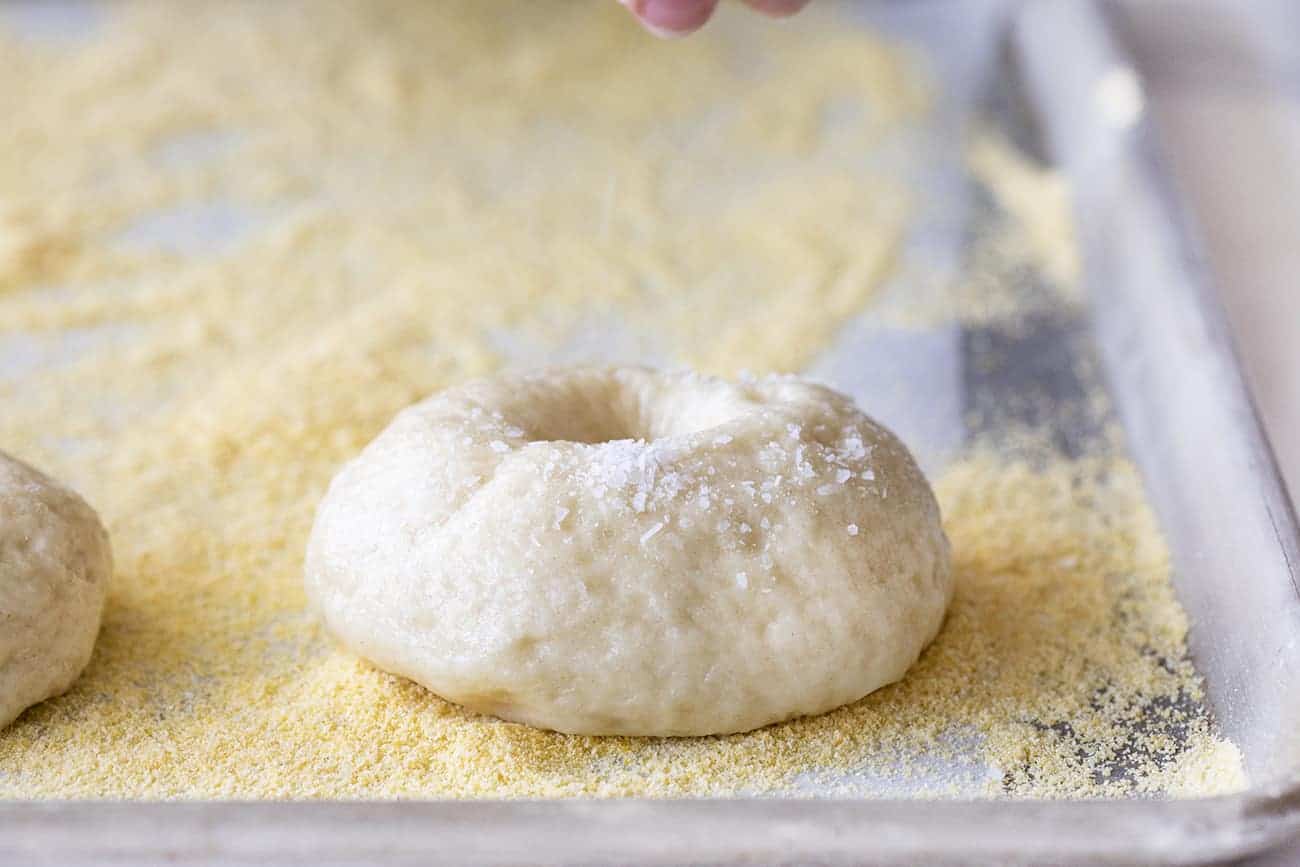 Shaping the Bagels
To shape the bagels, first divide the ball of dough into twelve equal-sized pieces. If you have a baking scale, each piece would weigh about 3 ounces. Work each piece of dough on a clean work surface with your hand cupping the dough.
Gently press down on the ball of dough, working your cupped hand in a circular motion until you have a smooth ball of dough. Place the dough balls on a baking sheet, cover them with a towel, and let them rest for about 15 minutes.
To get the hole in the center of the bagels, use your fingers to create the hole. Then, twirl the dough around and around your fingers until you have a hole that is about 2 inches. Set the bagels aside while you preheat the oven to 425°F and get the water and honey ready to boil the bagels.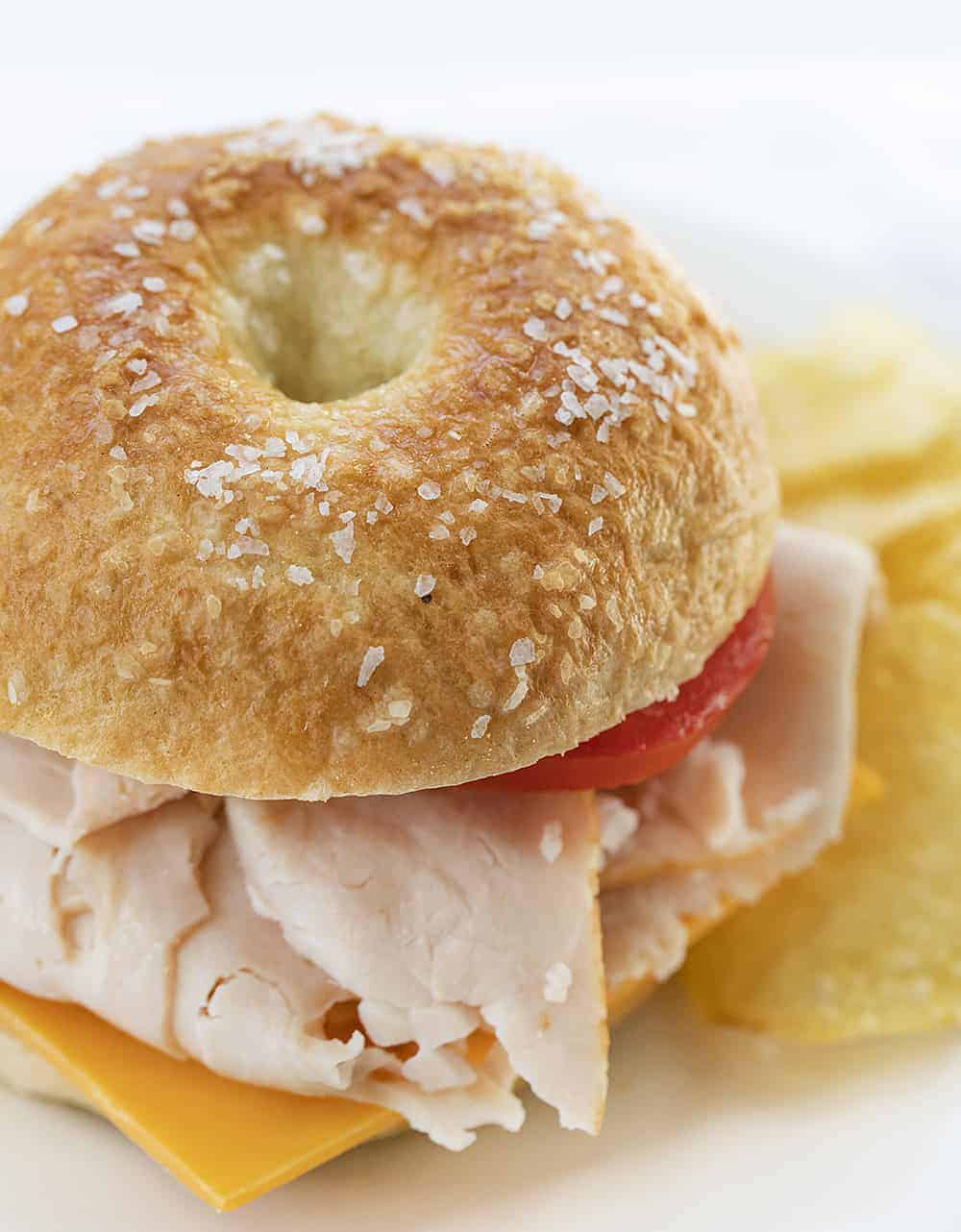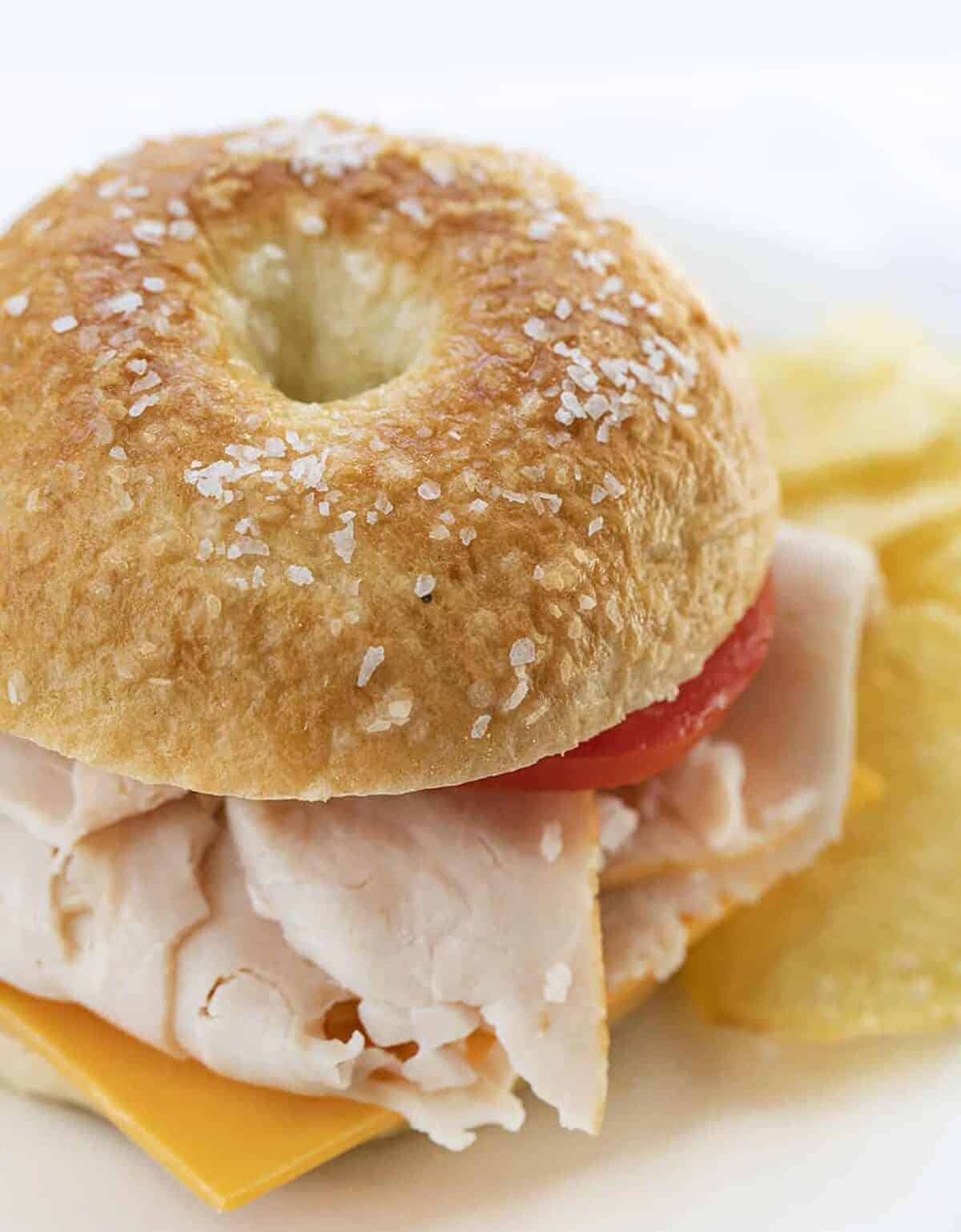 Boiling and Baking the Bagels
Before you can bake the bagels, they need to be boiled in the water and honey mixture. While the water and honey is coming to a boil, line a baking sheet with parchment paper and sprinkle the paper with cornmeal. Once at a rapid boil, reduce the heat a little bit, but still keep the water boiling. Place 3-4 bagels at a time in the boiling water (or as many that will fit without overlapping).
Boil for 1-2 minutes per side. Then, with the end of a spoon or pair of tongs (or anything you can put through the hole), remove the bagels and place them on the cornmeal layered baking sheet. Repeat for all bagels.
Whisk together the egg white and water for the egg wash. Brush the egg wash over the boiled bagels and sprinkle each bagel with sea salt. Bake for 15-20 minutes, or until the bagels begin to brown. Let them cool on the baking sheet before enjoying them with your favorite cream cheese spread or other toppings.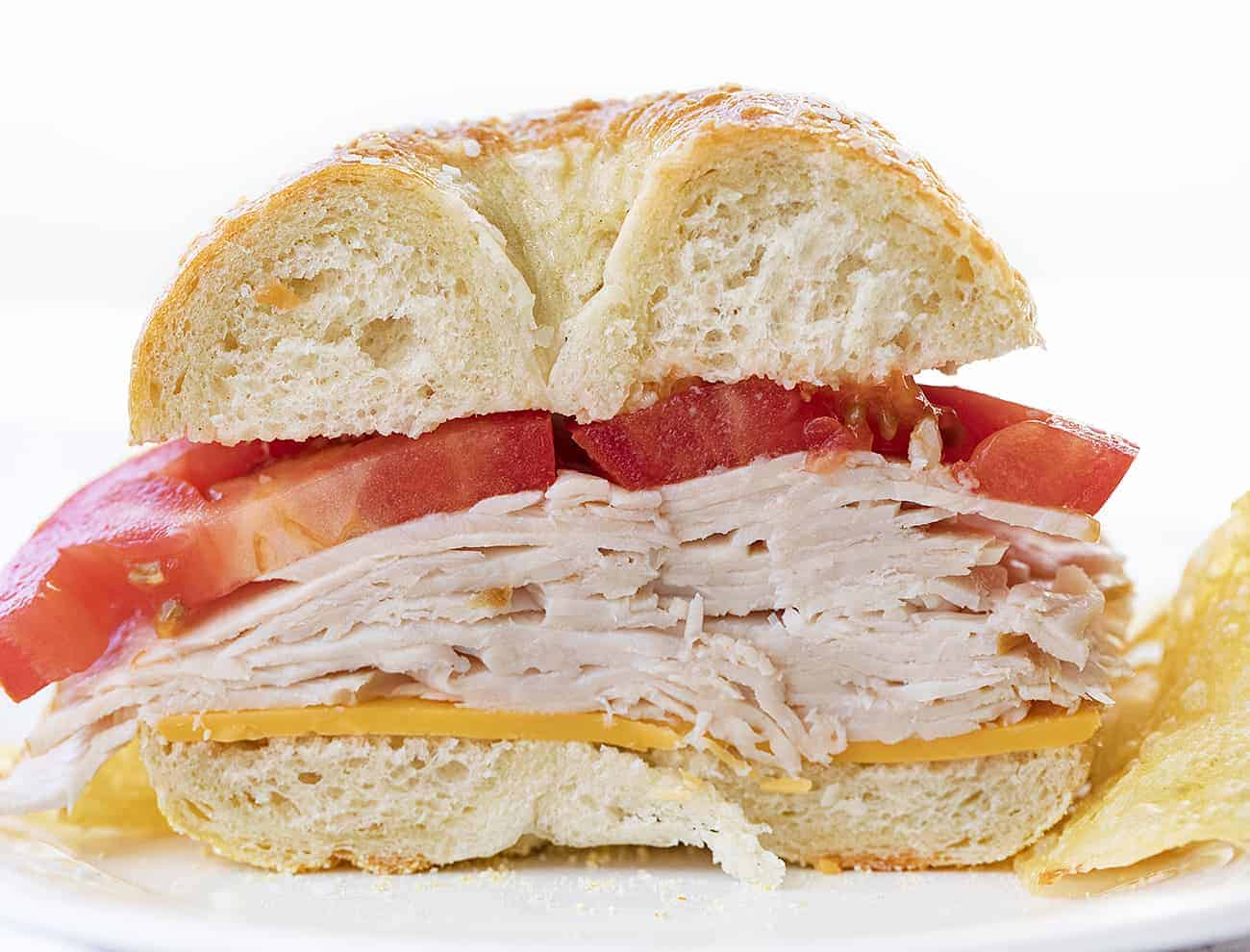 How to Store Bagels
It's best to eat up your fresh bagels as soon as possible since they do dry out and harden in just a few days. Store any extra bagels in plastic bags at room temperature (not in the refrigerator, which actually makes the bagels dry out faster). Make sure they have cooled down before storing them. If you are not planning to eat the bagels in a couple of days, freeze them.
To freeze the bagels, let them cool completely, but then get them into the freezer as soon as possible after that. Slice each bagel before putting them into a zipped freezer-safe plastic bag. Label and date the bags; they will last up to 3 months in the freezer. The best part is that you do not need to let them thaw before popping them in the toaster. You can also heat them in the oven for about 10 minutes at 350°F.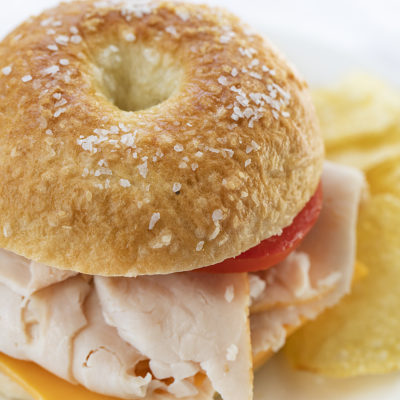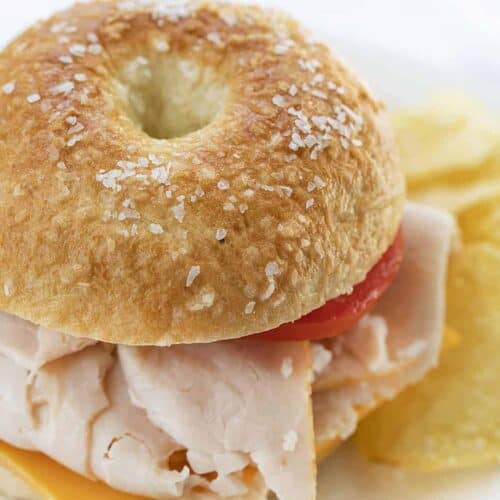 Salt Bagels
A Salt Bagel is a perfectly dense and chewy bagel topped with just the right amount of sea salt to complement any flavors you might add to the bagel.
Ingredients
Bagels
1 ¼

cups

(296 g) warm water

1

tablespoon

instant yeast

4

cups

(508 g) bread flour

3

tablespoons

granulated sugar

1

teaspoon

kosher salt

2

tablespoons

vegetable oil
Boiling and Baking Ingredients
4

quarts

water

2

tablespoons

honey

2

tablespoons

yellow cornmeal
Topping
1

egg white

1

tablespoon

water

2

tablespoons

kosher or sea salt,

(A larger flake salt is recommended. I do not recommend table salt for this recipe!)
Instructions
Bagel Dough
In the bowl of a stand mixer, whisk together warm water and yeast. Rest for 5 minutes.

Add in flour, sugar, salt, and vegetable oil.

Mix on low with the dough hook until the dough starts to come together (about 8 minutes). If you don't have a dough hook, knead the dough by hand for about 25 minutes.

Transfer the dough to a greased bowl. Cover with a kitchen towel and let rise for 2 hours or until the dough has nearly doubled in size.

Turn the dough out onto a work surface.

Divide the dough into 12 even pieces (about 3 ounces each).

Working one piece at a time, fold the sides of the dough under to create a dough ball (top should be smooth).

With the seam side down (on an unfloured surface), place your palm on top of the dough (your hand should be slightly cupped around the dough ball).

Push down slightly (but firm and even) on the dough and roll the ball under your palm in a circular motion. Use the cupped sides of your hands to keep the dough centered in your palm. You may have to work the dough for a while, but eventually, it will come together and most of the lines and folds should have incorporated into the dough, forming a smooth dough ball.

Place the dough balls on a baking sheet and cover with a kitchen towel.

Rest for 15 minutes

After resting, use your fingers to create a hole in the center of the dough balls, twirling the dough around your fingers until you form about a 2-inch hole.
Boiling and Baking
Preheat oven to 425 °F.

Line a separate baking sheet with parchment paper. Sprinkle evenly with cornmeal.

Add the water and honey to a large pot. Bring it to a rolling boil.

Reduce the heat slightly (still boiling) and add bagels in batches (3-4 at a time). Bagels should have room to expand and should not be overlapping at all.

Boil for 1-2 minutes per side (the longer the boil the denser the bagel).

Place boiled bagels on top of the cornmeal layer on your baking sheet.

In a small dish, whisk together the egg white and water.

Brush the tops of the boiled bagels with the egg wash and sprinkle each with salt. I use about 1 teaspoon of salt per bagel, but you can use less or more depending on tastes. I recommend starting smaller as you can always add more salt.

Bake in the preheated oven until the bagels begin to brown, 15 to 20 minutes.

Allow bagels to cool completely before cutting or storing.
Did you make this recipe?
Thank you for making my recipe! You took pictures, right? Well go ahead and post them on Instagram! Be sure to mention me @iambaker and use the hashtag #YouAreBaker.