These Salted Caramel Brownies are going to take your brownie game to a whole new level. Deliciously moist and fudgy brownies topped with an ooey gooey mixture of melted caramel, crushed pretzels, toffee bits, chocolate chips, and sea salt. You won't want regular brownies again! If you are like me and you LOVE brownies, make sure to check out my brownie mix, which is what both this Salted Caramel Brownie and Salted Caramel Brownie Marshmallow Hi-Hat are based on. This is perfect for gift giving too! Also, be sure to check out my favorite all-time best brownies, which is perfect for keeping all to yourself!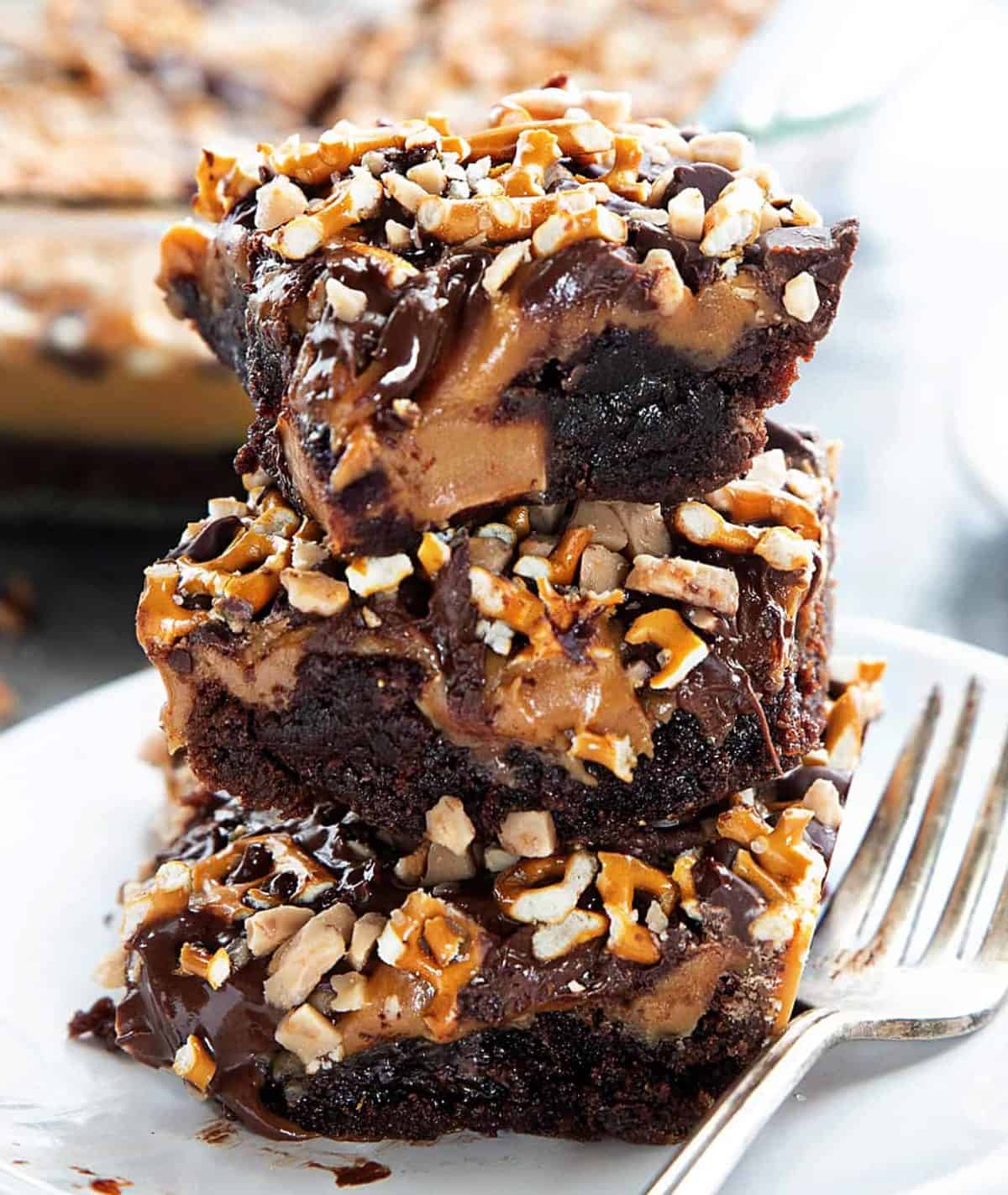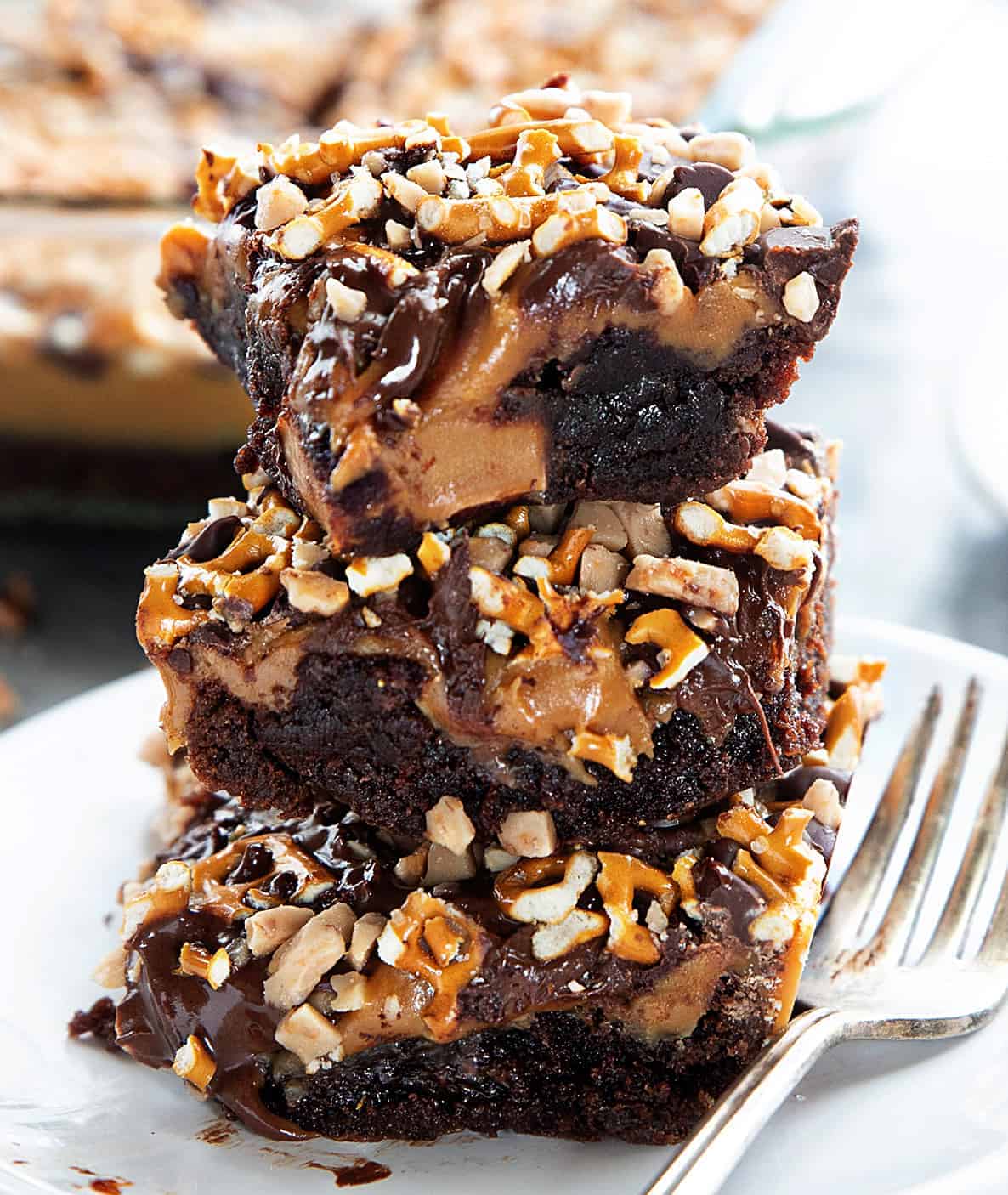 Salted Caramel Brownies
There is this store by my house that sells these individually wrapped chocolate covered caramels topped with sea salt. Every time I go there, I look forward to the checkout where I know they are sitting, patiently waiting for me to cave and buy one. I can barely make it to my car before its gone. They are seriously mouth-watering. So that got me thinking. What if I paired the same thing with one of my favorite desserts, homemade moist and fudgy brownies? The results were just as I expected. Glorius.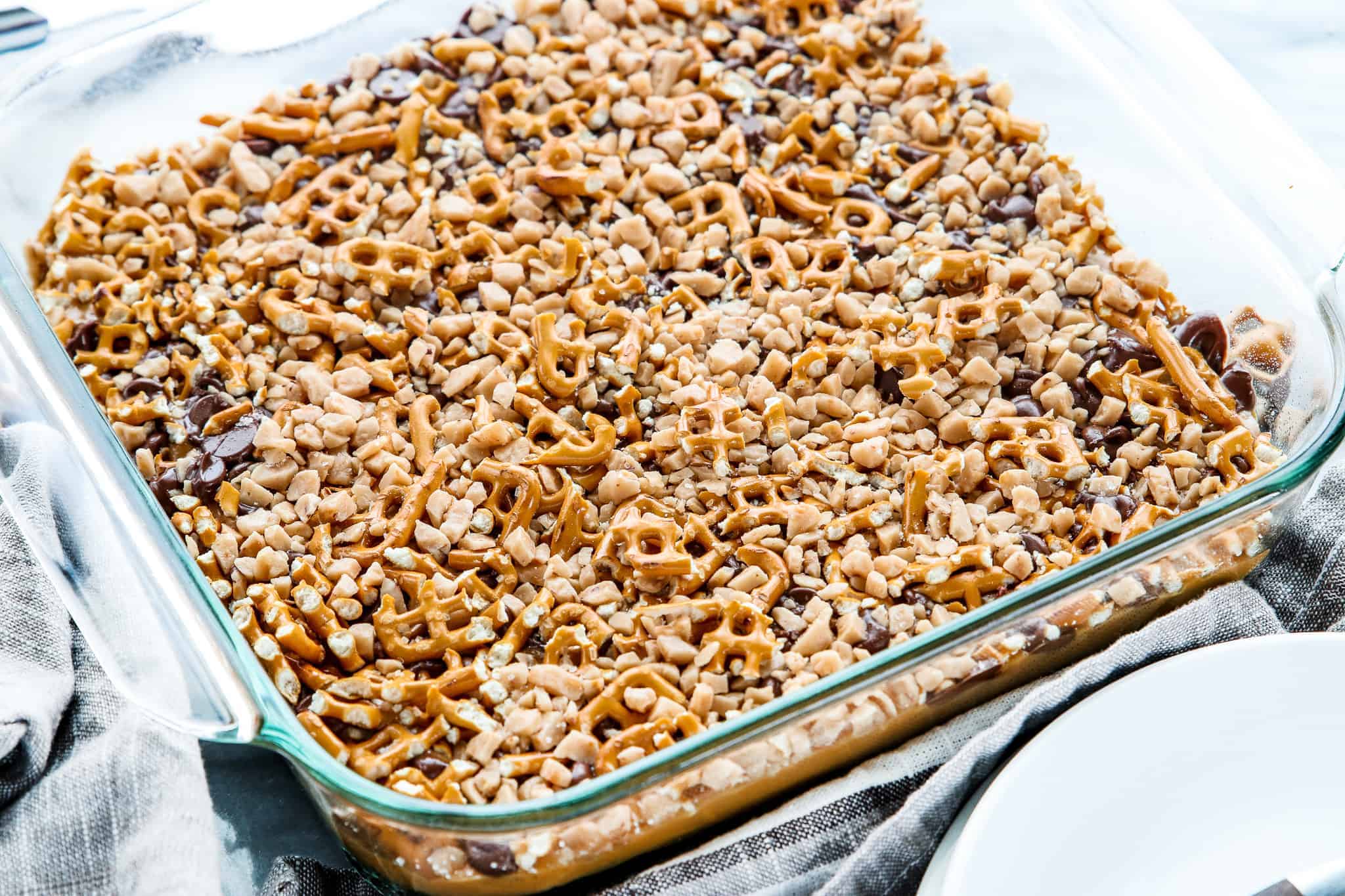 Salted Caramel Brownies Recipe
To make this recipe you start with a traditional brownie base, my all time favorite brownie mix recipe is the base for this delicious salted caramel brownie. You can make this up ahead of time by just mixing together the dry ingredients and putting them in an airtight container. I love to hand this out for gifts too! To make the brownie mix you will need:
Wet Ingredients
Dry Ingredients
Sugar
Cocoa Powder
Flour
Salt
Baking Soda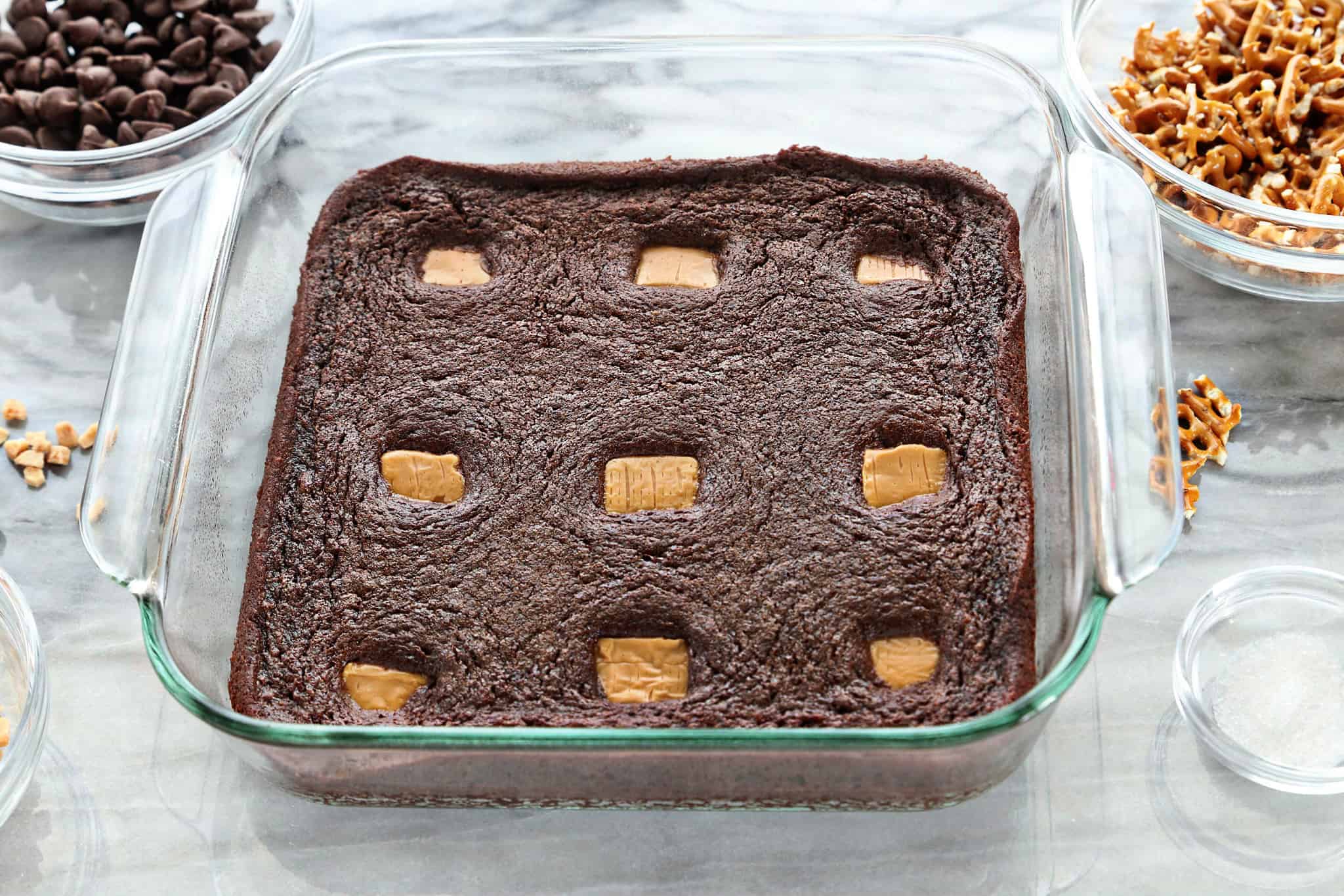 How to Make Salted Caramel Brownies
Brownies are not hard to make, you mix the dry stuff with the wet stuff and bake. This recipe adds a simple but amazing step at the very end that makes it so over the top amazing! To make Salted Caramel Brownies start with the brownie base.
Brownie Base
In a medium bowl, beat the eggs and vanilla together. Once combined, add in the dry ingredients (sugar, cocoa powder, flour, salt, and baking soda). Pour in the melted butter and mix it until the butter is fully incorporated. Pour the batter into an 8-inch square baking dish and spread it out evenly in the pan. Then, top with some of the caramels.* I like to cut them up and spread them out. These will bake right into the brownie batter but don't worry, we are going to make more salted caramel goodness for topping. Bake these for 25-30 minutes.
*After hearing feedback from readers we want to offer the option of using CARAMEL BITS or caramel sundae sauce IN the brownie. Some mentioned that the caramel pieces hardened after cooling. If using caramel bits simple sprinkle into the brownie batter, if you are using caramel sauce drizzle a thinker layer in the batter.
How to Make the Salted Caramel Topping
In a microwave-safe bowl, add the remaining caramels, the butter, and the milk. Head over to the microwave and set it for 30 seconds. Remove the bowl and stir, and then pop it back in. You will repeat the 30-second intervals for between 1-3 minutes total until it is all melted together. Pour this caramel sauce over the top of the cooked brownies. Top with sea salt, not table salt, make sure to get actual sea salt, I promise it makes a difference! Follow with chocolate chips, toffee bits, and crushed pretzels. You will be tempted to dive right in, but I suggest allowing the whole thing to cool completely before you start cutting it up.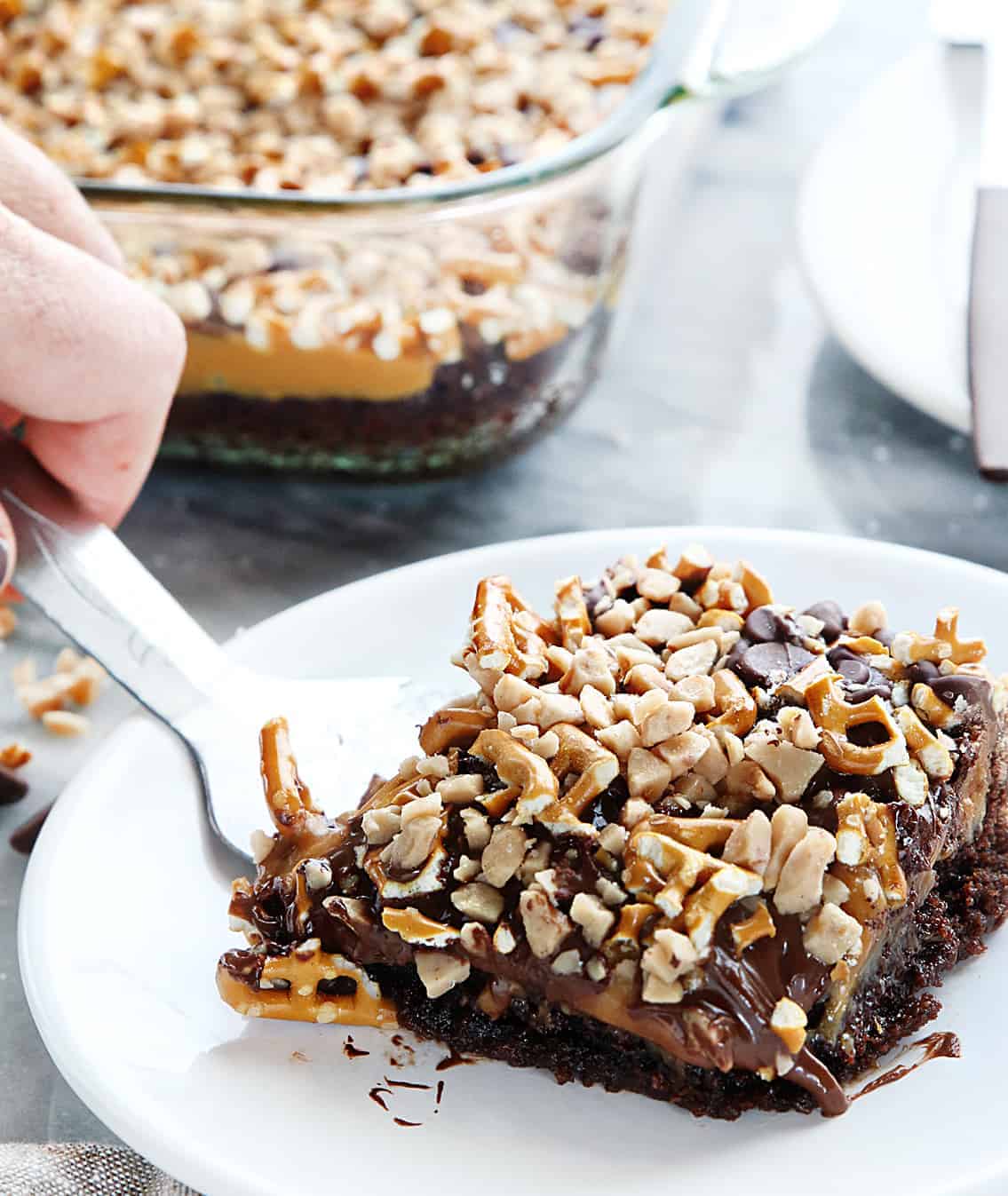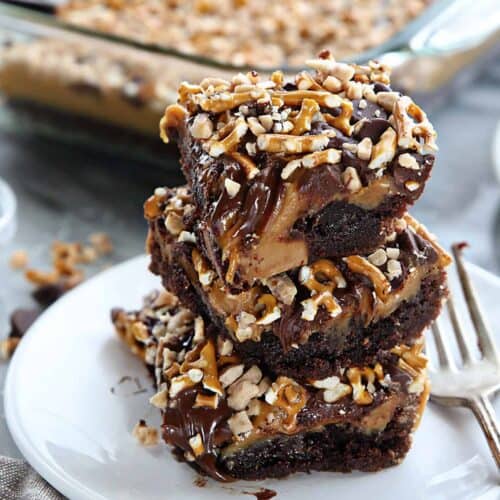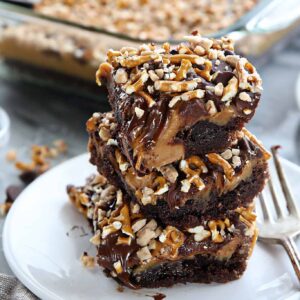 Salted Caramel Brownies
These Salted Caramel Brownies are going to take your brownie game to a whole new level. Deliciously moist and fudgy brownies topped with an ooey gooey mixture of melted caramel, crushed pretzels, toffee bits, chocolate chips, and sea salt.
Keyword:
Salted Caramel Brownies
Ingredients
Brownies
½ 

cup 

(113g) butter,

melted, then cooled

2 

large

eggs, 

room temperature

1 

teaspoon

vanilla extract

1 

cup 

(200g) granulated sugar

⅓ 

cup 

(40g) cocoa powder sifted

½ 

cup 

(64g) all-purpose flour

¼ 

teaspoon

salt

¼ 

teaspoon

baking powder
Caramel Sauce
14

ounces

(1 bag) individually wrapped caramels,

unwrapped, divided (please see notes)

¼

cup

butter

1

tablespoon

milk
Toppings
1

cup

crushed pretzels

¾

cup

chocolate chips

⅓

cup

toffee bits

½

teaspoon

sea salt
Instructions
Brownie
Melt butter and set aside to cool slightly.

In a medium bowl, beat two eggs with the vanilla.

In a medium bowl, add in all dry ingredients. Add in the egg mixture and gently stir into the dry ingredients.

Pour the melted butter into brownie mixture and mix until the butter is no longer separated and the mix is fully combined.

Spread batter in a prepared 8-inch square pan, top with 9 of the caramels in three rows. (Readers suggested CARAMEL BITS - small round caramels instead of the caramel pieces for better melting!) You can cut them in half if you want to spread them out more.
Caramel Sauce
Melt remaining caramels, butter, and milk together in a microwave-safe glass or ceramic bowl in 30-second intervals, stirring after each melting, for 1 to 3 minutes (depending on your microwave).

Pour caramel mixture over warm brownies and top with sea salt (do not use table salt).
Toppings
Sprinkle the crushed pretzels, chocolate chips, and toffee bits over top. The chocolate chips should melt a bit, but if they don't pop back into the oven for a few minutes.

Cool a bit before cutting into squares. (Or eat them hot, I love an ooey gooey brownie!)
Recipe Video
[brid autoplay="true" video="407758" player="16518" title="Salted Caramel Brownies" description="Salted Caramel Brownie Overload" duration="82" uploaddate="2019-04-25 18:46:16" thumbnailurl="//cdn.brid.tv/live/partners/13014/thumb/407758_t_1556217815.png"]

Recipe Notes

A few of you mentioned that after a while the unwrapped caramels in the brownie got harder and it wasn't as easy to eat. A good alternative would be mini baking caramels or using caramel sauce. You won't be able to see as much definition in the final product, but the brownie will still taste delicious!
Looking for More Brownie Recipes?
Make sure to check out some of my favorites!