Slow Cooker Beer Brats with Marinated Onions are a fantastic way to feed a crowd! Plump and Juicy Bratwursts, slowly cooking in a tangy beer marinade creates an aroma of summer that your guests won't be able to resist!  If you are looking for amazing summer meals make sure to check out my amazing grilled Hawaiian Chicken Kebabs too!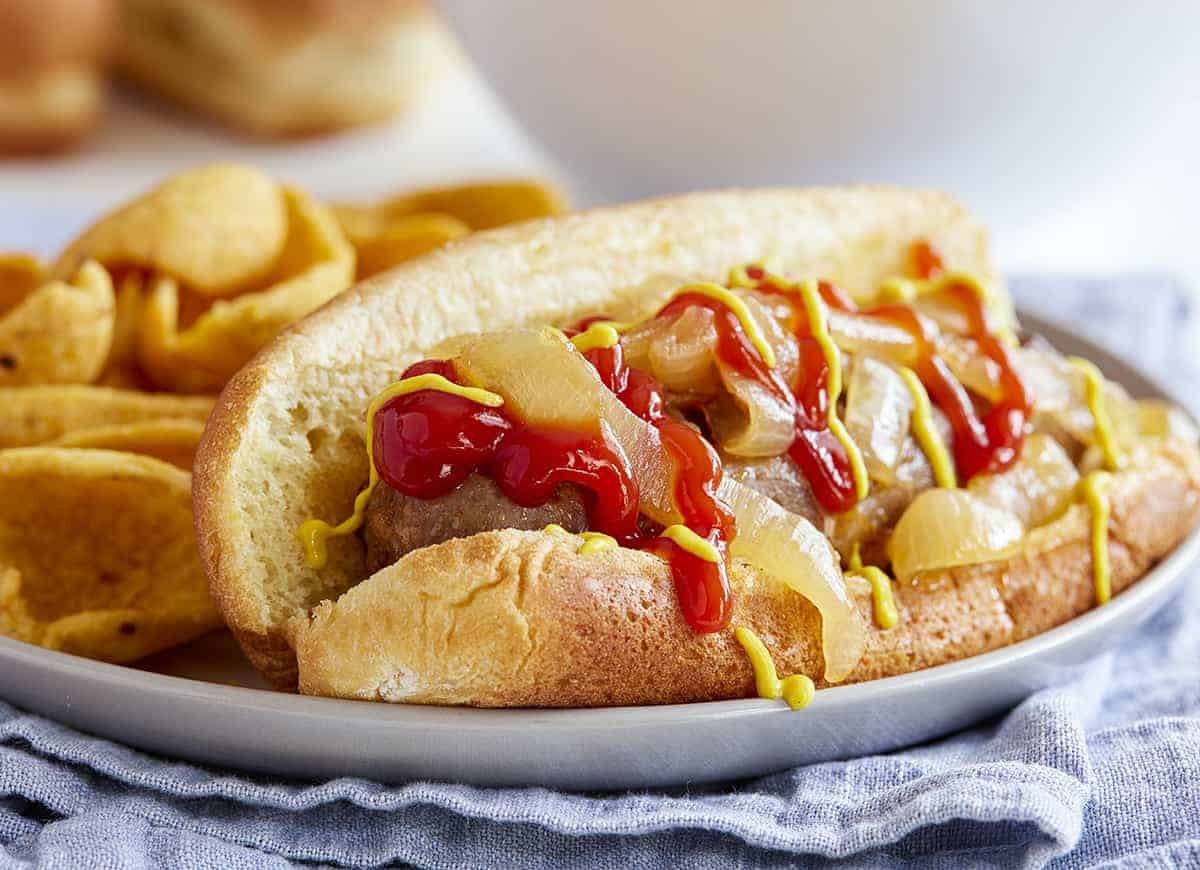 Slow Cooker Beer Brats
Bratwursts are one of my favorite things to eat in the hot summer months.  It honestly doesn't even need to be that hot.  As soon as the sun starts to melt the snow we start talking about brats and hot dogs.  Its sort of how we thaw out around here.  In my humble opinion, there are two ways to make brats.  You can grill them or you can use this method and soak them in a tangy beer marinade for hours and hours until they are bursting with flavor.   Oh, and smothering them in homemade marinated onions is a bonus you won't want to skip.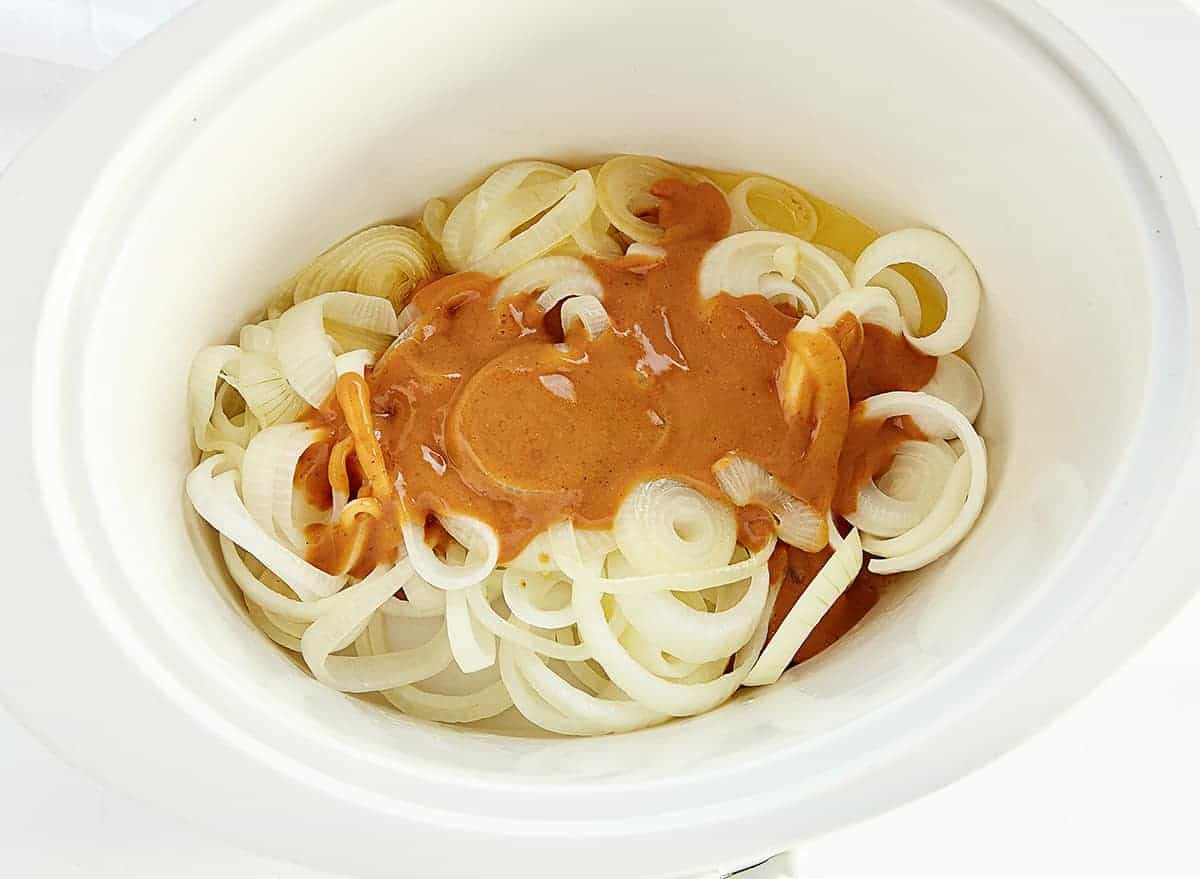 How to Make the Marinade
There are two parts to this marinade, the onions, and the sauce.  To make the onions, start by cutting thick rings.  Separate the rings with your fingers and put them in a pan with melted butter.  Cook for just a few minutes.  The goal is to soften them a bit to prepare them for the slow cooker.
Next, grab a medium bowl and mix the sauce together with the following ingredients:
Dijon Mustard
Ketchup
Apple Cider Vinegar
Brown Sugar
Honey
Worchestershire Sauce
Lemon Juice
Paprika
Garlic Powder
Salt
Pepper
Hot Sauce
Best Brats to Purchase
If you can, go to a local butcher or meat shop and get your brats there.  If you are buying them at the supermarket, go for the least processed kind and some that are not pre-cooked.  Your brat doesn't need to have anything extra in it for this recipe, just a run of the mill regular sausage will work.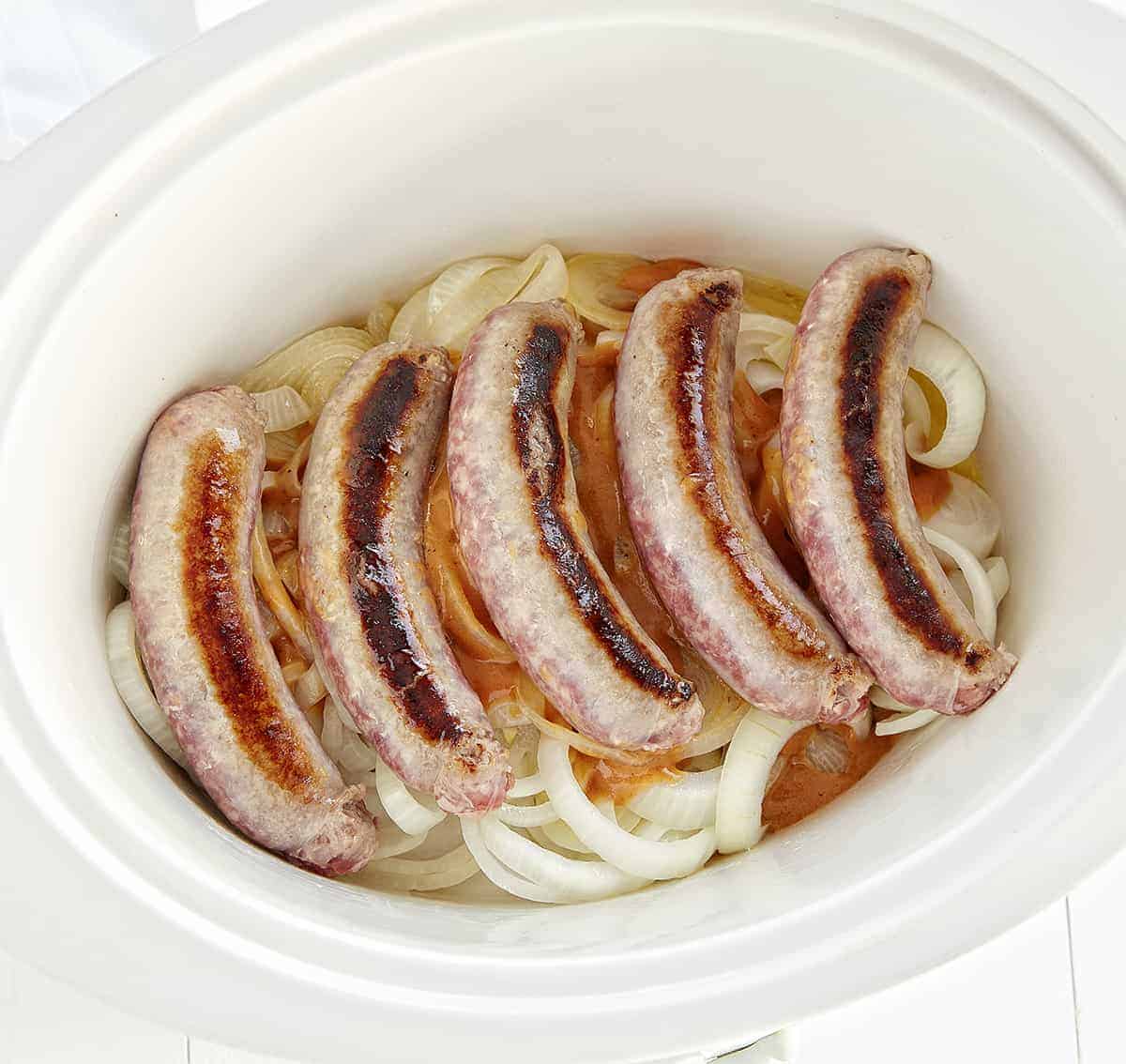 How to Make Slow Cooker Brats
Add the cooked onions and the sauce to the slow cooker and mix well.  Next, sear the brats in a pan (about 3 minutes per side).  This will just char the outside of the brats.  They will finish cooking in the crockpot.  Add the seared brats to the crockpot and pour two bottles of beer over the top.  Cover and set to low, and set a timer for 7 hours.
When you are ready to serve, use a kitchen tongs to pull out the brats and then strain out the onions.  Top the brat with the marinated onions, ketchup, and mustard.  There are entire camps of people who will gasp at that last statement.  Yes, we put ketchup on our brats.  Evidently mustard is the only acceptable choice, but we like it this way.  Judge away.
Best Beer for Crockpot Brats
As a general rule, the best beer is your favorite beer.  However, for this particular recipe, I went with an IPA.  Why?  Because it is what I had.  Honestly speaking, the flavor of the beer IS going to come out a tiny bit.  So if you pick a super hoppy beer you will taste a little bit of the hops, but not much.  Most of the alcohol will cook out so it is just the flavor that is left over.  You can use a light beer or a dark beer.  It will adjust the flavor a bit but it will still taste amazing.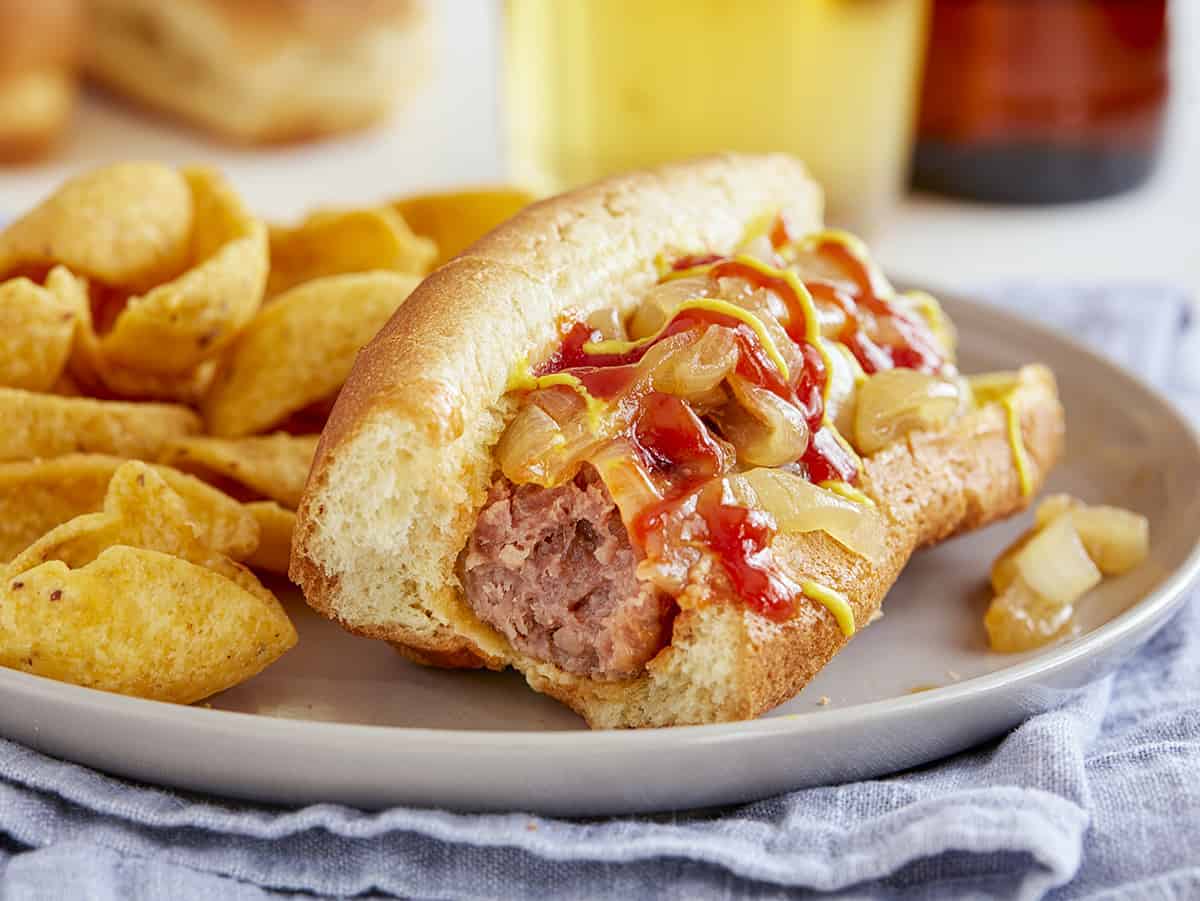 Looking for More Recipes Like This?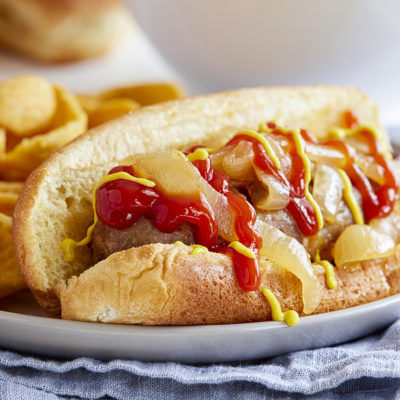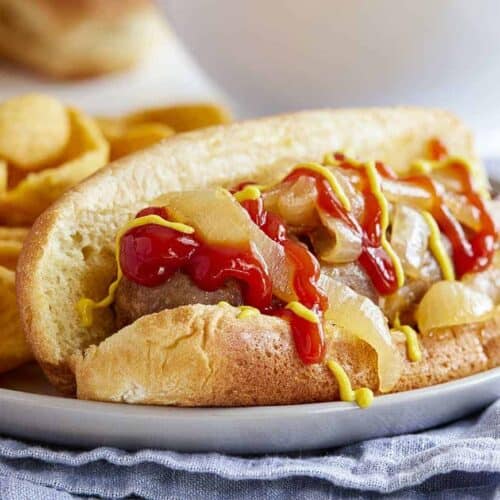 Slow Cooker Beer Brats and Caramelized Onions
Slow Cooker Beer Brats with Caramelized Onions are a fantastic way to feed a crowd! Plump and Juicy Bratwursts, slowly cooking in a tangy beer marinade creates an aroma of summer that your guests won't be able to resist!
Ingredients
4 

small

yellow onions

¼ 

cup 

butter

2

(12 ounce) IPA beers

12 

brats

¼ 

cup 

dijon mustard

1/4 

cup 

ketchup

1

tablespoon

 apple cider vinegar

1

tablespoon

packed brown sugar

1 

teaspoon 

honey

1 

teaspoon 

Worcestershire sauce

1 

teaspoon 

lemon juice

1/4 

teaspoon 

paprika

1/8 

teaspoon 

garlic powder

1/8 

teaspoons 

kosher salt

1/8 

teaspoon 

pepper

1/4 

teaspoon 

hot sauce 
Instructions
Slice onions into thick rings.

In a medium-sized pan, sauté onions in butter until softened, about 5 minutes. Remove onions from pan and place into the crockpot. Set pan aside, you will use it again.

In a mixing bowl, combine Dijon mustard, ketchup, vinegar, brown sugar, honey, Worcestershire, lemon juice, paprika, garlic powder, salt, pepper, and hot sauce. Mix well and set aside.

In the same pan you softened the onions in, brown brats over medium heat for 3 minutes on each side (brats will not be fully cooked).

Add the sauce and brats to the crockpot (on top of the onions) and stir to combine.

Pour beer over the top and cover.

Turn the crockpot on low and cook on low 6 to 7 hours.
Did you make this recipe?
Thank you for making my recipe! You took pictures, right? Well go ahead and post them on Instagram! Be sure to mention me @iambaker and use the hashtag #YouAreBaker.