So there is this image floating around the internet.  It is a chocolate chip cookie with spiders superimposed on it.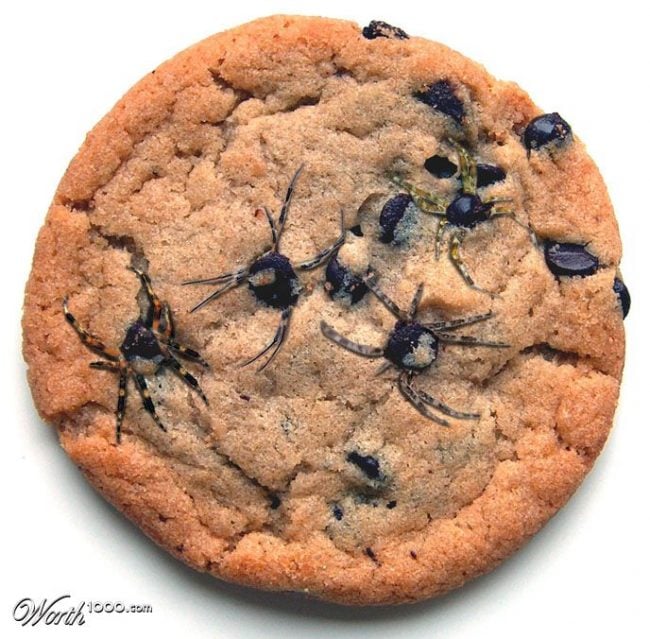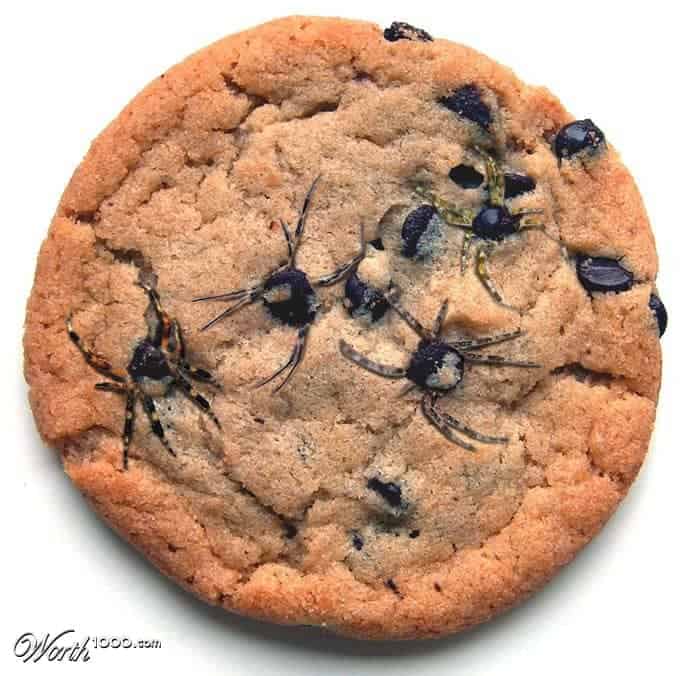 Spider Chocolate Chip Cookies
I kid you not I stared at that thing for five minutes straight. I was perplexed. I was horrified. I was intrigued. I was fascinated. I was officially obsessed.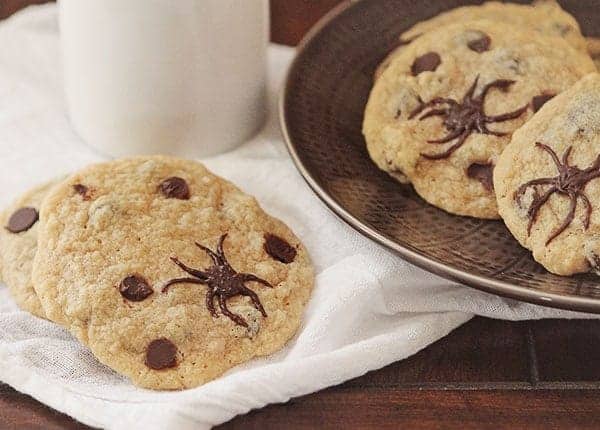 So this is my little attempt to re-create that, only with no photography tricks. Just some melted chocolate and a little time.
I started out by baking some chocolate chip cookies. I highly recommend making these New York Times Chocolate Chip Cookies. (recipe below)They are amazing and delicious and something you must try at least once in your life.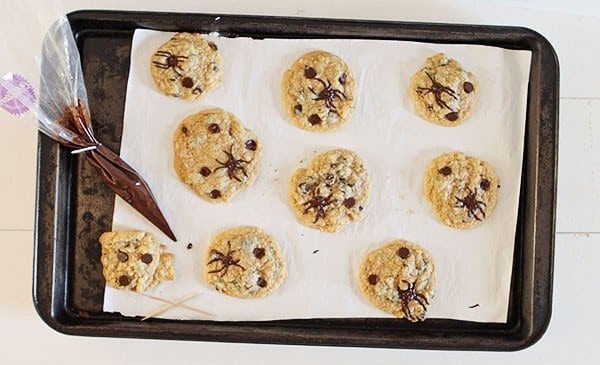 Make Sure Chocolate Chips are Tip-Down
You will want to add the chocolate chips strategically when making the cookies. I placed the chocolate chips tip-down into the cookie so that flat bottom of each chip was sticking out of the cookie.  (This will be the base of the spider body.)
Next, I added about a 1/4 cup of chocolate chips into a plastic disposable pastry bag and microwaved it for 1 minute.  I then removed the bag and massaged the chocolate to see if it was all melted.  It wasn't so I placed it back in for 15 more seconds and at this stage, it was mostly melted and hot so I removed it from the microwave.
Pipe Legs with Melted Chocolate
Then I snipped off the TINIEST bit from the pastry bag and piped "legs" onto the cookie right around the chocolate chip. I pipe eight legs then put the pastry bag down and picked up a toothpick.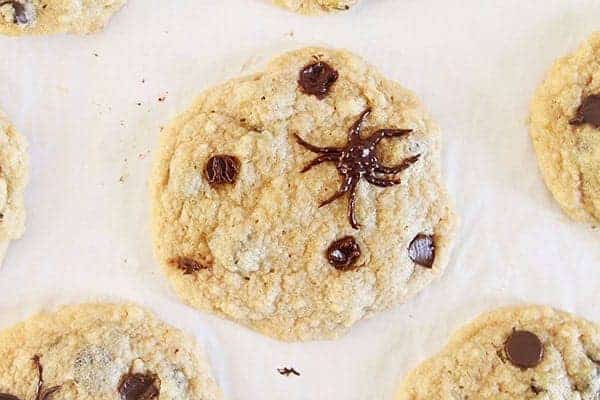 Use a Toothpick for Extra Detail
I wanted to legs to look as realistic as possible, so I painstakingly used the toothpick to go in and really add detail to the legs. I made the ends as pointy as possible and tried to make all the legs uniform in size and length.
This took FOREVER. I seriously got a kink in my neck. I think each cookie was roughly about five minutes.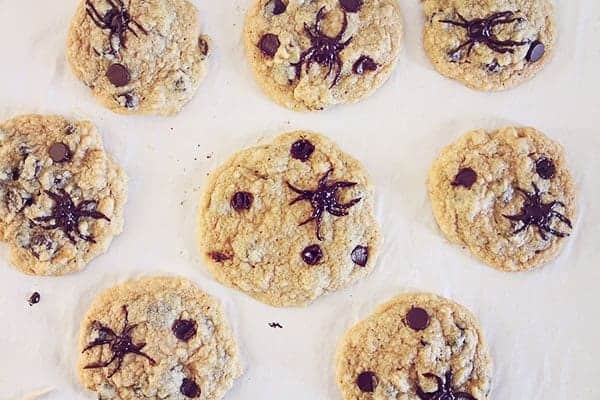 But it was worth it.  These really are creepy and a bit gross. If it's just too much for you then you are exactly the friend I want to invite over when I make them.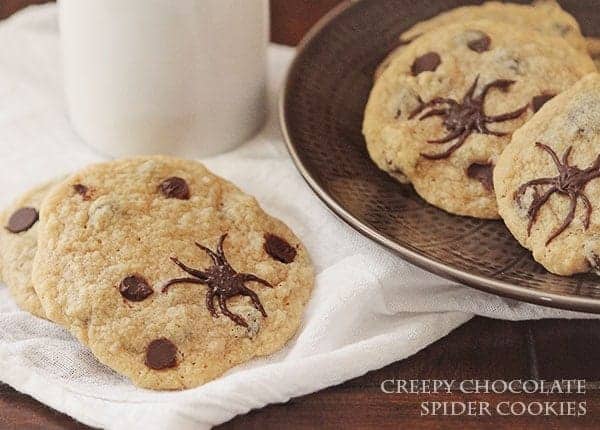 Let me know if you try these!  Would love to see!  Well, no, I don't really want to see it because that would freak me out. I guess I am a glutton for punishment!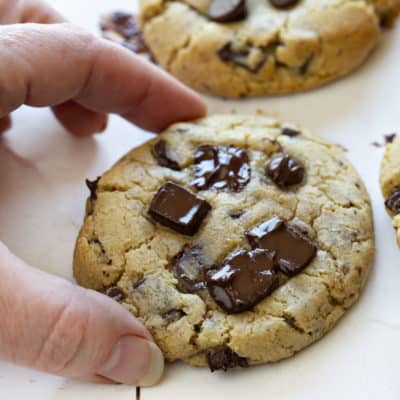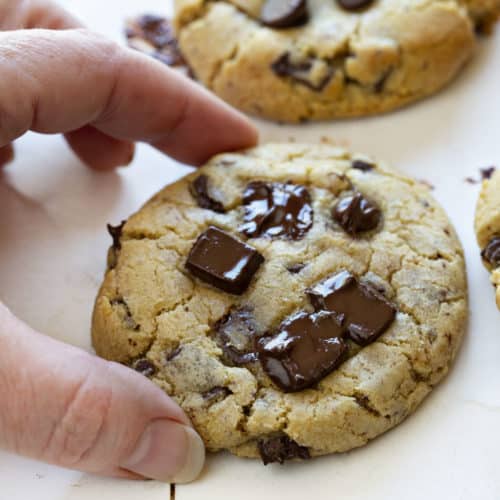 Chocolate Chip Cookies
One of the best Chocolate Chip Cookies you will ever try!
Ingredients
1 ⅔

cups

(208 grams) cake flour

1 ⅔

cups

(208 grams) bread flour

1 ¼

teaspoons

baking soda

1 ½

teaspoons

baking powder

1 ¼

cups

(284g) unsalted butter,

room temperature

1 ½

teaspoons

coarse salt

1

cup

(200g) granulated sugar

1 ¼

cups

(10 ounces or 225g) packed light brown sugar

2

large eggs,

room temperature

2

teaspoons

McCormick vanilla extract

16

ounces

(about 3 cups) chocolate chips or chunks

(I use a combination of both and reserve a few to place on top of the cookie before baking)
Instructions
Sift flours, baking soda, baking powder and salt into a bowl and set aside.

Using a mixer with a paddle attachment, cream butter and sugars until light and fluffy, 3 to 5 minutes.

Reduce speed and add eggs one at a time, then add vanilla.

Slowly add dry ingredients, mixing until just combined.

Fold in chocolate chips by hand. Refrigerate dough for24-36 hours.

DO NOT SKIP REFRIGERATION.

When ready to bake, preheat oven to 350°F. Remove dough from refrigerator and allow to come to room temperature.

Drop spoonfuls (2-3 tablespoons) of dough onto baking sheet. Bake for 10-12 minutes.

Cool on wire rack.
Did you make this recipe?
Thank you for making my recipe! You took pictures, right? Well go ahead and post them on Instagram! Be sure to mention me @iambaker and use the hashtag #YouAreBaker.