This Spring Celebration cake holds a very special message among the spring flowers. Happy Birthday! See how I created this unique design and get the perfect Chocolate Cake recipe! If you love cakes, don't miss my 50 Best Cake Recipes in the World!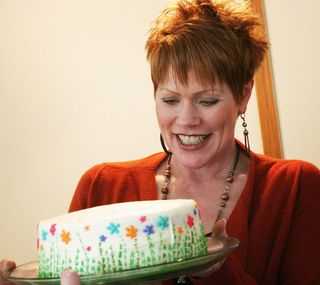 My MIL graciously told me that I could bring a cake to a family get together this weekend. It just so happens that I know of three ladies celebrating a birthday in the next few days (happy birthday mom!), so I figured a birthday cake would be appropriate.
And since I have had my Dear Husband home this week, I was actually able to make a real cake.
I dread him going back to work.
Anywho, my MIL loves spring colors and flowers and so I thought I would make a Spring Celebration Cake.
That is Gloria holding her/my MIL's birthday cake. Isn't she gorgeous?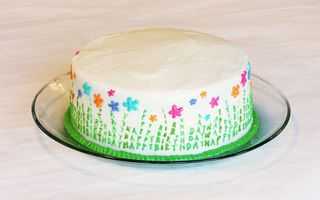 A sweet little cake with flowing green grass and some colorful flowers to brighten any winter day.
Except I wanted it to be a birthday cake as well…
So I made the grass with all the letters of Happy Birthday.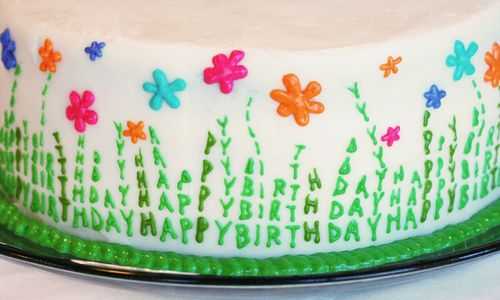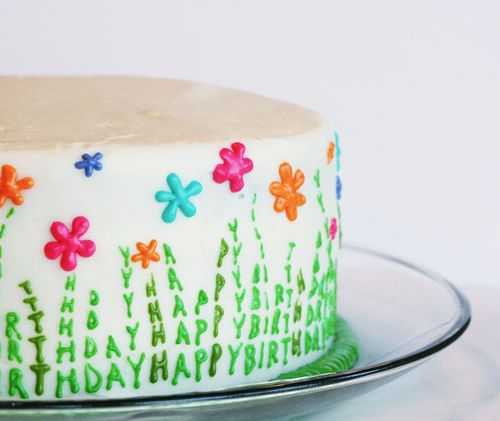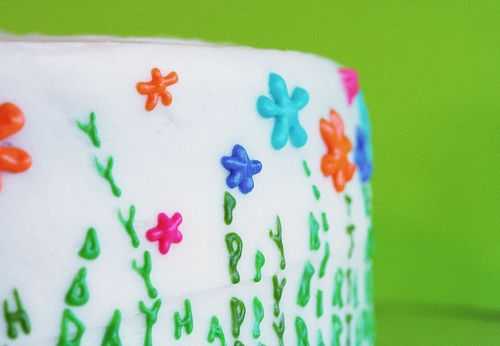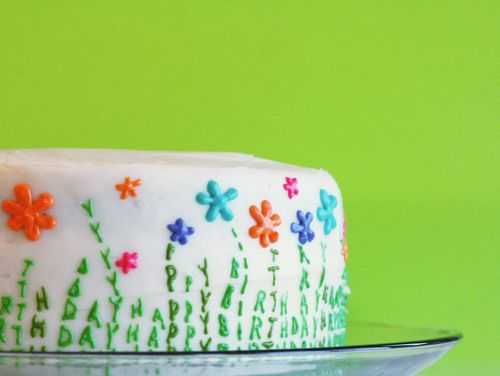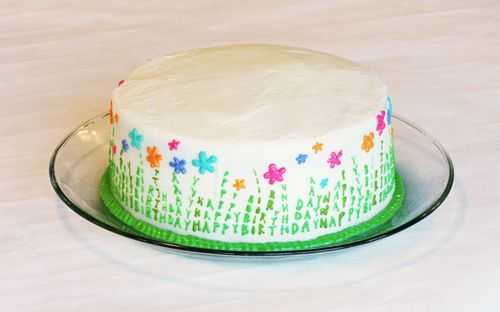 It was definitely a fun cake to make!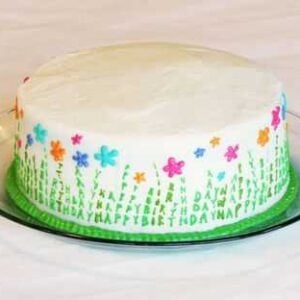 Chocolate Cake
A sweet little cake with flowing green grass and some colorful flowers to brighten any winter day.
Keyword:
cake, Spring Celebration Cake
Ingredients
1 3/4

cups

all-purpose flour

2

cups

granulated sugar

3/4

cup

unsweetened cocoa powder

2

teaspoons

baking soda

1

teaspoon

baking powder

1

teaspoon

kosher salt

1

cup

buttermilk

1/2

cup

vegetable oil

2

large eggs

1

teaspoon

pure vanilla extract

1

cup

freshly brewed hot coffee
Instructions
MAKE THE CAKE: Preheat the oven to 350°. Butter two 8-inch round cake pans and line them with parchment paper; butter the paper.

In the bowl of an electric mixer fitted with a paddle, mix the flour with the sugar, cocoa powder, baking soda, baking powder and salt at low speed.

In a medium bowl, whisk the buttermilk with the oil, eggs and vanilla. Slowly beat the buttermilk mixture

into the dry ingredients until just incorporated, then slowly beat in the hot coffee until fully incorporated.

Pour the batter into the prepared pans. Bake for 35 minutes, or until a toothpick inserted in the center of each cake comes out clean.

Let the cakes cool in the pans for 30 minutes, then invert the cakes onto a rack to cool completely. Peel off the parchment paper.

Set a cake layer on a plate with the flat side facing up. Evenly spread one-third of the frosting over the cake to the edge. Top with the second cake layer, rounded side up. Spread the remaining frosting over the top and side of the cake. Refrigerate for at least 1 hour before slicing.
Here is the frosting I used: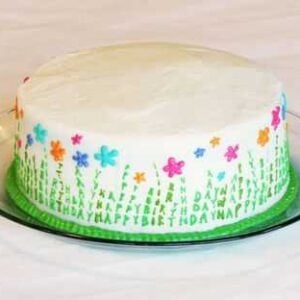 Keyword:
BEST Cream Cheese Frosting
Ingredients
2

(8-ounce each) packages cream cheese,

softened and cut into small pieces

6

tablespoons

unsalted butter,

softened and cut into small pieces

1 1/2

teaspoons

vanilla extract

5

cups

confectioner's sugar
Instructions
Combine all ingredients except the sugar into a large bowl and mix on medium speed until smooth, about 3 to 4 minutes.

Reduce the mixer speed to medium low and add the confectioner's sugar one cup at a time. Scrape down the sides of the bowl often.

Once all sugar is added, beat until fluffy, 3 to 6 minutes.
***
FYI~ I would probably not use the cream cheese frosting again if I were going to decorate it. I think buttercream works the best for that!
I used royal icing for the decorations which worked beautifully as I had to travel for 3+ hours by car with it on my lap. Since it dries hard it stayed totally in tact!