Come on get happy!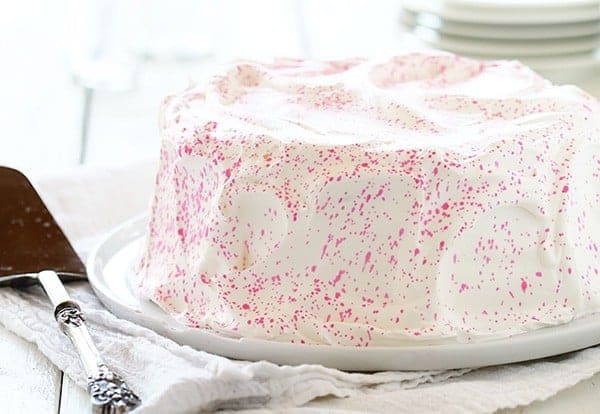 Spring is starting to happen here in Minnesota (and hopefully most places!) and I can't help but be inspired by the light, joyful, and refreshing feeling it brings.
This cake is a reflection of my favorite flavors of spring with Raspberry, Lemon and Orange cheesecake nestled between two lovely layers of moist white cake. Covered in whipped cream of course!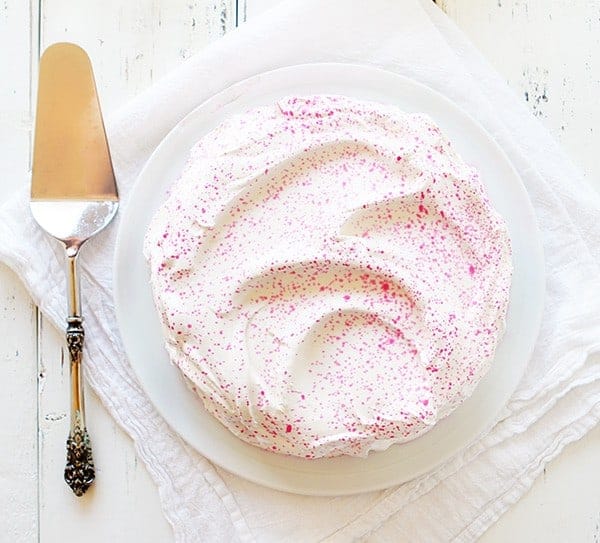 For the outside decoration I was inspired by Easter and the glorious little speckled eggs that are in abundance. I love those little suckers with a passion and thought it would be fun to add that little color and flare to my cake.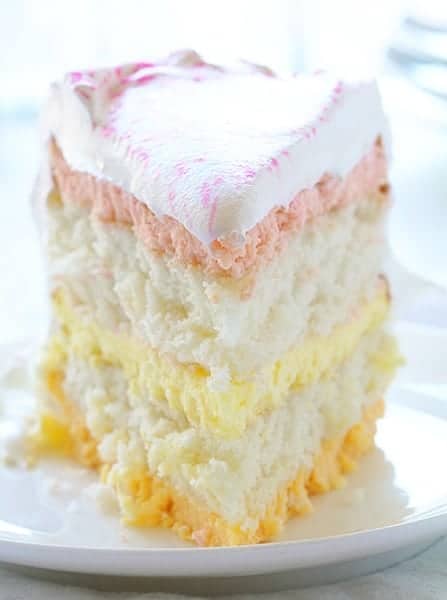 Tips for success:
You will see that I baked a white sheet cake instead of two 8-inch rounds. This is purely for vanity purposes! I wanted the top, bottom and sides to not have any browned bits. You can certainly bake your white cake in 8-inch round pans to save yourself one step.
I loved the subtle flavors in this cake, but I encourage you to taste as you go. See if 1 teaspoon of raspberry (and lemon and orange) is enough for you and feel free to add more if it isn't.
Food coloring is not essential in this recipe, but using just the tiniest amount helps add to the wonderful Spring theme!
Make sure everything is chilled before assembly. Working with an almost frozen white cake and very chilled cheesecakes is ideal.
You can make this over the course of 2 days if that is easier. Just make sure cheesecakes and cake are sealed in airtight containers/plastic wrap so they stay fresh before you assemble.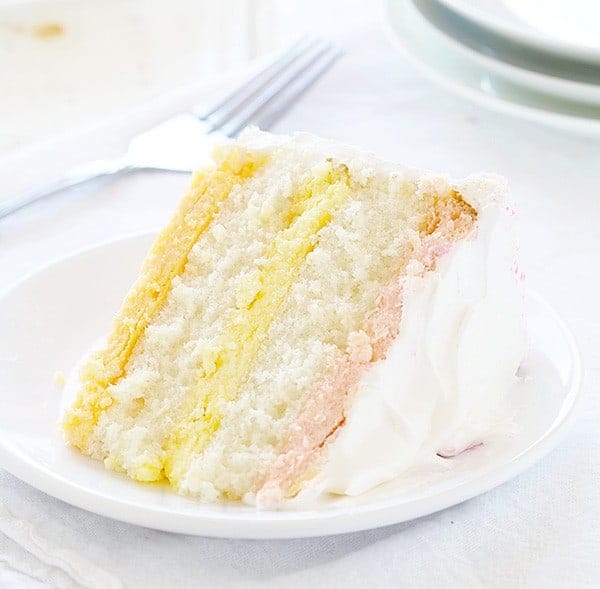 My husband, who is famous for not liking dessert, really really liked this cake. It really is light and flavorful and refreshing and a great way to enjoy the coming of Spring!
It was an absolute delight to create this Spring Cheesecake Cake with McCormick. Thank you so, so much for supporting the brands that support this blog. I only work with the best, and am thankful that McCormick is willing to partner with me! <3
Check out all my CHEESECAKES here!