Strawberry Cream Cheese Pound Cake starts with the perfect delicate yet dense cake crumb of my Cream Cheese Pound Cake. It is then filled with strawberry sauce and topped with a strawberry cream cheese frosting so every bite is full of that sweet strawberry flavor!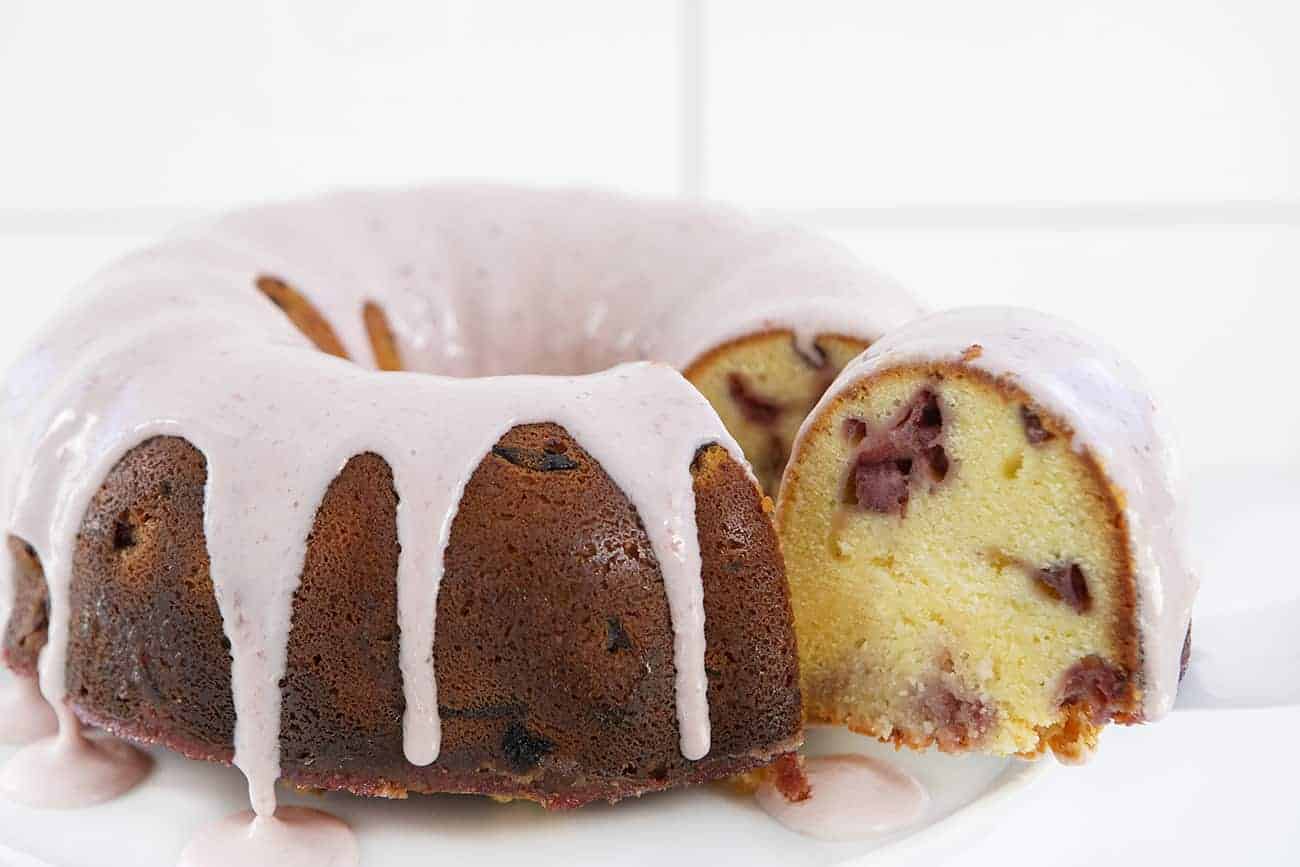 Strawberry Cream Cheese Pound Cake
This Strawberry Cream Cheese Pound Cake is broken down into three major components–the cream cheese pound cake, strawberry sauce, and strawberry cream cheese frosting. It is important to use good quality products for this recipe, so I opted for Challenge Butter and Challenge Cream Cheese to make sure that my cake would be the best tasting pound cake you will ever try!
Challenge Butter and Cream Cheese are both made the old-fashioned way, from the freshest milk and cream from happy cows at family-owned dairies. In fact, Challenge is the only major U.S. dairy product company that controls the whole process when it comes to making its butter, from milking the cows, to transporting milk, to making the butter to packaging and distributing. Talk about quality control! I used the butter in my Kentucky Butter Crunch Cake as well, and it did not disappoint!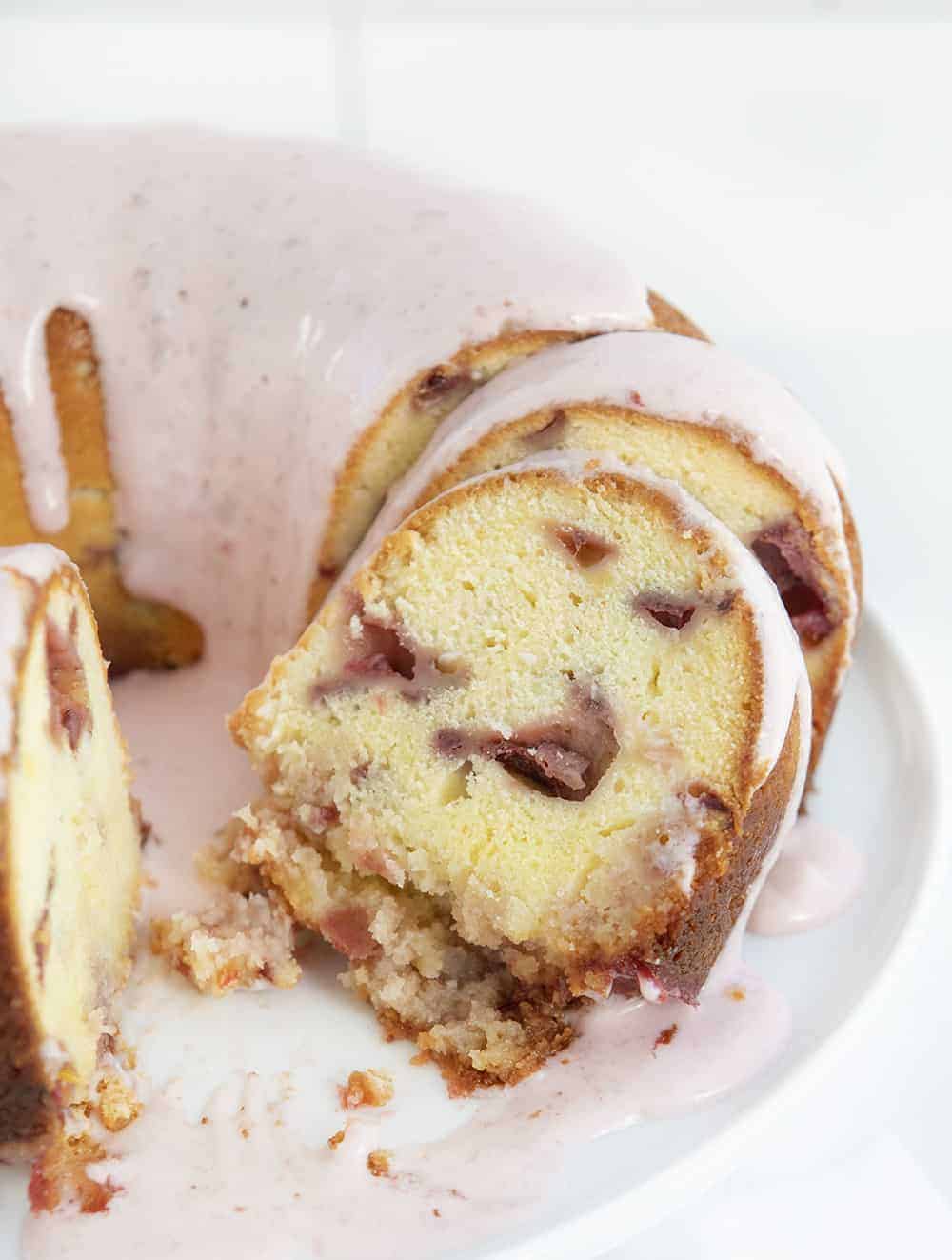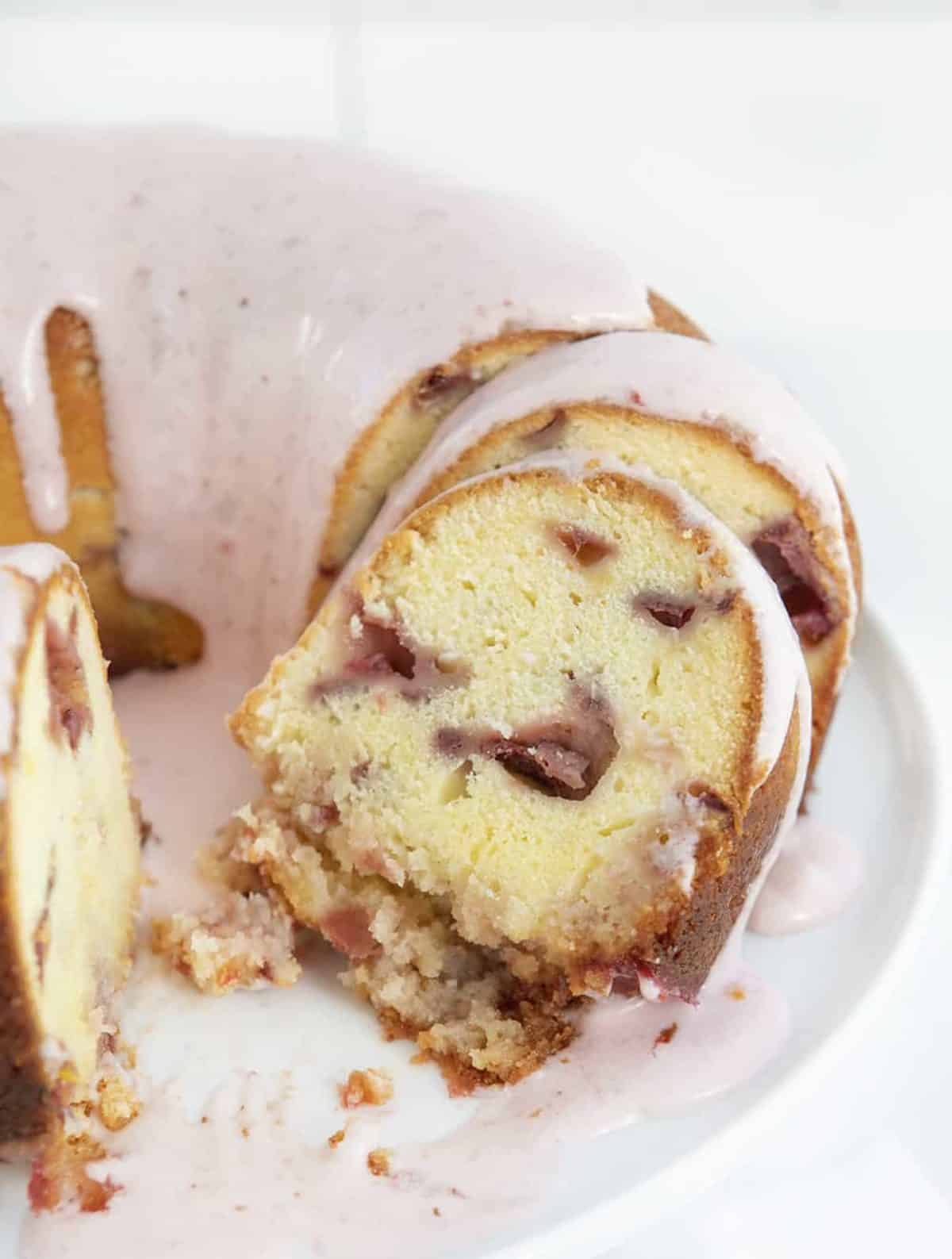 Strawberry Cream Cheese Pound Cake Recipe
First off I have to mention that as you can see by the ingredients below, this is a FROM-SCRATCH strawberry cake that does not use a cake mix, gelatin, or jello to enhance the strawberry flavor. And I can tell you with certainty, it is a serious strawberry flavor! I might go so far as to say that it is the BEST strawberry cake I have ever had!
One thing to take note of, I can't stress enough that this cake needs to be made with room temperature ingredients. This will ensure easier mixing and helps achieve that perfect crumb!

How to Make the Strawberry Sauce
The strawberry sauce is important for all that strawberry flavor to get into each bite of this pound cake. While the pound cake is cooling to room temperature, prepare the sauce.
Make simple syrup.
Add strawberry puree and cook for about 10 minutes, continuing to whisk frequently.
Poke the pound cake, breaking up the bottom crust.
Pour 1 cup of the strawberry sauce over the broken pound cake. Reserve the second cup of sauce for the frosting. Let the cake cool to room temperature before you add the frosting.

How to Make Strawberry Cream Cheese Frosting
The final piece of this recipe to really pull it all together is the strawberry cream cheese frosting. It's the 'icing on the cake' if you will😉. To make the frosting, combine the cream cheese, butter, confectioners' sugar, vanilla, and the reserved cup of strawberry sauce. Carefully flip over the pound cake onto a serving platter and pour the strawberry sauce on top. Top it with the rest of the fresh strawberries and serve it warm.
How to Store & Freeze Pound Cake
Typically, pound cakes are stored at room temperature for 2-3 days to keep the texture and flavor as close to freshly baked as possible. However, this pound cake includes the strawberry cream cheese frosting, which should be refrigerated if not served within a day (at the most). Covered, it will last in the refrigerator for up to five days.
To freeze the pound cake, I would recommend freezing it without the frosting. Wrap the cake in a couple of layers of plastic wrap and a layer of aluminum foil. The cake can be frozen for up to 3 months. Let it thaw overnight in the refrigerator when ready add the glaze and serve.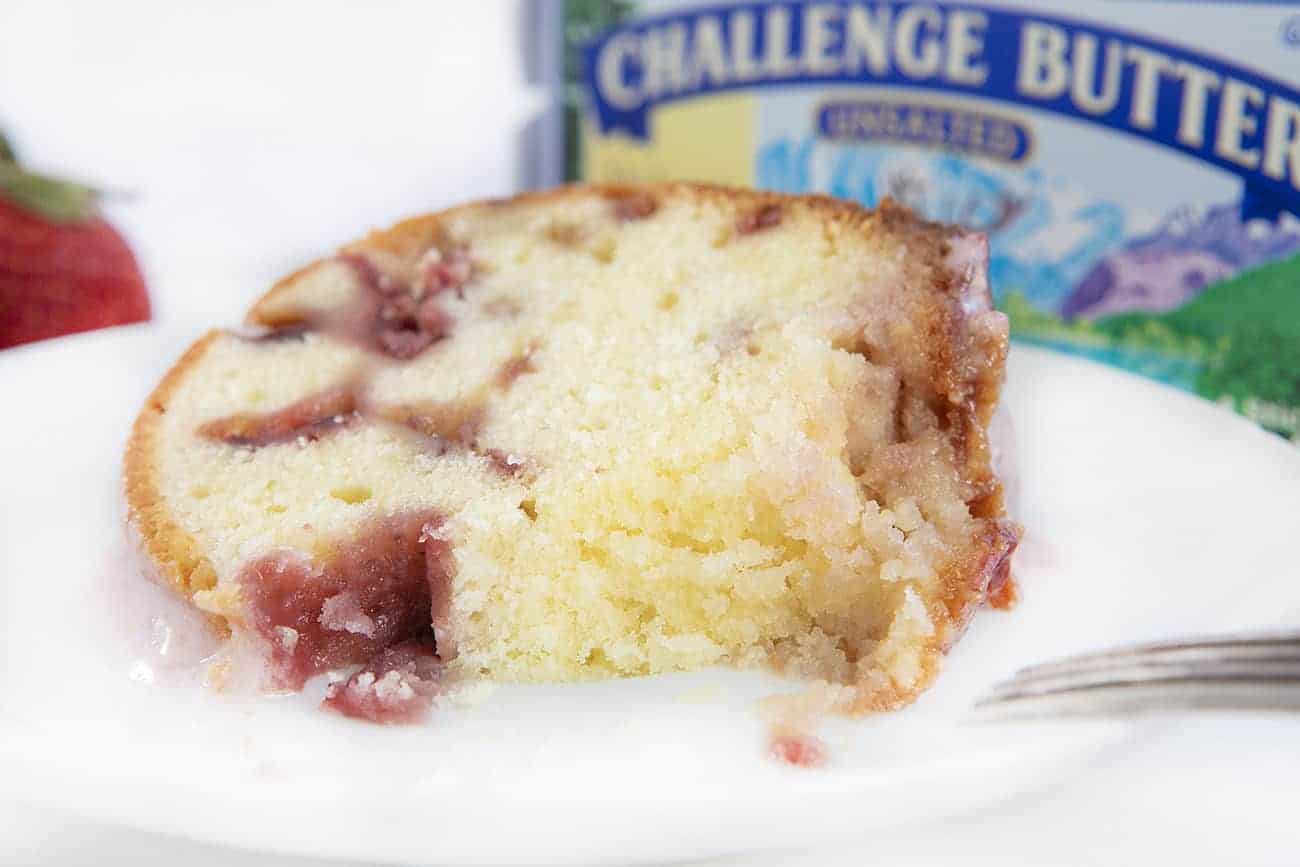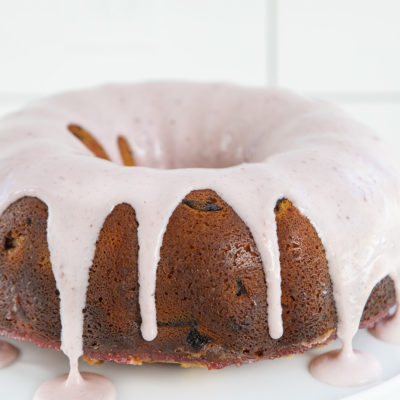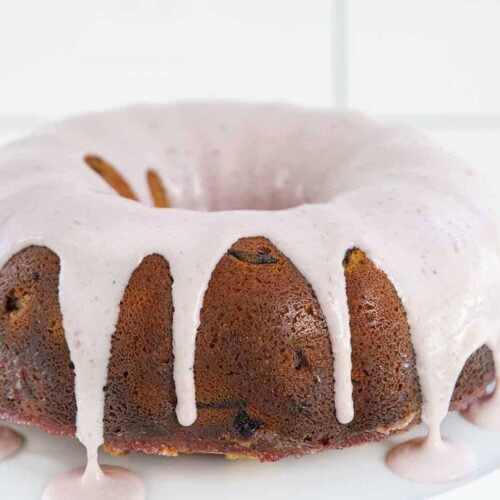 Strawberry Cream Cheese Pound Cake
Seriously one of the best cakes you will ever try… delicate crumb with smooth cream cheese flavor, filled and topped with sweet strawberry goodness!
Ingredients
STRAWBERRY SAUCE
1

cup

(200 g) granulated sugar

⅔

cup

water

1

cup

strawberries,

pureed
STRAWBERRY CREAM CHEESE FROSTING
4

ounces

Challenge cream cheese,

room temperature

¼

cup

(½ stick / 57g) Challenge butter,

room temperature

1

cup

(125 g) confectioners' sugar

½

teaspoon

vanilla
Instructions
POUND CAKE
Preheat oven to 325°F. Prepare a large bundt pan with butter and flour or by spraying with non-stick spray. (My 10-inch bundt pan is 3 inches deep. There should be at least 1 ½ inches between the height of the batter and the top edge of the pan.)

In the bowl of a stand mixer fitted with the paddle attachment, combine cream cheese and butter until smooth, about 3 minutes. (Can also use a hand-held mixer.)

Add sugar gradually and beat until lighter and fluffier.

Add eggs one at a time, beating well with each addition.

Add the flour all at once and mix until just combined.

With the mixer on low, add in buttermilk and mix until just incorporated.

Remove bowl from stand mixer and scrape with a rubber spatula to get every last bit of ingredient incorporated.

Fold in 1 cup of the diced strawberries.

Pour into the prepared bundt pan. Bake for 1 hour – 1 hour and 20 minutes. Check for doneness at 1 hour. (A toothpick inserted into the center of the cake should come out with a few crumbs but no wet batter when the cake is done. The crust will be a dark golden brown around the edges and lighter in the center.)

Set cake on a cooling rack (still in the pan) to cool slightly while strawberry sauce is prepared.
STRAWBERRY SAUCE
In a saucepan, over medium heat, add sugar and water. Whisk frequently and bring the mixture to a low boil (8-10 minutes).

Add pureed strawberries and reduce heat to medium-low, cover, and simmer for 10 minutes, whisking occasionally.

Using a fork, poke the warm pound cake and break up the bottom crust. Do this all over the exposed cake.

Pour 1 cup of the strawberry syrup over the broken cake. Allow the cake to cool to room temperature. While the cake cools, prepare the strawberry cream cheese frosting.
STRAWBERRY CREAM CHEESE FROSTING
In a stand mixer combine cream cheese, butter, confectioners sugar, vanilla, and 1 cup of the strawberry syrup.

Carefully flip the cake onto a serving platter.

Pour strawberry topping over the top of the cake

Top with remaining diced strawberries
Notes
*This cake is best served warm, but should not be hot when you remove it from the pan or it could break.
Did you make this recipe?
Thank you for making my recipe! You took pictures, right? Well go ahead and post them on Instagram! Be sure to mention me @iambaker and use the hashtag #YouAreBaker.