Strawberry Pretzel Salad is a classic refreshing salad with a pretzel crust layered with a whipped cream cheese layer, fresh strawberries, and strawberry jello. It's a dessert that was published by General Foods in a 1963 cookbook, 'Joys of Jell-O'. Since then, it's been a sweet and salty treat enjoyed and passed down to many generations. Be sure to try my Strawberry Delight for another summertime favorite made with fresh strawberries.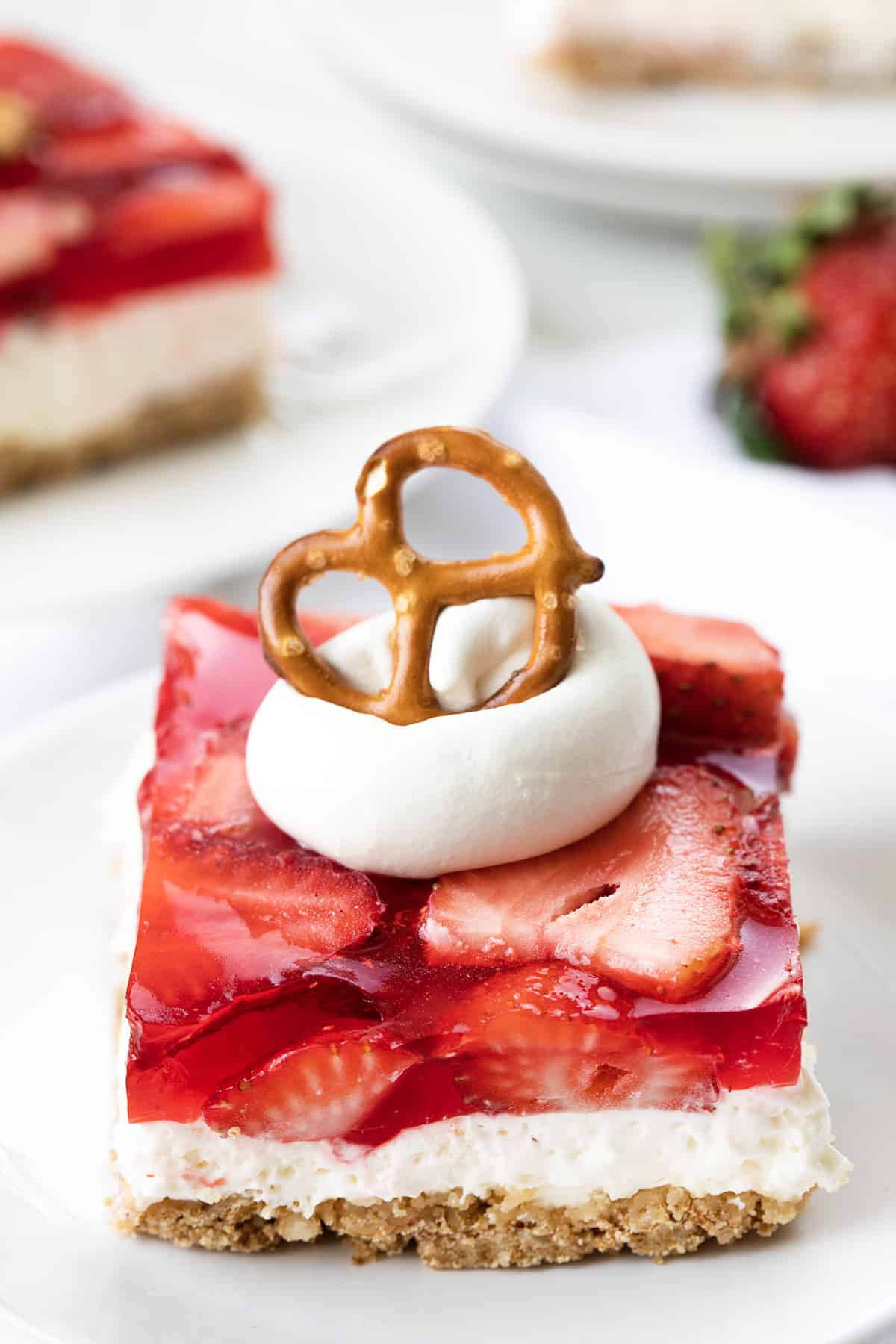 Ingredients & Substitutions
Crust: For the salty part of the dessert, a pretzel crust holds the sweet top layers. You will need about 4 cups of pretzels before they are crushed. A food processor is recommended to get a fine crumb. Be sure they are well coated by the melted butter. This is the 'glue' that holds the crust together. If you aren't a fan of the pretzel crust, try it with a graham cracker crust.
Whipped Cream Cheese Layer: This layer is my stabilized whipped cream, which is perfect for holding its shape in the dessert. Chill the layer over the baked, cooled crust.
Jello Mixture: Mix the strawberry jello mix with boiling water, that's it! Then, stir the mixture until the crystals have dissolved. Chill this mixture in the refrigerator while the cream cheese layer is also chilling.
Strawberries: Since this is a popular summer salad (really, it's more of a dessert), I love using fresh strawberries. However, you could use frozen strawberries that have been thawed and drained.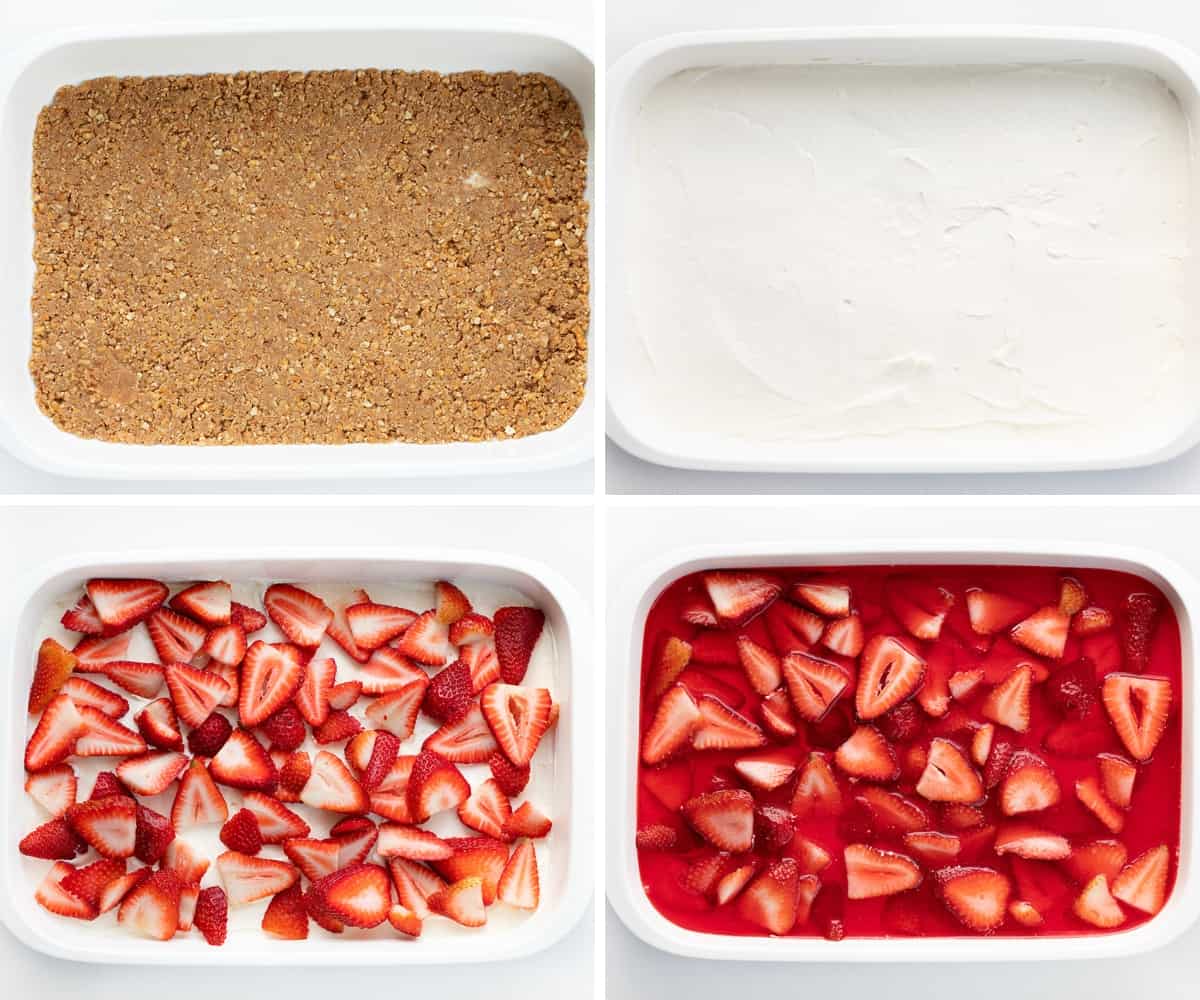 Can I Use A Different Type Of Fruit?
Sure! This dessert would be delicious with a variety of fruit and jello flavors. Some popular alternatives are raspberries, blueberries, blackberries, and peaches. Or, try it with mixed berries and your choice of jello mix.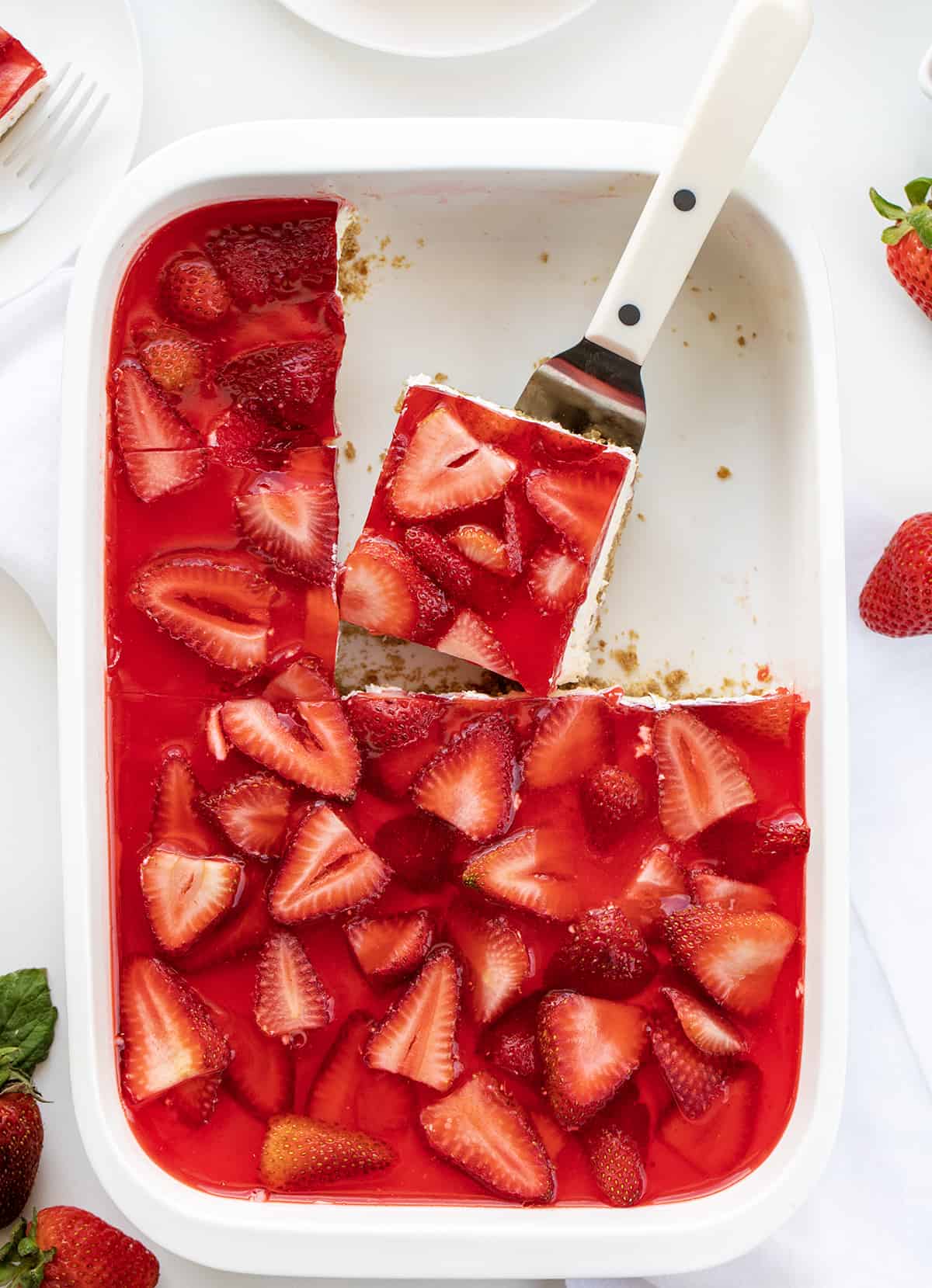 Make Ahead Strawberry Pretzel Salad
Since this dessert (or salad, as it's called) needs to be chilled for quite a few hours before serving, it's perfect to make ahead of time. Another way to get a head start on this recipe is to make the stabilized whipped cream layer in advance. Once made, it can be stored in an airtight container in the refrigerator for up to 2-3 days.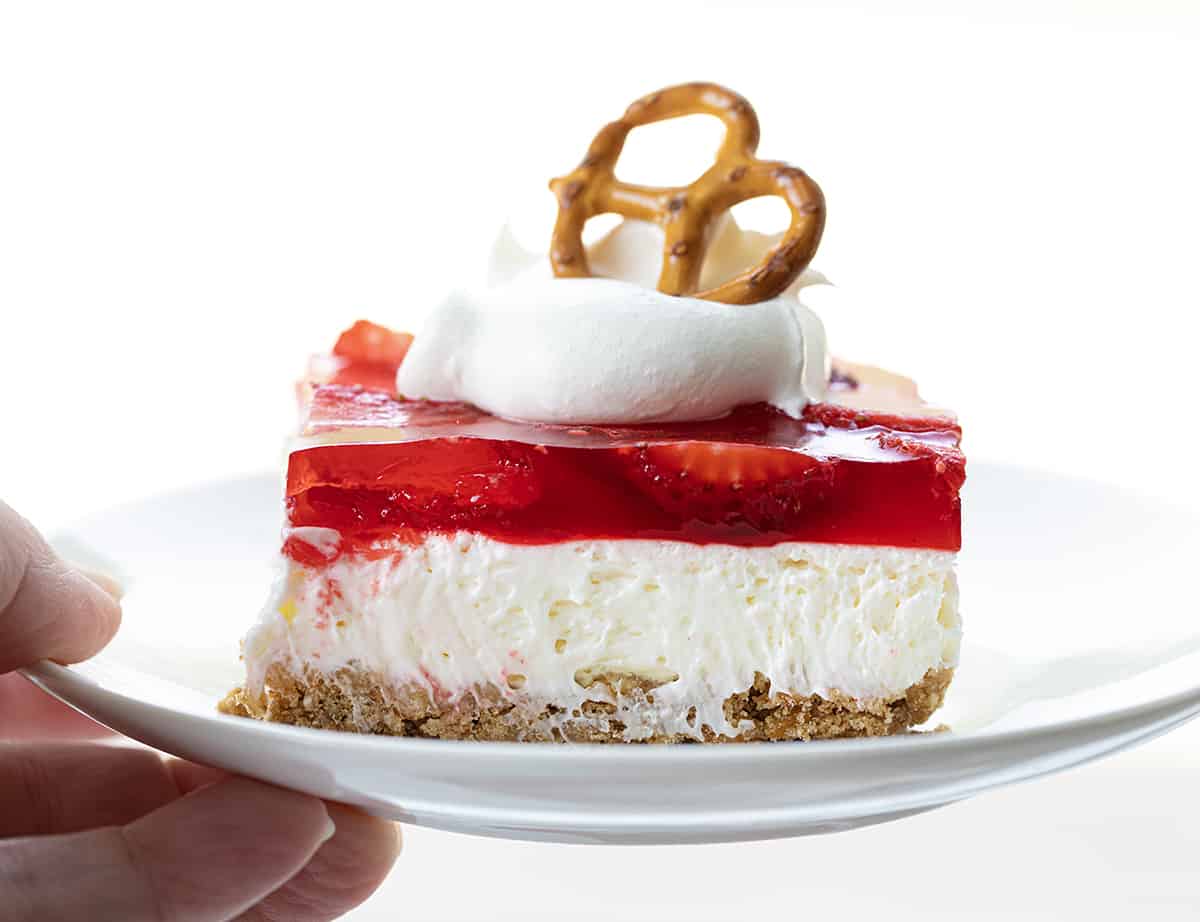 How To Store Strawberry Pretzel Salad
Strawberry Pretzel Salad should be covered and stored in the refrigerator. It will last up to 2-3 days for best results. If stored too long, the crust may get soggy and lose its crispness.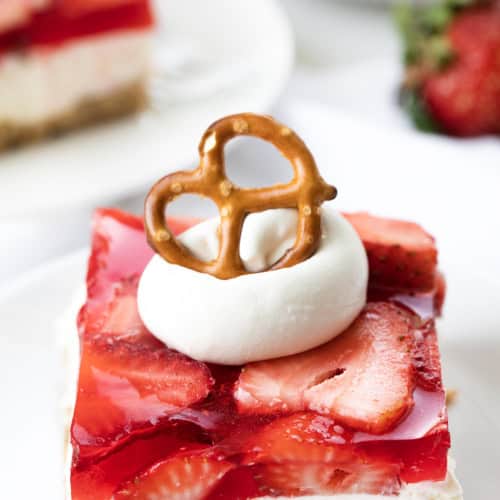 Strawberry Pretzel Salad
Strawberry Pretzel Salad is a classic refreshing salad with a pretzel crust layered with a whipped cream cheese layer, fresh strawberries, and strawberry jello.
Ingredients
Whipped Cream Cheese Layer
4

ounces

cream cheese,

room temperature

½

cup

(100 g) granulated sugar

2

cups

(476 g) heavy cream

½

teaspoon

vanilla extract

1

pinch

kosher salt
Jello Layer
1

package

(6 ounces) strawberry Jell-O mix

2

cups

boiling water
Topping
16

ounces

fresh strawberries,

sliced
Instructions
Before you begin, place the bowl and whisk attachment from your stand mixer into the freezer to chill for about 15 minutes. Starting with a cold bowl will help the cream whip up faster and with more volume.

Preheat oven to 375°F and spray a 9×13 baking dish with cooking spray or line with parchment paper.
Pretzel Crust
Place the pretzels into a food processor. Run the food processor until the pretzels are crushed to a fine crumb.

To a medium bowl, add pretzel crumbs, butter, and sugar. Mix together until combined. Then, press firmly into the bottom of the prepared pan.

Bake for 10 minutes. Remove from the oven to cool completely.
Whipped Cream Cheese Layer
To the chilled bowl, add the cream cheese and sugar. Mix on medium-high speed until fully combined and no lumps remain.

With the mixer off, pour in the heavy cream. Resume mixing on medium speed until soft peaks have formed (peaks droop slightly). Stop the mixer.

Using a rubber spatula, scrape the bottom of the bowl to incorporate all of the cream cheese.

With the mixer back on medium speed, mix until stiff peaks have formed. (Stiff peaks refer to the whipped cream peaks that stand straight up and hold their shape firmly.)

Finally, add in the vanilla and a pinch of salt, being careful not to overmix.

Spread the whipped cream mixture over the cooled pretzel crust. Transfer to the refrigerator to chill for at least an hour.
Jello Layer
In a large mixing bowl combine strawberry jello and boiling water. Whisk until all of the jello crystals have completely dissolved.

Chill the jello mixture in the refrigerator.
Assembly
When ready, top the cream cheese layer with sliced strawberries. Pour the cooled jello mixture over the top of the strawberries.

Chill the salad in the refrigerator until completely set, about 4-6 hours.
Did you make this recipe?
Thank you for making my recipe! You took pictures, right? Well go ahead and post them on Instagram! Be sure to mention me @iambaker and use the hashtag #YouAreBaker.
What the Test Kitchen had to say about this recipe: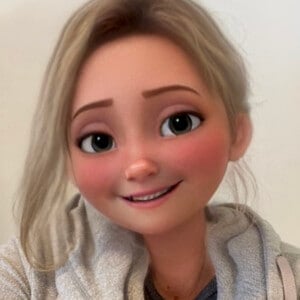 Autumn
Sweet and savory is one of my all-time favorite flavor combinations. This dessert is the perfect combination of the two. A salty and buttery pretzel crust, a creamy sweet filling, and fresh strawberries under a layer of strawberry jello. This is a classic dessert that is perfect for any occasion!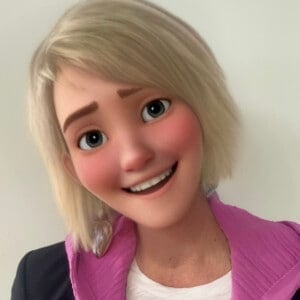 Elizabeth
This is definitely a classic sweet and salty dessert. I love the simplicity of it and the vibrant color! Plus, any dessert with fresh strawberries works for me, especially in the summer!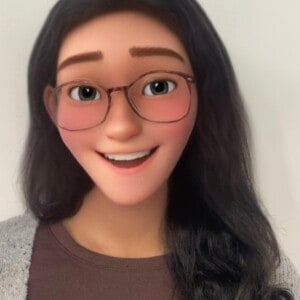 Bella
This dessert is really vibrant and fun! For me, the fresh strawberries were the star of the show. It fits well with the creamy filling, and the salty pretzel layer.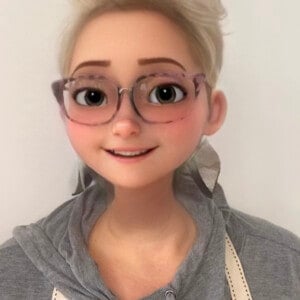 Selena
This is the perfect, refreshing summery dish. The fresh strawberries and creamy layer in the middle balance so nicely with the salty pretzel crust!