Creating a Sugar Cookie Christmas Wreath is fast, easy, and fun for everyone!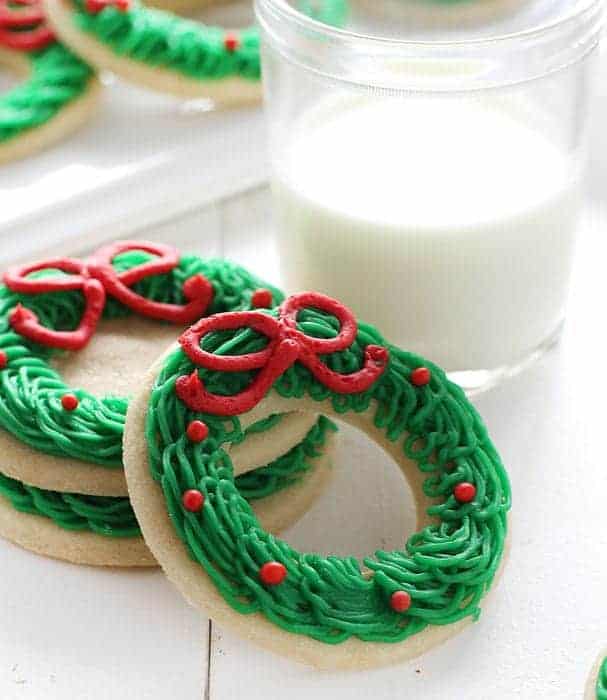 This is one of the easiest cookies I have ever made!
To make them you will need:
1 recipe sugar cookies (That is the BEST recipe)
1 recipe buttercream (below)
2 1/2 inch round cookie cutter
2-inch round cookie cutter
green food coloring
red food coloring
grass tip, #3 tip
red ball sprinkles (you can also use buttercream if you cannot find these)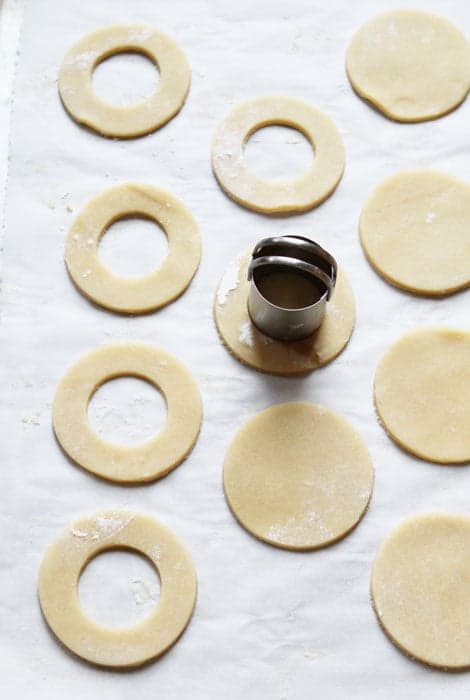 Begin by making your sugar cookies. (Again, highly recommend the recipe above!) Using a round cookie cutter, cut out shapes and place on prepared cookie sheet. Using a smaller round cookie cutter, cut out the center portion. Set those on another prepared cookie sheet to be baked.
BONUS TIP: If you do not have cookie cutters, use drinking glasses. A kitchen glass is the perfect size while a shot glass is a great size for the center portion. 
I chose to leave some of the centers in and remove some. This is just a person preference.
Bake cookies according to recipe direction.
While cookies are cooling prepare buttercream.
Tint 1/4 of the buttercream red and the remaining green. I used McCormick food coloring. For the red, I used 1/2 teaspoon for about 1 cup of buttercream. Four the green I used about 2 teaspoons in approximately 3 cups buttercream. (Use as much as you need to reach the desired color.)
Place some green buttercream in pastry bag fitted with a grass tip (#233). Place red buttercream in a pastry bag fitted with a #3 tip. (You can use anything from a #2 to a #7 tip depending on how you want your bow to look.)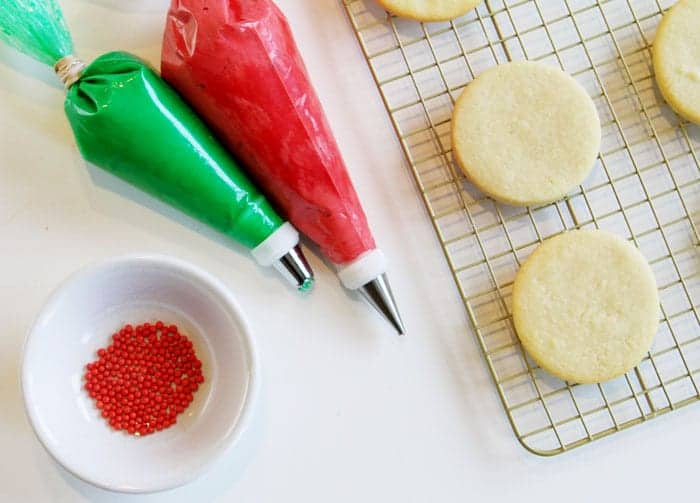 Start with a cooled cookie on a clean surface.
Pick up the green buttercream and start applying pressure at the top of the cookie. Slowly make mini circles around the edge of the cookie. (see video for more detail)
Do this around the entire cookie.
Gently place a small red ball (sprinkle) on the buttercream and repeat this around the entire cookie. If you cannot find any of these, feel free to pipe a small red dot onto the wreath.
Pick up red buttercream and pipe out a bow on top of the buttercream. If you want to practice first, pipe out some bows on a piece of parchment paper.
Repeat on the rest of your cookies!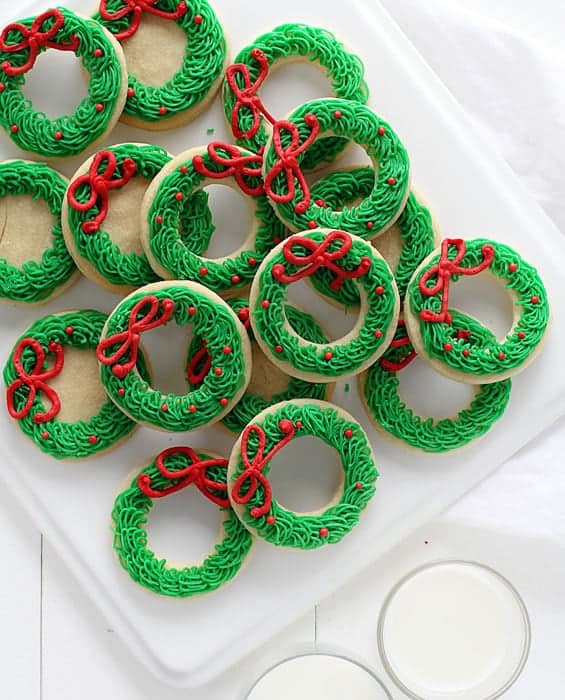 Just in case you want to SEE how easy this is… here is a little video I made.
How fun is that? Hope you are enjoying your holiday season!