I get this question more often then not, so I figured why not just share the answer with everyone?
"My cookies spread out… what happened?"
I know that many of us are making sugar cookies for friends and family this time of year, so here are a few tricks that I hope will help ensure you have perfect cookies!
Use a strong, balanced recipe.  I happen to adore my recipe, but Bridget  from Bake at 350 has an amazing sugar cookie recipe and so does Marion from Sweetopia. (Those are the recipes that I have personally tried and had success with.)
Chill your dough.  I roll out my dough, cut out my shapes, then place on my cookie sheet.  THEN I place it in the freezer for 10-15 minutes.  If you are doing lots of cookies its easy to just have them in rotation.
Calibrate your oven.  I bought an oven thermometer at Target for under $5 and its been fantastic.  Sometimes cookies can spread if your oven temperature is too low.
Bake on cookie sheets lined with parchment paper.  Some people swear by silpat but I have found parchment works very well and is fairly inexpensive.  Not having to grease your cookie sheet also means less potential spreading.
Use quality baking powder and baking soda.  Both are inexpensive even when you buy the best quality.  If your baking soda or baking powder is expired it can affect how your cookies rise or spread.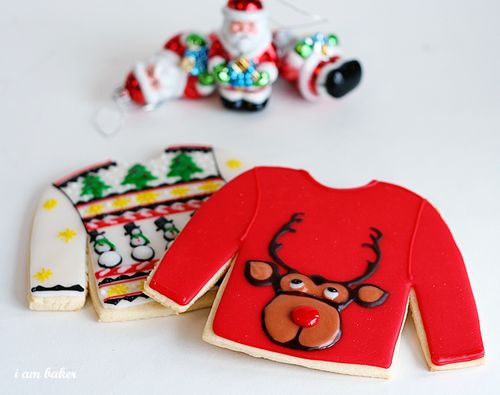 Ugly Sweater Christmas Cookies
Try these great tutorials for all your cookie needs!
Steps to Making the Perfect Sugar Cookie by Sweetapolita
Royal Icing Tutorial by Bake at 350
Coloring and Preparing Royal Icing by Sugarbelle
How to Decorate Cookies with Royal Icing Top 10 by Sweetopia
Outlining and Filling Cookies with Royal Icing by Sugarbelle
Alternative to Royal Icing from University of Cookie
Give It a Shpritz! by One Tough Cookies
If you have any other questions just let me know.  Also, if you have any other tips feel free to share!