Always a kid favorite, this sugar cookie recipe with a pink sugar cookie frosting are my go-to! Perfect pink frosting swirls paired with the best basic sugar cookie… it's SO GOOD!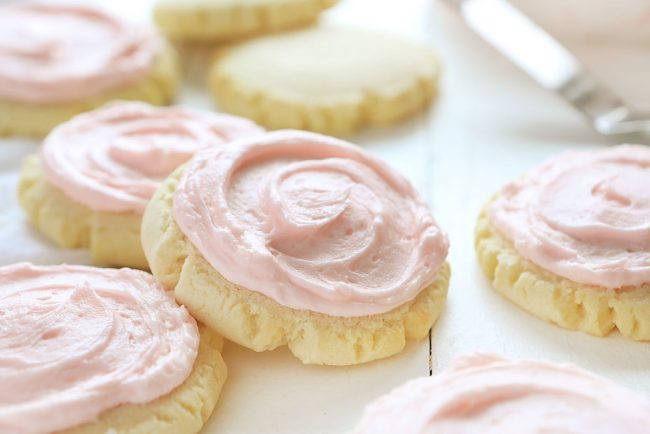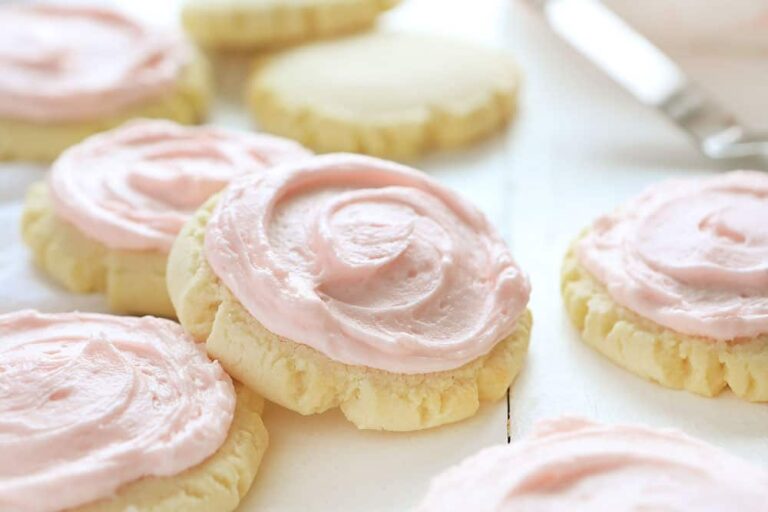 Sugar Cookies
You may have noticed these cookies look a lot like the iconic Swig Cookies. They are 100% inspired by that design! However, having not actually ever eaten a Swig Cookie, I can't claim that they are a copycat. I can claim that they are amazingly delicious and always the hit of any gathering! (Or just after school snacks!)
This sugar cookie recipe does have a few untraditional ingredients like powdered sugar (in the cookie!), cream of tartar, and oil. However, it all comes together perfectly to create the best sugar cookie you will try!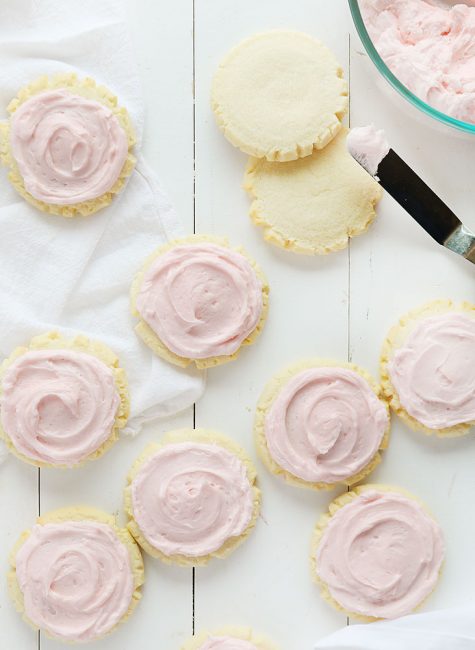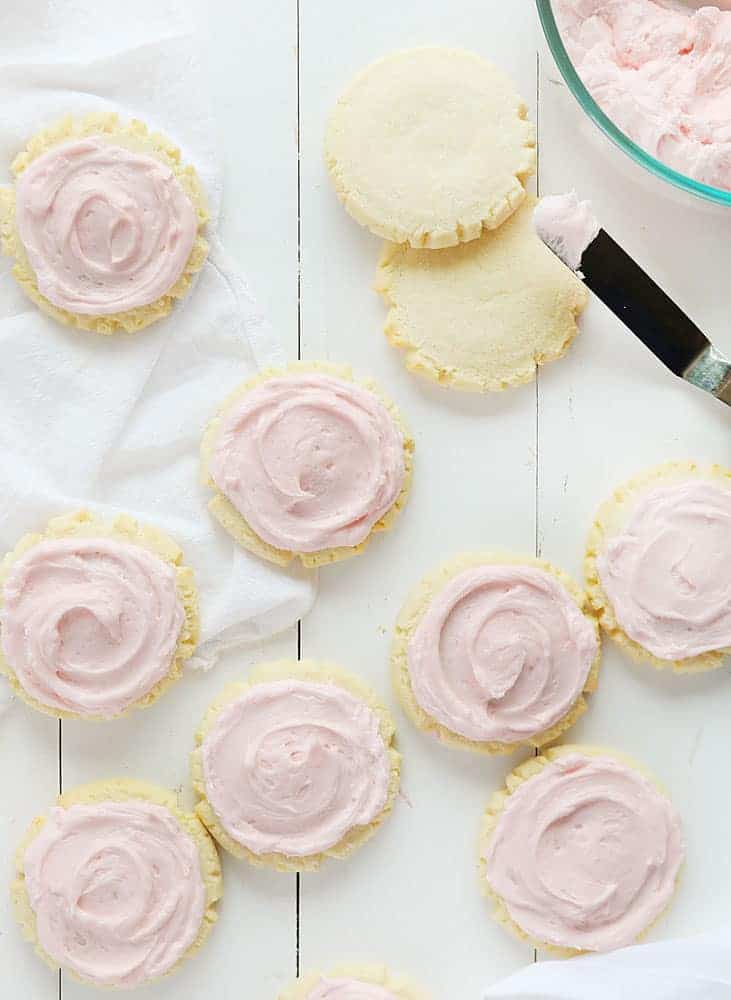 Sugar Cookie Frosting
Just like the sugar cookie recipe, this frosting recipe has an ingredient that might surprise you! It's sour cream! I absolutely love what it does to this frosting. I added the smallest amount of red food color to the frosting to create this glorious pale pink color. The combination is truly fabulous!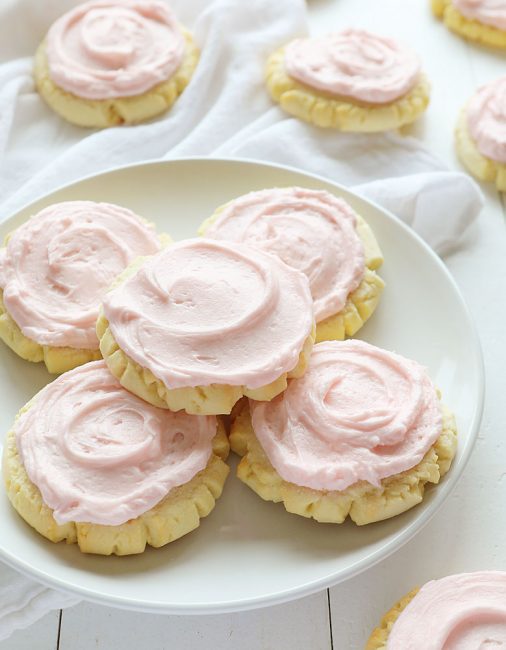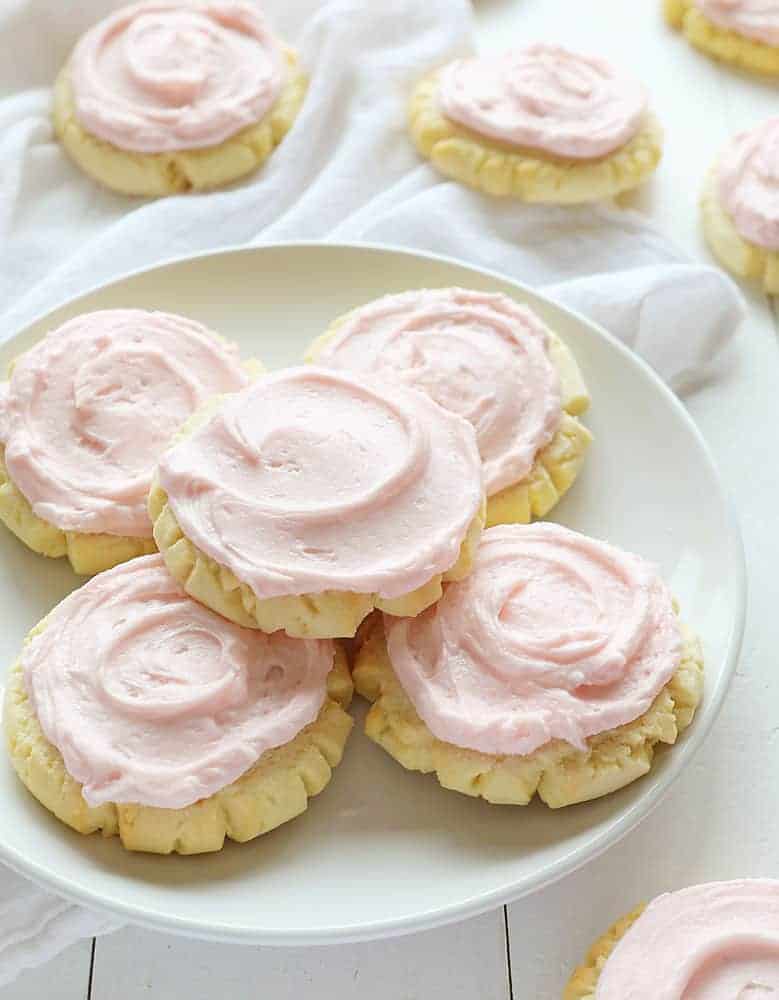 How to Make Sugar Cookies
I recommend using a stand mixer for this sugar cookie recipe as you really need the ingredients to be evenly incorporated and to be mixed just long enough. I watch my mixer pretty close after all ingredients are added and wait for it to pull away from the sides of the bowl. (much like bread dough does)
I also like to make sure they are as consistent in shape and size as possible. Using a scoop makes this possible! Simply scoop the dough and then level it on the side of the bowl. Drop the dough onto a parchment lined cookie sheet. Once your sheet is full, roll each ball in your clean hands until they are round and smooth. Then, with a kitchen glass that has granulated sugar on the bottom, press down into the cookie dough ball. Repeat that on all your cookies and they will all come out the same size!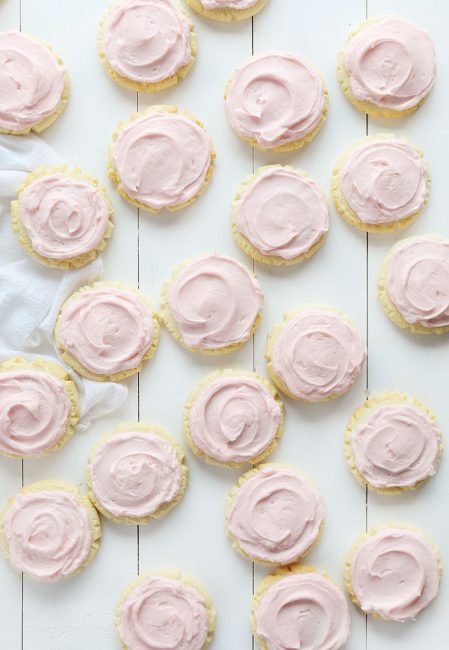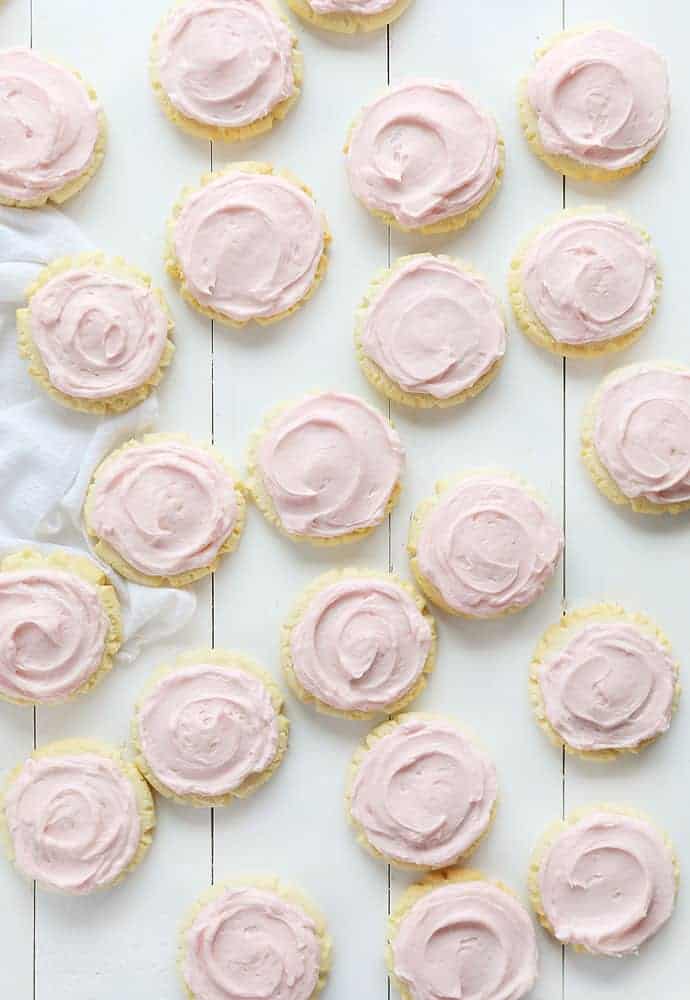 How to Frost Sugar Cookies
This frosting is so gloriously smooth and creamy it is really easy to use!~ I just put a dollop on an offset spatula then smooth it around the center indentation of the cookie. For the final "swoop", I hold my offset spatula steady, turn the cookie one direction, then turn it back in the other, moving the spatula slightly lower. It sounds complicated, but it's really quite easy once you get the hang of it. The best part is that practicing is fun and you get to eat any mistakes!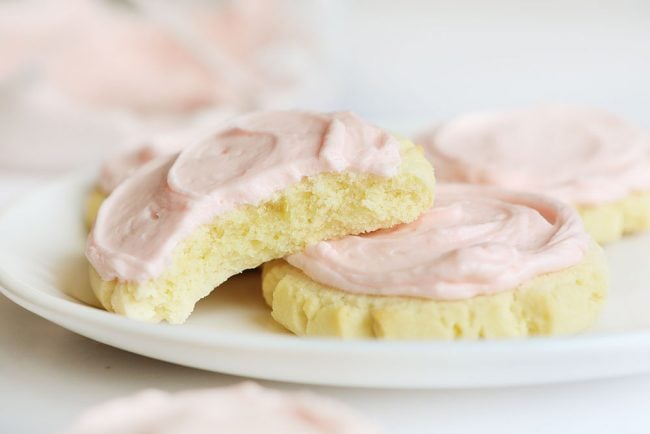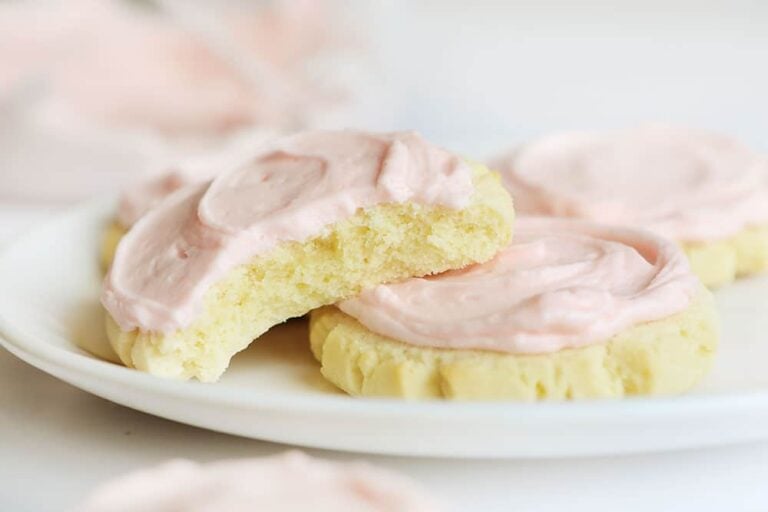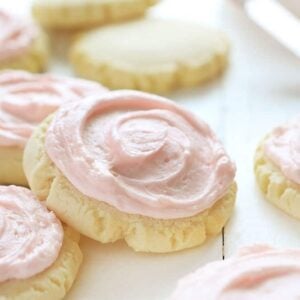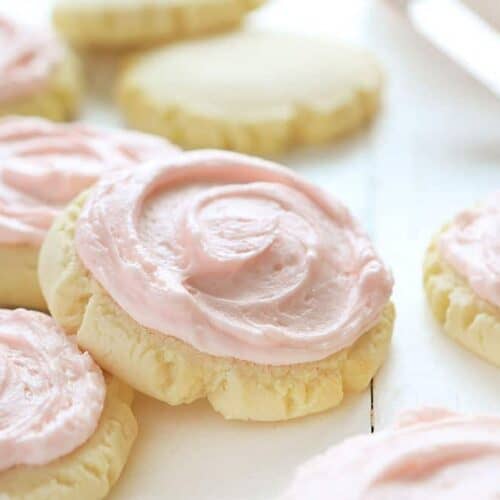 Sugar Cookie with Sugar Cookie Frosting
Ingredients
Sugar Cookie
1

c

(2 sticks or 226g) unsalted butter, softened

1 1/4

c

(250g) granulated sugar

3/4

c

(94g) confectioners sugar

3

(6 ounces) eggs, room temperature

3/4

c

(168g) vegetable oil

1

tsp.

cream of tartar

1

tsp.

salt

5 1/2

c

(688g) all-purpose flour
Sugar Cookie Frosting
1/2

c

(113g) unsalted butter, softened

3/4

c

(173g) sour cream

4

c

-5 cups

440-550g confectioners sugar

1

tsp.

salt

red food color
Instructions
Sugar Cookie
Preheat oven to 350°F.

In the bowl of a stand mixer, combine butter, granulated sugar, confectioners sugar and mix until just combined.

Drizzle in oil and pour in eggs and mix well.

In a bowl add the cream of tartar and salt to the flour and roughly sift.

Slowly add the flour to the butter mixer and allow the mixer to combine until the dough pulls away from the sides of the mixer bowl.

Using an ice cream/cookie scoop, scoop out golf-ball size portions on a parchment lined cookie sheet.

Roll out each cookie dough ball until it is smooth and round.

Using a kitchen glass that has been pressed into granulated sugar, press down on each cookie dough ball until the center of the cookie is pressed flatter than the edges. Repeat this on all cookies.

Bake for 8-12 minutes or until edges are just slightly starting to brown and center no longer appears wet.
Sugar Cookie Frosting
In a clean bowl of a stand mixer fitted with a paddle attachment, combine butter, sour cream, and salt.

Once ingredients are fully incorporated, start adding the confectioners sugar, about a 1/2 cup at a time. (You may not need all 5 cups. Keep an eye on the frosting to determine when it has reached your desired consistency. If it gets too be too thick you can add some milk to loosen)

Add in a few drops of red food coloring for the soft pink color.

Spread on cooled cookies using an offset spatula.
Recipe inspired by Swig Sugar Cookies.
Try my perfect Cut-Out Sugar Cookies & Sugar Cookie Icing or Easy Sugar Cookies for more fun baking!
Updated: SUGAR COOKIE TROUBLESHOOTING – everything you wanted to know about sugar cookies!