Here are a few things I have discovered about writing a book.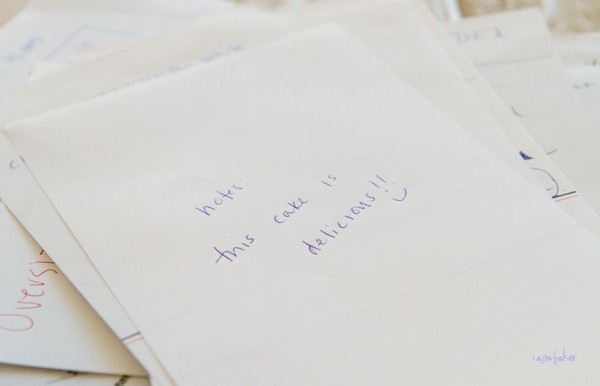 It would be wise to know how to express myself using actual words and not just winking smiley faces. 😉
It is simply not ok to describe every single cake as delicious.  Apparently there are other words that I can use to describe how cakes tastes.
Writing, photographing, baking for, and developing recipes for a cookbook is only wise if you have a long period of time to do it.  Say, two years.  Giving yourself a three month deadline is DUMBCRAZYSTUPIDINSANEIDIOTIC.
Make sure you know a LOT of people who are willing to eat your food.  Having large amounts of cake and frosting sitting in your house is not good.  Very very not good.
It is recommended that when writing recipes you be clear and present a concise picture to a reader.  Talking about how my five year old learned how to do handstands by falling out of his bed might not be the best approach in a layer cake tutorial.
Overall the process has been exhausting, informative, and most of all, fun.  Did I mention how thankful I am to be here right now?
I am.
Super thankful. 🙂
Do you have any questions about my process so far?  Any detail you are dying to know?  I'd be happy to answer any questions you have!
Note: Some questions I cannot answer due to contractual obligations, but thats mostly boring stuff anyway!
REMINDER! Only a few days left to win the Kindle 3G!