These Ombre Pancakes are next level fun! Vanilla, Cinnamon, and Chocolate pancakes work together in a beautiful breakfast harmony. Don't miss my Cinnamon Roll Pancakes if you love breakfast fun!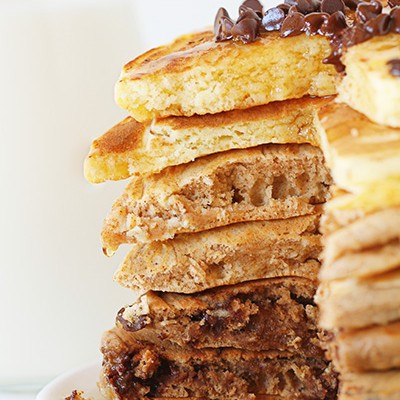 Vanilla Cinnamon Chocolate Ombre Pancakes
One of my favorite cakes in my book is the Ombre Cake. The main reason I love it is because it screams masculine to me, and that is not always easy with a buttercream flower petal covered cake!
Ingredients
Base Batter
6

cups

flour

1/4

cup

+ 2 tablespoons granulated sugar

3

tablespoons

baking powder

1/2

teaspoon

salt

3

eggs

slightly beaten

3 1/2

cups

whole milk

1/2

cup

vegetable oil
Cinnamon Pancakes
1

teaspoon

vanilla

1

teaspoon

cinnamon
Chocolate Pancakes
2

tablespoons

cocoa

1

teaspoon

vanilla

1/2

cup

mini chocolate chips
Instructions
Prepare the 'base batter'.

In a large bowl stir together flour, sugar, baking powder and salt.

In another bowl use a fork to combine eggs, milk and oil.

Add egg mixture to flour mixture and stir until just moistened.

Separate mixture into three bowls.
Vanilla Pancakes
Add in vanilla and stir until just combined.
Cinnamon Pancakes
Add cinnamon and vanilla to base batter and stir until just combined.
Chocolate Pancakes
Add cocoa, vanilla, 1 tbsp sugar and mini chocolate chips to base batter. Stir until just combined.

Turn oven on to warm and line a cookie sheet with parchment to set completed pancakes on.

Starting with the vanilla batter, prepare pancakes using about 1/4 cup of batter per pancake. You should place batter onto a hot (about 300-325 degree) griddle. (baking spray works well if you need to grease the griddle)

When pancakes are done place them on parchment lined cookie sheet and into the oven to warm while completing other batters.

To serve place chocolate chip pancake on plate, then cinnamon, then vanilla. Top with butter and maple syrup and enjoy!
Did you make this recipe?
Thank you for making my recipe! You took pictures, right? Well go ahead and post them on Instagram! Be sure to mention me @iambaker and use the hashtag #YouAreBaker.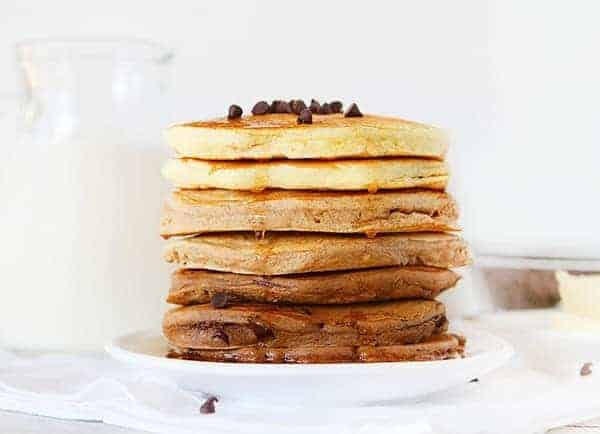 The flavors are a bit different than my original ombre cake, and this is not covered in gobs of frosting, but in my defense it is for breakfast.  I hope you will let my inconsistencies fly!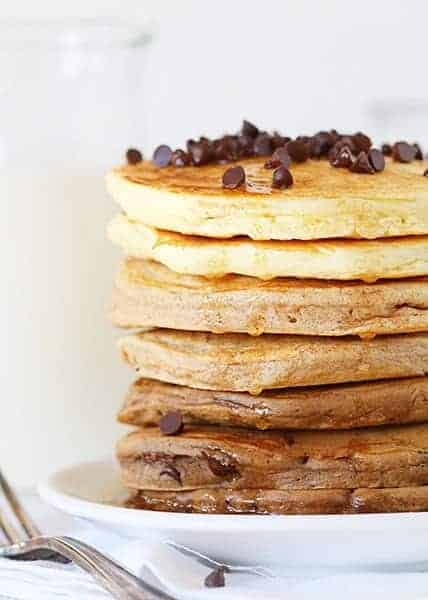 This was a great opportunity to have my little kids (Audrey and Eddie) in the kitchen helping.  They did great and learned about the difference between cake batter and pancake batter.  Because apparently I make a lot of cakes and this is what they are usually helping with.
My husband and I decided that now is as good of time as any to really start our small kids on consistent chores and "life duties."  It comes from Proverbs 22:6, "Start children off on the way they should go, and even when they are old they will not turn from it.".  (NIV) If I want the kids to be knowledgeable and helpful in the kitchen, I really need to model those behaviors.  (Well, the helpful anyway.  I am still working on the 'knowledgeable' part!) So instead of my whizzing through meals just to get them done, I am going to slow down and include them in the process.  
Note: This is a large recipe and makes at least 36 good sized pancakes.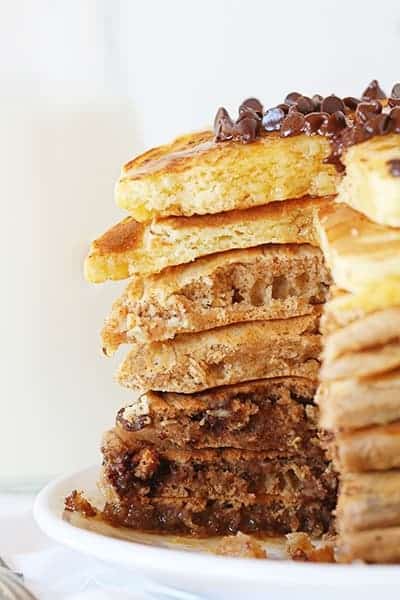 The kids were skeptical on eating these all together, but I insisted.  Turns out they loved it and demolished the entire recipe. My oldest, Colton, made a point of telling me that I needed to blog these and that I needed to tell everyone that he LOVED them.
While it does take a couple more minutes to prepare, it is definitely worth it!  The flavor combination is fabulous and tastes like a really decadent treat for breakfast!