This Velvet Spice cake with candied pumpkin seeds is truly one of the easiest surprise inside cakes I have done.  And now I will show you how you can achieve the same results!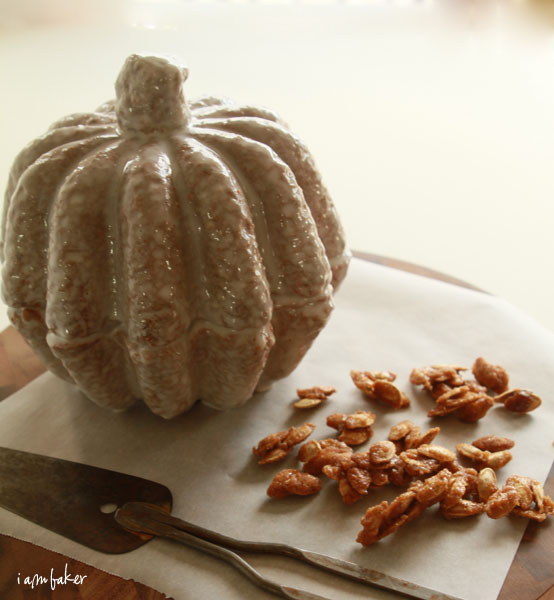 Start by making or purchasing your candied pumpkin seeds.  My recipe is here.
Now bake your cake.  I used my little ole copper pan that I found at the thrift store.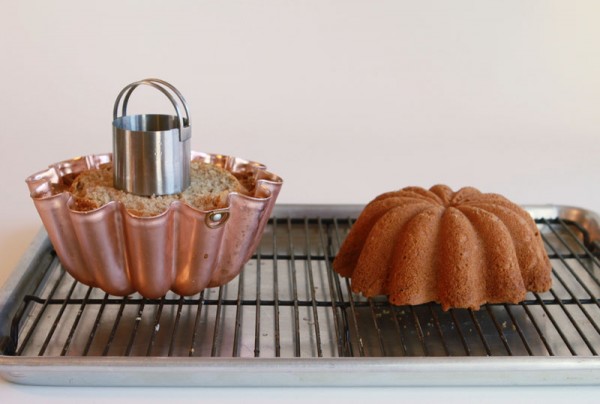 I just have to apologize in advance… these things are in abundance around here.  Every time I go to the thrift store their are dozens to pick from, so I just assumed that was the case for everyone.  Well, how silly of me!  I was able to find this one on Amazon, and I think it would be a perfect fit for this specific cake.
Make sure the cakes are level.  This will help when placing one on top of the other to ensure a snug fit.
Using my handy dandy little cookie cutter, simply find the center of each cake, then gently press the cookie cutter in.  This is a guideline of where we are going to remove the cake from to create the hallow center.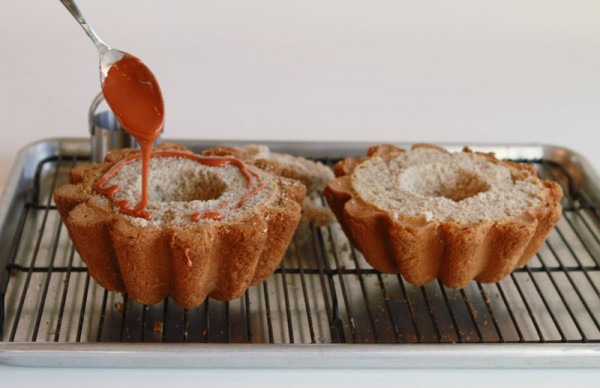 Go in and scoop out as much cake as you want.  Although I thought a larger cavity would be more realistic in this cake, it just didnt make sense portion wise.  I didn't want someone to get a tiny sliver of cake!  So I kept the hole fairy shallow.
Since I was covering the exterior in glaze, I decided to use glaze for the interior as well.  I tinted mine brown to match the cake, but it got a bit too red if you ask me.  I don't think its a necessary step for next time.  White would have worked fine!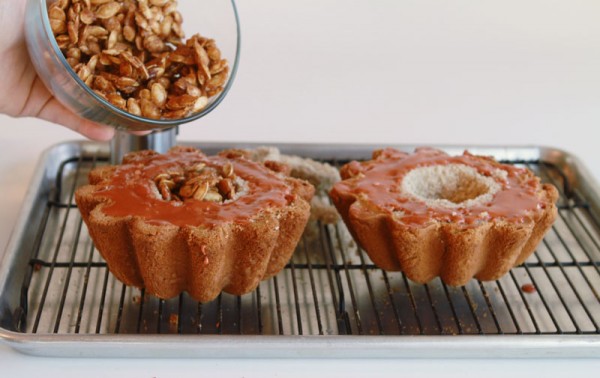 Simply add some candied pumpkin seeds to the cakes.  Try to not overfill!  To place one cake on top of the other, I place my clean hand flat over the cake, covering the frosting and seeds.  Flip it over onto other cake, then gently remove hand.

Pour cinnamon glaze over pumpkin.  I poured the glaze on the cake then actually flipped the cake over to make sure the bottom was fully covered.  If you did not have a crumbly cake, you can re-use the excess glaze from your pan.
Let first coat set for about 30 minutes, then add additional coats of glaze.  I did three total for this cake, but you can do more if you want a smoother, more refined finish.
Keep any excess frosting for drizzling over individual slices of cake.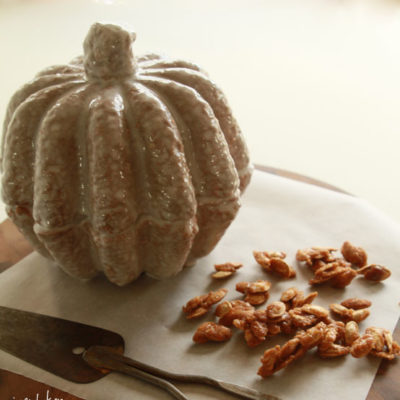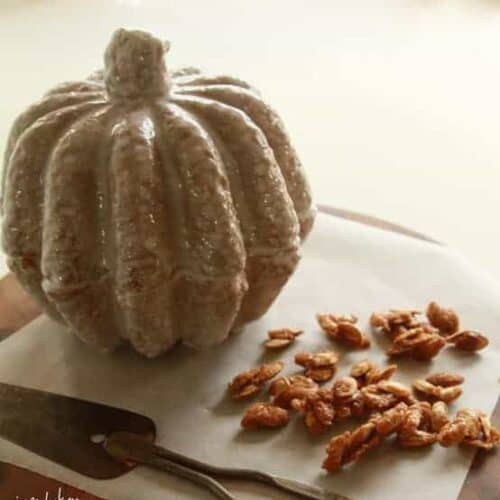 Cinnamon Glaze
This Velvet Spice cake with candied pumpkin seeds is truly one of the easiest surprise inside cakes I have done.
Ingredients
1 2

lb

bag confectioners sugar

1/2-3/4

cup

milk

1/4

cup

corn syrup

1-2

tbsp

cinnamon

more or less to taste

1

tsp

vanilla extract
Instructions
Mix all ingredients until fully incorporated.

You are going to want a "runny" consistency of glaze.

If your glaze is thick simply add more milk.

If you glaze is too thin (like the consistency of water) simply add more powder sugar.
Did you make this recipe?
Thank you for making my recipe! You took pictures, right? Well go ahead and post them on Instagram! Be sure to mention me @iambaker and use the hashtag #YouAreBaker.
To add the stem, I used the pieces of cake that were removed from the center and mixed it with a little glaze.  Form cake into a stem shape and place in center of cake.  I did this right after the first coat of glaze.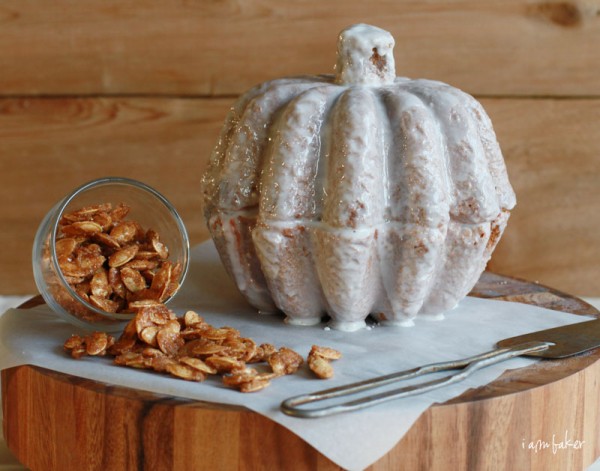 When cutting into the cake, just maneuver your knife around the seeds, as you do not need to actually cut through them.
Place sliced cake on plate and add extra seeds.  You can also drizzle with reserve glaze frosting.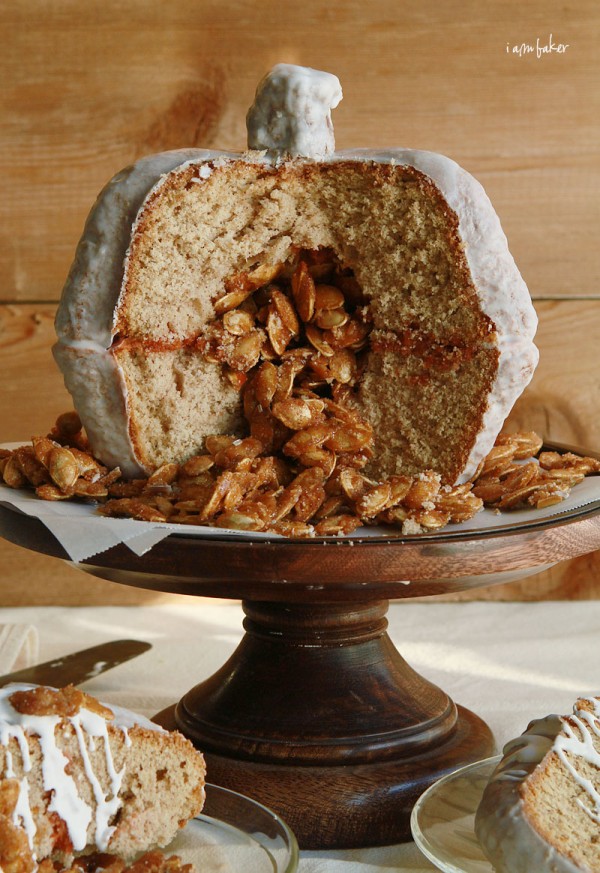 And enjoy!  This is such a fun and easy way to really delight your guests this Thanksgiving!
And on that note, I want to say a VERY big Thank You to all the i am baker readers.  I have really come to adore you, to look forward to your insights and feedback, and to be inspired by you.
I hope your Thanksgiving is blessed!