If its anytime after 8:00, its almost certain that we have welcomed a new baby into our lives…
And I am SO excited to share him with you.  I will try and get pictures up as soon as possible, but I might have to leave that to hubby depending on how my surgery went. 🙂
For now though, I can share with you his name!
We went back and forth quite a bit in trying to decide… but one name seemed to always stick with us!
Our newest family member is…
Edward Merton
We will be calling him Eddie, after my Great-Grandfather Eddie.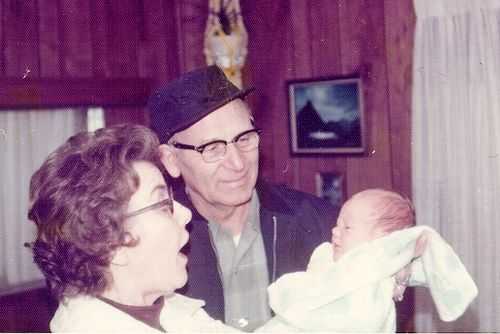 This is my grandpa Eddie holding me when I was a baby. 
He passed away many years ago, but is never forgotten and much loved.
Baby Eddie's middle name is after his Great-Grandfather, Grandpa Merton.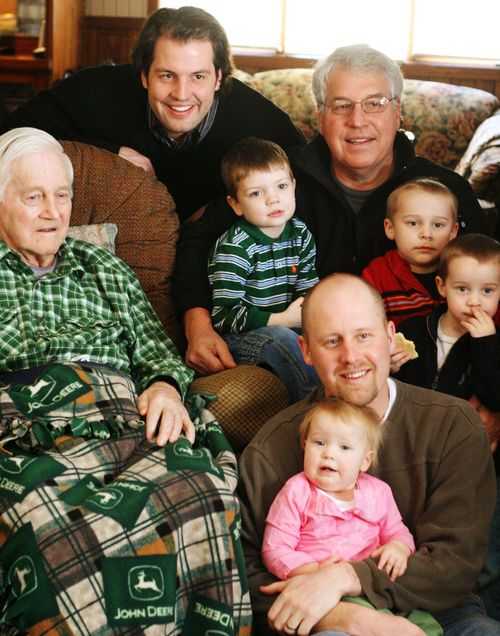 In this picture is (starting from left) Merton, Chad's brother Ryan, his son Jakob, Grandpa Dennis, Colton, Parker, and Chad and Audrey. (love her facial expression)
Merton is a wonderful man who raised some wonderful men and we are blessed that our child can carry on his namesake.  And so thankful he will be able to meet and know Baby Eddie!
Our newest addition is sure a delight to us already!
Will be back soon with pictures and some stats! 🙂