We got some snow! Which them slowly blew away in the wind. But at least there were some moments of winter fun here in Minnesota, and not just the bitter cold. Don't get me wrong, I am NOT complaining! (well, maybe just a little) I just think winter should be winter. Cold, snow and cool grey skies should be the norm, not the exception.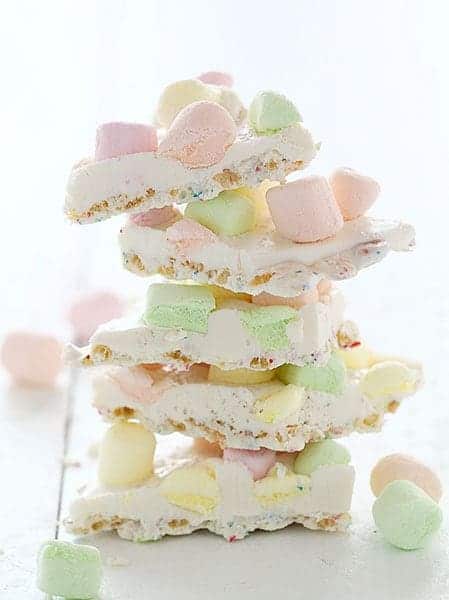 Anywho, all the whining and was just to explain this. Spring like, pastely (that needs to be a word) chocolate bark.
I was inspired by the BRIGHT sunshine pouring in my window that was momentarily amplified by the  dusting of snow covering everything.
Also, mini colored marshmallows were on sale at the grocery store. Just keepin it real folks.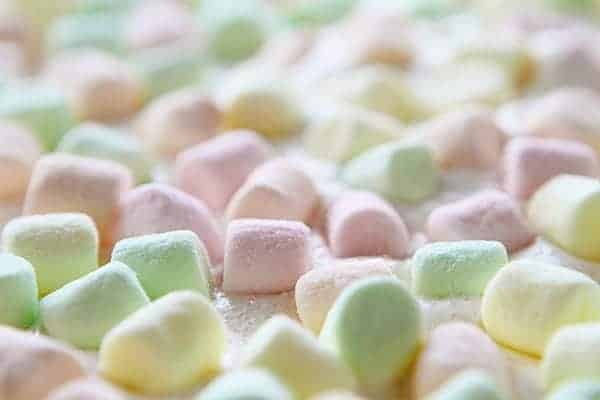 I am a sucker for those things. I never really know exactly what they are supposed to taste like, just that when I eat them I am reminded of happy youthful days sneaking 1 or 2 from the kitchen and eating while reading a good book.
I was a book worm in my youth, devouring a book a day, sometimes more. And don't tell anyone, but after I finished Nancy Drew and Trixie Belden I would read my mom's old romance novels from the 60's. They were quite PG then, and I learned how to bite my lip when in deep thought (all the good heroine's did that) and how to do what is right even when everyone else was doing what was wrong. They were always so independent and principled.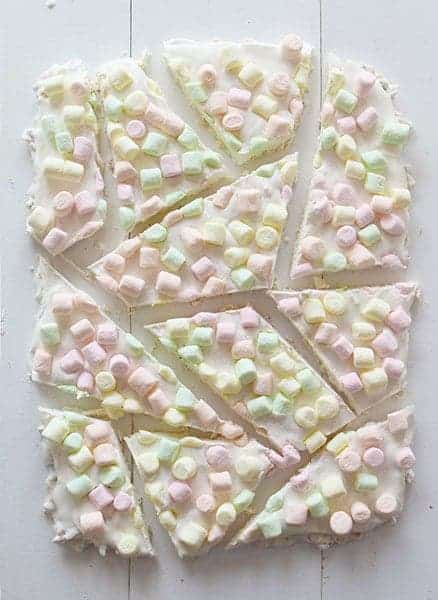 MAN my thoughts are all over the place today! This IS a recipe blog so back to the important stuff.
Recipe slightly adapted from here and inspired by Chocolate Chocolate and More.
Tips for Success:
Get a good quality white chocolate. This is important because it is the main ingredient!
Be quite mindful of the melting points. I removed my pan from the heat just before the white chocolate was completely melted and then stirred and stirred and stirred some more until all melted. White chocolate (which is not technically chocolate, boo hoo) is very finicky over heat.
You can easily make this recipe chocolate! Simply use your favorite flavor chocolate (I think milk chocolate is splendid in a bark, but if I am adding candy bits I will use semi-sweet) and Cocoa Krispies®!
Bark recipes are very forgiving and very easy to modify. Use what you have in your pantry and have fun! Kids love to be a part of this and are great at stirring and adding sprinkles.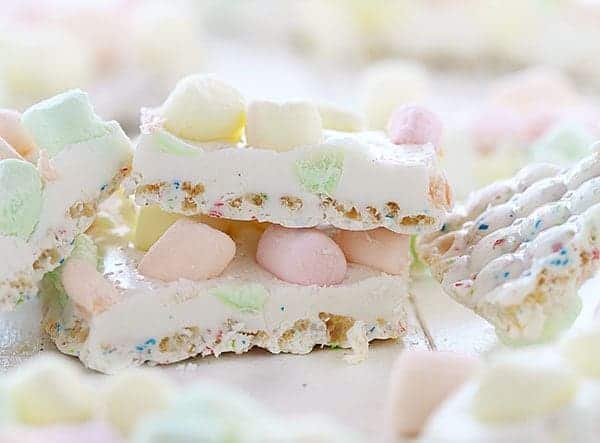 As you can see from the picture above, I poured my chocolate over a fondant impression mat to create a design on the BACK of the white chocolate bark. I talk about that in detail on this blog post (2 ingredient decorative chocolate) if you would also like to try. (I also added sprinkles to the white chocolate just before pouring onto the mat.)
The best part of this bark is the sweet flavor and the awesome texture! Those Rice Krispies® are an easy and awesome addition that really kicks your bark up to a new level!
(perfect for Easter too!)