There is something to be said about a fresh blanket of snow that falls around the holidays. It's pretty, and when I get around the fire, I just feel relaxed and cozy. I understand that we all can't enjoy the falling snow. But to get into that holiday mindset, snow or no snow, there is something special about this White Chocolate Martini that makes it feel like the holiday season! Topped with dark chocolate shavings, it's a cocktail that you can sip all winter long! For more holiday cocktails, try my Cranberry Lime Mojito, White Christmas Mojito, or Gingerbread Martini.
White Chocolate Martini
Martinis have evolved so much over the years, from the traditional martini to a dry or dirty martini. The flavors are endless, and this White Chocolate Martini is more of a dessert than a cocktail. (But, don't be fooled–it's definitely full of booze!) I love to serve this cold, refreshing drink at a holiday party or any winter gathering. By adding the chocolate shavings, there is no need for another sweet treat.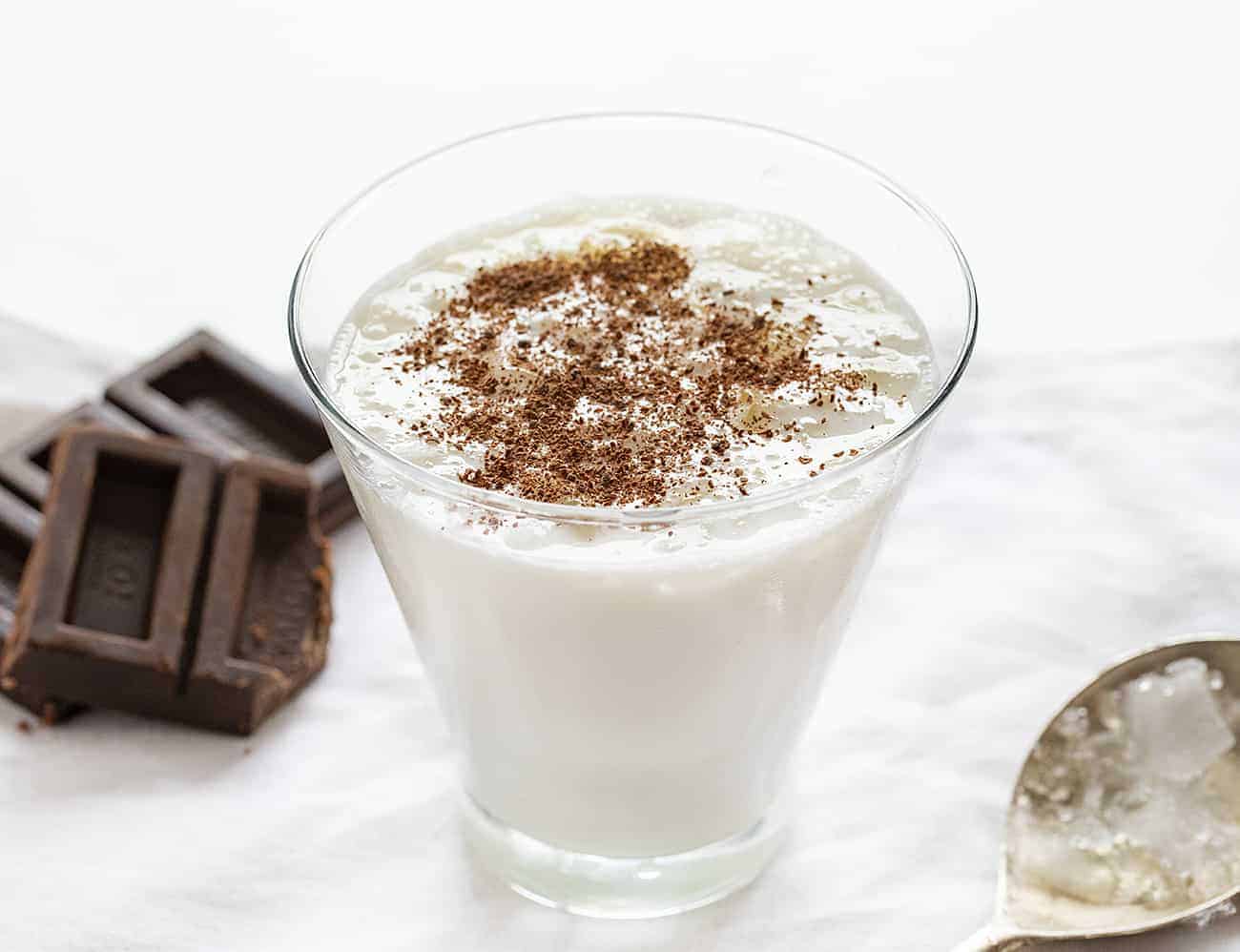 White Chocolate Martini Recipe
This creamy cocktail is more of a dessert than anything, but don't be fooled by its flavor–with all the alcohol in it, the White Chocolate Martini packs a punch!
Ingredients:
white chocolate liqueur
creme de cacao
vanilla vodka
half-and-half
crushed ice
dark chocolate shavings

How to Make a White Chocolate Martini
To make this White Chocolate Martini, I chose to mix all the ingredients and shake it up before pouring it into the chilled glasses. If you don't have time to chill your glasses in the refrigerator, it's not a huge deal. But, if you have the time, it just adds to the theme of the drink.
Anyway, I am going with James Bond for this drink–'shaken, not stirred'. Some may argue with this, but when you mix all the ingredients together with the ice, the drink will become colder and the shaking will actually dilute the drink a bit. When it comes to taste, it would take more of a martini expert than I am to decide which is better. If you want to really treat your guests (or yourself) don't forget the chocolate shavings. Just take some chocolate and a vegetable peeler to shave some of that chocolate into your drink.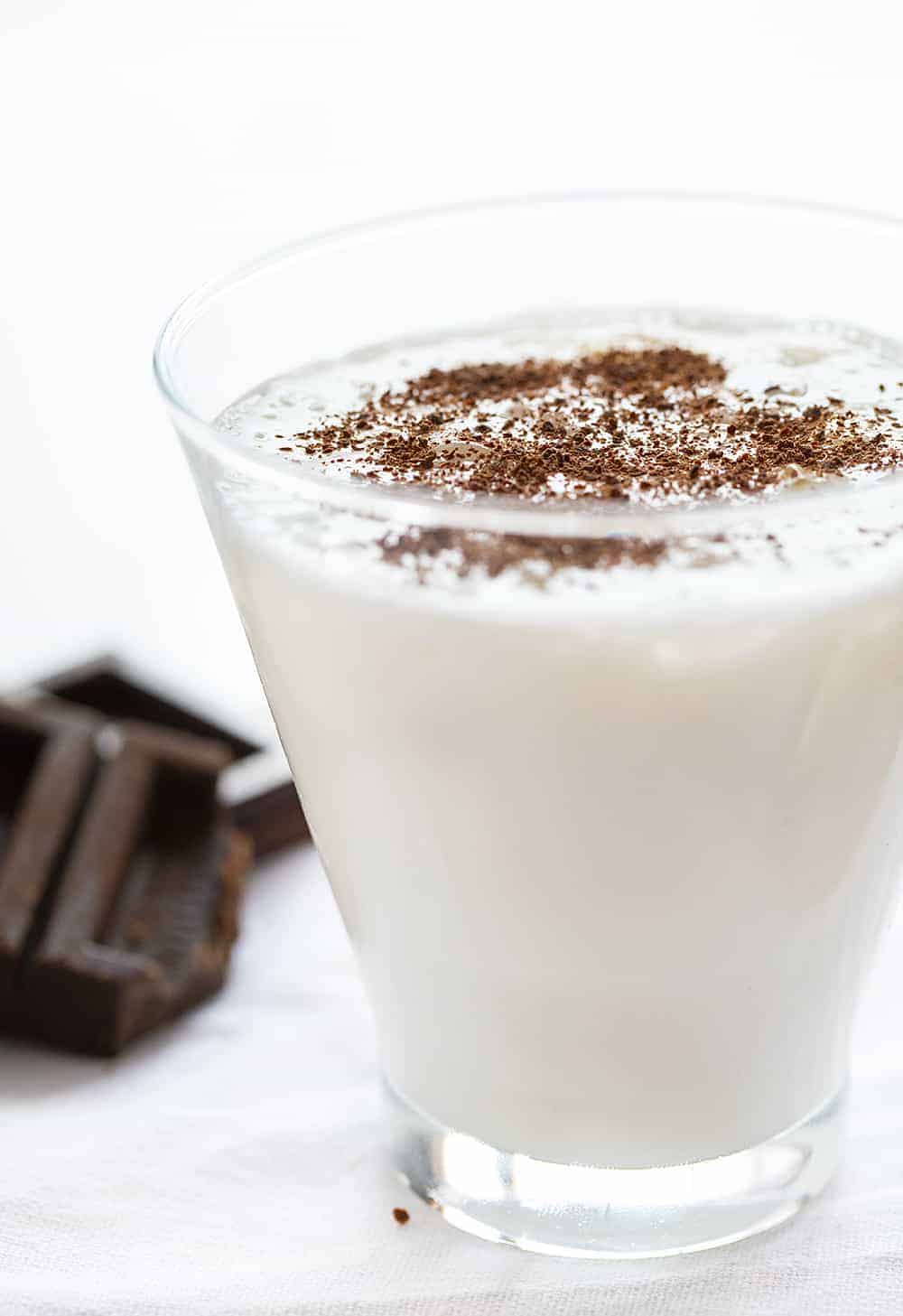 White Chocolate Martini Variations
There really are no options for a non-alcoholic white chocolate martini, but you can substitute the white chocolate liqueur for a chocolate liqueur. You could also forget the half-and-half and simply add chocolate milk. Don't be afraid to try some decorative chocolate drizzles with some chocolate syrup to add a little pizzazz.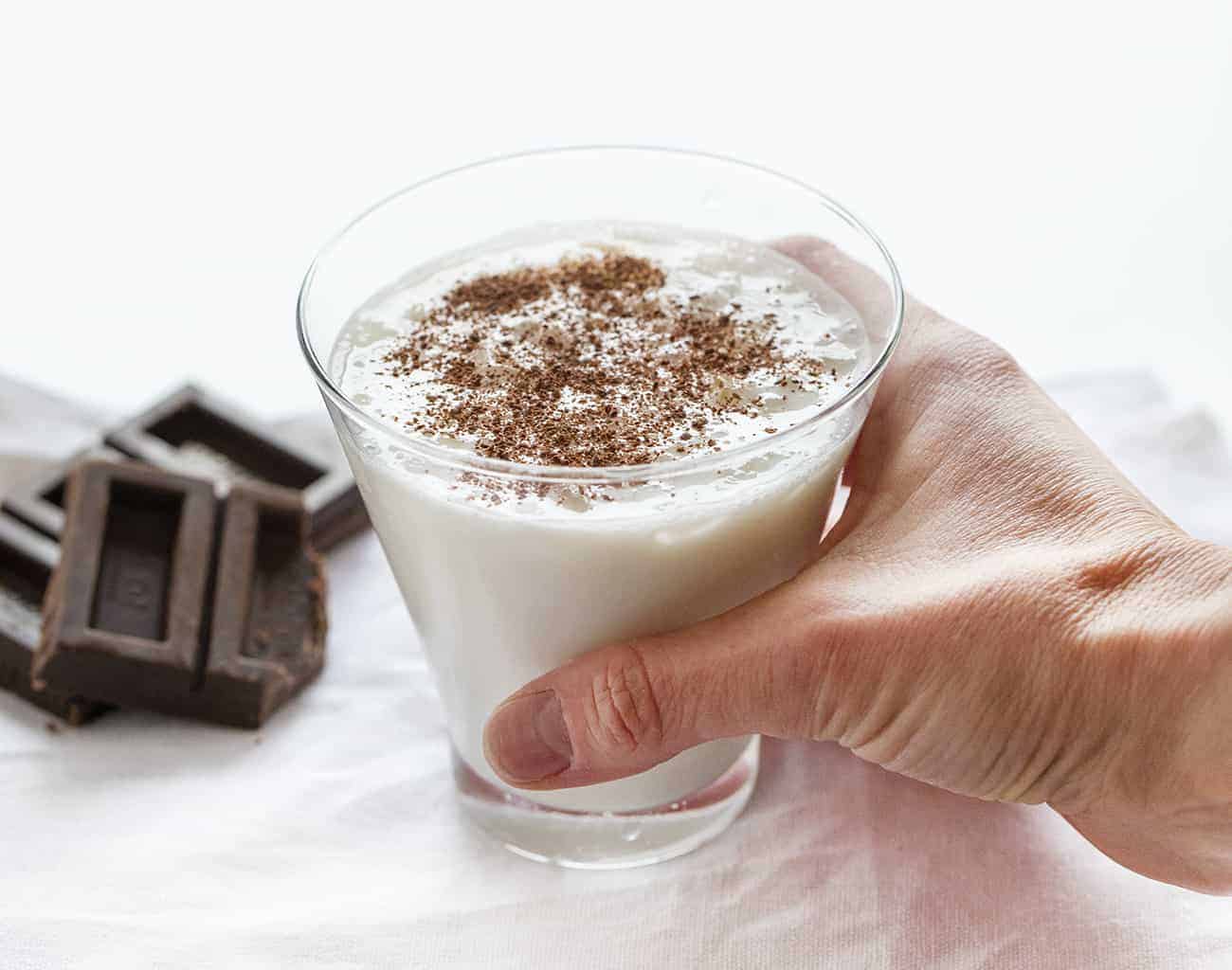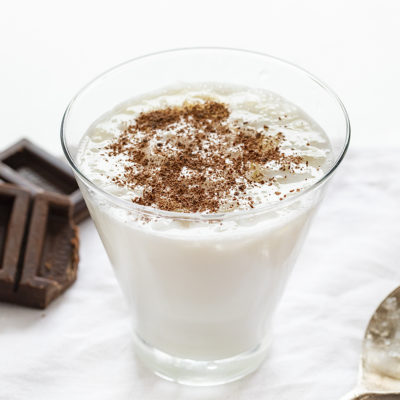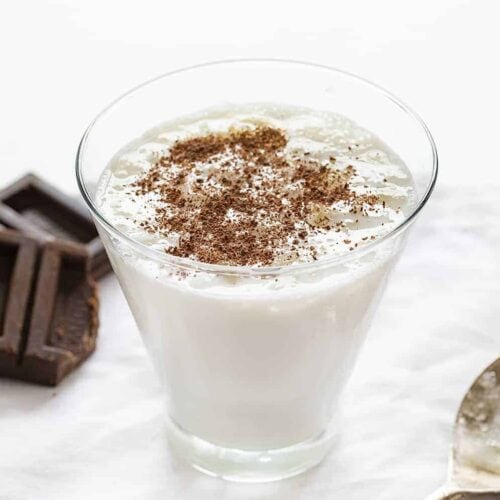 White Chocolate Martini
Topped with dark chocolate shavings, this White Chocolate Martini is a winter cocktail that is a perfect dessert drink.
Ingredients
3

ounces

white chocolate liqueur

3

ounces

clear creme de cacao

2

ounces

vanilla vodka

6

ounces

half-and-half

1

bag

crushed ice

dark chocolate shavings,

for garnish
Instructions
Chill your martini glasses in the refrigerator for 30 minutes.

In a shaker, combine the white chocolate liqueur, creme do cacao, vanilla vodka, half-and-half, and crushed ice. Shake it for about 30 seconds.

Evenly pour the shaken mixture into 4 glasses. Top with chocolate shavings.
Did you make this recipe?
Thank you for making my recipe! You took pictures, right? Well go ahead and post them on Instagram! Be sure to mention me @iambaker and use the hashtag #YouAreBaker.