This Birthday Cheesecake is just plain fun!!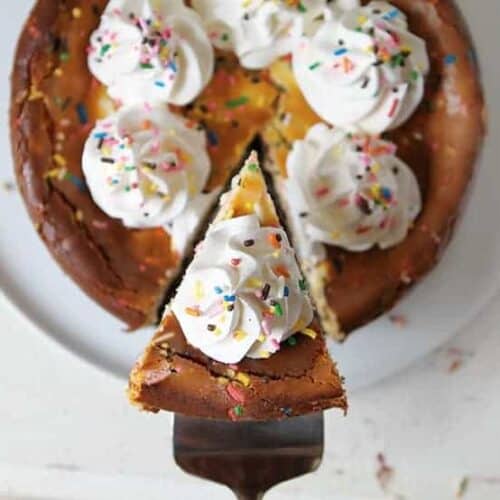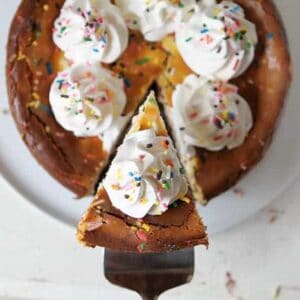 White Chocolate Confetti Cheesecake
This Birthday Cheesecake is just plain fun!!
Keyword:
White Chocolate Confetti Cheesecake
Ingredients
1/4

c

granulated sugar

1/2

tsp.

vanilla

2 8-

ounce

packages of cream cheese

room temperature

2

eggs

4

oz

white chocolate

melted and cooled

1

c

rainbow sprinkles

plus extra for garnish
Instructions
Beat cream cheese, sugar and vanilla in stand mixer until well blended.

Add eggs, 1 at a time, beating on low speed after each addition just until blended.

Add chocolate; mix until just combined.

Pour in sprinkles and fold into cheesecake batter with spatula.

Pour over crust.

Bake at 350 degrees for 55 minutes at to an hour or until center is almost set.

Run knife around rim of pan to loosen cake; cool before removing rim. Refrigerate until ready to serve.

Top with whipped cream, sprinkles, and a cherry.

For the whipped cream I used a large closed star tip and piped out little billows.
Birthday Cheesecake
This recipe is a little bit of everything I adore… cheesecake, Oreo crust, white chocolate, and sprinkles! But here's the skinny: (Please note, that will be the only time I will use the word 'skinny' in reference to this recipe)
My husband keeps telling me that the Oreo crust is too much!  Like in this neapolitan cheesecake.  Just stop with the Oreo crust he says! But I can't.  I love it! However, he may have a small point in that the chocolate crust does compete with the delicate flavors of white chocolate and cream cheese (and strawberry in this case). I think a shortbread, graham cracker or vanilla cookie crust would all be really lovely with this cheesecake.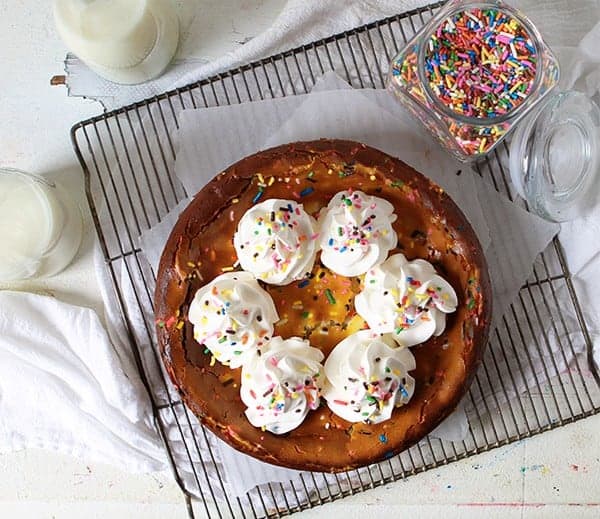 I utilize Cool Whip as a topping, but you can certainly use heavy whipped cream and make your own.
To make Homemade Whipped Cream: Start with cold heavy creamy and pour it into stand mixer with whisk attachment.  When the cream starts to thicken, add in sugar. (A good rule of thumb is 2 tablespoons of sugar for every cup of cream)  Continue beating until soft peaks occur. Don't overbeat as you will then have butter.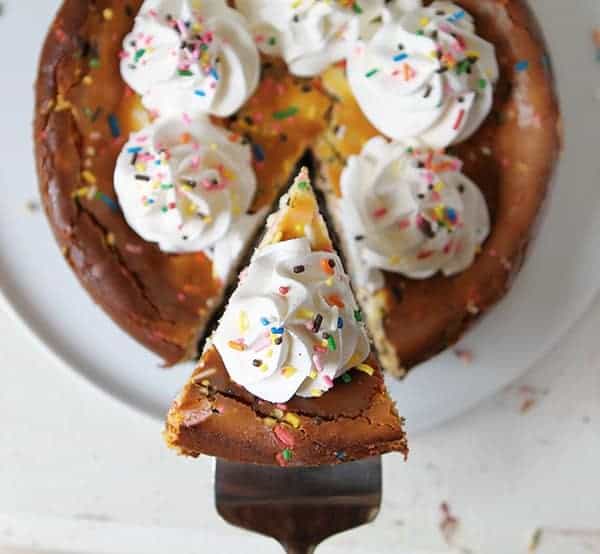 The star of this show is definitely the sprinkles!  I added some into the cheesecake as well as on top.  They are so fun to look at and surely do bring a smile to anyone's face.  Which is why I do what I do.  I am a SMILE MAKER darnit!
Recipe inspired by this recipe from Kraft. As I mentioned above, I used Oreo for the crust.  I use the pre-packaged crumbs, as seen in detail here.  Simply add 2 tablespoons melted butter to crumbs then press into springform pan.  I used an 8-inch springform pan for this recipe.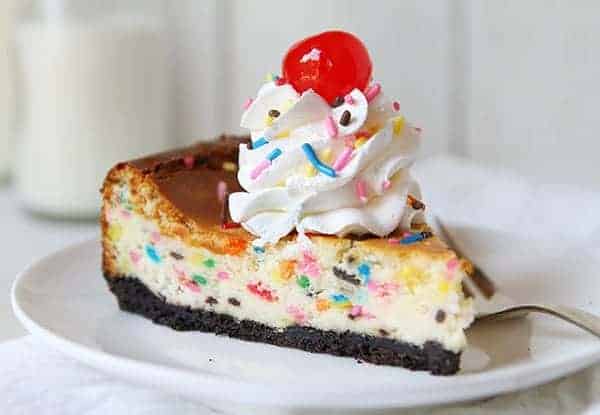 As you can imagine, this was a huge hit with the kids.  They love the color and and fun that sprinkles bring!  Heck, so do I. If you like what you see on my blog, be sure to check out my new book, Surprise-Inside Cakes!