Creating my signature rosette cake is quick and easy~ any level of baker can do it! And you should. You really should!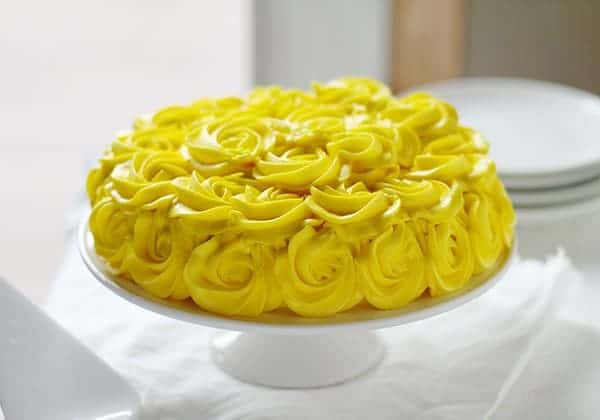 This sweet little cake is yellow. Don't you love when I state the obvious?
I created a fun little surprise with this unassuming little cake~
Sorry the video gets a little dark at the end… we had a crazy fast rain storm come through and the sky turned ominous and dark!
Tips for success:
I did a rough crumb coat on the cake (DO NOT SKIP THIS STEP!!!) using this buttercream recipe tinted yellow with McCormick® liquid food coloring. (I tinted 1/4 cup black with gel food coloring) The crumb coat will be covered by the rosettes. I do a thin crumb coat for a couple reasons:
The rosettes need something to adhere to.
If there are any breaks in the roses the cake will show through. Having it the same color makes for a more uniform and uninterrupted look.
There is a LOT of frosting on this cake so making the crumb coat thin is essential
For the cake I just baked a white cake in two 8-inch round cakes pans and then only used one layer.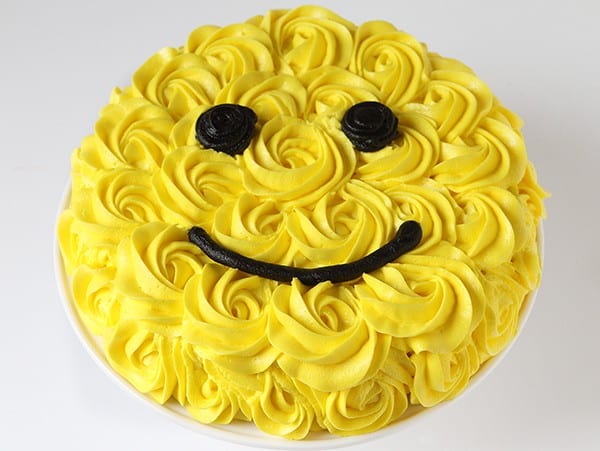 I used a 2D tip for my yellow rosettes, but you can also use a 1M tip or any open or closed star tip. I have additional tips and tricks in my original post from 2011. You can see that I always end my rose up, or away from the center. This is the ideal method for this cake because you can easily cover the "tail" or end with the next rose. Overlapping slightly is the best way to cover any mistakes or loose ends.
The black eyes and mouth were applied with a #12 round tip. After a bit I decided to flatten them. To do this get a small piece of parchment or wax paper and place it over the eye. Press down gently in a circular pattern to get the frosting flatter. Do not press to hard as you do not want the yellow frosting underneath to move or be pressed down.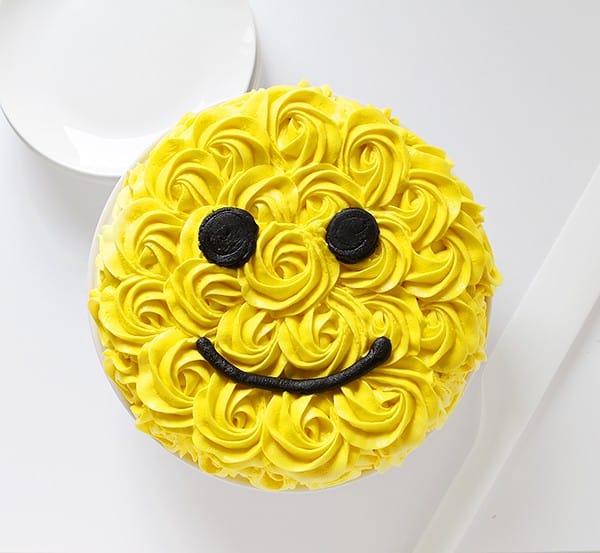 I hope this cake makes you smile!
UPDATE:
I will be (and have been) deleting all comments that are just plain mean. It is perfectly fine for you to not like this cake, but not ok to make disgusting and rude remarks here about it. Thank you for understanding.