I have never created a more delicious way to use up zucchini! This decadent bread is going to become a classic in your house just like it has in mine!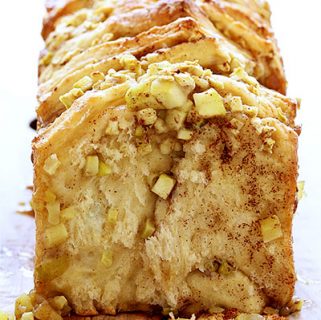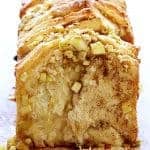 Zucchini Pull-Apart Bread
I have never created a more delicious way to use up zucchini! This decadent bread is going to become a classic in your house just like it has in mine!
Keyword:
Zucchini Pull-Apart Bread
Ingredients
Filling
2

tbsp.

unsalted butter

melted

1/2

c

packed brown sugar

1

tbsp.

ground cinnamon

1/2

tsp.

vanilla extract

2

medium zucchini peeled

cored - if large, and finely chopped (about 2 cups)

1

c

apple cider or apple juice
Dough
1/4

c

4 tablespoons unsalted butter, melted

1/3

c

lukewarm milk

1/4

c

lukewarm water

2

large eggs

room temperature

1

tsp.

vanilla extract

3

c

all-purpose flour

1/4

c

sugar

1/2

tsp.

salt

2 1/4

tsp.

instant yeast
Instructions
Peel and finely chop the zucchini into small pieces. If there are any seeds make sure they are removed.

Place the zucchini bits into a medium bowl and cover with apple cider and vanilla (from the "filling" section of the recipe). Place in microwave for 1 minute and then set aside.

In a medium bowl, whisk together the melted butter, milk, water, and vanilla extract. (You want the temperature of the ingredients to be warm, at least 105 degrees. If the ingredients are too cool the yeast will not activate. If necessary, put in the microwave for 10 seconds)

In the bowl of stand mixer with dough attachment, mix together the flour, sugar, salt, and yeast, then add the wet ingredients.

Add eggs.

Knead until the dough is soft and smooth, about 2 minutes. If it seems too dry add a little water, if it seems too sticky add just a little flour, up to a 1/4 cup.

Place the dough in a lightly greased bowl, cover, and allow to rest until doubled in size, about 1 hour.

Grease a 9" x 5" loaf pan. (You can also use a longer/large pan if needed, the bread will simply not be as compact)

Gently deflate the dough and turn it out onto a lightly floured surface.

Roll the dough into a 12" x 20" rectangle.

Stir the vanilla into the melted butter.

With a pastry brush, spread the butter mixture over the entire top on the dough.

Carefully and evenly sprinkle the brown sugar over the top.

Sprinkle the cinnamon evenly over the dough.

Add the diced zucchini on top of the cinnamon and sugar.

Cut the dough crosswise into six 3 1/2" x 12" strips.

Stack the strips on top of one another.

Cut the stack into six pieces, about 2" x 3 1/2" each.

Turn the pieces on edge, and place them in the loaf pan one in front of the other from one end of the pan to the other, squeezing them in tight. I sprinkled any pieces of zucchini that had fallen off over the top of the dough after I put it into the pan.

Cover the pan and allow the loaf to rise for 30 to 60 minutes until it's almost doubled in size. While the loaf is rising, preheat the oven to 350°F.

Bake the loaf for 45 to 55 minutes in the center of the oven, tenting it with foil after 30 minutes. Remove the loaf from the oven, and transfer it to a rack to cool for 15 to 20 minutes before turning it out of the pan to cool completely.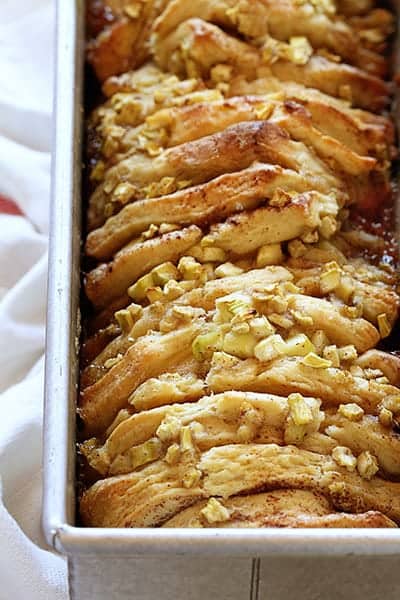 I have more zucchini than I know what to do with, so coming up with NEW ways to use it has been a challenge this year. But man, it has been a FUN challenge!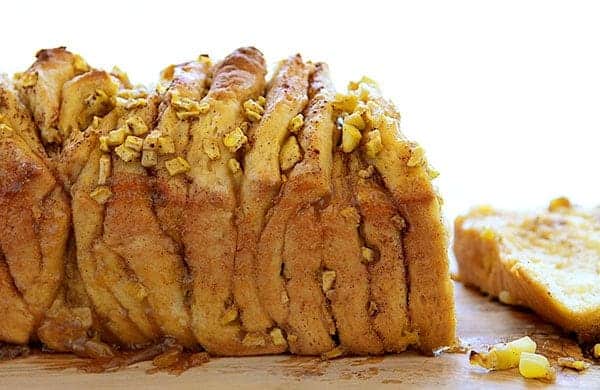 This bread tastes exactly like an Apple Cinnamon Pull-Apart bread. I had a hard time sharing it at first, because I knew that once everyone tried it there would be none left!
Recipe adapted from Apple Cinnamon Pull-Apart Bread.
Tips for Success:
I found that heating up the diced zucchini in the apple cider/apple juice really helped to infuse the zucchini.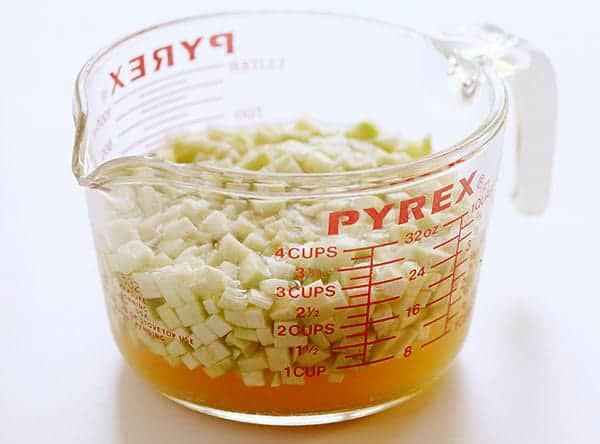 I used about 2 cups of apple cider in this picture and that was TOO MUCH! You can use just enough to cover the zucchini bits, which ended up being about 1 cup.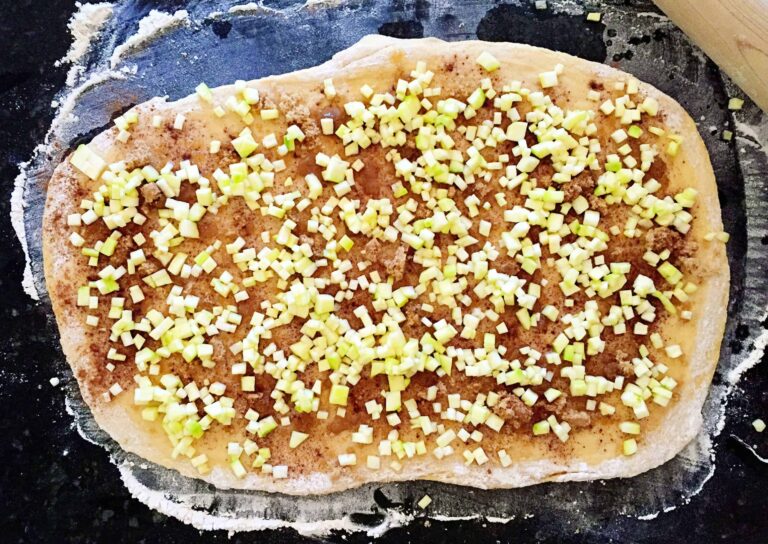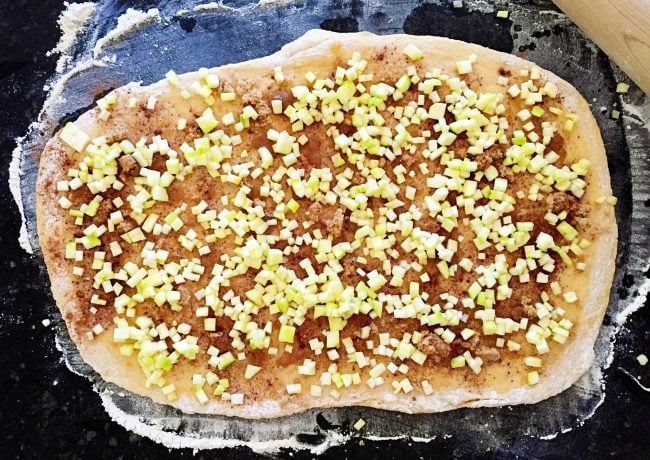 Here is what the dough looks like after I rolled it out and covered it in the melted butter, brown sugar, cinnamon, and zucchini bits.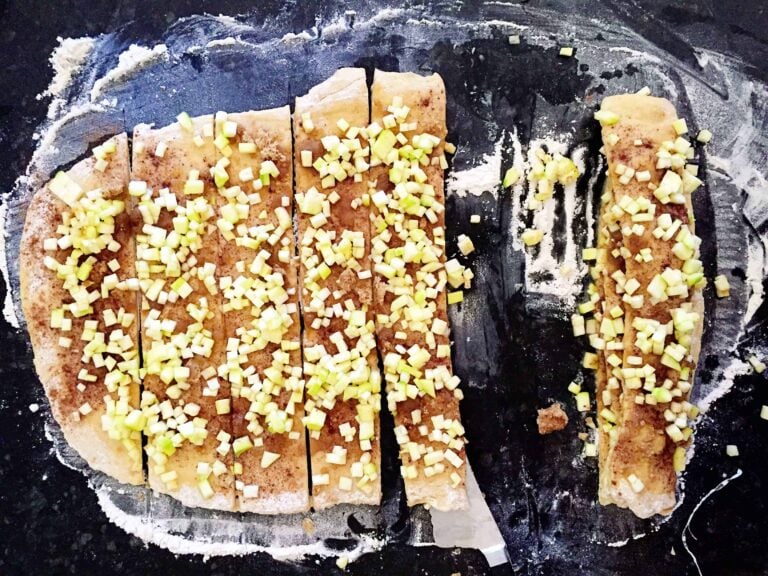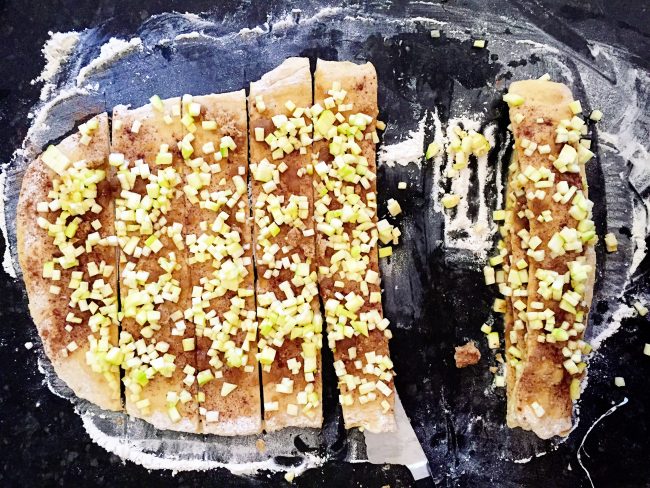 Next I cut the dough into strips with a long knife. My Wüsthof knife worked amazing for 2 reasons:
It was long and sharp.
It was wide enough that I could use it to move the long pieces of dough over to my stack.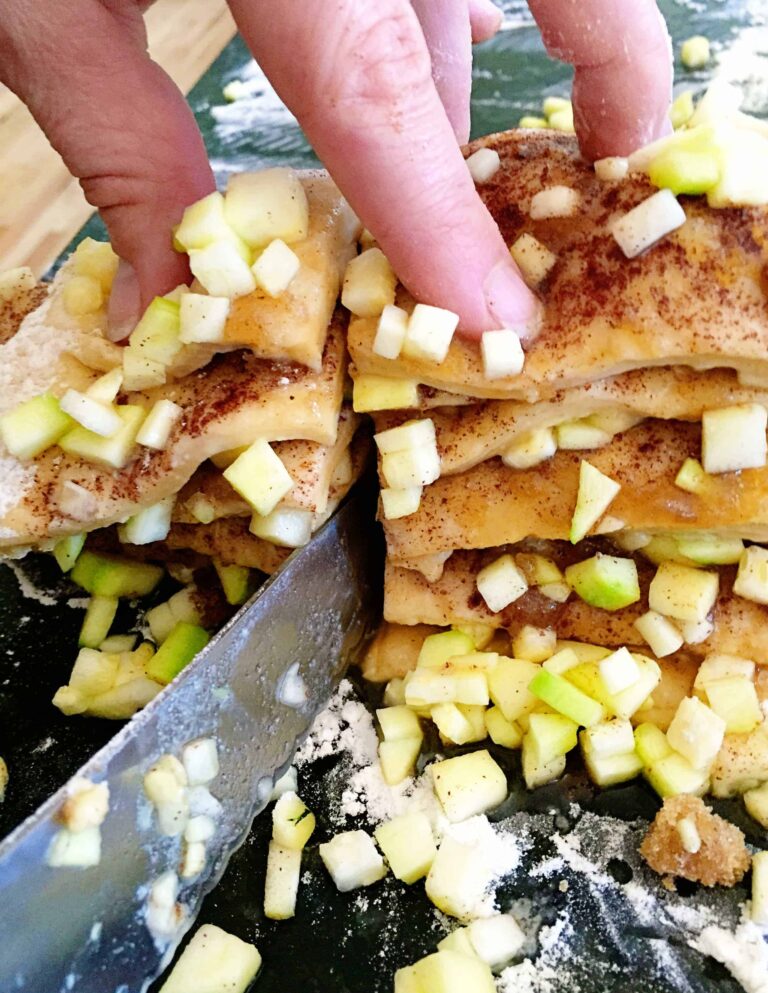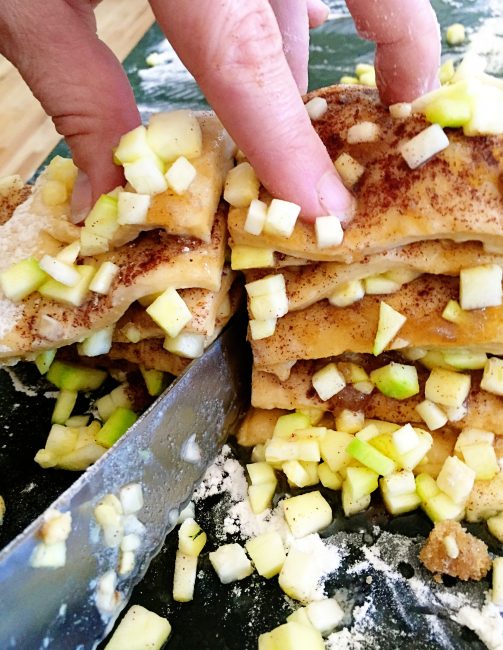 After I had cut all the strips I then started stacking them on top of one another. This was indeed a messy process, but with all the cinnamon and sugar making my kitchen smell great, I knew it would be worth the mess.
Then, after all the strips were stacked, I cut 3-4 inch sections out. Then I started setting the sections into the pan making sure that the dough was upright, or stacking horizontally, not vertically.
Make sure you grab all the leftover pieces and throw them on top of the bread before baking!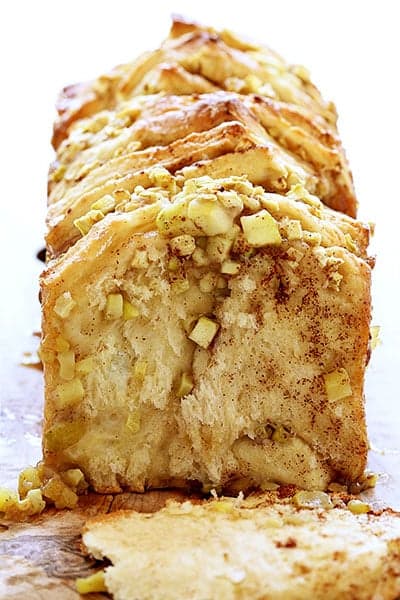 Sometimes I get all gushy and say over-the-top things like, "This is AMAZING!" and "Best recipe ever!" and "You HAVE TO TRY THIS!".
Well… yes. To all of that.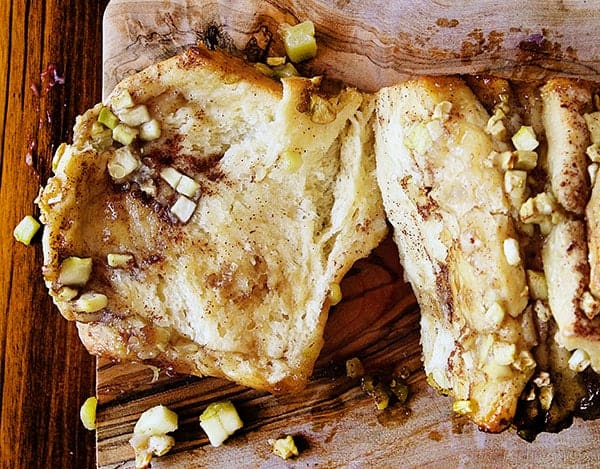 This recipe had a glaze that went with it, but I chose not to add it on. You still can if you love an ooey-gooey sweet and sugary glaze (which I definitely do!) but I encourage you to try it without first. This is a great recipe for Vanilla Glaze.
Quick Tip! You can make this the night before. Well, some of it! Right after you make the dough you can place it in the fridge overnight. Just remove it and allow it to come to room temperature in the morning, then continue the recipe as direct.