I don't know about you, but I have a hard time asking for help. I have been this way for as long as I can remember. It really got intense when I started having kids though… the desire to be their 'everything'.
Something that I am really coming to understand in my old age is that I cant.
I just cannot do everything on my own. I need help, I need support, I need friends and family and resources that are designed to make life easier.
One of my biggest struggles of late has been grocery shopping. It may sound harmless and mundane to most; the simplistic task of making a list, finding a store that sells those items, and then going to purchase them.
List, store, buy, go home. Easy peasy.
Only… not so much. This is usually how grocery store shopping goes in my house:
Monday-Decide that I must go grocery shopping, start thinking about what I need to get. Day gets busy and by the time hubby gets home and we finish dinner I am exhausted. No grocery store today.
Tuesday-Running low on supplies… need to ransack the freezer for dinner. Plan on going to the store in the afternoon, smallest child ends up taking nap at a weird time and can't make it. Too exhausted by the time dinner is over. Must go tomorrow.
Wednesday- Kids have activities at night, must go to store this afternoon! Schooling takes longer than expected, one child seems to have a runny nose and sniffles. Yuck, germs. My ankles have increased in size two fold (thank you very much 8th month of pregnancy), and I can't find a pair of shoes that fit me. Skip store. Have hubby pick up dinner on his way home.
Thursday-Completely out of milk and bread. Consider watering down some heavy cream for cereal. Make bread from scratch and pretend it was my plan all along. Dinner is left overs, and I declare it "clean out the fridge day", only don't actually clean the fridge. Hubby is out of town, so at 8:00om at night I put all kids into car in their jammies and run to convenience store for tiny sized totally overpriced milk so we can have breakfast in the morning.
Friday-I will make it to the store today! Absolutely must do anything in my power to avoid grocery shopping on a Saturday. Kids are starting to get tired and run-down (not to mention cranky!) … must get them some fresh and healthy food! Desperate for good food we venture out to the nearest Super Store. The selection is sub-par. Fruits and veggies are wilted and picked over. Meat selection is near expiration. My feet start hurting and I get distracted in the cookie aisle. We go home with 1 gallon milk, four packages of Oreo's, and some diapers.
Saturday- Family is planning a revolt. They want good food! I finally make up a list and head to the store. Parking lot is full and I walk 100 yards in the rain. Store is a mad house. Everything is picked over and I trip on stock boy trying to replenish the banana's. They are out of coupon books so I have to pay full price for everything. Checkout lines are three deep and the baby is kicking me in the bladder.
Sunday- We are out of milk as I forgot to buy more yesterday.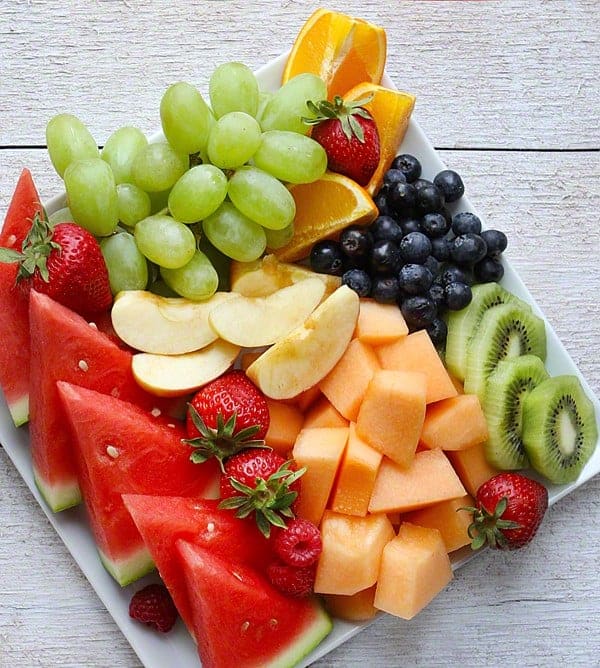 Remember when I said that I need to utilize resources that are designed to make my life easier? I have finally found something that can eliminate the Grocery Store Stress from my life. Its called FreshDirect and its a service that actually delivers high quality, locally sourced groceries right to my door.
Here is a fantastic video that shows the lengths FreshDirect goes to  buy the best food from local farmers. A lot of stores say they buy local, but the difference is that FreshDirect actually does it.
Something that I am passionate about is feeding my kids good food. I want them to be healthy, happy, and have all the benefits that a good diet offers. This company does too. How amazing is that?
But I have one more thing to tell you.
Seeing as we are a family of six (soon to be seven!) you can imagine how huge my grocery bills can be. Buying fresh produce at the grocery store (and if I want truly fresh I usually need to buy organic) can cost me hundreds of dollars a month. Not only does FreshDirect make ordering and delivering easy, but they offer competitive pricing. Excellent quality fresh food that is priced right? I seriously can't think of anything that brings me more joy.
Well. If they would deliver it, unpack it, then run me a hot bath I might like that more. But that might get weird.
I want so badly for you the experience the amazing-ness that is FreshDirect that I am going to offer one reader a chance to win a $100 Visa gift card!
If you win you will have access to:
The highest quality locally grown fresh produce

A beautifully designed web site that offers near perfect order fulfillment
Freshly prepared meals from famous chefs
Amazing customer service
To enter you simply need to tell me, "What are your grocery shopping tricks and tips to finding the freshest quality food?"
I hope you will check out their site and commitment to quality. And be sure to check out their fresh baked artisan breads and pastries!
Visit FreshDirect.com to learn more about their star rated produce and reference their seasonal guide for fruit so that you know what is fresh and in season, the great lengths they go through to source the very best food, and how customizable your order can be from deli slices and dietary needs to how and when you want your delivery!
Sweepstakes Rules:
No duplicate comments.
You may receive (2) total entries by selecting from the following entry methods:
Leave a comment telling me "What are your grocery shopping tricks and tips to finding the freshest quality food?"
Tweet (public message) about this promotion; including exactly the following unique term in your tweet message: "#SweepstakesEntry"; and leave the URL to that tweet in a comment on this post ( http://iambaker.net/fresh-direct/ )
Blog about this promotion, including a disclosure that you are receiving a sweepstakes entry in exchange for writing the blog post, and leave the URL to that post in a comment on this post
For those with no Twitter or blog, read the official rules to learn about an alternate form of entry.
This giveaway is open to US Residents age 18 or older. Winners will be selected via random draw, and will be notified by e-mail. You have 72 hours to get back to me, otherwise a new winner will be selected.
The Official Rules are available here.
This sweepstakes runs from 5/6/13 -5/15/13.