Almond Pecan Sheet Cake is such a fun cake to make in addition to being one of my favorite flavors. (hint: LOTS of almond!) The method is unique in that it starts on a stove top, but ends in the oven of course! Don't miss all my favorite Cake Recipes!
Almond Pecan Sheet Cake
If you are confused by the title, don't worry. I'll tell you everything you need to know about this almond-infused sheet cake! It is a basic yellow cake recipe but instead of vanilla, I used almond extract. Then, in the frosting, I added more almond and chopped up a bunch of pecans. I have to tell you, it is honestly one of my new favorite flavors. I made it twice in a week! Even though it's a sheet cake, the first one was gone in a day. Then the kids went and told their friends how awesome it was so I had to make another one!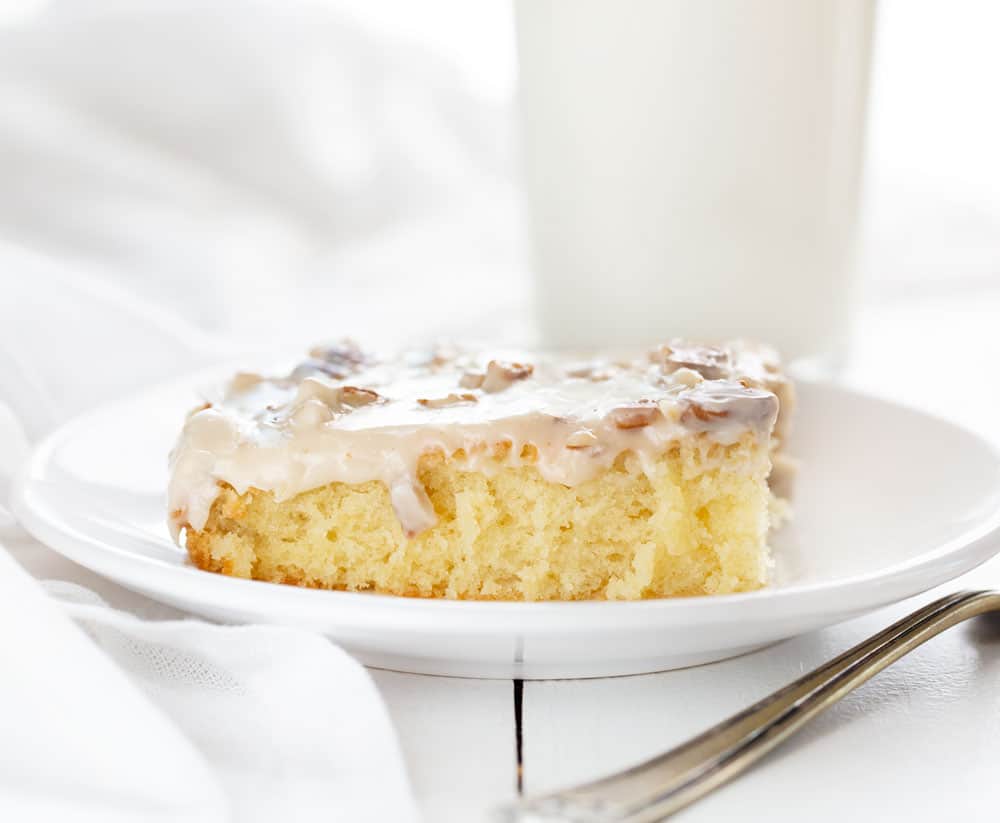 How to Make an Almond Pecan Sheet Cake
As I mentioned, the method is a little different for this recipe. You start with butter and water in a large saucepan on the stove. Let those ingredients come to a low-rolling boil and then remove from heat. To that you will add:
flour
sugar
sour cream
almond extract
salt
baking soda
eggs
I can't stress enough that the ingredients need to be added in that order. If you add eggs to a hot mixture they could cook and curdle and no one wants that. But if you whisk in each ingredient as you go, the mixture will be cool enough when you add the eggs.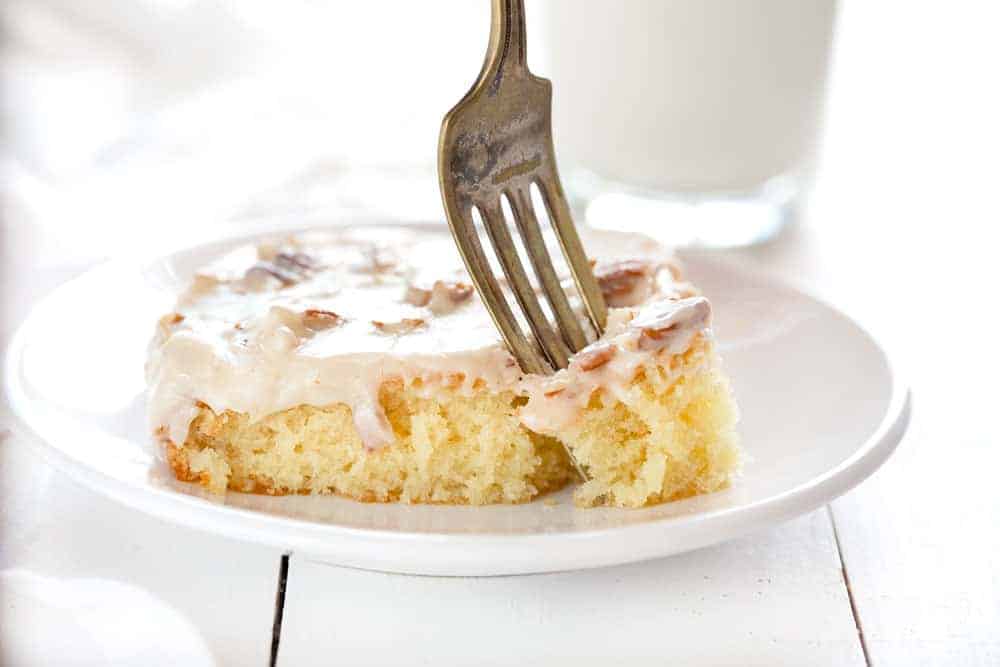 You then pour the ingredients into a 10×15 baking pan. A 9×13 won't work as well as the center will not finish cooking while the edges will burn. This is a sheet cake and is only supposed to be about 1 1/2 inches to 2 inches tall at most. Bake for about 20 minutes and then start your frosting!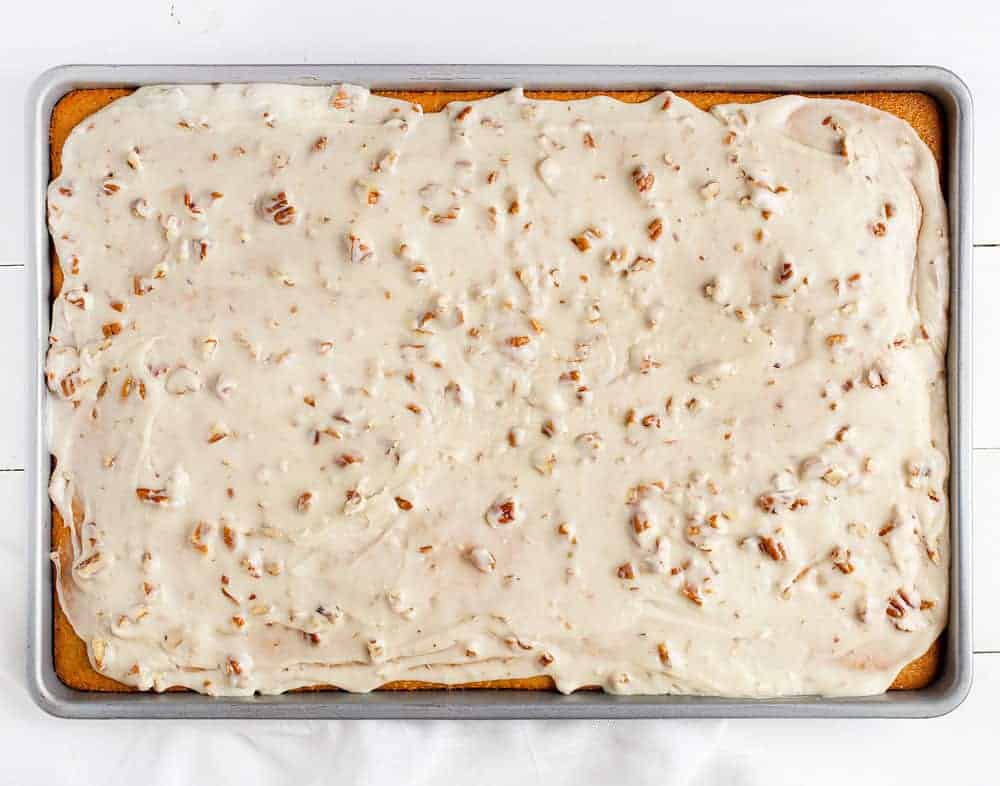 Almond Pecan Frosting
This recipe is so finger-licking good you will want to put it on EVERYTHING. The recipe also starts out on the stovetop. You heat the butter and milk until completely melted and then remove from heat. To that you will add:
confectioners sugar
almond extract
1 cup finely chopped pecans
A few tips that will make this frosting easier. SIFT THE CONFECTIONERS SUGAR. If there are any lumps in the sugar they will end up in your frosting. Take your time! Let the butter and milk come together on medium heat, but stir constantly. You don't want scaled milk.
Add the confectioner's sugar 1 cup at a time. I said 4 cups on the recipe, but sometimes I use 3, sometimes 4 1/2, depending on the consistency I want. (In the summer I use more sugar because of humidity.)
Don't skimp on the almond extract! If you are not an almond fan, I would skip this cake recipe altogether.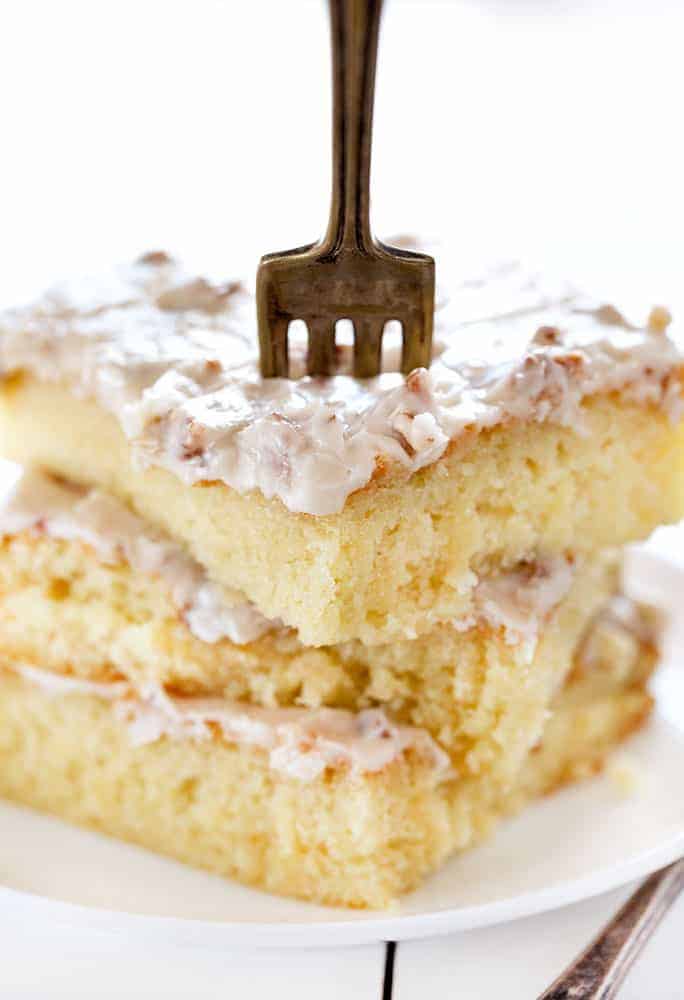 Tips for Making Sheet Cake
Use eggs at room temperature. Not only will the eggs incorporate better if they are room temperature, but they won't cook when you add them to the saucepan.
Use full-fat sour cream. This is a cake and not the place to be counting calories! I also make sure I take it right out of the fridge so that it is cold when added to my saucepan.
The 10 x 15 pan is important in this recipe. If you don't have one, I recommend waiting until you are able to get one. I found some at the Dollar General for $2 each.
Prepare your pan well or line it with parchment paper. I love using GOOP (homemade pan release) on cakes, but also love how easy parchment is to use. Both are a great option.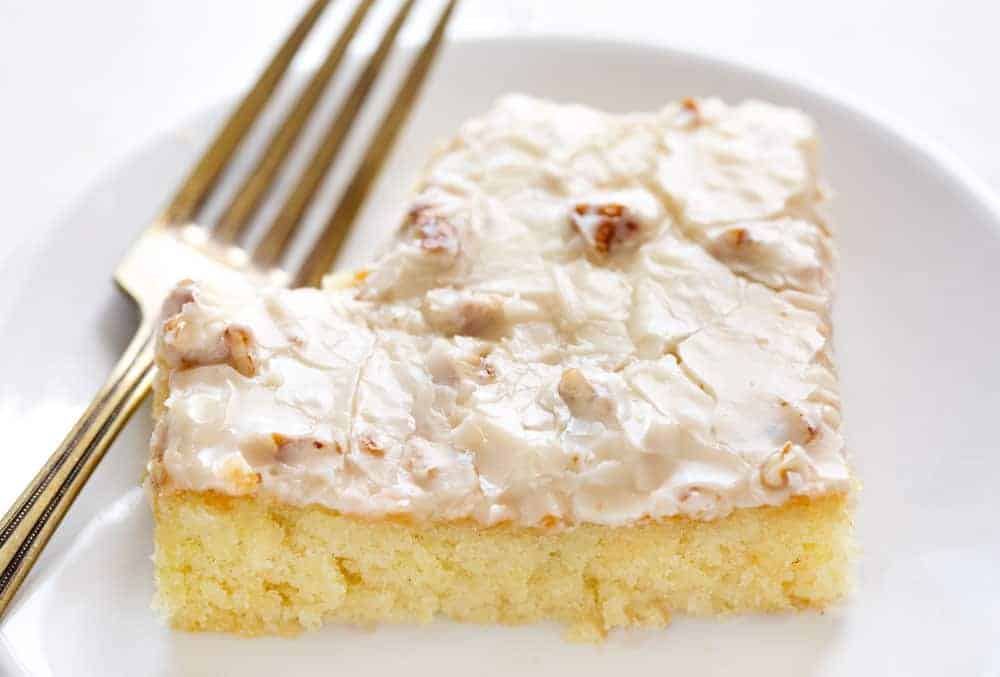 This cake is perfect for pot-lucks, church gatherings, basically, for any time you want to impress friends and family!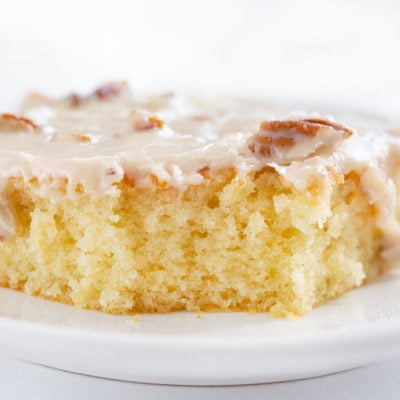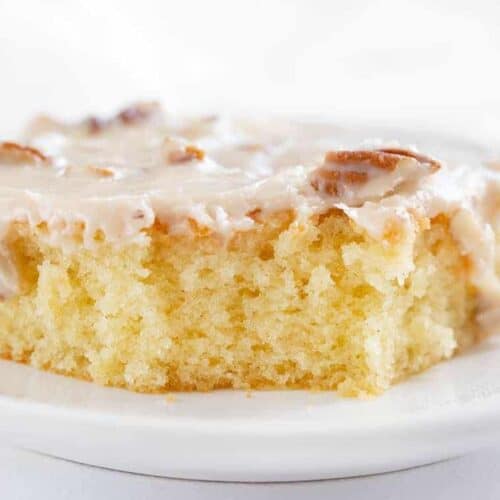 Almond Pecan Sheet Cake
If you love sheet cakes you are going to LOVE this one!
Ingredients
Cake
1

cup

(226g) unsalted butter

1

cup

water

2

cups

(250g) all-purpose flour

2

cups

(400g) granulated sugar

1/2

cup

(115g) sour cream

1

teaspoon

almond extract

1/2

teaspoon

salt

1

teaspoon

baking soda

2

large eggs,

must be room temperature
Frosting
1/2

cup

(113g) salted butter

1/4

cup

(61g) milk

4

cups

(500g) confectioners' sugar,

sifted

1/2

teaspoon

almond extract

1

cup

chopped pecans
Instructions
Cake
In a large saucepan, bring 1 cup butter and water to a boil. Once butter is melted and there is a low rolling boil, remove from heat.

IN THIS ORDER: Stir in flour, sugar, sour cream, 1 teaspoon almond extract, salt, baking soda, and eggs. Whisk after each addition until smooth.

Pour batter into a prepared 10x15-inch baking pan.

Bake in the preheated oven for 20 to 22 minutes, or until cake is golden brown and an inserted toothpick is removed with a few crumbs. (not wet)
Frosting
Combine 1/2 cup butter and milk in a saucepan; bring to a low rolling boil, then remove from heat.

Add in sugar 1 cup at a time making sure to whisk after each addition.

Add in 1/2 teaspoon almond extract. Whisk well. It will be similar to a gravy consistency.

Stir in pecans. Spread frosting over warm cake.
Did you make this recipe?
Thank you for making my recipe! You took pictures, right? Well go ahead and post them on Instagram! Be sure to mention me @iambaker and use the hashtag #YouAreBaker.